Abstract
Three competing theoretical approaches to social inequalities by gender, race, class, and sexuality are examined. The additive approach assumes that people possessing multiple subordinate-group identities experience the oppressions associated with them as distinct phenomena. The intersectionality-inspired approach suggests that subordinate-group identities such as non-White, lower class, and non-heterosexual interact with gender in a synergistic way, occasioning inordinately pernicious experiences of discrimination for women possessing one or more additional subordinate-group identities. The subordinate male target hypothesis (SMTH) claims that the discrimination experienced by the men of subordinate groups—primarily at the hands of men of dominant groups—is greater than that experienced by the women of the same subordinate groups. In 2009, telephone survey data was collected from 414 women and 208 men in Toronto, Canada and 521 women and 245 men in Vancouver, Canada. Negative binomial regression techniques are applied to these data to determine whether and how gender (male or female), race (White or non-White), educational attainment, household income, and sexual orientation (heterosexual or non-heterosexual), as well as two-way interactions between gender and the other variables, predict scale measures of self-reported major experiences of discrimination and self-reported chronic, routine discriminatory experiences. High levels of both kinds of discrimination reported by men in general are at odds with the additive and intersectionality-inspired perspectives which accord women the gender identity most vulnerable to discrimination. Inordinately high levels of routine discrimination reported by men with a high school diploma or less are consistent with the SMTH-inspired perspective.
Access options
Buy single article
Instant access to the full article PDF.
USD 39.95
Price excludes VAT (USA)
Tax calculation will be finalised during checkout.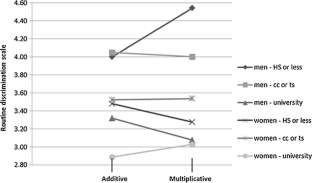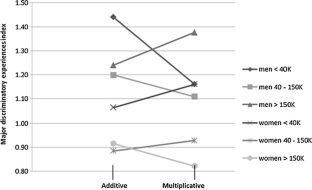 References
Andersen, M. (2008). Thinking about women some more: A new century's view. Gender and Society, 22, 120–125. doi:10.1177/0891243207309908.

Ayres, I., & Siegelman, P. (1995). Race and gender discrimination in bargaining for a new car. American Economic Review, 85, 304–321.

Baca Zinn, M. B., & Dill, B. T. (1996). Theorizing difference from multiracial feminism. Feminist Studies, 22, 321–331. doi:10.2307/3178416.

Beal, F. M. (2008). Double jeopardy: To be black and female. Meridians: feminism, race, transnationalism, 8, 166–176. doi:10.2979/MER.2008.8.2.166.

Black, J., & Veenstra, G. (2011). A cross-cultural quantitative approach to intersectionality and health: Using intersections between gender, race, class and neighbourhood to predict self-rated health in Toronto and New York City. In O. Hankivsky (Ed.), Health inequities in Canada: Intersectional frameworks and practices (pp. 71–91). Vancouver: UBC Press.

Bohmer, P. (2005). Marxist theory of racism and racial inequality. In C. Conrad, J. Whitehead, P. Mason, & J. Stewart (Eds.), African Americans in the U.S. Economy (pp. 94–100). Lanham: Rowman & Littlefield Publishers, Inc.

Brewer, R. M. (1993). Theorizing race, class and gender: The new scholarship of black feminist intellectuals and black women's labor. In S. M. James & A. P. A. Busia (Eds.), Theorizing black feminisms: The visionary pragmatism of black women (pp. 13–30). London: Routledge.

Collins, P. H. (1993). Toward a new vision: Race, class, and gender as categories of analysis and connection. Race, Sex and Class, 1, 25–45.

Collins, P. H. (2000). Black feminist thought: Knowledge, consciousness, and the politics of empowerment (2nd ed.). New York: Routledge.

Cooper, F. R. (2005). Against bipolar black masculinity: Intersectionality, assimilation, identity performance, and hierarchy. UC Davis Law Review, 39, 853–906.

Espiritu, Y. L. (2000). Asian American women and men. Walnut Creek: Altamira Press.

Gee, G. C., Spencer, M. S., Chen, J., & Takeuchi, D. (2007). A nationwide study of discrimination and chronic health conditions among Asian Americans. American Journal of Public Health, 97, 1275–1282. doi:10.2105/AJPH.2006.091827.

Ghumman, S., & Jackson, L. (2008). Between a cross and a hard place: Religious identifiers and employability. Journal of Workplace Rights, 13, 259–279. doi:10.2190/WR.13.3.d.

Glenn, E. N. (2002). Unequal freedom: How race and gender shaped American citizenship and labor. Cambridge: Harvard University Press.

Hankivsky, O. (Ed.). (2011). Health inequities in Canada: Intersectional frameworks and practices. Vancouver: UBC Press.

Jackson, M. (2009). Disadvantaged through discrimination? The role of employers in social stratification. The British Journal of Sociology, 60, 669–692. doi:10.1111/j.1468-4446.2009.01270.x.

Jackson, P. B., & Williams, D. R. (2006). The intersection of race, gender, and SES: Health paradoxes. In A. J. Schulz & L. Mullings (Eds.), Gender, race, class, and health: Intersectional approaches (pp. 131–162). San Francisco: Jossey-Bass.

Jaggar, A. M., & Rothenberg, P. S. (1993). Feminist frameworks: Alternative theoretical accounts of the relations between women and men. New York: McGraw-Hill.

King, D. K. (1988). Multiple jeopardy, multiple consciousness. Signs: A Journal of Women in Culture & Society, 14, 42–72. doi:10.1086/494491.

Krieger, N. (1999). Embodying inequality: A review of concepts, measures, and methods for studying health consequences of discrimination. International Journal of Health Services, 29(2), 295–352. doi:10.2190/M11W-VWXE-KQM9-G97Q.

Krieger, N., Williams, D. R., & Moss, N. E. (1997). Measuring social class in US public health research: Concepts, methodologies, and guidelines. Annual Review of Public Health, 18, 341–378. doi:10.1146/annurev.publhealth.18.1.341.

Landry, B. (Ed.). (2007). Race, gender and class: Theory and methods of analysis. Upper Saddle River: Pearson Education.

Long, J. S. (1997). Regression models for categorical and limited dependent variables. Sage University Papers Series on Quantitative Applications in the Social Sciences. Thousand Oaks: Sage.

McCall, N. (1994). Makes me wanna holler: A young black man in America. New York: Random House.

Moradi, B., Mohr, J. J., Worthington, R. L., & Fassinger, R. E. (2009). Counseling psychology research on sexual (orientation) minority issues: Conceptual and methodological challenges and opportunities. Journal of Counseling Psychology, 56, 5–22. doi:10.1037/a0014572.

Navarrete, C. D., McDonald, M. M., Molina, L. E., & Sidanius, J. (2010). Prejudice at the nexus of race and gender: An outgroup male target hypothesis. Journal of Personality and Social Psychology, 98, 933–945. doi:10.1037/a0017931.

Polite, V., & Davis, J. (Eds.). (1999). African American males in school and society: Practices and policies for effective education. New York: Teachers College Press.

Poussaint, A. (1987). Black men must organize. Black Scholar, 18(3), 12–15.

Pratto, F., Sidanius, J., & Levin, S. (2006). Social dominance theory and the dynamics of intergroup relations: Taking stock and looking forward. European Review of Social Psychology, 17, 271–320. doi:10.1080/10463280601055772.

Puhl, R. M., Andreyeva, T., & Brownell, K. D. (2008). Perceptions of weight discrimination: Prevalence and comparison to race and gender discrimination in America. International Journal of Obesity, 32, 992–1000. doi:10.1038/ijo.2008.22.

Purdie-Vaughn, V., & Eibach, R. (2008). Intersectional invisibility: The distinctive advantages and disadvantages of multiple subordinate-group identities. Sex Roles, 59, 377–391. doi:10.1007/s11199-008-9424-4.

Quinn, S. C. (1993). AIDS and the African American woman: The triple burden of race, class, and gender. Health Education & Behavior, 20, 305–320. doi:10.1177/109019819302000303.

Roberts, C. B., Vines, A. I., Kaufman, J. S., & James, S. A. (2008). Cross-sectional association between perceived discrimination and hypertension in African-American men and women: The Pitt County study. American Journal of Epidemiology, 167, 624–632. doi:10.1093/aje/kwm334.

Schulz, A. J., & Mullings, L. (Eds.). (2006). Gender, race, class, and health: Intersectional approaches. San Francisco: Jossey-Bass.

Sidanius, J., & Pratto, F. (1999). Social dominance: An intergroup theory of social hierarchy and oppression. New York: Cambridge University Press.

StataCorp. (2009). Stata: Release 11. College Station: Stata Press.

Taylor, D. M., Wright, S. C., & Porter, L. E. (1994). Dimensions of perceived discrimination: The personal/group discrimination discrepancy. In M. P. Zanna & J. M. Olson (Eds.), The psychology of prejudice (pp. 233–256). Hillside: Lawrence Erlbaum Associates Inc.

Veenstra, G. (2009). Racialized identity and health in Canada: Results from a nationally representative survey. Social Science & Medicine, 69, 538–542. doi:10.1016/j.socscimed.2009.06.009.

Veenstra, G. (2011). Race, gender, class, and sexual orientation: Intersecting axes of inequality and self-rated health in Canada. International Journal for Equity in Health, 10, 3. doi:10.1186/1475-9276-10-3.

Veenstra, G. (2012). Expressed racial identity and hypertension in a telephone survey sample from Toronto and Vancouver, Canada: Do socioeconomic status, perceived discrimination and psychosocial stress explain the relatively high risk of hypertension for Black Canadians? International Journal for Equity in Health, 11, 58. doi:10.1186/1475-9276-11-58.

Warner, L. R. (2008). A best practices guide to intersectional approaches in psychological research. Sex Roles, 59, 454–463. doi:10.1007/s11199-008-9504-5.

Weber, L. (2007). Forward. In B. Landry (Ed.), Race, gender and class: Theory and methods of analysis (pp. xi–xiv). Upper Saddle River: Pearson Education.

Weldon, S. L. (2006). The structure of intersectionality: A comparative politics of gender. Politics & Gender, 2, 235–248. doi:10.1017/S1743923X06231040.

Williams, D. R. (1999). Race, socioeconomic status, and health: The added effects of racism of discrimination. Annals of the New York Academy of Sciences, 896, 173–188. doi:10.1111/j.1749-6632.1999.tb08114.x.

Williams, T. (2008). Intersectionality analysis in the sentencing of Aboriginal women in Canada: What difference does it make? In D. Cooper, E. Grabham, D. Herman, & J. Krishnadas (Eds.), Intersectionality and beyond: Law, power and the politics of location (pp. 79–104). London: Routledge.

Williams, D. R., Yu, Y., Jackson, J. S., & Anderson, N. B. (1997). Racial differences in physical and mental health: Socio-economic status, stress and discrimination. Journal of Health Psychology, 2, 335–351. doi:10.1177/135910539700200305.
Acknowledgments
At the time of this research, Gerry Veenstra was supported by a Senior Scholar career award (2007–2011) from the Michael Smith Foundation for Health Research. The research was funded by a Standard Research Grant awarded by the Social Sciences and Humanities Research Council of Canada (2006–2011).
About this article
Cite this article
Veenstra, G. The Gendered Nature of Discriminatory Experiences by Race, Class, and Sexuality: A Comparison of Intersectionality Theory and the Subordinate Male Target Hypothesis. Sex Roles 68, 646–659 (2013). https://doi.org/10.1007/s11199-012-0243-2
Published:

Issue Date:

DOI: https://doi.org/10.1007/s11199-012-0243-2
Keywords
Self-reported discrimination

Additivity

Multiplicativity

Intersectionality

Subordinate male target hypothesis

Canada