Abstract
The status of women in the United States varied considerably during the 20th century, with increases 1900–1945, decreases 1946–1967, and considerable increases after 1968. We examined whether changes in written language, especially the ratio of male to female pronouns, reflected these trends in status in the full text of nearly 1.2 million U.S. books 1900–2008 from the Google Books database. Male pronouns included he, him, his, himself and female pronouns included she, her, hers, and herself. Between 1900 and 1945, 3.5 male pronouns appeared for every female pronoun, increasing to 4.5 male pronouns during the postwar era of the 1950s and early 1960s. After 1968, the ratio dropped precipitously, reaching 2 male pronouns per female pronoun by the 2000s. From 1968 to 2008, the use of male pronouns decreased as female pronouns increased. The gender pronoun ratio was significantly correlated with indicators of U.S. women's status such as educational attainment, labor force participation, and age at first marriage as well as women's assertiveness, a personality trait linked to status. Books used relatively more female pronouns when women's status was high and fewer when it was low. The results suggest that cultural products such as books mirror U.S. women's status and changing trends in gender equality over the generations.
Access options
Buy single article
Instant access to the full article PDF.
USD 39.95
Price includes VAT (USA)
Tax calculation will be finalised during checkout.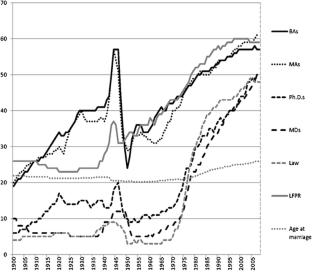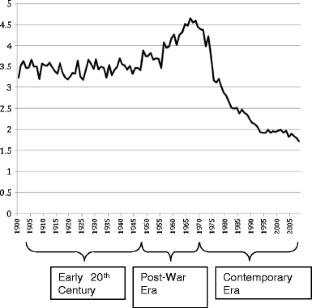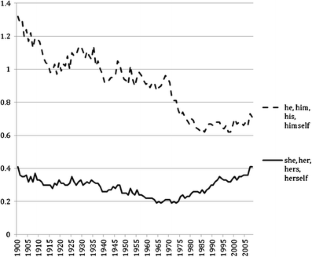 References
Bretl, D. J., & Cantor, J. (1988). The portrayal of men and women in U.S. television commercials: A recent content analysis and trends over 15 years. Sex Roles, 18, 595–609. doi:10.1007/BF00287963.

Brown, R., & Gilman, A. (1960). The pronouns of power and solidarity. In T. A. Sebeok (Ed.), Style in language (pp. 253–276). Cambridge, MA: MIT Press.

Chafe, W. H. (1972). The American woman: Her changing social, economic, and political roles, 1920–1970. New York: Oxford University Press.

Coontz, S. (2000). The way we never were: American families and the nostalgia trap. New York: Basic Books.

DeWall, C. N., Pond, R. S., Campbell, W. K., & Twenge, J. M. (2011). Tuning in to psychological change: Linguistic markers of psychological traits and emotions over time in popular U.S. song lyrics. Psychology of Aesthetics, Creativity, and the Arts, 5, 200–207. doi:10.1037/a0023195.

Diekman, A. B., & Eagly, A. H. (2000). Stereotypes as dynamic constructs: Women and men of the past, present, and future. Personality and Social Psychology Bulletin, 26, 1171–1188. doi:10.1177/0146167200262001.

Eagly, A. H. (1987). Sex differences in social behavior: A social-role interpretation. Hillsdale, NJ: Erlbaum.

Evans, S. M. (1989). Born for liberty: A history of women in America. New York: Free Press.

Friedan, B. (1963). The feminine mystique. New York: W. W. Norton.

Gilroy, F. D., Talierco, T. M., & Steinbacher, R. (1981). Impact of maternal employment on daughters' sex-role orientation and fear of success. Psychological Reports, 49, 963–968. doi:10.2466/pr0.1981.49.3.963.

Honey, M. (1984). Creating Rosie the Riveter: Class, gender, and propaganda during World War II. Amherst: University of Massachusetts Press.

Kim, H., & Markus, H. R. (1999). Deviance or uniqueness, harmony or conformity? A cultural analysis. Journal of Personality and Social Psychology, 77, 785–800. doi:10.1037/0022-3514.77.4.785.

Koenig, A. M., Eagly, A. H., Mitchell, A. A., & Ristikari, T. (2011). Are leader stereotypes masculine? A meta-analysis of three research paradigms. Psychological Bulletin, 137, 616–642. doi:10.1037/a0023557.

Lamoreaux, M., & Morling, B. (2012). Outside the head and outside individualism-collectivism: Further meta-analyses of cultural products. Journal of Cross-Cultural Psychology, 43, 299–327. doi:10.1177/0022022110385234.

Markus, H. R., & Kitayama, S. (2010). Cultures and selves: A cycle of mutual constitution. Perspectives on Psychological Science, 5, 420–430. doi:10.1177/1745691610375557.

Michel, J. B., Kui, S. Y., Presser, A. A., et al. (2010). Quantitative analysis of millions of digitized books. Science, 331, 176–182. doi:10.1126/science.1199644.

Morling, B., & Lamoreaux, M. (2008). Measuring culture outside the head: A meta-analysis of individualism-collectivism in cultural products. Personality and Social Psychology Review, 12, 199–221. doi:10.1177/1088868308318260.

Parks, J. B., & Roberton, M. A. (2004). Attitudes toward women mediate the gender effect on attitudes toward sexist language. Psychology of Women Quarterly, 28, 233–239. doi:10.1111/j.1471-6402.2004.00140.x.

Pennebaker, J. W. (2011). The secret life of pronouns: What our words say about us. New York: Bloomsburg Press.

Stewart, A. J., & Healy, J. M. (1989). Linking individual development and social changes. American Psychologist, 44, 30–42. doi:10.1037/0003-066X.44.1.30.

Thornton, A., & Young-DeMarco, L. (2001). Four decades of trends in attitudes toward family issues in the United States: The 1960s through the 1990s. Journal of Marriage and the Family, 63, 1009–1037. doi:10.1111/j.1741-3737.2001.01009.x.

Twenge, J. M. (1997). Attitudes toward women, 1970–1995: A meta-analysis. Psychology of Women Quarterly, 21, 35–51. doi:10.1111/j.1471-6402.1997.tb00099.x.

Twenge, J. M. (2001). Changes in women's assertiveness in response to status and roles: A cross-temporal meta-analysis, 1931–1993. Journal of Personality and Social Psychology, 81, 133–145. doi:10.1037/0022-3514.81.1.133.

Twenge, J. M. (2006). Generation me: Why today's young Americans are more confident, assertive, entitled–and more miserable than ever before. New York: Free Press.

U. S. Bureau of the Census, Statistical Abstract of the United States. (1925–2011). Washington, DC: U.S. Government Printing Office.

Walker, T. (2007). Thou and you in early modern English dialogues: Trials, depositions, and drama come. Philadelphia, PA: John Benjamins Publishing.

Zou, X., Tam, K., Morris, M., Lee, S., Lau, I., & Chiu, C. (2009). Culture as common sense: Perceived consensus versus personal beliefs and mechanisms of cultural influence. Journal of Personality and Social Psychology, 97, 579–597. doi:10.1037/a0016399.

Zube, M. J. (1972). Changing concepts of morality: 1948–69. Social Forces, 50, 385–393. doi:10.2307/2577043.
Acknowledgments
We thank Candice Davis, Van Ethan Levy, and Grace Rasmusson for their assistance.
About this article
Cite this article
Twenge, J.M., Campbell, W.K. & Gentile, B. Male and Female Pronoun Use in U.S. Books Reflects Women's Status, 1900–2008. Sex Roles 67, 488–493 (2012). https://doi.org/10.1007/s11199-012-0194-7
Keywords
Language use

Status of women

Feminism

Cultural products

Change over time

Generations