Abstract
This study examined the relationships among perceived social support, beliefs about how one would fare in a science career, and perceptions and choice of a career in science. Participants were 48 men and 33 women from the Midwestern United States who had been identified as gifted in mathematics and science and participated in a high school science enrichment program. They ranged in age from 24 to 28 years old, and the sample was predominantly White (83.3%). Participants completed an online measure approximately 10 years after the program ended examining their sources of support and beliefs about the self as a scientist to see how these variables influence perceptions of a science career and actual career. We expected that the relationship between perceived support from people and current job held would be mediated by participants' beliefs about their personal life as a scientist in the future. Similarly, we expected that the relationship between a perceived supportive environment and having a science career would be mediated by participants' beliefs about their career as a scientist in the future. Findings indicated that social support contributed directly to men's and women's ability to envision themselves in a future science career, which, in turn, predicted their interest in and motivation for a science career. No significant gender differences were found in the predictors of men's and women's perceptions and choice of a science career. Implications for recruitment of students into scientific majors and careers are discussed.
Access options
Buy single article
Instant access to the full article PDF.
USD 39.95
Price excludes VAT (USA)
Tax calculation will be finalised during checkout.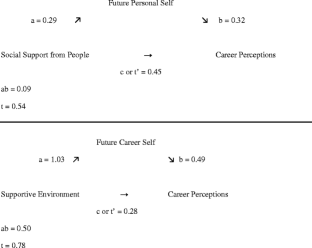 References
Baron, R. M., & Kenny, D. A. (1986). The moderator–mediator variable distinction in social psychological research: Conceptual, strategic, and statistical considerations. Journal of Personality and Social Psychology, 51(6), 1173–1182. doi:10.1037/0022-3514.51.6.1173.

Bombardieri, M. (2005, January 17). Summers' remarks on women draw fire. The Boston Globe. Retrieved from http://www.boston.com/news/local/articles/2005/01/17/summers_remarks_on_women_draw_fire/

Brainard, S. G., & Carlin, L. (1997). A longitudinal study of undergraduate women in engineering and science. Frontiers in Education Conference. 1997. 27th Annual Conference, 'Teaching and Learning in an Era of Change'. Proceedings, 1, 134–143. doi:10.1109/FIE.1997.644826.

Campbell, J. R. (1991). The roots of gender inequity in technical areas. Journal of Research in Science Teaching, 28, 251–264. doi:10.1002/tea.3660280306.

Cheryan, S., & Plaut, V. C. (2010). Explaining underrepresentation: A theory of precluded interest. Sex Roles, 63, 475–488. doi:10.1007/s11199-010-9835-x.

Eccles, J. S. (2005). Studying gender and ethnic differences in participation in math, physical science, and information technology. New Directions for Child and Adolescent Development, 2005, 7–14. doi:10.1002/cd.146.

Eccles, J. S. (2007). Where are all the women? Gender differences in participation in physical science and engineering. In S. J. Ceci & W. M. Williams (Eds.), Why aren't more women in science: Top researchers debate the evidence (pp. 199–210). Washington, D.C.: American Psychological Association.

Eccles, J. S., Barber, B., & Jozefowicz, D. (1999). Linking gender to educational occupation, and recreational choices: Applying the Eccles et al model of achievement-related choices. In W. B. Swann, J. H. Langlois, & L. A. Gilbert (Eds.), Sexism and stereotypes in modern society: The gender science of Janet Taylor Spence (pp. 153–192). Washington: APA Press.

Faul, F., Erdfelder, E., Buchner, A., & Lang, A. G. (2009). Statistical power analyses using G*Power 3.1: Tests for correlation and regression analyses. Behavior Research Methods, 41, 1149–1160. doi:10.3758/BRM.41.4.1149.

Frome, P. M., Alfeld, C. J., Eccles, J. S., & Barber, B. L. (2006). Why don't they want a male-dominated job? An investigation of young women who changed their occupational aspirations. Educational Research and Evaluation, 12, 359–372. doi:10.1080/13803610600765786.

Hartman, H., & Hartman, M. (2008). How undergraduate engineering students perceive women's (and men's) problems in science, math and engineering. Sex Roles, 58, 251–265. doi:10.1007/s11199-007-9327-9.

Hostler, S., & Gressard, R. (1993). Appendix 3 C: Gender fairness environment scale [developed by the University of Virginia School of Medicine Committee on Women]. Perceptions of the medical education environment. Journal of the American Medical Women's Association, 48, 51–54.

Larose, S., Ratelle, C. F., Guay, F., Senecal, C., Harvey, M., & Drouin, E. (2008). A sociomotivational analysis of gender effects on persistence in science and technology: A 5-year longitudinal study. In H. M. G. Watt & J. S. Eccles (Eds.), Gender and occupational outcomes: Longitudinal assessments of individual, social, and cultural influences (pp. 171–192). Washington: APA Press.

Lips, H. M. (2004). The gender gap in possible selves: Divergence of academic self-views among high school and university students. Sex Roles, 50, 357–371. doi:10.1023/B:SERS.0000018891.88889.c9.

Lupart, J. L., Cannon, E., & Telfer, J. A. (2004). Gender differences in adolescent academic achievement, interests, values and life-role expectations. High Ability Studies, 15, 25–42. doi:10.1080/1359813042000225320.

Madill, H. M., Ciccocioppo, A., Stewin, L. L., Armour, M., & Montgomerie, T. C. (2004). The potential to develop a career in science: Young women's issues and their implications for careers guidance initiatives. International Journal for the Advancement of Counselling, 26, 1–19. doi:10.1023/B:ADCO.0000021546.17402.5b.

Mahaffy, K. A., & Ward, S. K. (2002). The gendering of adolescents' childbearing and educational plans: Reciprocal effects and the influence of social context. Sex Roles, 46, 403–417. doi:10.1023/A:1020413630553.

Markus, H., & Nurius, P. (1986). Possible selves. American Psychologist, 41(9), 954–969. doi:10.1037/0003-066X.41.9.954.

Messersmith, E. E., Garrett, J. L., Davis-Kean, P. E., Malanchuk, O., & Eccles, J. S. (2008). Career development from adolescence through emerging adulthood: Insights from information technology occupations. Journal of Adolescent Research, 23, 206–227. doi:10.1177/0743558407310723.

Morgan, C., Isaac, J. D., & Sansone, C. (2001). The role of interest in understanding the career choices of female and male college students. Sex Roles, 44, 295–320. doi:10.1023/A:1010929600004.

National Academy of Sciences, National Academy of Engineering, and Institute of Medicine of the National Academies. (2006). Beyond bias and barriers: Fulfilling the potential of women in academic science and engineering. Washington, D. C.: The National Academies Press. Retrieved from http://www7.nationalacademies.org/ocga/briefings/Women_in_Academic_Sci_and_Engineering.asp

Obama, B. (2011, Janurary 25). Transcript: Obama's state of the union address. Retrieved from http://www.npr.org/2011/01/26/133224933/transcript-obamas-state-of-union-address

Preacher, K. J., & Hayes, A. F. (2004). SPSS and SAS procedures for estimating indirect effects in simple mediation models. Behavior Research Methods, Instruments, & Computers, 36, 717–731. doi:10.3758/BF03206553.

Preacher, K. J., Rucker, D. D., & Hayes, A. F. (2007). Addressing moderated mediation hypotheses: Theory, methods, and prescriptions. Multivariate Behavioral Research, 42, 185–227. doi:10.1080/00273170701341316.

Riger, S., Stokes, J., Raja, S., & Sullivan, M. (1997). Measuring perceptions of the work environment for faculty. The Review of Higher Education, 21, 63–78. doi:10.1353/rhe.1997.0015.

Settles, I. H., Cortina, L. M., Malley, J., & Stewart, A. J. (2006). The climate for women in academic science: The good, the bad, and the changeable. Psychology of Women Quarterly, 30, 47–58. doi:10.1111/j.1471-6402.2006.00261.x.

Seymour, E., & Hewitt, N. (1997). Talking about leaving: Why undergraduates leave the sciences. Boulder: Westview Press.

Simon, R. M., & Farkas, G. (2008). Sex, class, and physical science educational attainment: Portions due to achievement versus recruitment. Journal of Women and Minorities in Science and Engineering, 14, 269–300. doi:10.1615/JWomenMinorScienEng.v14.i3.

Simpson, R.D., & Troost, K.M. (1982). Influences on commitment to and learning of science among adolescent students. Science Education, 66, 763–781.

Spelke, E. S. (2005). Sex differences in intrinsic aptitude for mathematics and science?: A critical review. American Psychologist, 60, 950–958. doi:10.1037/0003-066X.60.9.950.

Stake, J. E. (2006). The critical mediating role of social encouragement for science motivation and confidence among high school girls and boys. Journal of Applied Social Psychology, 36, 1017–1045. doi:10.1111/j.0021-9029.2006.00053.x.

Stake, J. E., & Mares, K. R. (2001). Science enrichment programs for gifted high school girls and boys: Predictors of program impact on science confidence and motivation. Journal of Research in Science Teaching, 38, 1065–1088. doi:10.1002/tea.10001.

Stake, J. E., & Mares, K. R. (2005). Evaluating the impact of science-enrichment programs on adolescents' science motivation and confidence: The splashdown effect. Journal of Research in Science Teaching, 42, 359–375. doi:10.1002/tea.20052.

Stake, J. E., & Nickens, S. D. (2005). Adolescent girls' and boys' science peer relationships and perceptions of the possible self as scientist. Sex Roles, 52, 1–11. doi:10.1007/s11199-005-1189-4.

Steele, C. M. (1997). A threat in the air: How stereotypes shape intellectual identity and performance. American Psychologist, 52, 613–629. doi:10.1037/0003-066X.52.6.613.

The R Foundation for Statistical Computing. (2006). R. Retrieved from http://www.r-project.org/foundation/

The White House Office of the Press Secretary (2010, October 18). President Obama to host White House science fair: President will celebrate winners of science, technology, engineering and math (STEM) competitions and announce new steps to inspire all students to excel. Retrieved from http://www.whitehouse.gov/the-press-office/2010/10/18/president-obama-host-white-house-science-fair
Acknowledgement
This research was conducted as part of Sarah Buday's master's thesis under the supervision of Jayne Stake. The authors wish to thank Dr. Ken Mares and Kathy Kirkpatrick for their assistance in collecting data and contacting participants, and Graham Wohler for his assistance with data analysis.
About this article
Cite this article
Buday, S.K., Stake, J.E. & Peterson, Z.D. Gender and the Choice of a Science Career: The Impact of Social Support and Possible Selves. Sex Roles 66, 197–209 (2012). https://doi.org/10.1007/s11199-011-0015-4
Published:

Issue Date:

DOI: https://doi.org/10.1007/s11199-011-0015-4
Keywords
Science careers

Sex differences

Gender

Social support

Possible selves

Self-confidence