Abstract
Four studies examined why women appear to be less likely than men to lift weights, despite the documented health benefits. An archival analysis ("Study 1") pointed to a cultural dissociation between women and strength-related exercise goals. Furthermore, a study of women in a university in the mid-Atlantic United States who envisioned lifting weights in public expressed greater evaluation concerns than those who envisioned doing aerobic exercise ("Study 2"); moreover, greater evaluation concerns seemed to deter them from weight lifting. These findings helped to shed light upon gender-differentiated patterns of gym equipment use ("Study 3a") and reports of psychological discomfort in gyms ("Study 3b"). This work begins to illuminate the sociocultural context of women's avoidance of certain types of exercise.
Access options
Buy single article
Instant access to the full article PDF.
US$ 39.95
Tax calculation will be finalised during checkout.
Subscribe to journal
Immediate online access to all issues from 2019. Subscription will auto renew annually.
US$ 119
Tax calculation will be finalised during checkout.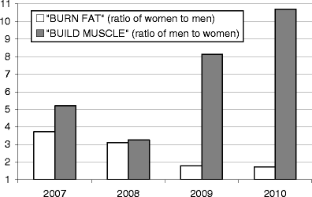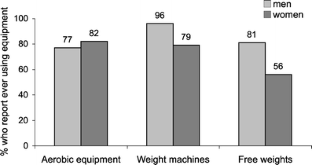 References
American Psychiatric Association. (2000). Diagnostic and statistical manual of mental disorders (4th ed., text revision). Washington, DC: American Psychiatric Association.

Angier, N. (1999). Woman: An intimate geography. New York: Houghton Mifflin.

Antrim, T. (2005, June 9). For men at the gym, it's step, step, step, panic! New York Times. Retrieved from www.nytimes.com.

Auerbach, C. F., & Silverstein, L. B. (2003). An introduction to coding and analyzing data in qualitative research. New York: New York University Press.

Banerjee, R., & Lintern, V. (2000). Boys will be boys: The effect of social evaluation concerns on gender-typing. Social Development, 9, 397–408.

Baumeister, R. F., & Leary, M. R. (1995). Need to belong: Desire for interpersonal attachments as a fundamental human motivation. Psychological Bulletin, 117, 497–529.

Brace-Govan, J. (2004). Weighty matters: Control of women's access to physical strength. The Sociological Review, 52, 503–531.

Crawford, M., & Marecek, J. (1989). Psychology reconstructs the female, 1968-1988. Psychology of Women Quarterly, 13, 147–165.

Department of Health and Human Services. (2008). Be active your way: A guide for adults. Downloaded October 1, 2009. Retrieved from http://www.health.gov/paguidelines/adultguide

Doyne, E. J., Ossip-Klein, D. J., Bowman, E. D., Osborn, K. M., McDougall-Wilson, I. B., & Neimeyer, R. A. (1987). Running versus weight lifting in the treatment of depression. Journal of Counseling and Clinical Psychology, 55, 748–754.

Fallon, M. A., & Jome, L. M. (2007). An exploration of gender-role expectations and conflict among women rugby players. Psychology of Women Quarterly, 31, 311–321.

Fink, J. S., & Kensicki, L. J. (2002). An imperceptible difference: Visual and textual constructions of femininity in Sports Illustrated and Sports Illustrated for Women. Mass Communication and Society, 5, 317–339.

Gaertner, S. L., Mann, J., Murrell, A., & Dovidio, J. F. (1989). Reducing intergroup bias: The benefits of recategorization. Journal of Personality and Social Psychology, 57, 239–249.

Glaser, B. G., & Strauss, A. L. (1967). The discovery of grounded theory: strategies for qualitative research. New York: Aldine de Gruyter.

Hardin, M., & Greer, J. D. (2009). The influence of gender-role socialization, media use, and sports participation on perceptions of gender-appropriate sports. Journal of Sport Behavior, 32, 207–226.

Henry, R. N., Anshel, M. H., & Michael, T. (2006). Effects of aerobic and circuit training on fitness and body image among women. Journal of Sport Behavior, 29, 281–303.

Khoury-Murphy, M., & Murphy, M. D. (1992). Southern (bar)belles: The cultural problematics of implementing a weight-training program among older Southern women. Play and Culture, 5, 409–419.

Layne, J. E., & Nelson, M. E. (1999). The effects of progressive resistance training on bone density: A review. Medicine & Science in Sports & Exercise., 31, 25–30.

Leary, M. R. (1983). A brief version of the fear of negative evaluation scale. Personality and Social Psychology Bulletin, 9, 371–375.

Leit, R. A., Gray, J. J., & Pope, H. G. (2002). The media's representation of the ideal male body: A cause for muscle dysmorphia? The International Journal of Eating Disorders, 31, 334–338.

Nichter, M. (2000). Fat talk. Cambridge: Harvard University Press.

Nolen-Hoeksema, S., & Girgus, J. S. (1994). The emergence of gender differences in depression during adolescence. Psychological Bulletin, 114, 424–443.

Olivardia, R. (2001). Mirror, mirror on the wall, who's the largest of them all? The features and phenomenology of muscle dysmorphia. Harvard Review of Psychiatry, 9, 254–259.

Ossip-Klein, D. J., Doyne, E. J., Bowman, E. D., Osborn, K. M., McDougall-Wilson, I. B., & Neimeyer, R. A. (1989). Effects of running or weight lifting on self-concept in clinically depressed women. Journal of Counseling and Clinical Psychology, 57, 158–161.

Prentice, D. A., & Carranza, E. (2002). What women and men should be, shouldn't be, are allowed to be, and don't have to be: The contents of prescriptive gender stereotypes. Psychology of Women Quarterly, 26, 269–281.

Raag, T., & Rackliff, C. L. (1998). Preschoolers' awareness of social expectations of gender: Relationships to toy choices. Sex Roles, 38, 685–700.

Rocheleau, C. A., Webster, G. D., Bryan, A., & Frazier, J. (2004). Moderators of the relationship between exercise and mood changes: Gender, exertion level, and workout duration. Psychology & Health, 19, 491–506.

Rudman, L. A., & Glick, P. (2001). Prescriptive gender stereotypes and backlash toward agentic women. Journal of Social Issues, 57, 743–762.

Rudman, L. A., & Fairchild, K. (2004). Reactions to counterstereotypic behavior: The role of backlash in cultural stereotype maintenance. Journal of Personality and Social Psychology, 87, 157–176.

Rudolph, K. D., & Conley, C. S. (2005). The socioemotional costs and benefits of social-evaluative concerns: Do girls care too much? Journal of Personality, 73, 115–137.

Salvatore, J. (2002). Why don't women ever use the bench press? Unpublished honors thesis. Swarthmore: Swarthmore College.

Walberg, J. L. (1989). Aerobic exercise and resistance weight-training during weight reduction. Sports Medicine, 7, 343–356.

Watson, D., & Friend, R. (1969). Measurement of social-evaluative anxiety. Journal of Consulting and Clinical Psychology, 33, 448–457.

Williams, P. A., & Cash, T. F. (2001). Effects of a circuit weight training program on the body images of college students. The International Journal of Eating Disorders, 30, 75–82.
Acknowledgement
Studies 3a and 3b originally constituted part of the first author's honors thesis at Swarthmore College, advised by the second author and Andrew Ward. We would like to thank Kate Hurster for serving as an experimenter for those studies, Matt Oransky and Chris Robus for serving as critical incident coders, Shirit Kronzon and Adam Anolik for help with creating stimulus materials, and Andrew Ward and Genia Kozorovitskiy for feedback and comments on past drafts.
About this article
Cite this article
Salvatore, J., Marecek, J. Gender in the Gym: Evaluation Concerns as Barriers to Women's Weight Lifting. Sex Roles 63, 556–567 (2010). https://doi.org/10.1007/s11199-010-9800-8
Keywords
Women

Evaluation concerns

Gender norms

Exercise

Weight lifting