Abstract
Previous research on system justification theory suggests that beliefs that rationalize inequalities are related to subjective well-being. We examine how "complementary" (hostile and benevolent) justifications of gender inequality may serve a palliative function for both men and women. Using multilevel modeling and data from 32 countries (N's = 362 to 5160), we find that relationships between hostile and benevolent justifications and life satisfaction are moderated by the degree of gender inequality at the national level. In relatively egalitarian nations, individuals who endorse "complementary" justifications are higher on life satisfaction compared to those who endorse an exclusively hostile justification. In nations with high gender inequality, there is no difference in life satisfaction for those who endorse exclusively hostile vs. complementary justifications.
Access options
Buy single article
Instant access to the full article PDF.
US$ 39.95
Tax calculation will be finalised during checkout.
Subscribe to journal
Immediate online access to all issues from 2019. Subscription will auto renew annually.
US$ 119
Tax calculation will be finalised during checkout.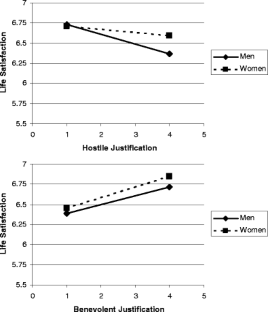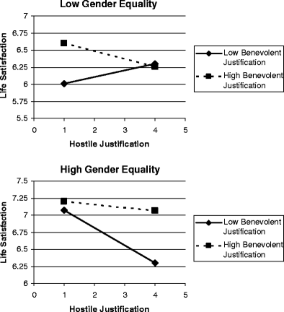 References
Bem, S. L. & Bem, D. J. (1970). Case study of a nonconscious ideology: Training the woman to know her place. In D. J. Bem (Ed.), Beliefs, attitudes, and human affairs (pp. 89–99). Belmont: Brooks/Cole.

Blanchflower, D. G. & Oswald, A. J. (2004). Well-being over time in Britain and the USA. Journal of Public Economics, 88, 1359–1386.

Cikara, M., Lee, T. T., Fiske, S. T., & Glick, P. (2009). Ambivalent sexism at home and at work: How attitudes toward women in relationships foster exclusion in the public sphere. In J. T. Jost, A. C. Kay & H. Thorisdottir (Eds.), Social and psychological bases of ideology and system justification. New York: Oxford University Press.

Cuddy, A. J. C. & Fiske, S. T. (2002). Doddering, but dear: Process, content, and function in stereotyping of older persons. In T. Nelson (Ed.), Ageism: Stereotyping and prejudice against older persons (pp. 3–26). Cambridge: MIT.

Deaux, K. & Lewis, L. L. (1984). Structure of gender stereotypes: interrelationships among components and gender label. Journal of Personality and Social Psychology, 46, 991–1004.

Diener, E. & Oishi, S. (2000). Money and happiness: Income and subjective well-being across nations. In E. Diener & E. M. Suh (Eds.), Cross-cultural psychology of subjective well-being (pp. 185–218). Boston: MIT.

Diener, E., & Seligman, M. E. P. (2004). Beyond money: toward an economy of well-being. Psychological Science in the Public Interest, 5(1).

Diener, E. & Tov, W. (2007). Subjective well-being and peace. Journal of Social Issues, 63, 421–440.

Dovidio, J. F. & Gaertner, S. L. (1999). Reducing prejudice: combating intergroup biases. Current Directions in Psychological Science, 8, 101–105.

Dovidio, J. F. & Gaertner, S. L. (2000). Aversive racism and selection decisions: 1989 and 1999. Psychological Science, 11, 319–323.

Eagly, A. H. & Steffen, V. (1984). Gender stereotypes stem from the distribution of women and men into social roles. Journal of Personality and Social Psychology, 46, 735–754.

Elster, J. (1982). Belief, bias, and ideology. In M. Hollis & S. Lukes (Eds.), Rationality and relativism (pp. 123–148). Cambridge: MIT.

Evertsson, M. & Nermo, M. (2004). Dependence within families and the division of labor: comparing Sweden and the United States. Journal of Marriage and Family, 66, 1272–1286.

Fiske, S. T. (1998). Stereotyping, prejudice, and discrimination. In D. T. Gilbert, S. T. Fiske & G. Lindzey (Eds.), Handbook of social psychology (4th ed., Vol. 2, pp. 357–411). New York: McGraw- Hill.

Fiske, S. T., Xu, J., Cuddy, A. J. C., & Glick, P. (1999). (Dis)respecting versus (Dis)liking: status and interdependence predict ambivalent stereotypes of competence and warmth. Journal of Social Issues, 55, 473–490.

Fiske, S. T., Cuddy, A. J. C., Glick, P., & Xu, J. (2002). A model of (often mixed) stereotype content: competence and warmth respectively follow from status and competition. Journal of Personality and Social Psychology, 82, 878–902.

Glick, P. & Fiske, S. T. (1996). The ambivalent sexism inventory: differentiating hostile and benevolent sexism. Journal of Personality and Social Psychology, 70, 491–512.

Glick, P. & Fiske, S. T. (2001a). An ambivalent alliance: hostile and benevolent sexism as complementary justifications for gender inequality. American Psychologist, 56, 109–118.

Glick, P. & Fiske, S. T. (2001b). Ambivalent sexism. In M. P. Zanna (Ed.), Advances in experimental social psychology (Vol. 33, pp. 115–188). Thousand Oaks: Academic.

Glick, P., Fiske, S. T., Mladinic, A., Saiz, J., Abrams, D., Masser, B., et al. (2000). Beyond prejudice as simple antipathy: hostile and benevolent sexism across cultures. Journal of Personality and Social Psychology, 79, 763–775.

Glick, P., Sakalli-Ugurlu, N., Ferreira, M. C., & Aguiar de Souza, M. (2002). Ambivalent sexism and attitudes toward wife abuse in Turkey and Brazil. Psychology of Women Quarterly, 26, 291–296.

Heilman, M. E. (2001). Description and prescription: how gender stereotypes prevent women's ascent up the organizational ladder. Journal of Social Issues, 57, 657–674.

Jackman, M. R. (1994). The velvet glove: Paternalism and conflict in gender, class, and race relations. Berkeley: University of California Press.

Jost, J. T. & Banaji, M. (1994). The role of stereotyping in system justification and the production of false consciousness. British Journal of Social Psychology, 22, 1–27.

Jost, J. T. & Hunyady, O. (2002). The psychology of system justification and the palliative function of ideology. European Review of Social Psychology, 13, 111–153.

Jost, J. T. & Hunyady, O. (2005). Antecedents and consequences of system-justifying ideologies. Current Directions in Psychological Science, 14, 260–265.

Jost, J. T. & Kay, A. C. (2005). Exposure to benevolent sexism and complementary gender stereotypes: consequences for specific and diffuse forms of system justification. Journal of Personality and Social Psychology, 88, 498–509.

Jost, J. T., Blount, S., Pfeffer, J., & Hunyady, G. (2003a). Fair market ideology: its cognitive-motivational underpinnings. Research in Organizational Behavior, 25, 53–91.

Jost, J. T., Pelham, B. W., Sheldon, O., & Sullivan, B. N. (2003b). Social inequality and the reduction of ideological dissonance on behalf of the system: evidence of enhanced system justification among the disadvantaged. European Journal of Social Psychology, 33, 13–36.

Jost, J. T., Banaji, M. R., & Nosek, B. A. (2004). A decade of system justification theory: accumulated evidence of conscious and unconscious bolstering of the status quo. Political Psychology, 25, 881–919.

Jost, J. T., Kivetz, Y., Rubini, M., Guermandi, G., & Mosso, C. (2005). System-justifying functions of complementary regional and ethnic stereotypes: cross-national evidence. Social Justice Research, 18, 305–333.

Jost, J. T., Ledgerwood, A., & Hardin, C. D. (2008). Shared reality, system justification, and the relational basis of ideological beliefs. Social and Personality Psychology Compass, 2, 171–186.

Jost, J. T., Federico, C. M., & Napier, J. L. (2009). Political ideology: its structure, functions, and elective affinities. Annual Review of Psychology, 60, 307–337.

Kay, A. C. & Jost, J. T. (2003). Complementary justice: effects of "poor but happy" and "poor but honest" stereotype exemplars on system justification and implicit activation of the justice motive. Journal of Personality and Social Psychology, 85, 823–837.

Kay, A. C., Jost, J. T., & Young, S. (2005). Victim-derogation and victim-enhancement as alternate routes to system justification. Psychological Science, 16, 204–246.

Kay, A. C., Jost, J. T., Mandisodza, A. N., Sherman, S. J., Petrocelli, J. V., & Johnson, A. L. (2007). Panglossian ideology in the service of system justification: How complementary stereotypes help us to rationalize inequality. In M. Zanna (Ed.), Advances in experimental social psychology (Vol. 39, pp. 305–358). San Diego: Elsevier.

Kluegel, J. R. & Smith, E. R. (1986). Beliefs about inequality: Americans' view of what is and what ought to be. New York: Aldine de Gruyter.

Lane, R. E. (2004). The fear of equality. In J. T. Jost & J. Sidanius (Eds.), Political psychology: Key readings (pp. 217–229). New York: Psychology Press/Taylor & Francis. (Original work published 1959).

Langford, T. & MacKinnon, N. J. (2000). The affective bases for the gendering of traits: comparing the United States and Canada. Social Psychology Quarterly, 63, 34–48.

Lerner, M. (1980). The belief in a just world: A fundamental delusion. New York: Plenum.

Major, B. (1994). From social inequality to personal entitlement: The role of social comparisons, legitimacy appraisals, and group membership. In M. P. Zanna (Ed.), Advances in experimental social psychology (Vol. 26, pp. 293–355). San Diego: Academic.

Martin, D. (1976). Battered wives. Volcano, CA: Volcano Press, Inc.

Myers, D. G. & Diener, E. (1995). Who is happy? Psychological Science, 6, 10–19.

Mueller, R. (2006). Quoted in Look, 5 March 1957. In F. R. Shapiro (Ed.), The Yale Book of Quotations (p. 541).

Napier, J. L. & Jost, J. T. (2008). Why are conservatives happier than liberals? Psychological Science, 19, 565–572.

Naylor, L. L. (1998). American culture: Myth and reality of a culture of diversity. Westport: Greenwood Publishing Group.

O'Brien, L. T. & Major, B. N. (2005). System justifying beliefs and psychological well-being: the roles of group status and identity. Personality and Social Psychology Bulletin, 31, 1718–1729.

People's Century (2009). Public Broadcasting System (PBS). Retrieved from http://www.pbs.org/wgbh/peoplescentury/episodes/halfthepeople/parrotranscript.html

Preacher, K. J., Curran, P. J., & Bauer, D. J. (2006). Computational tools for probing interaction effects in multiple linear regression, multilevel modeling, and latent curve analysis. Journal of Education and Behavioral Statistics, 31, 437–448.

Rankin, L., Jost, J. T., & Wakslak, C. J. (2009). System justification and the meaning of life: are the existential benefits of ideology distributed unevenly across racial groups? Social Justice Research, 22, 312–333.

Rawls, J. (1999). A theory of justice. Cambridge: Harvard University Press. Original work published 1971.

Rudman, L. A. & Phelan, J. E. (2007). The interpersonal power of feminism: is feminism good for romantic relationships? Sex Roles, 57, 787–799.

Schechter, S. (1982). Women and male violence: The visions and struggles of the battered women's movement. Cambridge, MA: South End Press.

Schuman, H., Steele, C., Bobo, L., & Krysan, M. (1997). Racial attitudes in America: trends and interpretations (Revisedth ed.). Cambridge: Harvard University Press.

Sears, D. O. (1988). Symbolic racism. In P. A. Katz & D. A. Taylor (Eds.), Eliminating racism: Profiles in controversy (pp. 53–84). New York: Plenum.

Sen, A. (1990). More than 100 million women are missing. New York Review of Books, 37(20).

Sibley, C. G., Overall, N. C., & Duckitt, J. (2007). When women become more hostilely sexist toward their gender: the system-justifying effect of benevolent sexism. Sex Roles, 57, 743–754.

United Nations Development Programme. (2000). Human Development Report 2000. New York: Oxford University Press.

Wakslak, C., Jost, J. T., Tyler, T. R., & Chen, E. (2007). Moral outrage mediates the dampening effect of system justification on support for redistributive social policies. Psychological Science, 18, 267–274.

Williams, J. E. & Best, D. L. (1982). Measuring sex stereotypes: A thirty-nation study. Beverly Hills: Sage.

World Values Survey (2006). European and World Values Surveys Four-Wave Integrated Data File, 1981–2004, v.20060423. Retrieved from http://www.jdsurvey.net/bdasepjds/wvsevs/WVSData.jsp
About this article
Cite this article
Napier, J.L., Thorisdottir, H. & Jost, J.T. The Joy of Sexism? A Multinational Investigation of Hostile and Benevolent Justifications for Gender Inequality and Their Relations to Subjective Well-Being. Sex Roles 62, 405–419 (2010). https://doi.org/10.1007/s11199-009-9712-7
Keywords
System justification

Complementary stereotypes

Subjective well-being