Abstract
Women's feminist identification is associated with a growing list of favorable outcomes, predicting that these correlations will extend to egalitarian and assertive role expectations for committed and sexual partnerships, respectively. Surveying 165 undergraduate US women, nonfeminist passive acceptance was linked to low egalitarian expectations overall and across all seven subscales of the marriage role expectation inventory. It also was related to depressed sexual assertiveness overall and specifically in initiating sexual encounters and engaging in safe sexual practices. These negative associations were nonsignificant or positive for women with stronger feminist identification. When endorsement of passive acceptance was controlled for, the positive correlation between egalitarian and assertive expectations fell to nonsignificance, consistent with regarding nonfeminist attitudes as a confounded third common factor.
Access options
Buy single article
Instant access to the full article PDF.
US$ 39.95
Tax calculation will be finalised during checkout.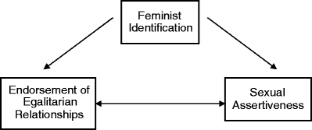 References
Amaro, H., & Raj, A. (2000). On the margin: Power and women's HIV risk reduction strategies. Sex Roles, 42, 723–749.

Apparala, M. L., Reifman, A., & Munsch, J. (2003). Cross-national comparison of attitudes toward fathers' and mothers' participation in household tasks and childcare. Sex Roles, 48, 189–203.

Bargad, A., & Hyde, J. S. (1991). Women's studies: A study of feminist identity development in women. Psychology of Women Quarterly, 15, 181–201.

Bird, C. E. (1999). Gender, household labor, and psychological distress: The impact of the amount and division of housework. Journal of Health and Social Behavior, 40, 32–45.

Botkin, D. R., Weeks, M. O., & Morris, J. E. (2000). Changing marriage role expectations: 1961–1996. Sex Roles, 42, 933–942.

Brown, J. A., Cross, H. J., & Nelson, J. M. (1990). Sex-role identity and sex-role ideology in college women with bulimic behavior. International Journal of Eating Disorders, 9, 571–575.

Cook, E. A. (1993). Feminist consciousness and candidate preference among American women 1972–1988. Political Behavior, 15, 227–246.

Deaux, K., & Kite, M. E. (1987). Thinking about gender. In B. B. Hess & M. M. Ferree (Eds.), Analyzing gender: A handbook of social science research (pp. 92–117). Beverly Hills, CA: Sage.

Donaghue, N., & Fallon, B. J. (2003). Gender-role self-stereotyping and the relationship between equity and satisfaction in close relationships. Sex Roles, 48, 217–230.

Downing, N., & Roush, K. (1985). From passive acceptance to active commitment: A model of feminist identity development for women. The Counseling Psychologist, 13, 695–709.

Dunn, M. S. (1960). Marriage role expectations of adolescents. Marriage and Family Living, 22, 99–111.

Fischer, A. R., & Good, G. E. (1994). Gender, self, and others: Perceptions of the campus environment. Journal of Counseling Psychology, 41, 343–355.

Fischer, A. R., Tokar, D. M., Mergl, M. M., Good, G. E., Hill, M. S., & Blum, S. A. (2000). Assessing women's feminist identity development: Studies of convergent, discriminant, and structural validity. Psychology of Women Quarterly, 24, 15–29.

Foss, C. J., & Slaney, R. B. (1986). Increasing nontraditional career choices in women: Relation of attitudes toward women and responses to a career intervention. Journal of Vocational Behavior, 28, 191–202.

Greene, K., & Faulkner, S. L. (2005). Gender, belief in the sexual double standard, and sexual talk in heterosexual dating relationships. Sex Roles, 53, 239–251.

Henderson-King, D. H., & Stewart, A. J. (1997). Feminist consciousness: Perspectives on women's experiences. Personality and Social Psychology Bulletin, 23, 415–426.

Johnson, D. M., Worell, J., & Chandler, R. K. (2005). Assessing psychological health and empowerment in women: The personal progress scale revised. Women & Health, 41, 109–129.

Kite, M. E. (2001). Changing times, changing gender roles: Who do we want women and men to be? In R. K. Unger (Ed.), Handbook of the psychology of women and gender (pp. 215–227). New York: Wiley.

Klonis, S., Endo, J., Crosby, F., & Worell, J. (1997). Feminism as life raft. Psychology of Women Quarterly, 21, 333–345.

Kobrynowicz, D., & Branscombe, N. R. (1997). Who considers themselves victims of discrimination? Individual difference predictors of perceived gender discrimination in women and men. Psychology of Women Quarterly, 21, 347–363.

Kurdek, L. A. (1995). Developmental changes in relationship quality in gay and lesbian cohabiting couples. Developmental Psychology, 31, 86–94.

Liss, M., O'Conner, C., Morosky, E., & Crawford, M. (2001). What makes a feminist? Predictors and correlates of feminist social identity in college women. Psychology of Women Quarterly, 25, 124–133.

MacKinnon, D. P., Krull, J. L., & Lockwood, C. M. (2000). Equivalence of the mediation, confounding, and suppression effect. Prevention Science, 1, 173–181.

McGann, V. L., & Steil, J. M. (2006). The sense of entitlement: Implication for gender equality and psychological well-being. In J. Worell, & C. D. Goodheart (Eds.), Handbook of girls' and women's psychological health: Gender and well-being across the lifespan (pp. 175–182). New York: Oxford.

Moradi, B., & Subich, L. M. (2002). Feminist identity development measures: Comparing the psychometrics of three instruments. The Counseling Psychologist, 30, 66–86.

Moradi, B., Subich, L. M., & Phillips, J. (2002). Revisiting feminist identity development theory, research, and practice. The Counseling Psychologist, 30, 6–43.

Morokoff, P. J., Quina, K., Harlow, L. L., Whitmire, L., Grimley, D. M., Gibson, P. R., et al. (1997). Sexual assertiveness scale (SAS) for women: Development and validation. Journal of Personality and Social Psychology, 73, 790–804.

Ojerholm, A. J., & Rothblum, E. D. (1999). The relationships of body image, feminism and sexual orientation in college women. Feminism & Psychology, 9, 431–448.

Rickard, K. M. (1987). Feminist identity development: Scale development and initial validation studies. Paper presented at the annual meeting of the Association for Women in Psychology, Denver, CO.

Rickard, K. M. (1989). The relationship of self-monitored dating behaviors to level of feminist identity on the feminist identity scale. Sex Roles, 20, 213–226.

Rickard, K. M. (1990). The effect of feminist identity level on gender prejudice toward artists' illustrations. Journal of Research in Personality, 24, 145–162.

Robinson, J., & Spitze, G. (1992). Whistle while you work? The effect of household task performance on women's and men's well-being. Social Science Quarterly, 73, 844–861.

Sanchez, D. T., Kiefer, A. K., & Ybarra, O. (2006). Sexual submissiveness in women: Costs for sexual autonomy and arousal. Personality and Social Psychology Bulletin, 32, 512–524.

Schroeder, K. A., Blood, L. L., & Maluso, D. (1992). An intergenerational analysis of expectations for women's career and family roles. Sex Roles, 26, 273–291.

Snell, W. E., & Wooldridge, D. G. (1998). Sexual awareness: Contraception, sexual behaviors and sexual attitudes. Sexual & Marital Therapy, 13, 191–199.

Snyder, R., & Hasbrouck, L. (1996). Feminist identity, gender traits, and symptoms of disturbed eating among college women. Psychology of Women Quarterly, 20, 593–598.

Valenzuela, A. (1993). Liberal gender role attitudes and academic achievement among Mexican-origin adolescents in two Houston inner-city Catholic schools. Hispanic Journal of Behavioral Sciences, 15, 310–323.

Weathers, P. L., Thompson, C. E., Robert, S., & Rodriguez, J. (1994). Black college women's career values: A preliminary investigation. Journal of Multicultural Counseling and Development, 22, 96–105.

Worell, J. (1996). Feminist identity in a gendered world. In J. C. Chrisler, C. Golden, & P. D. Rozee (Eds.), Lectures on the psychology of women (pp. 358–370). New York: McGraw-Hill.

Zamboni, B. D., Crawford, I., & Williams, P. G. (2000). Examining communication and assertiveness as predictors of condom use: Implications for HIV prevention. AIDS Education and Prevention, 12, 492–504.
Acknowledgement
The authors thank Marie Bozin and Jessica Christopher for their help with data collection, and Andrea Snell and John Zipp for their generous sharing of their statistical expertise.
About this article
Cite this article
Yoder, J.D., Perry, R.L. & Saal, E.I. What Good is a Feminist Identity?: Women's Feminist Identification and Role Expectations for Intimate and Sexual Relationships. Sex Roles 57, 365–372 (2007). https://doi.org/10.1007/s11199-007-9269-2
Received:

Accepted:

Published:

Issue Date:
Keywords
Feminism

Female attitudes

Sex roles

Interpersonal relationships

Sexuality