Abstract
The present essay aims to offer some reflections concerning the cultural and political aspects of veganism, on the basis of the available surveys and statistics, plus some more gathered by the authors—with the tools of different methodologies, including the semiotic one. After an introduction to veganism as phenomenon and movement, with general reflections and also a number of specific data, the essay proceeds to focus on the more political aspects, with an emphasis on some of the most intriguing and multifaceted data, such as the prevalence of female gender, leftist political inclinations and atheism within the vegan community. While the first connection has already been widely discussed (and to our mind, proved) since the times of Adams (The sexual politics of meat: a feminist-vegetarian critical theory, Continuum, New York, 1990), much less has been said (particularly at academic level) about the significance leftist ideologies and atheism within veganism. Moreover, within the domain of semiotics, this topic is entirely unexplored.
Access options
Buy single article
Instant access to the full article PDF.
USD 39.95
Price excludes VAT (USA)
Tax calculation will be finalised during checkout.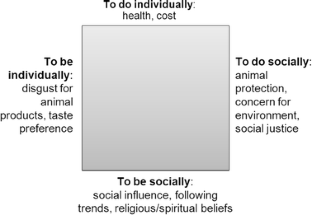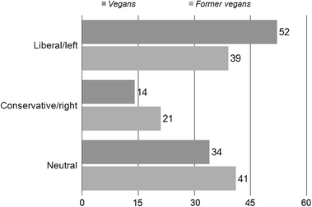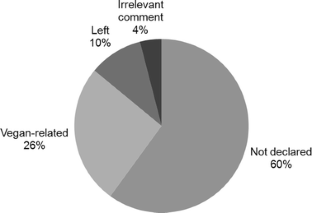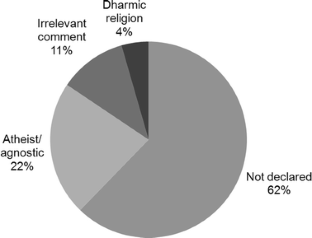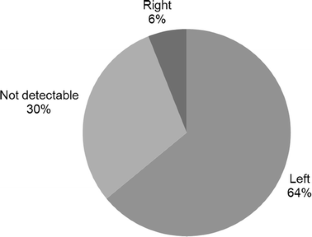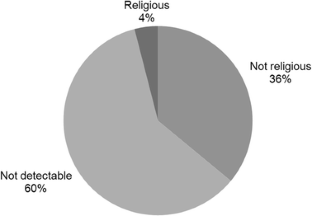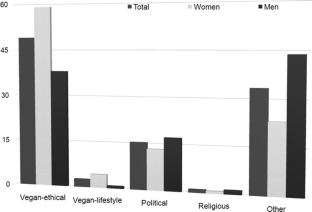 Notes
Keeping up with popular culture references, it may be interesting to note that in the same period (1982, to be exact), Roger Waters of the Pink Floyd had expressed his preoccupation that vegetarianism was only another palliative adopted by people to fill the existential gaps of an increasingly-alienated society: "Shall we give up meat?" is indeed one of the many bitterly-ironic interrogatives posed in the song "What Shall We Do Now?", from the film The Wall (along with—what Waters may have imagined as - equally-disturbing prospects like "Shall we drop bombs… break up homes… contract diseases…").

Of course, a significant distinction should be made here between Dharmic religions, which often forbid the consumption of meat, and Abrahamic religions, which regularly allow it. The question of the anthropocentrism and anthropocracy, however (we are going to define these two terms later in this essay), remains more or less consistent across all religions, with some marginal differences and with very few exceptions, at least at the level of mainstream faiths.

Although, oddly, his most famous quote ("the time will come when men will look upon the murder of animals as they look upon the murder of man") has been proven to be a fake (it was a quote attributed to him in a historical fiction novel by Dmitry Sergeyevich Merezhkovsky called The Romance of Leonardo da Vinci). Leonardo's passionate animal advocacy and vegetarianism are documented already by his contemporaries (like Andrea Corsali's famous letter to Lorenzo de' Medici, in which his abstinence from "anything which has blood" is mentioned) [36].

Just as an informal exercise, one may perhaps connect this state of things to the generally-held opinion that, specific differences aside, leftist ideologies are usually more focused on the political discourse as such, while part of the rightist culture consist also of a conscious rejection of it. The notion of "anti-politics", for instance (and the current world situation in USA, UK, Italy and other countries, is a perfect illustration of this), tends to be much more popular among rightist circles, than leftist ones.

Again, informally speaking, we may here inaugurate a discussion on the difference between "stated ideology" and "de facto ideology". From a leftist perspective, a figure like Stalin may have "belonged" to a communist political force, but he equally showed no real coherence with the latter, when looking at his authoritarian and repressive actions. From a rightist perspective, the two dimensions are perfectly compatible, as Stalin's actions are perceived to be exactly what a communist ideology and system leads to.

Only in the Italian political panorama, one can count numerous (and definitely more than five) and diverse right-wing parties: from the infamous Partito Fascista, to the one that gathered its heritage (and people) after the war, the Movimento Sociale Italiano (in turn, split into equally-recognizable forces around the 1990's: Alleanza Nazionale, Lista Rauti, etc.); from Berlusconi's disastrous (for Italian economy and culture) Forza Italia to the openly-racist Lega Nord; from the moderate-conservative Partito Liberale Italiano to the shortly-lived Unione Monarchica… the list is very long.
References
Adams, Carol J. 1990. The sexual politics of meat: A feminist-vegetarian critical theory. New York: Continuum.

Alexandratos, Nikos and Jelle Bruinsma. 2012. World agriculture towards 2030–2050. Food and Agriculture Organization. http://www.fao.org/docrep/016/ap106e/ap106e.pdf. Accessed 30 Sept 2017.

Angus Reid Institute. 2015. Religion and faith in Canada today: Strong belief, ambivalence and rejection define our views. http://angusreid.org/faith-in-canada/. Accessed 30 Sept 2017.

Bankov, Kristian. 2004. Infinite Semiosis and Resistance. In From nature to psyche. Proceedings from the ISI summer congresses at Imatra in 2001–2002, ed. Eero Tarasti, 175–181. Helsinki: International Semiotics Institute.

Barthes, Roland. 1957. Mythologies. Paris: Editions de Seuil.

Berry, Rynn. 2005. Hitler: Neither vegetarian nor animal lover. New York: Pythagorean Books.

Bobbio, Norberto. 1994/2004. Destra e sinistra: ragioni e significati di una distinzione politica. Roma: Donzelli.

Bopry, Jeanette. 2002. Semiotics, Epistemology, and Inquiry. Teaching and Learning 17(1): 5–18.

Bullock, Alan. 1999/1952. Hitler: A Study in Tyranny. New York: Konecky & Konecky.

Carlisle, Rodney P. (ed.). 2005. Encyclopedia of left and right, vol. 2. Thousand Oaks: Sage Publications.

Clark, Gillian (trans.) 2000. Porphyry. On Abstinence from Killing Animals. London: Duckworth.

Dean, Tamara. 2015. The water behind your meat & potatoes. http://ediblemadison.com/articles/view/water-behind-meat-potatoes. Accessed 30 Sept 2017.

Eco, Umberto. 1968. La struttura assente. Milan: Bompiani.

FAO. 2006. Livestock's long shadow. Environmental issues and options. http://www.fao.org/docrep/010/a0701e/a0701e00.HTM. Accessed 28 Sept 2017.

FAOstat. 2014. Livestock primary. http://www.fao.org/faostat/en/#data/QL. Accessed 15 Sept 2017.

FishCount. 2011. Fish count estimates. http://fishcount.org.uk/fish-count-estimates. Accessed 15 Sept 2017.

Freston, Kathy. 2011. Veganist. New York: Weinstein Publishing.

Fuso, Silvano. 2016. Naturale = Buono? Roma: Carrocci.

Galli, Giorgio. 2010. Perché ancora destra e sinistra. Roma: Laterza.

Gendron, Charlotte. 2015. Less than half of millennial women identify as "feminist". https://www.prri.org/spotlight/less-than-half-of-millennial-women-identify-as-feminist/. Accessed 30 Sept 2017.

GlobalData. 2017. Top trends in prepared foods 2017: Exploring trends in meat, fish and seafood; pasta, noodles and rice; prepared meals; savory deli food; soup; and meat substitutes (survey). https://www.researchandmarkets.com/research/235vq9/top_trends_in. Accessed 30 Sept 2017.

Grant, Catherine. 2006. The no-nonsense guide to animal rights. Oxford: New Internationalist.

Habermas, Jürgen. 1998. The inclusion of the other. Studies in political theory. Cambridge: MIT Press.

Harris Poll. 2015. The vegetarian resource group—2015 national survey (survey). http://www.vrg.org/blog/2015/05/29/how-often-do-americans-eat-vegetarian-meals-and-how-many-adults-in-the-u-s-are-vegetarian-2/. Accessed 30 Sept 2017.

Hodge, Robert, and Gunther Kress. 1988. Social semiotics. Cambridge: Polity.

Hodge, Robert, and Gunther Kress. 1993. Language as ideology. London: Routledge.

Humane Research Council. 2014. Study of current and former vegetarians and vegans. Initial findings, December 2014 (survey). https://faunalytics.org/wp-content/uploads/2015/06/Faunalytics_Current-Former-Vegetarians_Full-Report.pdf. Accessed 30 Sept 2017.

Iacobbo, Karen, and Michael Iacobbo. 2006. Vegetarians and vegans in America today. Santa Barbara: Greenwood Publishing Group.

Ipsos MORI. 2016. Incidence of vegans (survey). https://www.ipsos.com/sites/default/files/migrations/en-uk/files/Assets/Docs/Polls/vegan-society-poll-2016-topline.pdf. Accessed 30 Sept 2017.

Larsen, Janet. 2012. Meat consumption in China now double that in the United States. Earth Policy Institute. http://www.earth-policy.org/plan_b_updates/2012/update102. Accessed 30 Sept 2017.

Leichman, Abigail Klein. 2017. Israel has most vegans per capita and the trend is growing. Israel 21c. 26 March 2017. https://www.israel21c.org/israel-has-most-vegans-per-capita-and-the-trend-is-growing/. Accessed 30 Sept 2017.

Lipka, Michael. 2016. U.S. religious groups and their political leanings. http://www.pewresearch.org/fact-tank/2016/02/23/u-s-religious-groups-and-their-political-leanings/. Accessed 30 Sept 2017.

Madiran, Jean. 1977. La droite et la gauche. Paris: Nouvelles Éditions latines.

Martinelli, Dario. 2008. The Ethic Imperative in Eero Tarasti's semiotic path: Reflecting on the relationships between resistance and biocentrism. In A sounding of signs—modalities and moments in music, culture and philosophy, ed. R.S. Hatten, P. Kukkonen, R. Littlefield, H. Veivo, and I. Vierimaa. Helsinki: International Semiotics Institute.

Martinelli, Dario. 2010. A critical companion to zoosemiotics: People, paths, ideas. Berlin: Springer.

Martinelli, Dario. 2010. Aunthenticity, performance and other double-edged words: Essays on popular music. Helsinki-Imatra: International Semiotics Institute.

Maurer, Donna. 2002. Vegetarianism: Movement or moment?. Philadelphia: Temple University Press.

Meneley, Anne. 2004. Extra virgin olive oil and slow food. Anthropologica 6(2): 170–172.

Mensink, Gert B.M., et al. 2016. Prevalence of persons following a vegetarian diet in Germany. Journal of Health Monitoring 1(2): 2–14.

Mintel. 2017. Vegan food launches in Australia grew by 92% between 2014 and 2016 (survey). http://www.mintel.com/press-centre/food-and-drink/vegan-food-launches-in-australia-grew-by-92-between-2014-and-2016. Accessed 30 Sept 2017.

Nibert, David. 2002. Animal rights, human rights. Lanham: Rowman and Littlefield.

Petrini, Carlo, and Gigi Padovani. 2005. Slow food. Storia di un'utopia possibile. Milan: Rizzoli.

Pimentel, David, and Marcia Pimentel. 2003. Sustainability of meat-based and plant-based diets and the environment. The American Journal of Clinical Nutrition 78(3): 660–663.

Priyakshi, Sarma. 2014. Beef production is killing the amazon rainforest. http://www.onegreenplanet.org/animalsandnature/beef-production-is-killing-the-amazon-rainforest/. Accessed 19 Sept 2017.

Puskar-Pasewicz, Margaret. 2010. Cultural Encyclopaedia of Vegetarianism. Greenwood: Santa Barbara.

Rohrer, Finlo. 2009. The rise of the non-veggie vegetarian. BBC News Magazine, 5 November 2009. http://news.bbc.co.uk/1/hi/magazine/8341002.stm. Accessed 9 Sept 2017.

Rosch, Eleanor, et al. 1978. Cognition and categorisation. Hillsdale: Lawrence Erlbaum.

Rossi-Landi, Ferruccio. 1972. Semiotica e ideologia. Milan: Bompiani.

Roy Morgan Research. 2016. The slow but steady rise of vegetarianism in Australia (survey). http://www.roymorgan.com/findings/vegetarianisms-slow-but-steady-rise-in-australia-201608151105. Accessed 9 Sept 2017.

San Martin, Javier, and Maria L. Pintos. 2001. Animal life and phenomenology. In The reach of reflection: The future of phenomenology, ed. S. Crowell, E. Lester, and J.J. Samuel, 342–363. Memphis: Center for Advanced Research in Phenomenology.

Peter, Scarborough, et al. 2014. Dietary greenhouse gas emissions of meat-eaters, fish-eaters, vegetarians and vegans in the UK. Climatic Change 125: 179–192.

Simonetti, Luigi. 2010. Mangi chi può, meno, meglio e piano. L'ideologia di slow food. Pagliai: Firenze.

Singer, Peter. 1999. A Darwinian Left. London: Weidenfeld & Nicolson.

Smith, Andrew F. 2013. Eating history. New York: Columbia University Press.

Stano, Simona. 2015. Eating the other: Translations of the culinary code. Newcastle: Cambridge Scholars Publishing.

Stefani, Gino. 1985. Competenza musicale e cultura della pace. Bologna: Clueb.

Stefani, Gino. 1989. Musica con coscienza. Roma: Edizioni Paoline.

Stepaniak, Joanne. 2000. The vegan sourcebook. New York: McGraw Hill Professional.

Strimpel, Zoe. 2012. Why do so few men take gender studies courses?. The Guardian, 19 November 2012. https://www.theguardian.com/lifeandstyle/the-womens-blog-with-jane-martinson/2012/nov/19/so-few-men-gender-studies. Accessed 9 Sept 2017.

Tarasti, Eero. 1997. The emancipation of the sign: On the corporeal and gestural meanings in music. AS/SA 4: 180–190.

Tarasti, Eero. 2000. Existential semiotics. Bloomington: Indiana University Press.

Tarasti, Eero. 2005. Vastarinnan semiotiikkaa: oleminen, muisti, historia—merkkien vastavirta. Synteesi 1: 2–29.

Voloshinov, Valentin. 1973. Marxism and the philosophy of language. New York: Seminar Press.

Wakamiya, Atsuko. 2011. Fleisch frisst Fläche. Ökologie & Landbau 159(3): 40–42.

Watson, Donald. 1944. Concerning ourselves. The Vegan News 1: 3.

Watson, Donald. 1951. The new constitution. The Vegan VII(1): 2–3.

Wright, Laura. 2015. Vegan studies. Food, animals and gender in the age of terror. Athens: University of Georgia Press.
About this article
Cite this article
Martinelli, D., Berkmanienė, A. The Politics and the Demographics of Veganism: Notes for a Critical Analysis. Int J Semiot Law 31, 501–530 (2018). https://doi.org/10.1007/s11196-018-9543-3
Published:

Issue Date:

DOI: https://doi.org/10.1007/s11196-018-9543-3
Keywords