Abstract
Batman is allied with modern natural law in the way he relies upon reason to bring about his vision of 'true justice', operating as a force external to law. This vision of justice is a protective one, with Batman existing as a guardian—a force for resistance against the corruption of the state and the failures of the legal system. But alongside his rational means, Batman also employs violence as he moves beyond the boundaries of the civilised state into the dark and violent world outside law's protection. He thus sacrifices his own safety to ensure the safety of others—he is a Dark Knight, a sentinel, fighting the nasty and brutish underworld of criminality in his effort to bring rational order to the world and protect the people of Gotham from criminal harm. This fight for justice is fuelled by a deeply private trauma: the murder of Bruce Wayne's parents: a private desire for vengeance that Batman transcends. In navigating Batman's jurisprudential dimensions, we are ultimately reminded that private desires and motivations are enfolded within the public structures of justice.
Access options
Buy single article
Instant access to the full article PDF.
USD 39.95
Price includes VAT (USA)
Tax calculation will be finalised during checkout.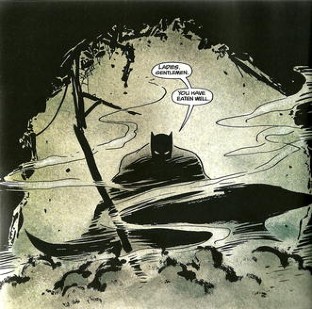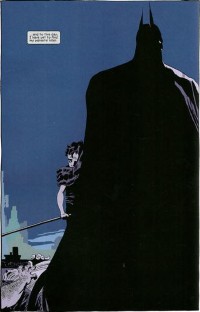 References
1.

Bainbridge, Jason. 2007. 'This is the Authority. This planet is under our protection'—An exegesis of superheroes' interrogations of law. Law, Culture and the Humanities 3: 455–476.

2.

Comerford, Chris. 2015. The hero we need, not the one we deserve: Vigilantism and the state of exception in Batman Incorporated. In Graphic justice: Intersections of comics and law, ed. Thomas Giddens. London: Routledge.

3.

Cover, Robert. 1993. Violence and the word. In Narrative, violence, and the law: The essays of Robert Cover, ed. Martha Minow, Michael Ryan, and Austin Sarat. Ann Arbor: The University of Michigan Press.

4.

Culbert, Jennifer L. 2005. Reprising revenge. Law, Culture and the Humanities. 1: 302–315.

5.

Douzinas, Costas, and Adam Gearey. 2005. Critical jurisprudence: The political philosophy of justice. Oxford: Hart.

6.

Fuller, Lon. 1969. The morality of law. London: Yale University Press.

7.

Giddens, Thomas. 2012. Comics, law, and aesthetics: Towards the use of graphic fiction in legal studies. Law and Humanities. 6: 85–109.

8.

Giddens, Thomas. 2015. Lex comica: On comics and legal theory. In Graphic justice: Intersections of comics and law, ed. Thomas Giddens. London: Routledge.

9.

Hart, H.L.A. 2012. The concept of law. Oxford: Oxford University Press.

10.

Loeb, Jeph, and Tim Sale. 2001. Batman: Dark victory. New York: DC Comics.

11.

Loeb, Jeph, and Tim Sale. 2011. Batman: The long Halloween. New York: DC Comics.

12.

MacNeil, William P. 2007. Lex populi: The jurisprudence of popular culture. Stanford: Stanford University Press.

13.

Menke, Christoph. 2010. Law and violence. Law and Literature. 22: 1–17.

14.

Miller, Frank, and David Mazzucchelli. 1988. Batman: Year one. London: Titan.

15.

Morrison, Wayne. 1997. Jurisprudence: From the Greeks to post-modernism. London: Cavendish.

16.

Morrisson, Grant, and Dave McKean. 2004. Arkham Asylum: A serious house on serious earth. London: Titan.

17.

Nolan, Christopher. 2005. Batman Begins. Warner Bros.

18.

Peters, Timothy. 2007. Unbalancing justice: Overcoming the limits of the law in Batman Begins. Griffith Law Review. 16: 247–270.

19.

Rosky, Clifford. 2004. Force, inc.: The privatization of punishment, policing, and military force in liberal states. Connecticut Law Review. 36: 879–1032.

20.

Sharp, Cassandra. 2012. 'Riddle me this…?' Would the world need superheroes is the law could actually deliver 'justice'? Law Text Culture. 16: 353–378.

21.

Sherwin, Richard K. 2000. When law goes pop: The vanishing line between law and popular culture. London: University of Chicago Press.

22.

Simester, A.P., and Andreas von Hirsch. 2011. Crimes, harms, and wrongs: On the principles of criminalisation. Oxford: Hart.

23.

Skinner, Stephen. 2009. Stories of pain and the pursuit of justice: Law, violence, experience and jurisprudence. Law, Culture and the Humanities. 5: 131–155.

24.

Smith, Hayden P., and Geoffrey P. Alpert. 2011. Joint policing: Third parties and the use of force. Police Practice and Research. 12: 136–147.

25.

Stone, Richard. 2012. Textbook on civil liberties and human rights. Oxford: Oxford University Press.

26.

Vincent, Andrew. 2012. Can states commit crimes? In Shooting to kill: Socio-legal perspectives on the use of lethal force, ed. Simon Bronitt, Miriam Gani, and Saskia Hufnagel, 65–81. Oxford: Hart.

27.

Ward, Ian. 1995. Law and literature: Possibilities and perspectives. Cambridge: Cambridge University Press.
Acknowledgments
Timothy Peters and Stephen Skinner both read previous drafts of this paper, and helpfully shared with me their dissatisfaction with various aspects of my work. I'd like to thank them for doing so. (The mysterious peer reviewers did a similar thing, and so attract similar thanks.)
About this article
Cite this article
Giddens, T. Natural Law and Vengeance: Jurisprudence on the Streets of Gotham. Int J Semiot Law 28, 765–785 (2015). https://doi.org/10.1007/s11196-014-9392-7
Keywords
Batman

Natural law

Violence

Justice/vengeance

Public/private

Resistance