Abstract
Alterations in hormonal balance, especially with ageing, cause many pelvic floor problems such as urinary incontinence, lack of interest in or desire for sex and inactivity. The aim of this study was to explore the effects of pelvic floor muscle exercise and behavioral training programs on sexual function, incontinence, quality of life and physical activity level in the elderly. A total of 94 elderly subjects were separated into two groups as the pelvic floor muscle training (PFMT) group and the behavioral training for pelvic floor dysfunctions (BT) group. A (1-h program was applied twice a week for 8 weeks). Evaluations pre and post-training were made using the Female Sexual Function Inventory, the International Index of Erectile Function, International Consultation on Incontinence Questionnaire-Short Form, SEAPI quality of life scale, and Physical Activity Scale for the Elderly. In the post-treatment comparisons, the PFMT group was superior to the BT group in all parameters (z: − 4.21–0.00, p:0.00–0.02). The results of this study suggest that pelvic floor muscle training could be beneficial if added to rehabilitation programs for the elderly to obtain less sexual dysfunction and, incontinence, and better incontinence-related quality of life and physical activity levels.
Access options
Buy single article
Instant access to the full article PDF.
USD 39.95
Price excludes VAT (USA)
Tax calculation will be finalised during checkout.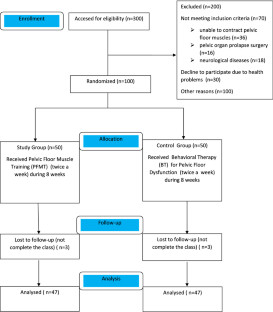 References
D'Ancona, C., Haylen, B., Oelke, M., Abranches-Monteiro, L., Arnold, E., Goldman, H., Hamid, R., Homma, Y., Marcelissen, T., Rademakers, K.: The International Continence Society (ICS) report on the terminology for adult male lower urinary tract and pelvic floor symptoms and dysfunction. Neurourol. Urodyn. 38(2), 433–477 (2019)

Barengo, N.C., Antikainen, R., Borodulin, K., Harald, K., Jousilahti, P.: Leisure-time physical activity reduces total and cardiovascular mortality and cardiovascular disease incidence in older adults. J. Am. Geriatr. Soc. 65(3), 504–510 (2017)

Daugirdas, S.P., Markossian, T., Mueller, E.R., Durazo-Arvizu, R., Cao, G., Kramer, H.: Urinary incontinence and chronic conditions in the US population age 50 years and older. Int. Urogynecol. J. 31(5), 1013–1020 (2020)

Bø, K.: Pelvic floor muscle training in treatment of female stress urinary incontinence, pelvic organ prolapse and sexual dysfunction. World J. Urol. 30(4), 437–443 (2012)

De Giorgio, R., Ruggeri, E., Stanghellini, V., Eusebi, L.H., Bazzoli, F., Chiarioni, G.: Chronic constipation in the elderly: a primer for the gastroenterologist. BMC Gastroenterol. 15(1), 130 (2015)

Nazarpour, S., Simbar, M., Majd, H.A., Tehrani, F.R.: Beneficial effects of pelvic floor muscle exercises on sexual function among postmenopausal women: a randomised clinical trial. Sex. Health 15(5), 396–402 (2018)

Syan, R., Comiter, C.V.: Urinary incontinence in Elderly men: Update on evaluation and treatment. Current Geriatr. Rep. 8(4), 322–330 (2019)

Haylen, B.T., De Ridder, D., Freeman, R.M., Swift, S.E., Berghmans, B., Lee, J., Monga, A., Petri, E., Rizk, D.E., Sand, P.K.: An International Urogynecological Association (IUGA)/International Continence Society (ICS) joint report on the terminology for female pelvic floor dysfunction. Neurourol. Urodynam. Official J. Int. Cont. Soc. 29(1), 4–20 (2010)

Westerman, M.E., Maldonado, F., Andrews, J.R., Sharma, V., Trost, L., Ziegelmann, M.J.: Intercourse frequency among men presenting to a sexual health clinic: does age matter? Int. J. Impot. Res. 33, 1–6 (2020)

Carvalhais, A., Da Roza, T., Vilela, S., Jorge, R.N., Bø, K.: Association between physical activity level and pelvic floor muscle variables in Women. Int. J. Sports Med. 39(13), 995–1000 (2018)

Townsend, M.K., Danforth, K.N., Rosner, B., Curhan, G.C., Resnick, N.M., Grodstein, F.: Physical activity and incident urinary incontinence in middle-aged women. J. Urol. 179(3), 1012–1017 (2008)

Stach-Lempinen, B., Nygård, C.H., Laippala, P., Metsänoja, R., Kujansuu, E.: Is physical activity influenced by urinary incontinence. BJOG Int. J. Obstetr. Gynaecol. 111(5), 475–480 (2004)

Hunter, K.F., Moore, K.N., Glazener, C.M.: Conservative management for postprostatectomy urinary incontinence. Cochrane Database Syst. Rev. (2007). https://doi.org/10.1002/14651858.CD001843.pub3

Siegel, A.L.: Pelvic floor muscle training in males: practical applications. Urology 84(1), 1–7 (2014)

Meister, M.R., Shivakumar, N., Sutcliffe, S., Spitznagle, T., Lowder, J.L.: Physical examination techniques for the assessment of pelvic floor myofascial pain: a systematic review. Am. J. Obstetr. Gynecol. 219(5), e491-497 (2018)

Scott, O.M., Osmotherly, P.G., Chiarelli, P.E.: Assessment of pelvic floor muscle contraction ability in healthy males following brief verbal instruction. Aust. New Zealand Cont. J. 19(1), 12 (2013)

Chehrehrazi, M., Arab, A.M., Karimi, N., Zargham, M.: Assessment of pelvic floor muscle contraction in stress urinary incontinent women: comparison between transabdominal ultrasound and perineometry. Int. Urogynecol. J. 20(12), 1491–1496 (2009)

Tu, F.F., Holt, J., Gonzales, J., Fitzgerald, C.M.: Physical therapy evaluation of patients with chronic pelvic pain: a controlled study. Am. J. Obstetr. Gynecol. 198(3), 271–272 (2008)

Wallace, K.: Female pelvic floor functions, dysfunctions, and behavioral approaches to treatment. Clin. Sports Med. 13(2), 459–481 (1994)

Burgio, K.L., Locher, J.L., Goode, P.S.: Combined behavioral and drug therapy for urge incontinence in older women. J. Am. Geriatr. Soc. 48(4), 370–374 (2000)

Orhan, C., Akbayrak, T., Özgül, S., Baran, E., Üzelpasaci, E., Nakip, G., Özgül, N., Beksac, M.S.: Effects of vaginal tampon training added to pelvic floor muscle training in women with stress urinary incontinence: randomized controlled trial. Int. Urogynecol. J. 30(2), 219–229 (2019)

Bumsz, P.A., Pranikoff, K., Nochajski, T.H., Hadley, E.C., Levy, K.J., Ory, M.G.: A comparison of effectiveness of biofeedback and pelvic muscle exercise treatment of stress incontinence in older community-dwelling women. J. Gerontol. 48(4), M167–M174 (1993)

Rosen, C.B., Heiman, J., Leiblum, S., Meston, C., Shabsigh, R., Ferguson, D., D'Agostino, R.: R: the female sexual function index (FSFI): a multidimensional self-report instrument for the assessment of female sexual function. J. Sex Marital Ther. 26(2), 191–208 (2000)

Oksuz, E., Malhan, S.: Reliability and validity of the female sexual function index in Turkish population. Sendrom 17(7), 54–60 (2005)

Serefoglu, E.C., Atmaca, A.F., Dogan, B., Altinova, S., Akbulut, Z., Balbay, M.D.: Problems in understanding the Turkish translation of the international index of erectile function. J. Androl. 29(4), 369–373 (2008)

Çetinel, B., Ozkan, B., Can, G., Oscan, B.: The validation study of ICIQ-SF Turkish version. Turk. J. Urol. 30, 332–338 (2004)

Tarcan, T., Akbal, C., Tinay, İ, Genç, Y., İlker, Y.: Definition of success with SEAPI-QMM quality of life index after tension free vaginal tape procedure: does validation of score sheet in patient's own language effect the outcome. Turk. J. Urol. 34, 209–214 (2008)

Ayvat, E., Kilinc, M., Kirdi, N.: The Turkish version of the physical activity scale for the elderly (PASE): its cultural adaptation, validation, and reliability. Turk. J. Med. Sci. 47(3), 908–915 (2017)

Sobhgol, S.S., Priddis, H., Smith, C.A., Dahlen, H.G.: Evaluation of the effect of an antenatal pelvic floor muscle exercise programme on female sexual function during pregnancy and the first 3 months following birth: study protocol for a pragmatic randomised controlled trial. Trials 20(1), 144 (2019)

Zahariou, A.G., Karamouti, M.V., Papaioannou, P.D.: Pelvic floor muscle training improves sexual function of women with stress urinary incontinence. Int. Urogynecol. J. 19(3), 401–406 (2008)

Dumoulin, C., Cacciari, L.P., Hay-Smith, E.J.C.: Pelvic floor muscle training versus no treatment, or inactive control treatments, for urinary incontinence in women. Cochrane Database Syst. Rev. 10(10), CD005654 (2018).

Dorey, G., Speakman, M.J., Feneley, R.C., Swinkels, A., Dunn, C.D.: Pelvic floor exercises for erectile dysfunction. BJU Int. 96(4), 595–597 (2005)

Tibaek, S., Gard, G., Jensen, R.: Pelvic floor muscle training is effective in women with urinary incontinence after stroke: a randomised, controlled and blinded study. Neurourol. Urodynam. Off. J. Int. Cont. Soc. 24(4), 348–357 (2005)

Virtuoso, J.F., Menezes, E.C., Mazo, G.Z.: Effect of weight training with pelvic floor muscle training in elderly women with urinary incontinence. Res. Q. Exerc. Sport 90(2), 141–150 (2019)

Radzimińska, A., Strączyńska, A., Weber-Rajek, M., Styczyńska, H., Strojek, K., Piekorz, Z.: The impact of pelvic floor muscle training on the quality of life of women with urinary incontinence: a systematic literature review. Clin. Interv. Aging 13, 957 (2018)

Lee, B.A., Kim, S.J., Choi, D.K., Kwon, O., Na, H.R., Cho, S.T.: Effects of pelvic floor muscle exercise on urinary incontinence in elderly women with cognitive impairment. Int. Neurourol. J. 21(4), 295 (2017)

Engberg, S., Sereika, S.M., McDowell, B.J., Weber, E., Brodak, I.: Effectiveness of prompted voiding in treating urinary incontinence in cognitively impaired homebound older adults. J. Wound Ostomy Cont. Nurs. 29(5), 252–265 (2002)

Cacciatore, F., Amarelli, C., Ferrara, N., Della Valle, E., Curcio, F., Liguori, I., Bosco, Q., Maiello, C., Napoli, C., Bonaduce, D.: Protective effect of physical activity on mortality in older adults with advanced chronic heart failure: a prospective observational study. Eur. J. Prevent. Cardiol. 26(5), 481–488 (2019)

Bonnefoy, M., Boutitie, F., Mercier, C., Gueyffier, F., Carre, C., Guetemme, G., Ravis, B., Laville, M., Cornu, C.: Efficacy of a home-based intervention programme on the physical activity level and functional ability of older people using domestic services: a randomised study. J. Nutr. Health Aging 16(4), 370–377 (2012)
Acknowledgements
The author wishes to thank to Prof.Dr.Ismail Tufan, the co-founder of Tazelenme University, for his great support and resources in gerontology.
Additional information
Publisher's Note
Springer Nature remains neutral with regard to jurisdictional claims in published maps and institutional affiliations.
About this article
Cite this article
Buyuk, A., Cetin, S.Y. & Sakinci, M. The Effects of Pelvic Floor Muscle Training and Behavioral Training on Sexual Dysfunction, Incontinence, Physical Activity Level and Quality of Life in the Elderly. Sex Disabil 39, 555–568 (2021). https://doi.org/10.1007/s11195-021-09684-1
Accepted:

Published:

Issue Date:

DOI: https://doi.org/10.1007/s11195-021-09684-1
Keywords