Abstract
This paper discusses the limitations in the way that healthcare practitioners may use Annon's PLISSIT model in meeting the sexual wellbeing needs of individuals with an acquired disability and presents the merits of the extended model, Ex-PLISSIT. Key features of this model include explicit Permission-giving as a core feature of each of the other stages, the requirement to review all interactions with patients, and the incorporation of reflection as a means of increasing self-awareness by challenging assumptions.
Access options
Buy single article
Instant access to the full article PDF.
USD 39.95
Price excludes VAT (USA)
Tax calculation will be finalised during checkout.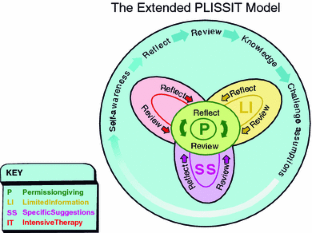 References
Davis, S., Taylor, B.: From PLISSIT to Ex-PLISSIT. In: Davis, S. (ed.) Rehabilitation: The Use of Theories and Models in Practice. pp. 101–129. Edinburgh, Churchill Livingstone (2006)

Taleporos, G., McCabe, M.P.: The impact of sexual esteem, body esteem, and sexual satisfaction on psychological wellbeing in people with physical disability. Sex. Disabil. 20, 177–183 (2002)

Guttman, S.A., Napier-Klemic, J.: The experience of head injury on the impairment of gender identity and gender role. Am. J. Occup. Ther. 50, 535–544 (1995)

Edmans, J.: An investigation of stroke patients resuming sexual activity. Br. J. Occup. Ther. 61, 36–38 (1998)

Westgren, N., Levi, R.: Sexuality after injury: interviews with women after traumatic spinal cord injury. Sex. Disabil. 17, 309–319 (2003)

Hanna, B.: Sexuality, body image and self-esteem: the future after trauma. J. Trauma Nurs. 3(1), 13–17 (1996)

Mayers, K.S., Heller, J.A.: Sexuality and the late stage Huntingdon's disease patient. Sex. Disabil. 21, 91–105 (2003)

Piazza, D., Holcombe, J., Foote, A., Paul, P., Love, S., Daffin, P.: Hope, social support and self-esteem of patients with spinal cord injuries. J. Neurosci. Nurs. 23, 224–230 (1991)

Buzzelli, S., di Francesco, L., Giaquinto, S., Nolfe, G.: Psychological and medical aspects of sexuality following stroke. Sex. Disabil. 15(4), 261–270 (1997)

Ponsford, J.: Sexual changes associated with traumatic brain injury. Neuropsychol. Rehabil. 13(1/2), 275–289 (2003)

Annon, J.: The PLISSIT Model: a proposed conceptual scheme for the behavioural treatment of sexual problems. J. Sex Educ. Ther. 2(1), 1–15 (1976)
About this article
Cite this article
Taylor, B., Davis, S. The Extended PLISSIT Model for Addressing the Sexual Wellbeing of Individuals with an Acquired Disability or Chronic Illness. Sex Disabil 25, 135–139 (2007). https://doi.org/10.1007/s11195-007-9044-x
Published:

Issue Date:

DOI: https://doi.org/10.1007/s11195-007-9044-x
Keywords