Abstract
This paper studies academic in-group bias in the top five economics journals. We examine citation counts for articles published in these journals during the years 2006–2015, and compare counts for articles written by in-group members versus out-group members, where in-group status is defined based on whether at least one author shares the journal's institutional affiliation. We find that authors affiliated with Harvard and MIT receive fewer citation counts when their articles are published at the QJE compared to other top five journals. Moreover, articles published in the QJE by MIT authors receive fewer citation counts compared to articles written by out-group authors. Authors affiliated with Chicago and the UK do not receive fewer citation counts in the JPE and REStud, respectively. These results suggest that in-group bias exists in the QJE, but not in the JPE or REStud.
Access options
Buy single article
Instant access to the full article PDF.
USD 39.95
Price includes VAT (USA)
Tax calculation will be finalised during checkout.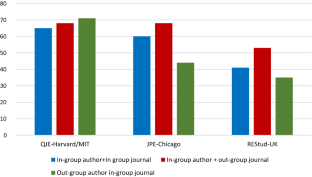 Notes
1.

We include all articles except those appearing in the May issue of the AER (the Papers and Proceedings issue).

2.

3.

We define in-group authors for the JPE and REStud as faculty members from Chicago and the UK, respectively. For the QJE we consider faculty members from both MIT and Harvard because they might be considered an integrated research community, in part as a result of geographical proximity.
References
Ajiferuke, I., & Famoye, F. (2015). Modelling count response variables in informetric studies: Comparison among count, linear, and lognormal regression models. Journal of Informetrics, 9(3), 499–513.

Ayres, I., & Vars, F. E. (2000). Determinants of citations to articles in elite law reviews. The Journal of Legal Studies, 29(S1), 427–450.

Bar, R., & Zussman, A. (2020). Identity and bias: Insights from driving tests. The Economic Journal, 130(625), 1–23.

Becker, G. S. (1957). The economics of discrimination. The University of Chicago Press.

Bornmann, L., & Daniel, H. D. (2008). What do citation counts measure? A review of studies on citing behavior. Journal of Documentation, 64(1), 45–80.

Borsuk, R. M., Budden, A. E., Leimu, R., Aarssen, L. W., & Lortie, C. J. (2009). The influence of author gender, national language and number of authors on citation rate in ecology. Open Ecology Journal, 2, 25–28.

Brewer, M. B. (1979). In-group bias in the minimal intergroup situation: A cognitive-motivational analysis. Psychological Bulletin, 86(2), 307–324.

Brewer, M. B. (1999). The psychology of prejudice: Ingroup love and outgroup hate? Journal of Social Issues, 55(3), 429–444.

Brogaard, J., Engelberg, J., & Parsons, C. A. (2014). Networks and productivity: Causal evidence from editor rotations. Journal of Financial Economics, 111(1), 251–270.

Card, D., & DellaVigna, S. (2017). What do Editors Maximize? Evidence from Four Leading Economics Journals (No. w23282). National Bureau of Economic Research.

Chung, K. H., Cox, R. A., & Kim, K. A. (2009). On the relation between intellectual collaboration and intellectual output: Evidence from the finance academe. The Quarterly Review of Economics and Finance, 49(3), 893–916.

Colussi, T. (2018). Social ties in academia: A friend is a treasure. Review of Economics and Statistics, 100(1), 45–50.

Coupé, T., Ginsburgh, V., & Noury, A. (2010). Are leading papers of better quality? Evidence from a natural experiment. Oxford Economic Papers, 62(1), 1–11.

Ferber, M. A. (1986). Citations: Are they an objective measure of scholarly merit? Signs: Journal of Women in Culture and Society, 11(2), 381–389.

Franck, R., & Rainer, I. (2012). Does the leader's ethnicity matter? Ethnic favoritism, education, and health in sub-Saharan Africa. American Political Science Review, 106(2), 294–325.

Garfield, E. (1979). Is citation analysis a legitimate evaluation tool? Scientometrics, 1(4), 359–375.

Heckman, J. J., & Moktan, S. (2020). Publishing and promotion in economics: The tyranny of the top five. Journal of Economic Literature, 58(2), 419–470.

Laband, D. N., & Piette, M. J. (1994). Favoritism versus search for good papers: Empirical evidence regarding the behavior of journal editors. Journal of Political Economy, 102(1), 194–203.

Leimu, R., & Koricheva, J. (2005). What determines the citation frequency of ecological papers? Trends in Ecology & Evolution, 20(1), 28–32.

Lutmar, C., & Reingewertz, Y. (2020). Academic in-group bias in economics. University Library of Munich.

Medoff, M. H. (2003). Editorial favoritism in economics? Southern Economic Journal, 70(2), 425–434.

Medoff, M. H. (2007). An analysis of parochialism at the JPE and QJE. The Journal of Socio-Economics, 36(2), 266–274.

Mingers, J., & Xu, F. (2010). The drivers of citations in management science journals. European Journal of Operational Research, 205(2), 422–430.

Mullen, B., Brown, R., & Smith, C. (1992). Ingroup bias as a function of salience, relevance, and status: An integration. European Journal of Social Psychology, 22(2), 103–122.

Padial, A. A., Nabout, J. C., Siqueira, T., Bini, L. M., & Diniz-Filho, J. A. F. (2010). Weak evidence for determinants of citation frequency in ecological articles. Scientometrics, 85(1), 1–12.

Reingewertz, Y., & Lutmar, C. (2018). Academic in-group bias: An empirical examination of the link between author and journal affiliation. Journal of Informetrics, 12(1), 74–86.

Shayo, M., & Zussman, A. (2011). Judicial ingroup bias in the shadow of terrorism. Quarterly Journal of Economics, 126(3), 1447–1484.

Slyder, J. B., Stein, B. R., Sams, B. S., Walker, D. M., Jacob Beale, B., Feldhaus, J. J., & Copenheaver, C. A. (2011). Citation pattern and lifespan: A comparison of discipline, institution, and individual. Scientometrics, 89(3), 955–966.

Tahamtan, I., Afshar, A. S., & Ahamdzadeh, K. (2016). Factors affecting number of citations: A comprehensive review of the literature. Scientometrics, 107(3), 1195–1225.

Thelwall, M., & Wilson, P. (2014). Regression for citation data: An evaluation of different methods. Journal of Informetrics, 8(4), 963–971.

Yoon, A. H. (2013). Editorial bias in legal academia. Journal of Legal Analysis, 5(2), 309–338.

Zussman, A. (2013). Ethnic discrimination: Lessons from the Israeli online market for used cars. The Economic Journal, 123(572), F433–F468.
Acknowledgements
The present study is based on a working paper by the same authors (Lutmar and Reingewertz 2020) which is available online at https://mpra.ub.uni-muenchen.de/104730/. We would like to thank James Heckman and Sidharth Moktan for helpful comments and suggestions.
Appendix
Appendix
See Fig. 2 and Tables 4, 5, 6.
About this article
Cite this article
Lutmar, C., Reingewertz, Y. Academic in-group bias in the top five economics journals. Scientometrics 126, 9543–9556 (2021). https://doi.org/10.1007/s11192-021-04174-9
Received:

Accepted:

Published:

Issue Date:
Keywords
Academic in-group bias

Top five

Economics journals

Editorial favoritism
JEL Classifications