Abstract
In his recent Scientometrics article, Fassin (2021) asked the following question: Does the FT50 journal list select the best management and economics journals? After collecting, calculating, and analyzing data about nine bibliometric indicators, Fassin responded to that question by stating that "[t]his bibliometric study confirms that the FT50 selection is able to identify the elite journals in economics and general management and most premier journals in the sub-disciplines". In this Letter to the Editor, the author would like to highlight three major limitations in Fassin's (2021) study: the first limitation is that the provided general ranking is biased towards journals that publish relatively more review articles. The second limitation is that it ignores Goodhart's law. The third limitation is related to the very definition of a leading journal.
Access options
Buy single article
Instant access to the full article PDF.
USD 39.95
Price includes VAT (USA)
Tax calculation will be finalised during checkout.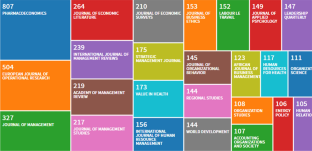 Notes
1.

2.

3.

4.

5.

None of the FT50 journals is a fully open access journal (Laakso & Björk, 2021).
References
Aksnes, D. W., Langfeldt, L., & Wouters, P. (2019). Citations, citation indicators, and research quality: An overview of basic concepts and theories. SAGE Open, 9(1), 1–17. https://doi.org/10.1177/2158244019829575

Bar-Ilan, J., & Halevi, G. (2021). Retracted articles–The scientific version of fake news. In R. Greifeneder, M. E. Jaffé, E. J. Newman, & N. Schwarz (Eds.), The psychology of fake news: Accepting, sharing, and correcting misinformation (pp. 47–70). Routledge.

Clarivate Analytics (2021)

Currid-Halkett, E., & Stolarick, K. (2011). The great divide: Economic development theory versus practice-a survey of the current landscape. Economic Development Quarterly, 25(2), 143–157. https://doi.org/10.1177/0891242410394358

Fassin, Y. (2021). Does the financial times FT50 journal list select the best management and economics journals? Scientometrics. https://doi.org/10.1007/s11192-021-03988-x

Hamet, J., Maurer, F. (2017). Is management research visible outside the academic community?. M@n@gement, 20(5), 492–516. https://www.cairn.info/revue-management-2017-5-page-492.htm.

Humphrey, C., Kiseleva, O., & Schleicher, T. (2019). A time-series analysis of the scale of coercive journal self-citation and its effect on impact factors and journal rankings. European Accounting Review, 28(2), 335–369. https://doi.org/10.1080/09638180.2018.1470019

Kriz, A., Nailer, C., Jansen, K., & Potocnjak-Oxman, C. (2021). Teaching-practice as a critical bridge for narrowing the research-practice gap. Industrial Marketing Management, 92, 254–266. https://doi.org/10.1016/j.indmarman.2020.02.017

Laakso, M., & Björk, B. C. (2021). Open access journal publishing in the business disciplines: A closer look at the low uptake and discipline-specific considerations. Journal of Librarianship and Information Science. https://doi.org/10.1177/09610006211006769

Lehmann, D. R., & Winer, R. S. (2019). The role and impact of reviewers on the marketing discipline. Journal of the Academy of Marketing Science, 45(5), 587–592. https://doi.org/10.1007/s11747-016-0501-x

Lei, L., & Sun, Y. (2020). Should highly cited items be excluded in impact factor calculation? The effect of review articles on journal impact factor. Scientometrics, 122(3), 1697–1706. https://doi.org/10.1007/s11192-019-03338-y

Linacre, S. (2021). Cabells launches new SDG Impact Intensity journal rating system in partnership with Saint Joseph's University's Haub School of Business. The Source. Available at: https://blog.cabells.com/2021/03/17/cabells-launches-new-sdg-impact-intensity-journal-rating-system-in-partnership-with-saint-josephs-universitys-haub-school-of-business/

Martin, B. R. (2016). Editors' JIF-boosting stratagems–Which are appropriate and which not? Research Policy, 45(1), 1–7. https://doi.org/10.1016/j.respol.2015.09.001

Miranda, R., & Garcia-Carpintero, E. (2018). Overcitation and overrepresentation of review papers in the most cited papers. Journal of Informetrics, 12(4), 1015–1030. https://doi.org/10.1016/j.joi.2018.08.006

Setti, G. (2013). Bibliometric indicators: Why do we need more than one? IEEE Access, 1, 232–246. https://doi.org/10.1109/ACCESS.2013.2261115

Strathern, M. (1997). 'Improving ratings': Audit in the British University system. European Review, 5(3), 305–321. https://doi.org/10.1002/(SICI)1234-981X(199707)5:3%3C305::AID-EURO184%3E3.0.CO;2-4

Tucker, B., & Parker, L. (2014). In our ivory towers? The research-practice gap in management accounting. Accounting and Business Research, 44(2), 104–143. https://doi.org/10.1080/00014788.2013.798234

Valderrama, Á., Jiménez-Contreras, E., Valderrama, P., Escabias, M., & Baca, P. (2019). Is the trend to publish reviews and clinical trials related to the journal impact factor? Analysis in dentistry field. Accountability in Research, 26(7), 427–438. https://doi.org/10.1080/08989621.2019.1672541

Wilhite, A. W., & Fong, E. A. (2012). Coercive citation in academic publishing. Science, 335(6068), 542–543. https://doi.org/10.1126/science.1212540

Wilhite, A., Fong, E. A., & Wilhite, S. (2019). The influence of editorial decisions and the academic network on self-citations and journal impact factors. Research Policy, 48(6), 1513–1522. https://doi.org/10.1016/j.respol.2019.03.003
Funding
The author received no financial support for this paper.
Ethics declarations
Conflict of interest
The authors declare that they have no conflict of interest.
Ethical statement
This paper has not been published elsewhere in any form. It has not been submitted simultaneously to any other publication outlet.
About this article
Cite this article
Moussa, S. Are FT50 journals really leading? A comment on Fassin. Scientometrics (2021). https://doi.org/10.1007/s11192-021-04158-9
Received:

Accepted:

Published:
Keywords
FT50

Ranking; Review articles

Citation-based metrics

Critique