Abstract
Science attempts to be a meritocracy; however, in recent years, there has been increasing evidence for systematic gender bias against women. This bias is present in many metrics commonly used to evaluate scientific productivity, which in turn influences hiring and career success. Here we explore a new metric, the Altmetric Attention Score, and find no evidence of bias  across many major journals (Nature, PNAS, PLOS One, New England Journal of Medicine, Cell, and BioRxiv), with equal attention afforded to articles authored by men and women alike. The exception to this rule is the journal Science, which has marked gender bias against women in 2018, equivalent to a mean of 88 more tweets or 11 more news articles and a median of 20 more tweets or 3 more news articles for male than female first authors. Our findings qualify Altmetric, for many types and disciplines of journals, as a potentially unbiased measure of science communication in academia and suggest that new technologies, such as those on which Altmetric is based, might help to democratize academic evaluation.
Access options
Buy single article
Instant access to the full article PDF.
USD 39.95
Price excludes VAT (USA)
Tax calculation will be finalised during checkout.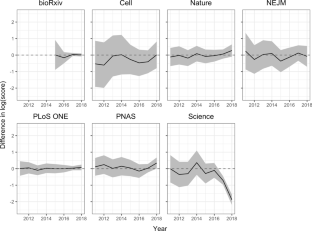 Data availability
All data will be made available as supplemental material.
References
Bakshy, E., Messing, S., & Adamic, L. A. (2015). Exposure to ideologically diverse news and opinion on Facebook. Science, 348(6239), 1130–1132.

Bornmann, L., & Haunschild, R. (2018). Do altmetrics correlate with the quality of papers? A large-scale empirical study based on F1000Prime data. PLoS ONE, 13(5), e0197133.

Cimpian, J., Kim, T., & McDermott, Z. (2020). Understanding persistent gender gaps in STEM. Science, 368(6497), 1317–1319.

De Veirman, M., Hudders, L., & Nelson, M. R. (2019). What is influencer marketing and how does it target children? A review and direction for future research. Frontiers in Psychology, 10, 2685.

Dion, M. L., Sumner, J. L., & Mitchell, S. M. (2018). Gendered citation patterns across political science and social science methodology fields. Political Analysis, 26(3), 312–327.

Duggan, M., Ellison, N. B., Lampe, C., Lenhart, A., & Madden, M. (2015). Demographics of key social networking platforms. Pew Research Center, 9.

Enikolopov, R., Petrova, M., & Sonin, K. (2018). Social media and corruption. American Economic Journal Applied Economics, 10(1), 150–174.

Erdt, M., Nagarajan, A., Sin, S. C. J., & Theng, Y. L. (2016). Altmetrics: an analysis of the state-of-the-art in measuring research impact on social media. Scientometrics, 109(2), 1117–1166.

Filardo, G., da Graca, B., Sass, D. M., Pollock, B. D., Smith, E. B., & Martinez, M. A. M. (2016). Trends and comparison of female first authorship in high impact medical journals: observational study (1994–2014). bmj, 352.

García-Pérez, M. A. (2009). The Hirsch h index in a non-mainstream area: methodology of the behavioral sciences in Spain. The Spanish Journal of Psychology, 12(2), 833.

Gumpenberger, C., Glänzel, W., & Gorraiz, J. (2016). The ecstasy and the agony of the altmetric score. Scientometrics, 108(2), 977–982.

Harambam, J., Helberger, N., & van Hoboken, J. (2018). Democratizing algorithmic news recommenders: how to materialize voice in a technologically saturated media ecosystem. Philosophical Transactions of the Royal Society A: Mathematical, Physical and Engineering Sciences, 376(2133), 20180088.

Holliday, E. B., Jagsi, R., Wilson, L. D., Choi, M., Thomas, C. R., Jr., & Fuller, C. D. (2014). Gender differences in publication productivity, academic position, career duration and funding among US academic radiation oncology faculty. Academic Medicine: Journal of the Association of American Medical Colleges, 89(5), 767.

Holman, L., Stuart-Fox, D., & Hauser, C. E. (2018). The gender gap in science: How long until women are equally represented? PLoS Biology, 16(4), e2004956.

King, M. M., Bergstrom, C. T., Correll, S. J., Jacquet, J., & West, J. D. (2017). Men set their own cites high: Gender and self-citation across fields and over time. Socius, 3, 2378023117738903.

Kunze, K. N., Polce, E. M., Vadhera, A., Williams, B. T., Nwachukwu, B. U., Nho, S. J., & Chahla, J. (2020). What Is the Predictive Ability and Academic Impact of the Altmetrics Score and Social Media Attention? The American Journal of Sports Medicine, 48(5), 1056–1062.

Madera, J. M., Hebl, M. R., Dial, H., Martin, R., & Valian, V. (2019). Raising doubt in letters of recommendation for academia: Gender differences and their impact. Journal of Business and Psychology, 34(3), 287–303.

Mancuso, J., Neelim, A., & Vecci, J. (2017). Gender differences in self-promotion: Understanding the female modesty constraint. Available at SSRN: https://ssrn.com/abstract=3039233 or https://doi.org/10.2139/ssrn.3039233.

Milkman, K. L., & Berger, J. (2014). The science of sharing and the sharing of science. Proceedings of the National Academy of Sciences, 111(Supplement 4), 13642–13649.

MIT Committee on Women Faculty in the School of Science. A Study on the Status of Women Faculty in Science at MIT. (1999). http://web.mit.edu/fnl/women/women.html.

Morgan, R., Hawkins, K., & Lundine, J. (2018). The foundation and consequences of gender bias in grant peer review processes. Canadian Medical Association Journal, 190(16), E487–E488.

Morris, M. (2016). Gender of sources used in major Canadian media. Ottawa: Informed Opinions.

Nittrouer, C. L., Hebl, M. R., Ashburn-Nardo, L., Trump-Steele, R. C., Lane, D. M., & Valian, V. (2018). Gender disparities in colloquium speakers at top universities. Proceedings of the National Academy of Sciences, 115(1), 104–108.

Nocera, A. P., Boyd, C. J., Boudreau, H., Hakim, O., & Rais-Bahrami, S. (2019). Examining the correlation between Altmetric score and citations in the urology literature. Urology, 134, 45–50.

PWC (2017), Women unbound: Unleashing female entrepreneurial potential, accessed 20 December 2019 at https://www.pwc.com/gx/en/diversity-inclusion/assets/women-unbound.pdf

Quadlin, N. (2018). The mark of a woman's record: Gender and academic performance in hiring. American Sociological Review, 83(2), 331–360.

Raghavan, M., Barocas, S., Kleinberg, J., & Levy, K. (2020). Mitigating bias in algorithmic hiring: Evaluating claims and practices. In Proceedings of the 2020 Conference on Fairness, Accountability, and Transparency (pp. 469–481).

Santamaría, L., & Mihaljević, H. (2018). Comparison and benchmark of name-to-gender inference services. PeerJ Computer Science, 4, e156.

Sopinka, N. M., Coristine, L. E., DeRosa, M. C., Rochman, C. M., Owens, B. L., & Cooke, S. J. (2020). Envisioning the scientific paper of the future. FACETS, 5(1), 1–16.

Thelwall, M. (2018). Does female-authored research have more educational impact than male-authored research? Evidence from Mendeley. Journal of Altmetrics, 1(1).

Thelwall, M. (2020). Measuring societal impacts of research with altmetrics? Common problems and mistakes. Journal of Economic Surveys. https://doi.org/10.1111/joes.12381.

Thelwall, M., & Nevill, T. (2018). Could scientists use Altmetric.com scores to predict longer term citation counts? Journal of informetrics, 12(1), 237–248.

Wais, K. (2016). Gender Prediction Methods Based on First Names with genderizer. The R Journal, 8(1), 17.

West, J. D., Jacquet, J., King, M. M., Correll, S. J., & Bergstrom, C. T. (2013). The role of gender in scholarly authorship. PLoS ONE, 8(7), e66212.

Zou, J., & Schiebinger, L. (2018). AI can be sexist and racist—it's time to make it fair. Nature, 589, 324–326.
Acknowledgments
We would like to acknowledge the SEED Diversity Grant from UH Manoa for providing support and the KTUH radio station for providing a platform for us to share our research. We thank Navin Ramankutty for early discussion. We thank Stacy Konkiel and the Altmetric data science team for advice on the data. We thank an anonymous reviewer for their comments which helped improve the manuscript.
Funding
SEED Diversity Grant from the University of Hawai'i at Manoa.
Ethics declarations
Conflicts of interest
The authors declare that they have no competing interests.
Supplementary Information
Below is the link to the electronic supplementary material.
About this article
Cite this article
Fortin, J., Bartlett, B., Kantar, M. et al. Digital technology helps remove gender bias in academia. Scientometrics 126, 4073–4081 (2021). https://doi.org/10.1007/s11192-021-03911-4
Received:

Accepted:

Published:

Issue Date:

DOI: https://doi.org/10.1007/s11192-021-03911-4
Keywords
Altmetric

Gender bias

Academia

Science communication