Abstract
This article proposes an analysis of research dedicated to permafrost. Its originality is twofold: it covers a corpus (n = 16,249) that has never been reviewed before and also makes use of a methodology based on successive textual analysis processes. With the text-mining of additional corpuses, we produce lists of qualified terms to fine-tune the indexing of the main corpus and isolate relevant terminology dedicated to infrastructure and soil properties. With these enrichments combined with other terminological extractions (such as place names recognition), we reveal the internal structure of permafrost research with the help of visual mapping and easily prove that permafrost research is multidisciplinary and multi-topical The semantic map and the diachronic analysis of terms clusters show that the interest had turned since the 1980s towards the role of climate change but also on China's needs for its highway and railway construction sites. The very strong and growing impact of Chinese research, focused on the Tibetan area, is one of the highlights of our data. Furthermore, we propose a focus on infrastructure vulnerability and use soil properties as a proxy to measure the existing interactions between two distinct research communities. The results suggest that research has mainly focused so far on the feasibility of building on frozen ground and exploiting soils, but remains at an early stage of addressing the impact of global warming on infrastructure degradation and its resilience. This study offers insights to permafrost experts, but also provide a methodology that could be reused for other investigations.
Access options
Buy single article
Instant access to the full article PDF.
USD 39.95
Price excludes VAT (USA)
Tax calculation will be finalised during checkout.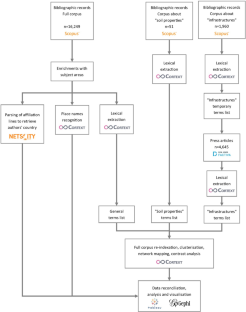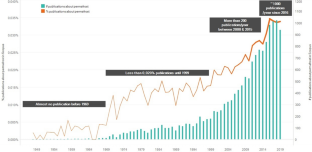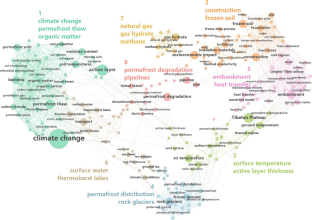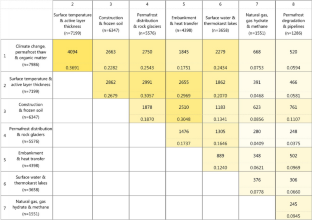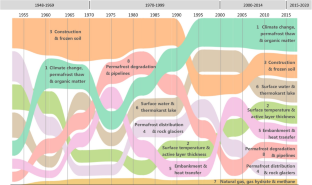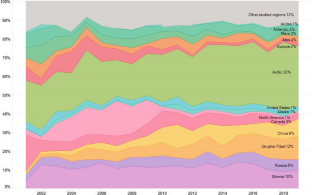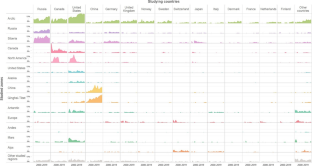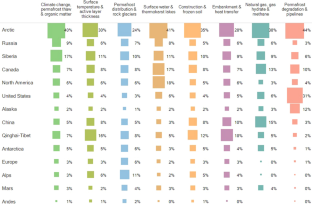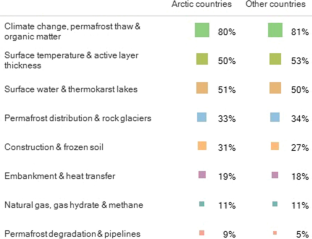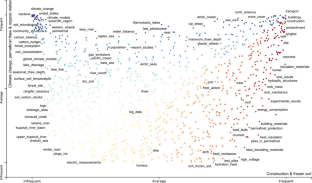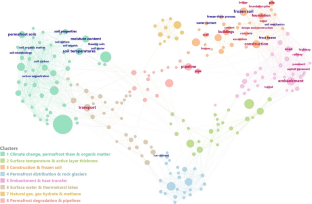 Availability of data and materials
Notes
The following subject areas of the ASJC classification have been used: "Geotechnical Engineering and Engineering Geology", "Civil and Structural Engineering", "Building and Construction" and "Architecture".

Factiva is an online database of global news and business information.

The Jaccard index measures similarity between finite sample sets; it is the size of the intersection divided by the size of the union of the sets. We used the online calculator available here: https://www.molbiotools.com.
References
Aditya, L., Mahlia, T. M. I., Rismanchi, B., Ng, H. M., Hasan, M. H., Metselaar, H. S. C., et al. (2017). A review on insulation materials for energy conservation in buildings. Renewable and Sustainable Energy Reviews, 73, 1352–1365. https://doi.org/10.1016/j.rser.2017.02.034.

Afouda, P., Dubourg, G., Labas, N., Raoult, D., & Fournier, P. E. (2017). Draft genome sequence of Agrococcus baldri strain Marseille-P2731. Genome Announcements. https://doi.org/10.1128/genomeA.00015-17.

Aksnes, D. W., & Hessen, D. O. (2009). The structure and development of polar research (1981–2007): A Publication-Based Approach. Arctic, Antarctic, and Alpine Research, 41(2), 155–163. https://doi.org/10.1657/1938-4246-41.2.155.

Aksnes, D. W., & Sivertsen, G. (2019). A criteria-based assessment of the coverage of Scopus and web of Science. Journal of Data and Information Science, 4(1), 1–21. https://doi.org/10.2478/jdis-2019-0001.

Bibi, S., Wang, L., Li, X., Zhou, J., Chen, D., & Yao, T. (2018). Climatic and associated cryospheric, biospheric, and hydrological changes on the Tibetan Plateau: A review. International Journal of Climatology, 38, e1–e17. https://doi.org/10.1002/joc.5411.

Bordignon, F. (2020). Data for: "a scientometric review of permafrost research based on textual analysis (1948–2020)". Mendeley data. https://doi.org/10.17632/d8gvm96ykm.1.

Callon, M., Courtial, J.-P., Turner, W. A., & Bauin, S. (1983). From translations to problematic networks: An introduction to co-word analysis. Social Science Information, 22(2), 191–235. https://doi.org/10.1177/053901883022002003.

Canavan, B. C. (2019). Opening Pandora's box at the roof of the world: Landscape, climate and avian influenza (H5N1). Acta Tropica, 196, 93–101. https://doi.org/10.1016/j.actatropica.2019.04.021.

Cardon, V. (2020). Bounded futures: Growing a boundary foreknowledge infrastructure in food security research. Science, Technology and Society, 25(1), 38–66. https://doi.org/10.1177/0971721819889918.

Chang, Q., Sun, Z., Ma, R., Wang, X., & Long, X. (2016). A review of groundwater flow and its interaction with surface water in permafrost region. Advances in Science and Technology of Water Resources, 36(5), 87–94. https://doi.org/10.3880/j.issn.1006-7647.2016.05.016.

Colombo, N., Salerno, F., Gruber, S., Freppaz, M., Williams, M., Fratianni, S., et al. (2018). Review: Impacts of permafrost degradation on inorganic chemistry of surface fresh water. Global and Planetary Change, 162, 69–83. https://doi.org/10.1016/j.gloplacha.2017.11.017.

Côté, G., & Picard-Aitken, M. (2009). Arctic research in Canada a bibliometric analysis. www.science-metrix.com. Accessed 15 Dec 2019.

Ermakova, L., Bordignon, F., Turenne, N., & Noel, M. (2018). Is the abstract a mere teaser? Evaluating generosity of article abstracts in the environmental sciences. Frontiers in Research Metrics and Analytics. https://doi.org/10.3389/frma.2018.00016.

García-Hernández, C., Ruiz-Fernández, J., & Serrano-Cañadas, E. (2019). Social network analysis in Geosciences: scientific collaboration between periglacial scholars in the Iberian Peninsula. Cuadernos de Investigación Geográfica. https://doi.org/10.18172/cig.3939.

Grosse, G., Goetz, S., McGuire, A. D., Romanovsky, V. E., & Schuur, E. A. G. (2016). Changing permafrost in a warming world and feedbacks to the Earth system. Environmental Research Letters. https://doi.org/10.1088/1748-9326/11/4/040201.

Grosse, G., & Lantuit, H. (2008). PYRN-Bib 3.1: The permafrost young researchers network bibliography of permafrost-related theses. EPIC3Permafrost Young Researchers Network.1(3), 49.

He, Q. (1999). Knowledge discovery through co-word analysis. Library Trends, 48(1), 133–159.

Hjort, J., Karjalainen, O., Aalto, J., Westermann, S., Romanovsky, V. E., Nelson, F. E., et al. (2018). Degrading permafrost puts Arctic infrastructure at risk by mid-century. Nature Communications. https://doi.org/10.1038/s41467-018-07557-4.

Hua, W., Yuan, S., Yan, M., & Li, Y. (2012). A quantitative analysis of Arctic related articles in the humanities and social sciences appearing in the world core journals. Scientometrics, 91(3), 703–718. https://doi.org/10.1007/s11192-012-0690-0.

Ikram, M. T., & Afzal, M. T. (2019). Aspect based citation sentiment analysis using linguistic patterns for better comprehension of scientific knowledge. Scientometrics, 119(1), 73–95. https://doi.org/10.1007/s11192-019-03028-9.

Jacomy, M., Venturini, T., Heymann, S., & Bastian, M. (2014). ForceAtlas2, a continuous graph layout algorithm for handy network visualization designed for the Gephi software. PLoS ONE, 9(6), e98679. https://doi.org/10.1371/journal.pone.0098679.

Leibman, M., Khomutov, A., Gubarkov, A., Mullanurov, D., & Dvornikov, Y. (2015). The research station "Vaskiny Dachi", Central Yamal, West Siberia, Russia—A review of 25 years of permafrost studies. Fennia, 193(1), 3–30.

Li, X. S., Xu, C. G., Zhang, Y., Ruan, X. K., Li, G., & Wang, Y. (2016). Investigation into gas production from natural gas hydrate: A review. Applied Energy, 172, 286–322. https://doi.org/10.1016/j.apenergy.2016.03.101.

Maisonobe, M., Jégou, L., Yakimovich, N., & Cabanac, G. (2019). NETSCITY: A geospatial application to analyse and map world scale production and collaboration data between cities. In international conference on scientometrics and informetrics (ISSI 2019), Sep 2019, Rome, Italy.

Moretti, F. (2013). Distant reading (p. 224). London, New York: Verso.

Overland, J., Dunlea, E., Box, J. E., Corell, R., Forsius, M., Kattsov, V., et al. (2019). The urgency of Arctic change. Polar Science, 21, 6–13. https://doi.org/10.1016/j.polar.2018.11.008.

Raimbault, B., Cointet, J.-P., & Joly, P.-B. (2016). Mapping the emergence of synthetic biology. PLoS ONE, 11(9), e0161522. https://doi.org/10.1371/journal.pone.0161522.

Roseau, N. (2016). Pouvoirs des infrastructures. Histoire Urbaine, 45(1), 5–16. https://doi.org/10.3917/rhu.045.0005.

Serrano Cañadas, E. (2016). Periglaciarismo y permafrost. Polígonos. Revista de Geografía, 28(28), 15.

Sjöberg, Y., Siewert, M. B., Rudy, A. C. A., Paquette, M., Bouchard, F., Malenfant-Lepage, J., et al. (2020). Hot trends and impact in permafrost science. Permafrost and Periglacial Processes. https://doi.org/10.1002/ppp.2047.

Sutherland, W. J., Broad, S., Butchart, S. H. M., Clarke, S. J., Collins, A. M., Dicks, L. V., et al. (2019). A horizon scan of emerging issues for global conservation in 2019. Trends in Ecology and Evolution, 34(1), 83–94. https://doi.org/10.1016/j.tree.2018.11.001.

Tancoigne, E., Barbier, M., Cointet, J. P., & Richard, G. (2014). The place of agricultural sciences in the literature on ecosystem services. Ecosystem Services, 10, 35–48. https://doi.org/10.1016/j.ecoser.2014.07.004.

Trubl, G., Jang, H. B., Roux, S., Emerson, J. B., Solonenko, N., Vik, D. R., et al. (2018). Soil viruses are underexplored players in ecosystem carbon processing. MSystems. https://doi.org/10.1128/mSystems.00076-18.

Ugwuishiwu, B. O., Echiegu, E. A., Okorie, E. T., & Nwakaire, J. N. (2019). Climate change and vulnerablelity of engineering infrastructures: A critical review. In 2019 ASABE annual international meeting. American society of agricultural and biological engineers, 10.13031/aim.201900069.

Vonk, J. E., Tank, S. E., Bowden, W. B., Laurion, I., Vincent, W. F., Alekseychik, P., et al. (2015). Reviews and syntheses: Effects of permafrost thaw on arctic aquatic ecosystems. Biogeosciences Discussions, 12(13), 10719–10815. https://doi.org/10.5194/bgd-12-10719-2015.

Walvoord, M. A., & Kurylyk, B. L. (2016). Hydrologic impacts of thawing permafrost-A review. Vadose Zone Journal. https://doi.org/10.2136/vzj2016.01.0010.

Weber, S., Beutel, J., Da Forno, R., Geiger, A., Gruber, S., Gsell, T., et al. (2019). A decade of detailed observations (2008–2018) in steep bedrock permafrost at the Matterhorn Hörnligrat (Zermatt, CH). Earth System Science Data, 11(3), 1203–1237. https://doi.org/10.5194/essd-11-1203-2019.

Weeds, J., & Weir, D. (2005). Co-occurrence retrieval: A flexible framework for lexical distributional similarity. Computational Linguistics, 31(4), 439–475. https://doi.org/10.1162/089120105775299122.

Wooller, M. J., Ruppel, C. D., Pohlman, J. W., Leigh, M. B., Heintz, M., & Anthony, K. W. (2009). Permafrost gas hydrates and climate change: Lake-based seep studies on the Alaskan north slope. Fire in the Ice: NETL Methane Hydrate Newsletter, 9(3), 6–9.

Wu, Q., Liu, Y., Zhang, J., & Tong, C. (2002). A review of recent frozen soil engineering in permafrost regions along Qinghai-Tibet highway China. Permafrost and Periglacial Processes, 13(3), 199–205. https://doi.org/10.1002/ppp.420.

Xiao, C., Tian, L., Wu, Q., Zhang, D., Zhang, T., Wu, T., et al. (2017). Global Cryosphere Evolution and Land Surface Processes on the Tibetan Plateau In The Geographical Sciences During 1986–2015 (pp. 263–279). Singapore: Springer. https://doi.org/10.1007/978-981-10-1884-8_11.

Yang, L., Liu, Y., Zhang, H., Xiao, B., Guo, X., Wei, R., et al. (2019). The status of exploitation techniques of natural gas hydrate. Chinese Journal of Chemical Engineering, 27(9), 2133–2147. https://doi.org/10.1016/j.cjche.2019.02.028.

Yang, M., Nelson, F. E., Shiklomanov, N. I., Guo, D., & Wan, G. (2010). Permafrost degradation and its environmental effects on the Tibetan Plateau: A review of recent research. Earth-Science Reviews, 103(1–2), 31–44. https://doi.org/10.1016/j.earscirev.2010.07.002.

Zhang, T. (2005). Influence of the seasonal snow cover on the ground thermal regime: An overview. Reviews of Geophysics, 43(4), RG4002.

Zimov, S. A. (2006). Climate change: Permafrost and the global carbon budget. Science, 312(5780), 1612–1613. https://doi.org/10.1126/science.1128908.
Ethics declarations
Conflict of interest
The author declare that they have no conflict of interest.
About this article
Cite this article
Bordignon, F. A scientometric review of permafrost research based on textual analysis (1948–2020). Scientometrics 126, 417–436 (2021). https://doi.org/10.1007/s11192-020-03747-4
Received:

Published:

Issue Date:

DOI: https://doi.org/10.1007/s11192-020-03747-4
Keywords
Text-mining methods

Scientometrics

Semantic mapping

Lexical analysis

Permafrost

Infrastructure vulnerability