Abstract
Expertise in the treatment of wounded and mentally damaged military personnel can be transferred to the clinical care of civilian patients by military clinicians though academic publications and working alongside civilian colleagues. Citations to papers written by military authors by civilian researchers can show the transfer of this military knowledge into civilian practice. We examined citations to UK and US academic papers on military physical and mental injury from 2001 to 2018 in the Web of Science, and determined the numbers from civilian and military sources in the authors' own country, and for the US papers, also the Veterans Administration. United States civilian researchers contributed to 52% of the US citations in 2006, rising to 65% in 2018. The numbers of US citing papers from the individual states correlated fairly well with their population sizes. For the UK, civilian citations to its papers also increased with time, but were heavily concentrated in London and Birmingham. This study shows that it is possible to track the diffusion of knowledge in the experience of treating combat casualties from military authors to subsequent military and civilian publications through analysis of the citation history of the original papers.
This is a preview of subscription content,
to check access.
Access this article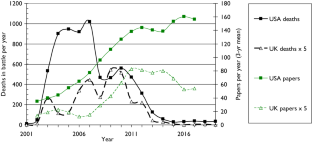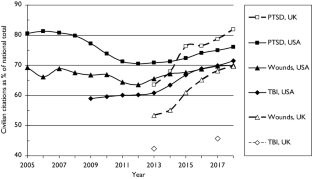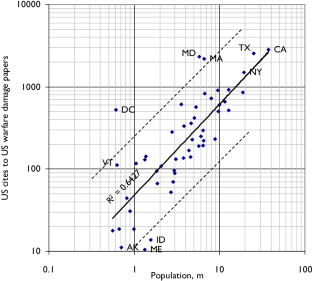 References
Abramo, G., D'Angelo, C. A., Ferretti, M., & Parmentola, A. (2012). An individual-level assessment of the relationship between spin-off activities and research performance in universities. R & D Management, 42, 225–242.

Barr, J., Cherry, K. J., & Rich, N. M. (2016). Vascular surgery in World War II the shift to repairing arteries. Annals of Surgery, 263, 615–620. https://doi.org/10.1097/SLA.0000000000001181.

Barr, J., & Podolsky, S. H. (2020). A national medical response to crisis—the legacy of World War II. New England Journal of Medicine. https://doi.org/10.1056/NEJMp2008512.

Boh, W. F., De Haan, U., & Strom, R. (2016). University technology transfer through entrepreneurship: Faculty and students in spinoffs. The Journal of Technology Transfer, 41, 661–669. https://doi.org/10.1007/s10961-015-9399-6.

Carey, M. E. (2011). Cushing and the treatment of brain wounds during World War I historical vignette. Journal of Neurosurgery, 114, 1495–1501. https://doi.org/10.3171/2011.1.JNS101259.

Colombo, U., & Lanzavecchia, G. (1987). Do civilian spin-offs justify investments in military technology? In C. Scherf, B. Holden Reid, & D. Carlton (Eds.), New technologies and the arms race. London: Palgrave Macmillan.

Dougherty, L. C. P. J., Carter, P. R., Seligson, D., Benson, D. R., & Purvis, J. M. (2004). Orthopaedic surgery advances resulting from World War II. J Bone Joint Surg-Amer, 86A, 176–181. https://doi.org/10.2106/00004623-200401000-00028.

Eastridge, B. J., Costanzo, G., Jenkins, D., et al. (2009). Impact of joint theater trauma system initiatives on battlefield injury outcomes. The American Journal of Surgery, 198, 852–857. https://doi.org/10.1016/j.amjsurg.2009.04.029.

Forrester, C. (2010). High above: The untold story of Astra, Europe's leading satellite company. Richmond: Broadgate Publications.

Grant, S. M. (2014). 'Mortal in this season': Union surgeons and the narrative of medical modernisation in the American Civil War. Social History of Medicine, 27, 689–707.

Hettiaratchy, S., Tai, N., Mahoney, P., & Hodgetts, T. (2010). UK's NHS trauma systems: Lessons from military experience. The Lancet, 376, 149–151.

Hofmann-Wellenhof, B., Lichtenegger, H., & Wasle, E. (2008). GNSS–Global navigation satellite sytems: GPS, GLONASS, Galileo, and more. New York: Springer.

Howard, J. T., Kotwal, R. S., Stern, C. A., et al. (2019). Use of combat casualty care data to assess the US military trauma system during the Afghanistan and Iraq conflicts, 2001–2017. JAMA Surgery, 154, 600–608. https://doi.org/10.1001/jamasurg.2019.0151.

NHS (2018) Incident_and_Mass_casualty_guidelines-Nov-2018.pdf. https://www.england.nhs.uk/wp-content/uploads/2018/12/version1__Major_

Jones, E., Fear, N. T., & Wessely, S. (2007). Shell shock and mild traumatic brain injury: A historical review. American Journal of Psychiatry, 164, 1641–1645. https://doi.org/10.1176/appi.ajp.2007.07071180.

Kaufman, H. H. (1993). Historical vignette – treatment of head-injuries in the American Civil-War. Journal of Neurosurgery, 78, 838–845.

Kroll, H., & Liefner, I. (2008). Spin-off enterprises as a means of technology commercialisation in a transforming economy—Evidence from three universities in China. Technovation, 28, 298–313. https://doi.org/10.1016/j.technovation.2007.05.002.

Lewison, G., Abouzeid, M., Sabouni, A., El Zalabany, M., Jabbour, S., Sullivan, R. (2019). Identification of the research on warfare and health, 1946–2017. In Proceedings of the 17th Conference of the International Society for Scientometrics and Informetrics, Sapienza University, Rome, Italy: 271–282.

Li, X., & Hao, J.-Y. (2018). Construction of an evaluation index system for determining the academic impact of military medical scholars. Journal of the Royal Army Medical Corps, 164, 164–169. https://doi.org/10.1136/jramc-2017-000863.

Medell, R. J., Waisel, D. B., Eskuri, S. A., & Calicott, R. W. (1998). Field block for cranial surgery in World War II. Military Medicine, 163, 80–83.

Mets, T., Leego, M., Talpsep, T., & Varblane, U. (2007). The role of intellectual property protection in the business strategy of university spin-off biotech companies in a small transition economy. Review of Central and East European Law, 32, 19–40. https://doi.org/10.1163/092598807X165550.

Mowery, D. C., & Ziedonis, A. (2001). The commercialisation of national laboratory technology through the formation of "spin-off" firms: Evidence from the Lawrence Livermore national laboratory. International Journal of Manufacturing Technology and Management, 3, 106–119. https://doi.org/10.1504/IJMTM.2001,001398.

O'Shea, R. P., Allen, T. J., Chevalier, A., & Roche, F. (2005). Entrepreneurial orientation, technology transfer and spinoff performance of US universities. Research Policy, 34, 994–1009. https://doi.org/10.1016/j.respol.2005.05.011.

Şenel, E. (2019). Evolution of military medicine literature: A scientometric study of global publications on military medicine between 1978 and 2017. Journal of the Royal Army Medical Corps. https://doi.org/10.1136/jramc-2019-001188.

Singleton, J. A. G., Gibb, I. E., Hunt, N. C. A., et al. (2013). Identifying future 'unexpected' survivors: A retrospective cohort study of fatal injury patterns in victims of improvised explosive devices. British Medical Journal Open, 3, e003130. https://doi.org/10.1136/bmjopen-2013-003130.

Smith, J., Hodgetts, T., Mahoney, P., Russell, R., Davies, S., & McLeod, J. (2008). Trauma governance in the UK defence medical services. Journal of the Royal Army Medical Corps, 153, 239–242. https://doi.org/10.1136/jramc-153-04-04.

Spinardi, G. (2012). The limits to 'spin-off': UK defence R & D and the development of gallium arsenide technology. The British Journal for the History of Science, 45, 97–121.

Strother, E. A. (2003). Maxillofacial surgery in World War I: The role of the dentists and surgeons. Journal of Oral and Maxillofacial Surgery, 61, 943–950. https://doi.org/10.1016/S0278-2391(03)000290-8.

VanHee, R. (2014). Surgery during World War I: A great breakthrough of techniques. Acta Chirurgica Belgica, 114, 292–298.

Vickers, M. L., Coorey, C. P., Milinovich, G. J., Eriksson, L., Assoum, M., & Reade, M. C. (2018). Bibliometric analysis of military trauma publications: 2000–2016. Journal of the Royal Army Medical Corps, 164, 142–149. https://doi.org/10.1136/jramc-2017-000858.

Whalen, D. J. (2014). The origins of satellite communications, 1945–1965. Washington DC: Smithsonian Institution Press.
Acknowledgements
GL, RS and MB are funded by UK Research and Innovation GCRF Research For Health In Conflict (R4HC-MENA); developing capability, partnerships and research in the Middle and Near East (MENA) ES/P010962/1
Ethics declarations
Conflict of interest
MB retired from the appointment of Surgeon-General of the UK Armed Forces in April 2019.
About this article
Cite this article
Lewison, G., Roe, P., Sullivan, R. et al. The spin-off to civilian medical practice in the UK and USA from medical research developed during conflict. Scientometrics 126, 1829–1839 (2021). https://doi.org/10.1007/s11192-020-03738-5
Received:

Accepted:

Published:

Issue Date:

DOI: https://doi.org/10.1007/s11192-020-03738-5
Keywords