Abstract
Contemporary scientific production can no longer be explained with traditional actors and procedures. We conducted a transdisciplinary bibliometric study to identify and analyze the participation of social actors in the publications in mainstream journals with a Mexican affiliation during 2015, in the Web of Science. 22,331 articles were obtained with at least one Mexican authorship. More than one hundred different social actors were identified, grouped into 49 categories. The actors were segmented into (1) academic actors (79.15%), affiliated to universities and research centers; and (2) non-academic actors (20.85%), who do not have knowledge production within their main activities. Academic actors have greater participation in the fields of life sciences, engineering, and physical sciences, while non-academics affect the field of health and life sciences. Mexico City contains the most significant number of affiliations (41.87%), which a high academic contribution (65.21%). Most of this production corresponds to articles (72.56%) written in English (81.94%) and published in scientific journals located in the first two JCR quartiles (57.85%). The results show differences when comparing academic and non-academic actors. We conclude that the participation of a broad group of social actors with different patterns of knowledge production has been identified with empirical evidence.
Access options
Buy single article
Instant access to the full article PDF.
US$ 39.95
Tax calculation will be finalised during checkout.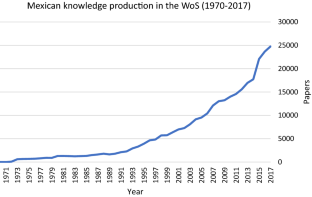 References
Contreras-Gómez, L. E., Baquero-Parra, R., Robles-Belmont, E., & Pérez-Angón, M. Á. (2015). Patrones de movilidad de los físicos mexicanos en el sistema nacional de investigadores. Interciencia: Revista de ciencia y tecnología de América, 40(8), 525–532.

DCTS-CINVESTAV. (2020). Doctorado Transdisciplinario en Desarrollo Científico y Tecnológico para la Sociedad. https://www.transdisciplinario.cinvestav.mx/. Accessed Apr 2020.

Fulton, S., López-Sagástegui, C., Weaver, A. H., Fitzmaurice-Cahluni, F., Galindo, C., Fernández-Rivera Melo, F., et al. (2019). Untapped potential of citizen science in Mexican small-scale fisheries. Frontiers in Marine Science. https://doi.org/10.3389/fmars.2019.00517.

Gibbons, M., Limoges, C., Nowotny, H., Schwartzman, S., Scott, P., Trow, M., et al. (1994). The new production of knowledge: The dynamics of science and research in contemporary societies. Los Angeles: SAGE Publications.

González Brambila, C. N., Maqueda Rodríguez, G., & Rodríguez Miramontes, J. (2017). El Sistema Nacional de Investigadores en México: 20 años de producción científica en las instituciones de educación superior (1991–2011). ib Investigación bibliotecológica, 31(1), 187–219.

Gonzalez-Brambila, C., & Veloso, F. M. (2007). The determinants of research output and impact: A study of Mexican researchers. Research Policy, 36(7), 1035–1051. https://doi.org/10.1016/j.respol.2007.03.005.

Guzmán-Rosas, S. C. (2015). The scientific institutionalization of indigenous knowledge in Mexico: A historical analysis of the medical and surgical academy of Puebla de los Ángeles. JSS Open Journal of Social Sciences, 03(07), 283–292.

JCR. (2019). Journal Citation Reports–InCites, Clarivate Analytics company. https://jcr.clarivate.com/JCRLandingPageAction.action. Accessed Sept 2019.

Knorr-Cetina, K., & Kreimer, P. (2005). La fabricación del conocimiento: Un ensayo sobre el carácter constructivista y contextual de la ciencia (1. ed). Universidad Nacional de Quilmes.

Latour, B. (2005). Reassembling the social: An introduction to actor-network-theory. Oxford: Oxford University Press.

Lopez Olmedo, R., & Gutiérrez Serrano, N. G. (2018). Coloquio: Usos y producciones de la ciencia desde las organizaciones sociales. Un encuentro dialógico y transdisciplinar. https://webcast.unam.mx/?tribe_events=coloquio-usos-y-producciones-de-la-ciencia-desde-las-organizaciones-sociales-un-encuentro-dialogico-y-transdisciplinar. Accessed Oct 2019.

Lopez-Olmedo, R., Marmolejo-Leyva, R., Perez-Angon, M. A., Villa-Vazquez, L. L., & Zayago-Lau, E. (2017). The role of public policies in the decentralization process of Mexican science and the formation of new researchers in institutions outside the Mexico City area. Scientometrics, 112(3), 1343–1366. https://doi.org/10.1007/s11192-017-2423-x.

Lopez-Olmedo, R., Angel Perez-Angon, M., & Georgina Gutierrez-Serrano, N. (2019). Participation of Mexican Civil Society Organizations in scientific publications. Scientometrics, 119(1), 55–72. https://doi.org/10.1007/s11192-019-03027-w.

Luna-Morales, M. E., Collazo-Reyes, F., Russell, J. M., & Pérez-Angón, M. Á. (2009). Early patterns of scientific production by Mexican researchers in mainstream journals, 1900–1950. Journal of the American Society for Information Science and Technology, 60(7), 1337–1348. https://doi.org/10.1002/asi.21065.

Marmolejo-Leyva, R., Perez-Angon, M. A., & Russell, J. M. (2015). Mobility and international collaboration: Case of the Mexican scientific diaspora. PLoS ONE, 10(6), e0126720.

Nicolescu, B. (2008). Transdisciplinarity: Theory and practice. New York: Hampton Press.

PCS-UNAM. (2020). Posgrado en Ciencias de la Sostenibilidad. Posgrado En Ciencias de La Sostenibilidad. https://sostenibilidad.posgrado.unam.mx/. Accessed Mar 2020.

Ramírez, D. S. A., Cortes, A. O., & Parra, R. B. (2015). Análisis del desarrollo científico en la península de Yucatán: El punto de vista de los investigadores. IJERI: International Journal of Educational Research and Innovation, 4, 111–122.

Rodriguez Miramontes, J., & Gonzalez-Brambila, C. N. (2016). The effects of external collaboration on research output in engineering. Scientometrics Scientometrics: An International Journal for All Quantitative Aspects of the Science of Science, Communication in Science and Science Policy, 109(2), 661–675.

Guzmán-Rosas, S. C., & Kleiche-Dray, M. (2017). La inclusión del conocimiento tradicional indígena en las políticas públicas del Estado mexicano. Gestión y política pública, 26(2), 297–339.

Thompson Klein, J. (2006). Afterword: The emergent literature on interdisciplinary and transdisciplinary research evaluation. Research Evaluation, 15(1), 75–80. https://doi.org/10.3152/147154406781776011.

WoS. (2018). Web of science: Data Base. Thomson Reuters. http://www.apps.webofknowledge.com. Accessed Sept 2019.
Acknowledgements
To the UNAM. Postdoctoral Scholarship Program at UNAM, as a Fellow of the Regional Center for Multidisciplinary Research, Advised by Dr. Norma G. Gutiérrez Serrano. Doctor Roberto López Olmedo
About this article
Cite this article
Lopez-Olmedo, R., Gutierrez-Serrano, N.G. Transdisciplinary knowledge production in mainstream journals: from the perspective of the participation of social actors in Mexico. Scientometrics 126, 2627–2641 (2021). https://doi.org/10.1007/s11192-020-03656-6
Received:

Published:

Issue Date:
Keywords
Non-academic actors

Scientific collaboration

Bibliometry

Social studies of science

Scientific mapping

Social production of knowledge