Abstract
This paper analyzes national self-referencing patterns (i.e. the tendency of researchers to cite from the same country) of six major science producers (China, France, Germany, Japan, UK, and USA). While the results highlight a continuing decline of national references (except for China), all countries' referencing patterns remain heavily oriented towards national papers throughout the 1980–2017 period. The results also indicate, as could be expected, that national referencing patterns are more pronounced in social sciences and humanities than in natural sciences and engineering and biomedical sciences. National references are also smaller in internationally co-authored papers than in strictly national papers. Finally, a significant part of the national referencing bias can be attributed to authors citing their previous works.
Access options
Buy single article
Instant access to the full article PDF.
USD 39.95
Price includes VAT (USA)
Tax calculation will be finalised during checkout.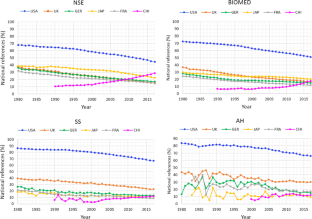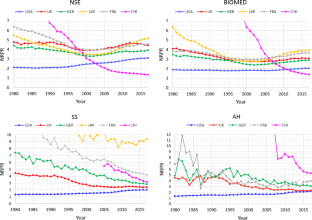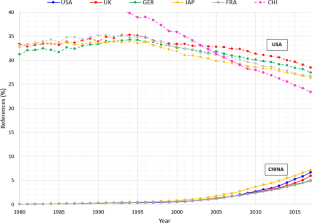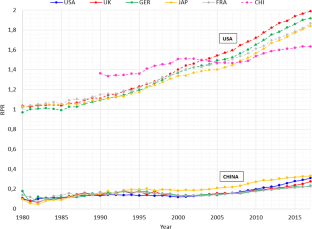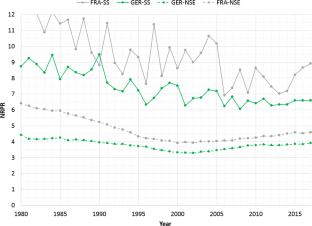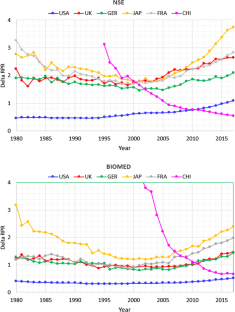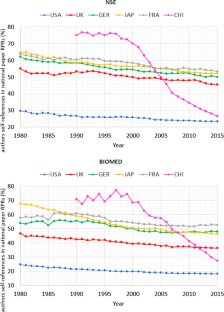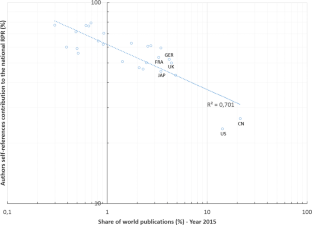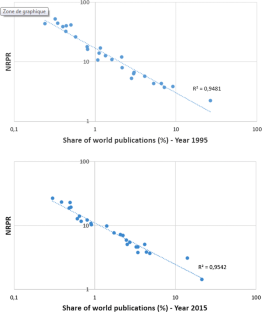 Notes
1.

One might argue that the percentages of national self-references and reference-to-publication ratios would be different if full counting of references and papers was used instead of fractional counting. We tested both methods and, while the values are indeed very slightly different, the trends over time are essentially the same for all countries. The aim of this work is to assess the extent to which researchers of a given country rely on their national scientific production (and consequently, also on the scientific production of foreign countries). Fractional counting is better suited in this situation, since it acknowledges the fact that citing a national paper written in international collaboration comes down to relying on nationally produced knowledge but also on knowledge produced abroad.

2.

The curves for BIOMED are not shown but they are very similar to NSE.

3.

To be sure, it is possible that papers written in French and containing a French address be published in a Swiss, Belgian or Canadian social science journal. However, the number of such papers is marginal comparatively to the number of French papers published in the French social science journals that are indexed in the WoS.

4.

This list of countries includes in alphabetical order: Argentina, Australia, Belgium, Brazil, Canada, China, Denmark, France, Germany, Hungary, India, Italy, Japan, Netherlands, Norway, Poland, Portugal, Singapore, South-Africa, South-Korea, Spain, Sweden, Switzerland, Turkey, United Kingdom, and United States of America.
References
Archambault, E., Vignola-Gagne, E., Coté, G., Larivière, V., & Gingras, Y. (2006). Benchmarking scientific output in the social sciences and humanities: The limits of existing databases. Scientometrics,68(3), 329–342.

Baccini, A., De Nicolao, G., & Petrovich, E. (2019). Citation gaming induced by bibliometric evaluation: A country-level comparative analysis. PLoS ONE,14(9), e0221212.

Bakare, V., & Lewison, G. (2017). Country over-citation ratios. Scientometrics,113(2), 1199–1207.

Bornmann, L., Adams, J., & Leydesdorff, L. (2018). The negative effects of citing with a national orientation in terms of recognition: National and international citations in natural-sciences papers from Germany, the Netherlands, and the UK. Journal of Informetrics,12(3), 931–949.

Campbell, F. M. (1990). National bias: A comparison of citation practices by health professionals. Bulletin of the Medical Library Association,78(4), 376–382.

Davidson Frame, J., & Carpenter, M. K. (1979). International research collaboration. Social Studies of Science,9(4), 481–497.

Dubois, M., Gingras, Y., & Rosental, C. (2016). Practices and rhetoric of the internationalization of science. Revue Française de Sociologie,57(3), 407–415.

Frame, J. D., & Narin, F. (1977). The international distribution of biomedical publications. Federation Proceedings,36(7), 1790–1795.

Gilbert, N. (1977). Referencing as persuasion. Social Studies of Science,7(1), 113–122.

Gingras, Y. (2002). Les formes spécifiques de l'internationalité du champ scientifique. Actes de la Recherche En Sciences Sociales,141–142, 31–45.

Gingras, Y. (2019). The specificity of the social sciences and humanities and its relation to research evaluation. In B. Maegaard, et al. (Eds.), Stay tuned to the future. Impact of the research infrastructures for social sciences and humanities (pp. 13–24). Firenze: Leo S. Olschki Editore.

Glänzel, W. (2001). National characteristics in international scientific co-authorship relations. Scientometrics,51(1), 69–115.

Grange, R. I. (1999). National bias in citations in urology journals: Parochialism or availability? British Journal of Urology International,84(6), 601–603.

Heilbron, J., & Gingras, Y. (2018). The globalization of European research in the social sciences and humanities (1980–2014): A bibliometric study. In J. Heilbron, et al. (Eds.), The social and human sciences in global power relations (pp. 29–58). London: Palgrave Macmillan.

Katz, J. S. (1994). Geographical proximity and scientific collaboration. Scientometrics,31(1), 31–43.

Kulczycki, E., et al. (2018). Publication patterns in the social sciences and humanities: Evidence from eight European countries. Scientometrics,116(1), 463–486.

Lancho-Barrantes, B. S., Guerrero-Bote, V. P., & Chinchilla-Rodriguez, Z. (2012). Citation flows in the zones of influence of scientific collaborations. Journal of the Association for Information Science and Technology,63(2), 481–489.

Larivière, V., Archambault, É., & Gingras, Y. (2006a). The place of serials in referencing practices: Comparing natural science and engineering with social sciences and the humanities. Journal of the American Association of Information Science and Technology,57(8), 997–1004.

Larivière, V., Gingras, Y., & Archambault, É. (2006b). Canadian collaboration networks: A comparative analysis of the natural sciences, social sciences and the humanities. Scientometrics,68(3), 519–533.

Larivière, V., Gong, K., & Sugimoto, C. R. (2018). Citations strength begins at home. Nature,564, S70–S71.

Larrègue, J., Mongeon, P., Warren, J. P., Sugimoto, C. R., & Larivière, V. (2019). Reciprocity in book reviewing among American, British and Canadian academics. Canadian Journal of Sociology,44(1), 95–114.

Leydesdorff, L., & Wagner, C. S. (2009). Is the United States losing ground in science? A global perspective on the world science system. Scientometrics,78(1), 23–36.

Leydesdorff, L., & Zhou, P. (2005). Are the contributions of China and Korea upsetting the world system of science? Scientometrics,63(3), 617–630.

Luukkonen, T., Persson, O., & Sivertsen, G. (1992). Understanding patterns of international collaboration. Science, Technology and Human Values,17(1), 101–126.

Maisonobe, M., Grossetti, M., Milard, B., Eckert, D., & Jégou, L. (2016). L'évolution mondiale des réseaux de collaborations scientifiques entre villes: Des échelles multiples. Revue Française de Sociologie,57(3), 417–441.

Mongeon, P., & Paul-Hus, A. (2016). The journal coverage of web of science and scopus: A comparative analysis. Scientometrics,106(1), 213–228.

Mosbah-Natanson, S., & Gingras, Y. (2014). The globalization of social sciences? Evidence from a quantitative analysis of 30 years of production, collaboration and citations in the social sciences (1980–2009). Current Sociology,62(5), 626–646.

Narin, F., Stevens, K., & Whitlow, E. S. (1991). Scientific co-operation in Europe and the citation of multinationally authored papers. Scientometrics,21(3), 313–323.

National Science Foundation. (2018). Science and engineering indicators. https://www.nsf.gov/statistics/2018/nsb20181/assets/nsb20181.pdf.

Shehatta, I., & Al-Rubaish, A. M. (2019). Impact of country self-citations on bibliometric indicators and ranking of most productive countries. Scientometrics,120(2), 775–791.

Tahamtan, I., Afshar, A. S., & Ahamdzadeh, K. (2016). Factors affecting number of citations: A comprehensive review of the literature. Scientometrics,107(3), 1195–1225.

Thelwall, M., & Maflahi, N. (2015). Are scholarly articles disproportionately read in their own country? An analysis of mendeley readers. Journal of the Association for Information Science and Technology,66(6), 1124–1135.

Vallery-Radot, R. (1919). The life of pasteur. New York: Doubleday.

Wagner, C. S. (2005). Six case studies of international collaboration in science. Scientometrics,62(1), 3–26.

Wallace, M. L., Larivière, V., & Gingras, Y. (2012). A small world of citations? The influence of collaboration networks on citation practices. PLoS ONE,7(3), e33339.

Zhou, P., & Leydesdorff, L. (2006). The emergence of China as a leading nation in science. Research Policy,35(1), 83–104.

Zitt, M., Bassecoulard, E., & Okubo, Y. (2000). Shadows of the past in international collaboration: Collaboration profiles of the top five producers of Science. Scientometrics,47(3), 627–657.
About this article
Cite this article
Khelfaoui, M., Larrègue, J., Larivière, V. et al. Measuring national self-referencing patterns of major science producers. Scientometrics 123, 979–996 (2020). https://doi.org/10.1007/s11192-020-03381-0
Received:

Published:

Issue Date:
Keywords
Self-references

Self-citations

Reference-to-publication ratio

International collaboration