Abstract
We use the Nobel Foundations Scientific Background material to determine which journals have published Nobel Prize-awarded papers in physics since 1995. Analysing all references in the Nobel Prize Scientific Background material reveals that the journal Physical Review Letters published 28.5% of the Nobel Prize-awarded papers. It is followed by the Astrophysical journal, which accounts for 11.2%, Science, accounting 5.6% and Nature, accounting 4.7%. This is contrary to the journals respective Impact Factors, where Physical Review Letters and the Astrophysical Journal have much lower impact factors than Nature and Science. If works cited for background by the Nobel Foundation in the Scientific Background material are included in the analysis, the most referenced journal is still Physical Review Letters, now followed by Physical Review. The conclusion is that the most ground-breaking scientific work in physics is not necessarily published in the journals with the highest Impact Factor.
Access options
Buy single article
Instant access to the full article PDF.
US$ 39.95
Tax calculation will be finalised during checkout.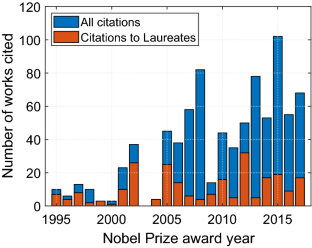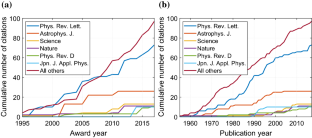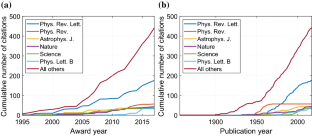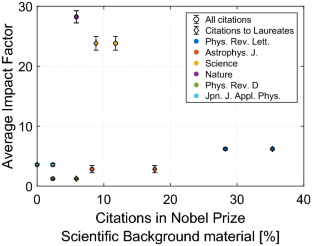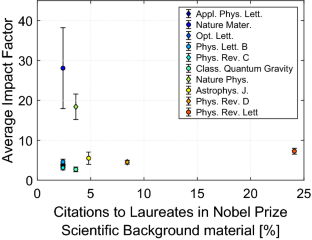 References
Adam, D. (2002). The counting house. Nature, 415, 726–729.

Baffes, J., & Vamvakidis, A. (2011). Are you too young for the Nobel Prize? Research Policy, 40, 1345–1353.

Bjørk, R. (2019a). The age at which Noble Prize research is conducted. Scientometrics, 119, 931.

Bjørk, R. (2019b). Number of citations to individual journals in the Nobel Prize Scientific Background material in physics. https://doi.org/10.11583/DTU.8057102.

Campbell, P. (2008). Escape from the impact factor. Ethics in science and environmental politics, 8, 5–7.

Carbone, P. (2014). Impact factor and research quality. IEEE Instrumentation & Measurement Magazine, 17, 34–35.

Chan, H. F., Gleeson, L., & Torgler, B. (2014). Awards before and after the Nobel Prize: A Matthew effect and/or a ticket to one's own funeral? Research Evaluation, 23, 210.

Chan, H. F., Önder, A. S., & Torgler, B. (2015). Do Nobel laureates change their patterns of collaboration following prize reception? Scientometrics, 105, 2215.

Chan, H. F., & Torgler, B. (2013). Science prizes: Time-lapsed awards for excellence. Nature, 500, 29.

Chan, H. F., & Torgler, B. (2015). The implications of educational and methodological background for the career success of Nobel laureates: an investigation of major awards. Scientometrics, 102, 847.

Falagas, M. E., & Alexiou, V. G. (2008). The top-ten in journal impact factor manipulation. Archivum Immunologiae et therapiae Experimentalis, 56, 223–226.

Garfield, E. (1955). Citation indexes to science: A new dimension in documentation through association of ideas. Science, 122, 108–111.

Garfield, E. (2006). The history and meaning of the journal impact factor. JAMA, 295, 90–93.

Jones, B. F., & Weinberg, B. A. (2011). Age dynamics in scientific creativity. PNAS, 108, 18910–18914.

Karazija, R., & Momkauskaitė, A. (2004). The Nobel prize in physics—Regularities and tendencies. Scientometrics, 61, 191.

Manniche, E., & Falk, G. (1957). Age and the Nobel prize. System Research, 2, 301–307.

Porta, M., Copete, J. L., Fernandez, E., Alguacil, J., & Murillo, J. (2003). Mixing journal, article, and author citations, and other pitfalls in the bibliographic impact factor. Cadernos de saúde pública, 19, 1847–1862.

Schlagberger, E. M., Bornmann, L., & Bauer, J. (2016). At what institutions did Nobel laureates do their prizewinning work? An analysis of biographical information on Nobel laureates from 1994 to 2014. Scientometrics, 109, 723–767.

Stephan, P. E., & Levin, S. G. (1993). Age and the Nobel prize revisited. Scientometrics, 28, 387.

Wagner, C. S., Horlings, E., Whetsell, T. A., Mattsson, P., & Nordqvist, K. (2015). Do nobel laureates create prize-winning networks? An analysis of collaborative research in physiology or medicine. PLoS ONE, 10, e0134164.
About this article
Cite this article
Bjørk, R. The journals in physics that publish Nobel Prize research. Scientometrics 122, 817–823 (2020). https://doi.org/10.1007/s11192-019-03312-8
Received:

Published:

Issue Date:
Keywords
Nobel Prize

Physics

Citations

Journals

Impact Factor