Abstract
Authorship and authorship ordering in the by-line have been gaining interest in the recent past. Unlike authorship in single-author which is an open-book, authorship in multi-author papers have been murky in certain aspects especially, in ordering, among others. Authorship implies responsibility and so, should not order in by-line reflect measures of responsibility on the basis of their contribution? But it hasn't been that way especially, the authors in middle order and last place, they are addled positions. However, the position of first author is undisputable because of one's relative contribution or responsibility. On this note, I propose dominance index (DI) and dominance co-efficiency (DC) of a scientist or an author. These measures are on based on the number of times as first author, the total number of multi-authored papers and the total number of times of co-authors. The average number of times as first author is the dominance score and the number of times as first author divided by mean of co-authors gives dominance co-efficiency. These measures are put to test on faculty members of a Department of a University to show how the indexes would look like. The data sets are collected from their biodata and supplemented from SCOPUS database. The results obtained seems quite tenable. But the usage of these indexes is left to the discretion of evaluators. Some pertinent implications and questions such as, the significance of a paper, omission of single-authored papers, the role of corresponding author, the practice of noblesse oblige, the effect of team size, the regulation of authorship and ordering in the by-line are discussed. Further, an alternative measure of dominance is also given on the sine quo non that order of authors in the by-line is strictly according to relative measure of contribution. In this case, the dominance index is a measure of an author's standing or prominence among his co-authors based on the ranking or position in the ascription of all the co-authored papers. It gives relative rank or position of an author or scientist among one's co-author(s) of the times of co-authoring based on the ascription of all the paper of significance. Dominance co-efficiency is the product of paper of significance and dominance index. A negative or low DI or DC scores of a scientist or an author do not mean that the scientific or research contribution is low or insignificant. On the other hand, a high DI and DC scores of a scientist or an author do not necessarily mean that his or her scientific contribution is excellent or important.
Access options
Buy single article
Instant access to the full article PDF.
US$ 39.95
Tax calculation will be finalised during checkout.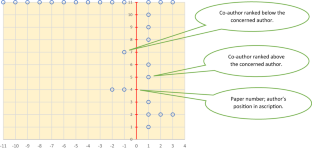 Notes
1.

2.

These are data set of four Price Medal awardees.

3.

This is the title of the article.

4.
References
Bhattacharya, Surajit. (2010). Authorship issue explained. Indian Journal of Plastic Surgery,43(2), 233–234.

Boxenbaum, H., Pivinski, F., & Ruberg, S. J. (1987). "Publication rates of pharmaceutical scientists: Application of the waring distribution. Drug Metabolism Reviews,18, 553–571.

Cattell, R. B., & Drevdahl, J. E. (1955). A comparison of the personality profile (16 P.F.) of eminent researchers with that of eminent teachers and administrators, and of the general population. British Journal of Psychology,46(Nov), 248–261.

Clement, T. P. (2014). Authorship matrix: A rational approach to quantify individual contributions and responsibilities in multi-author Scientific articles. Science and Engineering Ethics,20, 345–361. https://doi.org/10.1007/s11948-013-9454-3.

Colman, A. M., Dhillion, D., & Coulthard, B. (1995). "A bibliometric evaluation of the research performance of British University Politics Departments: Publications in leading journals. Scientometrics,32, 49–66.

Cozzarelli, N. R. (2004). Responsible authorship of papers in PNAS. PNAS,101(29), 10495.

CASRAI. CRediT. https://www.casrai.org/credit.html. Accessed 15 July 2019.

Dance, A. (2012). Who's on first? Nature,498(Sept), 591–593.

de Beaver, D., & Rosen, R. (1978). Studies in scientific collaboration: Part I-The professional origins of scientific co-authorship. Scientometrics,1, 65–84.

de Beaver, D., & Rosen, R. (1979a). "Studies in scientific collaboration: Part II–scientific co-authorship, research productivity and visibility in the French scientific elite, 1799–1830. Scientometrics,1, 133–149.

de Beaver, D., & Rosen, R. (1979b). Studies in scientific collaboration: Part III–professionalization and the natural history of modern scientific co-authorship. Scientometrics,1, 231–245.

de Price, D. J. S., & Beaver, D. (1966). Collaboration in an invisible college. American Psychologist,21, 1011–1018.

Dizon, L. B., & Sadorra, M. S. M. (1995). Pattern of publication by the staff of an International Fisheries Research Center. Scientometrics,32, 67–75.

Egghe, Leo, Rousseau, Ronald, & Van Hooydonk, Guido. (2000). Methods for accrediting publications to authors or Countries: Consequences for evaluation studies. Journal of the American Society for Information Science,51(2), 145–157.

Ellwein, L. B., Khachab, M., & Waldman, R. H. (1989). Assessing research productivity: Evaluating journal publication across academic departments. Academic Medicine,64, 319–325.

EPA. (2016). "Scientific integrity: Best practices for designating authorship." https://www.epa.gov/osa/authorship-best-practices.

Greene, M. (2007). The demise of the lone author. Nature,450(7173), 1165.

Holcombe, A. O. (2019). "Contributorship, not authorship: Use credit to indicate who did what." PsyArXiv. April 18. https://doi.org/10.3390/publications7030048.

Huth, J. Edward. (1986). Guidelines on authorship of medical papers. Annals of Internal Medicine,104, 269–274.

Katz, J. S., & Martin, B. R. (1997). What is research collaboration? Research Policy,26, 1–18.

Laudel, Grit. (2002). What do we measure by authorship? Research Evaluation,11(1), 3–15.

Lukovits, I., & Vinkler, P. (1995). Correct credit distribution: A model for sharing credit among co-authors. Social Indicators Research,36, 91–98.

McNutt, M. K., et al. (2018). Transparency in authors' contributions and responsibilities to promote integrity in scientific publication. PNAS,115(11), 2557–2560.

Merton, R. K. (1973). The sociology of science: Theoretical and empirical investigations. Chicago: The University of Chicago Press.

Mesnard, L. (2017). Attributing credit to coauthors in academic publishing: The 1/n rule, parallelization, and team bonuses. European Journal of Operation Research, 260, 778–788.

Osborne, J. W., & Holland, A. (2009). What is authorship, and what should it be? A survey of prominent guidelines for determining authorship in scientific publications. Practical Assessment, Research & Evaluation,14, 15.

Ponomariov, B., & Boardman, C. (2016). What is co-authorship? Scientometrics (Sept.). https://doi.org/10.1007/s11192-016-2127-7.

Regaldo, A. (1995). Multiauthor papers on the rise. Science,268, 25.

Riesenberg, D., & Lundberg, G. D. (1990). The order of authorship: Who's on first? JAMA,264(14), 1857.

Sato, W. (2016). Scientists' personality, values, and well-being. SpringerPlus,5, 613.

Sauermann, H., & Haeussler, C. (2017). Authorship and contribution disclosures. Science Advances, 3(11), e1700404.

Smith, M. (1958). The trend toward multiple authorship in psychology. American Psychologist,13, 596–599.

Trueba, F. J., & Guerrero, J. A. (2004). A robust formula to credit authors for their publications. Scientometrics,60, 59–67.

Tscharntke, T., Hochberg, M. E., Rand, T. A., Resh, V. H., & Krauss, J. (2007). Author sequence and credit for contributions in multi-authored publications. PLoS Biology,5(1), e18. https://doi.org/10.1371/journal.pbio.0050018.

Van Hooydonk, G. (1997). Fractional counting of multi-authored publications: Consequences for the impact of authors. JASIST,48, 944–945.

Vinkler, P. (2000). Evaluation of the publication activity of research teams by means of scientometric indicator. Current Science,79, 602–612.

Vinkler, P. (2010). Research contribution and share of credit of individual authors. The evaluation of research by scientometric indicators. Oxford: Chandos Publishing.

Waltman, L. (2012). An empirical analysis of the use of alphabetical authorship in scientific publishing. Journal of Informetrics,6(4), 700–711.
About this article
Cite this article
Peidu, C. Can authors' position in the ascription be a measure of dominance?. Scientometrics 121, 1527–1547 (2019). https://doi.org/10.1007/s11192-019-03254-1
Received:

Published:

Issue Date:
Keywords
Authorship

Authorship ordering

By-line

Dominance Index

Dominance co-efficiency