Abstract
Specialized academic social networking sites are gaining popularity in scientific communication. A huge volume of interdisciplinary information is generated when researchers from multiple disciplines participate in scientific communication, which makes it possible to discover interdisciplinary users from a range of disciplines. In this study we analyze ScienceNet, one of the most well-known academic social networking sites in China, to find high-impact interdisciplinary users. We focus on the discipline distribution of friends and adopt phylogenetic species evenness on discipline phylogenetic trees to find 128 high-impact interdisciplinary users. A questionnaire was then sent to these academics to test the accuracy of this method. The questionnaire results show that our approach can determine authority users who span specific disciplines. Thus our approach will be useful for finding interdisciplinary collaborators and academic social networking site-related international peer reviewers.
This is a preview of subscription content, log in to check access.
Access options
Buy single article
Instant access to the full article PDF.
US$ 39.95
Price includes VAT for USA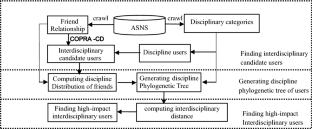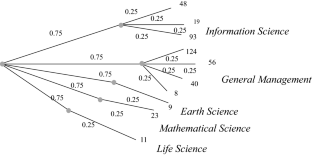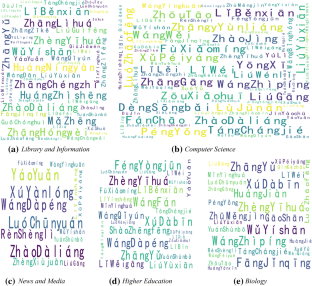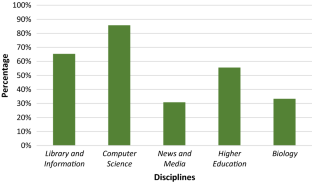 References
Amara, N., Landry, R., & Halilem, N. (2015). What can university administrators do to increase the publication and citation scores of their faculty members? Scientometrics, 103(2), 489–530.

Bromham, L., Dinnage, R., & Hua, X. (2016). Interdisciplinary research has consistently lower funding success. Nature, 534(7609), 684–687.

Chakraborty, N. (2012). Activities and reasons for using social networking sites by research scholars in NEHU: A study on Facebook and ResearchGate. Planner, 19–27.

Chang, Y. W., & Huang, M. H. (2012). A study of the evolution of interdisciplinarity in library and information science: Using three bibliometric methods. Journal of the American Society for Information Science and Technology, 63(1), 22–33.

Chen, K., & Liang, C. (2004). Disciplinary interflow of library and information science in Taiwan. Journal of Library and Information Studies, 2(2), 31–55.

COSEPUP (Committee on Science, Engineering, Medicine, and Public Policy). (2005). Facilitating interdisciplinary research. Washington, D.C: National Academies Press.

Crawford, M. (2011). Biologists using social-networking sites to boost collaboration. BioScience, 61(9), 736.

Dengler, F., Koschmider, A., Oberweis, A., & Zhang, H. (2010). Social software for coordination of collaborative process activities. In Paper presented at the international conference on business process management.

Elsayed, A. M. (2016). The use of academic social networks among Arab researchers: A survey. Social Science Computer Review, 34(3), 378–391.

Espinoza Vasquez, F. K., & Caicedo Bastidas, C. E. (2015). Academic social networking sites: A comparative analysis of their services and tools. In Conference 2015 proceedings.

Glänzel, W., & Schubert, A. (2004). Analysing scientific networks through co-authorship. In Handbook of quantitative science and technology research (pp. 257–276). Springer.

Gruzd, A., & Goertzen, M. (2013). Wired academia: Why social science scholars are using social media. In Paper presented at the 2013 46th Hawaii international conference on system sciences.

Hamilton, K., Narin, F., & Olivastro, D. (2005). Using bibliometrics to measure multidisciplinarity. Westmont: ipIQ, Inc.

Hammarfelt, B. (2011). Interdisciplinarity and the intellectual base of literature studies: Citation analysis of highly cited monographs. Scientometrics, 86(3), 705–725.

Helmus, M. R., Bland, T. J., Williams, C. K., & Ives, A. R. (2007). Phylogenetic measures of biodiversity. The American Naturalist, 169(3), E68–E83.

Hoffmann, C. P., Lutz, C., & Meckel, M. (2016). A relational altmetric? Network centrality on Research Gate as an indicator of scientific impact. Journal of the Association for Information Science and Technology, 67(4), 765–775.

Jeng, W., Daqing, H., & Jiepu, J. (2014). User participation in an academic social networking service: A survey of open group users on mendeley. Journal of the Association for Information Science & Technology, 66(5), 890–904.

Jiang, J., Ni, C., He, D., & Jeng, W. (2013). Mendeley group as a new source of interdisciplinarity study: how do disciplines interact on Mendeley? In Paper presented at the proceedings of the 13th ACM/IEEE-CS joint conference on digital libraries.

Kadriu, A. (2013). Discovering value in academic social networks: A case study in ResearchGate. In Paper presented at the ITI 2013 international conference on information technology interfaces.

Kelly, B. (2013). Using social media to enhance your research activities. In Paper presented at the social media in social research 2013 conference.

Lancichinetti, A., Fortunato, S., & Kertész, J. (2009). Detecting the overlapping and hierarchical community structure in complex networks. New Journal of Physics, 11(3), 033015.

Levitt, J., & Thelwall, M. (2008). The most highly cited Library and Information Science articles: Interdisciplinarity, first authors and citation patterns. Scientometrics, 78(1), 45–67.

Lusseau, D. (2003). The emergent properties of a dolphin social network. Proceedings of the Royal Society of London B: Biological Sciences, 270(Suppl 2), S186–S188.

Lyall, C., Bruce, A., Marsden, W., & Meagher, L. (2013). The role of funding agencies in creating interdisciplinary knowledge. Science and Public Policy, 40(1), 62–71.

Mangan, K. (2012). Social networks for academics proliferate, despite some doubts. Chronicle of Higher Education, 58(35), 1–7.

Mas-Bleda, A., Thelwall, M., Kousha, K., & Aguillo, I. F. (2014). Do highly cited researchers successfully use the social web? Scientometrics, 101(1), 337–356.

Morillo, F., Bordons, M., & Gómez, I. (2003). Interdisciplinarity in science: A tentative typology of disciplines and research areas. Journal of the American Society for Information Science and Technology, 54(13), 1237–1249.

Odell, J., & Gabbard, R. (2008). The interdisciplinary influence of library and information science 1996–2004: A journal-to-journal citation analysis. College & Research Libraries, 69(6), 546–564.

Oh, J.S., & Wei, J. (2011). Groups in academic social networking services—An exploration of their potential as a platform for multi-disciplinary collaboration. In Paper presented at the IEEE third international conference on privacy, security, risk and trust.

Olson, G., Zimmerman, A., Bos, N., & Wulf, W. (2005). Collaborative research across disciplinary and organizational boundaries. Social Studies of Science: An International Review of Research in the Social Dimensions of Science and Technology, 35(5), 703–722.

Ortega, J. L. (2015). Disciplinary differences in the use of academic social networking sites. Online Information Review, 39(4), 520–536.

Palla, G., Derényi, I., Farkas, I., & Vicsek, T. (2005). Uncovering the overlapping community structure of complex networks in nature and society. Nature, 435(7043), 814–818.

Porter, A., Cohen, A., David Roessner, J., & Perreault, M. (2007). Measuring researcher interdisciplinarity. Scientometrics, 72(1), 117–147.

Porter, A. L., Roessner, J. D., Cohen, A. S., & Perreault, M. (2006). Interdisciplinary research: meaning, metrics and nurture. Research Evaluation, 15(3), 187–195.

Rafols, I., & Meyer, M. (2010). Diversity measures and network centralities as indicators of interdisciplinarity: case studies in bionanoscience. Scientometrics, 82, 263–287.

Rinia, E. J., Van, L. T. N., Bruins, E. E. W., Van, V. H. G., & Van, R. A. F. J. (2001). Citation delay in interdisciplinary knowledge exchange. Scientometrics, 51(1), 293–309.

Stirling, A. (2007). A general framework for analysing diversity in science, technology and society. Journal of the Royal Society, Interface, 4(15), 707.

Tang, R. (2004). Evolution of the interdisciplinary characteristics of information and library science. Proceedings of the Association for Information Science & Technology, 41(1), 54–63.

Veletsianos, G., & Kimmons, R. (2013). Scholars and faculty members' lived experiences in online social networks. The Internet and Higher Education, 16, 43–50.

Wu, X., & Zhang, C. (2015). Multi-label propagation for overlapping community detection based on contribution degree. Journal of the China Society for Scientific & Technical Information, 34(9), 949–957.

Wu, X., & Zhang, C. (2017). Finding high-impact interdisciplinary users based on social media. Journal of the China Society for Scientific & Technical Information, 36(6), 618–627.

Yan, W., & Zhang, Y. (2018). Research universities on the ResearchGate social networking site: An examination of institutional differences, research activity level, and social networks formed. Journal of Informetrics, 12(1), 385–400.

Yousuf, A. M., & Joanna, R. (2017). Pakistani LIS scholars' altmetrics in ResearchGate. Program, 51(2), 152–169.
Acknowledgements
This work was supported by National Social Science Fund Project (No. 17CTQ047).
About this article
Cite this article
Wu, X., Zhang, C. Finding high-impact interdisciplinary users based on friend discipline distribution in academic social networking sites. Scientometrics 119, 1017–1035 (2019). https://doi.org/10.1007/s11192-019-03067-2
Received:

Published:

Issue Date:
Keywords
Academic social network

Interdisciplinary users

Interdisciplinary distance

Phylogenetic species evenness
Mathematics Subject Classification
JEL Classification