Abstract
A key decision in scientific work is whether to build on novel or well-established ideas. Because exploiting new ideas is often harder than more conventional science, novel work can be especially dependent on interactions with colleagues, the training environment, and ready access to potential collaborators. Location may thus influence the tendency to pursue work that is close to the edge of the scientific frontier in the sense that it builds on recent ideas. We calculate for each nation its position relative to the edge of the scientific frontier by measuring its propensity to build on relatively new ideas in biomedical research. Text analysis of 20 + million publications shows that the United States and South Korea have the highest tendencies for novel science. China has become a leader in favoring newer ideas when working with basic science ideas and research tools, but is still slow to adopt new clinical ideas. Many locations remain far behind the leaders in terms of their tendency to work with novel ideas, indicating that the world is far from flat in this regard.
Access options
Buy single article
Instant access to the full article PDF.
USD 39.95
Price excludes VAT (USA)
Tax calculation will be finalised during checkout.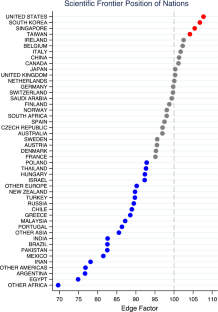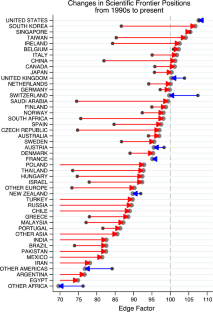 References
Agrawal, A., & Goldfarb, A. (2008). Restructuring research: Communication costs and the democratization of university innovation. American Economic Review, 98, 1578–1590.

Alberts, B. (2013). Impact factor distortions. Science, 340, 6134.

Besancenot, D., & Vranceanu, R. (2015). Fear of novelty: A model of strategic discovery with strategic uncertainty. Economic Inquiry, 53, 1132–1139.

Bornmann, L., Wagner, C., & Leydesdorff, L. (2017). The geography of references in elite articles: What countries contribute to the archives of knowledge, Unpublished manuscript available at https://arxiv.org/pdf/1709.06479.pdf. Accessed 1 July 2018.

Boudreau, K. J., Guinan, E. C., Lakhari, K. R., & Riedl, C. (2016). looking across and looking beyond the knowledge frontier: Intellectual distance. Novelty, and Resource Allocation in Science, Management Science, 62, 2765–2783.

Brezis, E. S., Krugman, P. R., & Tsiddon, D. (1993). Leapfrogging in international competition: A theory of cycles in national technological leadership. American Economic Review, 83, 1211–1219.

Ding, W., Levin, S., Stephan, P., & Winkler, A. (2010). The impact of information technology on acedemic scientists' productivity and collaboration patterns. Management Science, 56, 1439–1461.

Foster, J. G., Rzhetsky, A., & Evans, J. A. (2015). Tradition and innovation in scientists' research strategies. American Sociological Review, 80, 875–908.

Freeman, R. B. (2013). "One ring to rule them all?" Globalization of knowledge and knowledge creation. Nordic Economic Policy Review, 1, 11–44.

Freeman, R. B., & Huang, W. (2015). China's "Great Leap Forward" in science and engineering. In A. Geuna (Ed.), Global mobility of research scientists: The economics of who goes where and why. Amsterdam: Elsevier.

Garfield, E. (1955). Citation indexes for science: A new dimension in documentation through association of ideas. Science, 15, 108–111.

Garfield, E. (1972). Citation analyses as a tool in journal evaluation. Science, 178, 471–478.

Hidalgo, C. E., & Hausmann, R. (2009). The building blocks of economic complexity. Proceedings of the National Academy of Sciences, 106, 10570–10575.

Jones, B. F. (2010). Age and great invention. Review of Economics and Statistics, 92, 1–14.

Jones, B. F., Wuchty, S., & Uzzi, B. (2008). Multi-university research teams: shifting impact. Geography, and Stratification in Science, Science, 322, 1259–1262.

Kuhn, T. S. (1962). The structure of scientific revolutions. Chicago: Chicago University Press.

Kuhn, T. S. (1977). Objectivity, value judgment and theory choice. In T. S. Kuhn (Ed.), The essential tension (pp. 320–339). Chicago: University of Chicago Press.

Lee, Y.-N., Walsh, J. P., & Wang, J. (2015). Creativity in scientific teams: Unpacking novelty and impact. Research Policy, 44, 684–697.

Lucas, R. E., Jr. (2004). Lectures on economic growth. Cambridge, MA: Harvard University Press.

Lucas, R. E., Jr., & Moll, B. (2014). Knowledge growth and allocation of time. Journal of Political Economy, 122, 1–55.

Marshall, A. (1920). Principles of economics. London: Macmillan and Co.

Mokyr, J. (1994). Cardwell's law and the political economy of technological progress. Research Policy, 23, 561–574.

National Science Board. (2016). Science and engineering indicators. National Science Foundation.

Osterloh, M., & Frey, B. S. (2015). Ranking games. Evaluation Review, 32, 102–129.

Packalen, M., & Bhattacharya, J. (2015). Cities and ideas, National Bureau of Economic Research, working paper no. 20921.

Packalen, M., & Bhattacharya, J. (2016). Age and the trying out of new ideas. Journal of Human Capital, forthcoming.

Packalen, M., & Bhattacharya, J. (2017). Neophilia ranking of scientific journals. Scientometrics, 110, 43–64.

Rzhetzky, A., Foster, J. G., Foster, I. T., & Evans, J. A. (2015). Choosing experiments to accelerate collective discovery. Proceedings of the National Academy of Sciences, 112, 14569–14574.

Usher, A. P. (1929). A history of mechanical inventions. New York: McGraw-Hill.

Wang, J., Veugelers, R., & Stephan, P. (2016). Bias against novelty in science: A cautionary tale for users of bibliometric indicators, National Bureau of Economic Research, working paper no. 22180.

Weber, G. M. (2013). Identifying translational science within the triangle of biomedicine. Journal of Translational Medicine, 11, e126.

Yu, X., Zhang, C., & Lai, Q. (2014). China's rise as a major contributor to science and technology. Proceedings of the National Academy of Sciences, 11, 9437–9442.
Acknowledgements
I thank Jay Bhattacharya, Bruce Weinberg, Partha Bhattacharyya, Richard Freeman, Horatiu Rus, Joel Blit, David Autor, Larry Smith and Peter Tu for discussions. I acknowledge financial support from the National Institute on Aging grant P01-AG039347.
Electronic supplementary material
Below is the link to the electronic supplementary material.
About this article
Cite this article
Packalen, M. Edge factors: scientific frontier positions of nations. Scientometrics 118, 787–808 (2019). https://doi.org/10.1007/s11192-018-2991-4
Received:

Published:

Issue Date:

DOI: https://doi.org/10.1007/s11192-018-2991-4
Keywords