Abstract
At the Leibniz Institute for Baltic Sea Research Warnemünde (the home institute of this paper), scientists have been exploring the common denominator between microplastics and microbiology for almost a decade. Given this fact, there is now a palpable feeling for the need to analyse the scientometric aspects of publications in this topic aiming to comprehend the impact of microplastic-microbiology studies within the scientific literature as a whole. Scientometrics is a research field focused on understanding of the metrics of science. From a researcher's perspective, it is a powerful tool to increase, for example, the ability to find the best journal for a specific paper, and consequently have a better chance to have this paper cited, which is crucial considering the competitiveness of the modern scientific landscape. However, scientists working in specific research fields, from natural sciences to engineering; mathematics to medicine, are typically unaware of the knowledge that can be gleaned from bibliometrics or scientometrics when outlining their publications strategies. This paper aims to improve this knowledge base for researchers working in microplastic and microbiological research. A total of 47 publications under analysis span from 2011 to 2018, and have been published in 23 journals, most of them interdisciplinary journals that are available for a widespread audience from both complementary and diverse subject areas. Despite a short citation window, publications received > 390 citations with a clear exponential pattern, showing a promising future for microplastic-microbiological research. Whether insofar, a researcher has been focused on either solely microplastics or microbiology, as these fields continue to collide as microplastic-microbiology interaction research continues to increase, this paper might illuminate the next steps for researchers preparing future publications.
Access options
Buy single article
Instant access to the full article PDF.
USD 39.95
Price excludes VAT (USA)
Tax calculation will be finalised during checkout.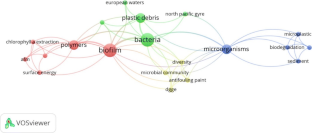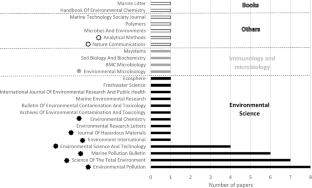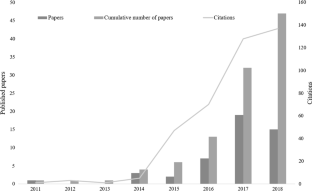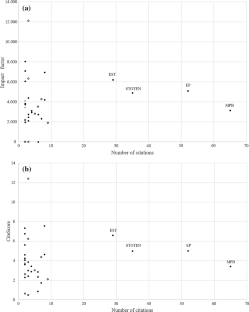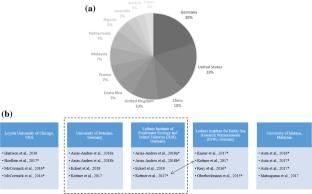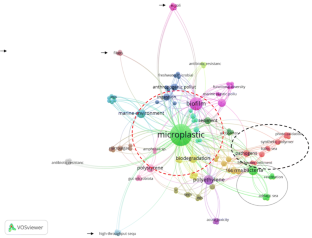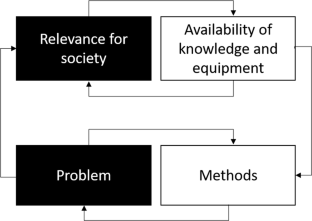 References
Aleixandre, J. L., Aleixandre-Tudó, J. L., Bolaños-Pizarro, M., & Aleixandre-Benavent, R. (2015). Mapping the scientific research in organic farming: A bibliometric review. Scientometrics, 105(1), 295–309. https://doi.org/10.1007/s11192-015-1677-4.

Amalfitano, S., Corno, G., Eckert, E., Fazi, S., Ninio, S., Callieri, C., et al. (2017). Tracing particulate matter and associated microorganisms in freshwaters. Hydrobiologia. https://doi.org/10.1007/s10750-017-3260-x.

Andrady, A. L. (2015). Persistence of plastic litter in the oceans. Marine anthropogenic litter. https://doi.org/10.1007/978-3-319-16510-3_3.

Artham, T., Sudhakar, M., Venkatesan, R., Madhavan Nair, C., Murty, K. V. G. K., & Doble, M. (2009). Biofouling and stability of synthetic polymers in sea water. International Biodeterioration and Biodegradation, 63(7), 884–890. https://doi.org/10.1016/j.ibiod.2009.03.003.

Bajwa, R. S., Yaldram, K., & Rafique, S. (2013). A scientometric assessment of research output in nanoscience and nanotechnology: Pakistan perspective. Scientometrics, 94, 333–342. https://doi.org/10.1007/s11192-012-0699-4.

Briand, J.-F., Djeridi, I., Jamet, D., Coupé, S., Bressy, C., Molmeret, M., et al. (2012). Pioneer marine biofilms on artificial surfaces including antifouling coatings immersed in two contrasting French Mediterranean coast sites. Biofouling, 28(5), 453–463. https://doi.org/10.1080/08927014.2012.688957.

Carpenter, E. J., & Smith, K. L., Jr. (1972). Plastics on the Sargasso sea surface. Science, 175(4027), 1240–1241. https://doi.org/10.1126/science.175.4027.1240.

Carson, H. S., Nerheim, M. S., Carroll, K. A., & Eriksen, M. (2013). The plastic-associated microorganisms of the North Pacific Gyre. Marine Pollution Bulletin, 75(1–2), 126–132. https://doi.org/10.1016/j.marpolbul.2013.07.054.

Casadevall, A., Bertuzzi, S., Officer, C. E., Buchmeier, M. J., Davis, R. J., Drake, H., et al. (2016). ASM journals eliminate impact factor information from journal websites. mSystems, 1(4), 4–5. https://doi.org/10.1128/msystems.00088-16.copyright.

Eckert, E. M., Di Cesare, A., Kettner, M. T., Arias-Andres, M., Fontaneto, D., Grossart, H.-P., et al. (2018). Microplastics increase impact of treated wastewater on freshwater microbial community. Environmental Pollution, 234, 495–502. https://doi.org/10.1016/j.envpol.2017.11.070.

Gao, W., Chen, Y., Liu, Y., & Guo, H. C. (2015). Scientometric analysis of phosphorus research in eutrophic lakes. Scientometrics, 102(3), 1951–1964. https://doi.org/10.1007/s11192-014-1500-7.

García, J. A., Rodriguez-Sánchez, R., & Fdez-Valdivia, J. (2011). Ranking of the subject areas of Scopus. Journal of the American Society for Information Science and Technology, 62(10), 2013–2023. https://doi.org/10.1002/asi.21589.

Garfield, E. (2006). The history and meaning of the journal impact factor. JAMA, 295(1), 90–93.

Harrison, J. P., Hoellein, T. J., Sapp, M., Tagg, A. S., Ju-Nam, Y., & Ojeda, J. J. (2018). Microplastic-associated biofilms: A comparison of freshwater and marine environments. Handbook of environmental chemistry (Vol. 58). https://doi.org/10.1007/978-3-319-61615-5_9.

Harrison, J. P., Sapp, M., Schratzberger, M., & Osborn, A. M. (2011). Interactions between microorganisms and marine microplastics: A call for research. Marine Technology Society Journal, 45(2), 12–20. https://doi.org/10.4031/MTSJ.45.2.2.

Harrison, J. P., Schratzberger, M., Sapp, M., & Osborn, A. M. (2014). Rapid bacterial colonization of low-density polyethylene microplastics in coastal sediment microcosms. BMC Microbiology, 14, 232. https://doi.org/10.1186/s12866-014-0232-4.

Huerta Lwanga, E., Thapa, B., Yang, X., Gertsen, H., Salánki, T., Geissen, V., et al. (2018). Decay of low-density polyethylene by bacteria extracted from earthworm's guts: A potential for soil restoration. Science of the Total Environment, 624, 753–757. https://doi.org/10.1016/j.scitotenv.2017.12.144.

Ivar do Sul, J. A., & Costa, M. F. (2014). The present and future of microplastic pollution in the marine environment. Environmental Pollution, 185, 352–364. https://doi.org/10.1016/j.envpol.2013.10.036.

Kirstein, I. V., Kirmizi, S., Wichels, A., Garin-Fernandez, A., Erler, R., Löder, M., et al. (2016). Dangerous hitchhikers? Evidence for potentially pathogenic Vibrio spp. on microplastic particles. Marine Environmental Research, 120, 1–8. https://doi.org/10.1016/j.marenvres.2016.07.004.

Lobelle, D., & Cunliffe, M. (2011). Early microbial biofilm formation on marine plastic debris. Marine Pollution Bulletin, 62(1), 197–200. https://doi.org/10.1016/j.marpolbul.2010.10.013.

McCormick, A., Hoellein, T. J., Mason, S. A., Schluep, J., & Kelly, J. J. (2014). Microplastic is an abundant and distinct microbial habitat in an urban river. Environmental Science and Technology, 48(20), 11863–11871. https://doi.org/10.1021/es503610r.

Oberbeckmann, S., Löder, M. G. J., & Labrenz, M. (2015). Marine microplastic-associated biofilms: A review. Environmental Chemistry, 12, 551–562. https://doi.org/10.1071/EN15069.

Oberbeckmann, S., Loeder, M. G. J., Gerdts, G., & Osborn, A. M. (2014). Spatial and seasonal variation in diversity and structure of microbial biofilms on marine plastics in Northern European waters. FEMS Microbiology Ecology, 90(2), 478–492. https://doi.org/10.1111/1574-6941.12409.

Parthey, H., & Schuetze, W. (1991). Distribution of publications as an indicator for the evaluation of scientific programs. Scientometrics, 21(3), 459–464.

Shapira, P., Kwon, S., & Youtie, J. (2017). Tracking the emergence of synthetic biology. Scientometrics, 112, 1439–1469. https://doi.org/10.1007/s11192-017-2452-5.

Sun, J., Wang, M. H., & Ho, Y. S. (2012). A historical review and bibliometric analysis of research on estuary pollution. Marine Pollution Bulletin, 64(1), 13–21. https://doi.org/10.1016/j.marpolbul.2011.10.034.

Teixeira da Silva, J. A., & Memon, A. R. (2017). CiteScore: A cite for sore eyes, or a valuable, transparent metric? Scientometrics, 111(1), 553–556. https://doi.org/10.1007/s11192-017-2250-0.

Thompson, R. C., Olsen, Y., Mitchell, R. P., Davis, A., Rowland, S. J., John, A. W. G., et al. (2004). Lost at sea: Where is all the plastic? Science, 304(May), 838.

van Eck, N. J., & Waltman, L. (2010). Software survey: VOSviewer, a computer program for bibliometric mapping. Scientometrics, 84(2), 523–538. https://doi.org/10.1007/s11192-009-0146-3.

Van Noorden, R. (2016). Impact factor gets heavy weight rival. Nature, 540, 325–326.

Viršek, M. K., Lovšin, M. N., Koren, Š., Kržan, A., & Peterlin, M. (2017). Microplastics as a vector for the transport of the bacterial fish pathogen species Aeromonas salmonicida. Marine Pollution Bulletin, 125(1–2), 301–309. https://doi.org/10.1016/j.marpolbul.2017.08.024.

Webb, H. K., Crawford, R. J., Sawabe, T., & Ivanova, E. P. (2009). Poly(ethylene terephthalate) polymer surfaces as a substrate for bacterial attachment and biofilm formation. Microbes and Environments, 24(1), 39–42. https://doi.org/10.1264/jsme2.ME08538.
Funding
This research was funded by BmBF project PLASTRAT, grant number 02WPL1446 J.
Electronic supplementary material
Below is the link to the electronic supplementary material.
About this article
Cite this article
Ivar do Sul, J.A., Tagg, A.S. & Labrenz, M. Exploring the common denominator between microplastics and microbiology: a scientometric approach. Scientometrics 117, 2145–2157 (2018). https://doi.org/10.1007/s11192-018-2936-y
Received:

Published:

Issue Date:

DOI: https://doi.org/10.1007/s11192-018-2936-y
Keywords
Impact of articles

Marine pollution

Priority pollutant

Citation overview

Scopus database