Abstract
Previous studies produced mixed results with respect to the correlation between title length and number of citations. This research aims to provide a new explanation for this controversy by examining one of the largest pools of papers to date, containing over 300,000 economics papers spanning a much longer time period (1956–2012). The results show that correlation between title length and the number of citations is negative between 1956 and 2000, but becomes positive after 2000, when online searches became the predominant method for literature retrieval. Moreover, heterogeneity analyses show that longer titles are especially crucial for papers with relatively lower influence, which researchers can typically only access using online searches.
Access options
Buy single article
Instant access to the full article PDF.
US$ 39.95
Tax calculation will be finalised during checkout.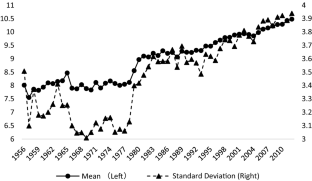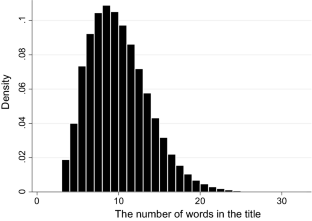 Notes
1.

SEO theory refers to the optimization of the website through website structure adjustment, website content construction, website code optimization, etc., to improve the ranking of the website and the exposure of the website's products.

2.

The Web of Science provides data on the articles published in over 12,000 scientific journals and one of the two major sources for bibliometric material on scientific publications, citations, and related information. In this study, we restrict the sample to economics.

3.

Since 68,281 papers did not get any citations among the 302,048 samples (as the mode of citation is 0 in Table 1), we also used the Tobit regression besides OLS regression to deal with the left-censored problem. Our basic results did not change.

4.

Using the logarithm of the number of citations as the dependent variable is to alleviate the problem of heteroscedasticity. The number of citations plus 0.0001 was used in Log-transformation in order to handle the case which received no citation. The original value of the independent variable title length and control variables are used.
References
Berger, J. (2016). Does presentation order impact choice after delay? Topics in Cognitive Science, 8(3), 670–684.

Card, D., & Della Vigna, S. (2014). Page limits on economics articles: Evidence from two journals. Journal of Economic Perspectives, 28(3), 149–168.

Costa Vieira, P. C. (2008). An economics journals ranking that takes into account the number of pages and co-authors. Applied Economics, 40(7), 853–861.

Coupé, T., Ginsburgh, V., & Noury, A. (2010). Are leading papers of better quality? Evidence from a natural experiment. Oxford Economic Papers, 62(1), 1–11.

Di Vaio, G., Daniel, W., & Jacob, W. (2012). Citation success: Evidence from economic history journal publications. Explorations in Economic History, 49(1), 92–104.

Ellison, G. (2013). How does the market use citation data? The Hirsch index in economics. American Economic Journal: Applied Economics, 5(3), 63–90.

Freeman, R. B., & Huang, W. (2015). Collaborating with people like me: Ethnic co-authorship within the US. Journal of Labor Economics, 33(3), S289–S318.

Habibzadeh, F., & Yadollahie, M. (2010). Are shorter article titles more attractive for citations? Crosssectional study of 22 scientific journals. Croatian Medical Journal, 51(2), 165–170.

Hirsch, J. E. (2005). An index to quantify an individuals scientific research output. Proceedings of the National Academy of Sciences, 102, 16569–16572.

Huang, W. (2015). Do ABCs get more citations than XYZs? Economic Inquiry, 53(1), 773–789.

Hudson, J. (2007). Be known by the company you keep cites: Quality or chance. Scientometrics, 71(2), 231–238.

Jacques, T., & Sebire, N. (2010). The impact of article titles on citation hits an analysis of general and specialist medical journals. Journal of the Royal Society of Medicine, 1(1), 1–5.

Jamali, H., & Nikzad, M. (2011). Article title type and its relation with the number of downloads and citations". Scientometrics, 88, 653–661.

Letchford, A., Moat, H. S., & Preis, T. (2015). The advantage of short paper titles. Royal Society Open Science, 2(8), 1–6.

Mabe, M. A., & Amin, M. (2002). Dr. Jekyll and Dr. Hyde: Author-reader asymmetries in scholarly publishing. Aslib Proceedings, 54(3), 149–157.

Nair, L. B., & Gibbert, M. (2016). What makes a 'good' title and (how) does it matter for citations? A review and general model of article title attributes in management science. Scientometrics, 107, 1331–1359.

Neill, U. S. (2007). How to write a scientific masterpiece. Journal of Clinical Investigation, 117(12), 3599–3602.

Paiva, C. E., & Lima, J. P. (2012). Articles with short titles describing the results are cited more often. Clinics (Sao Paulo), 67(5), 509–513.

Pinkowitz, L. (2002). Research dissemination and impact: Evidence from web site downloads. Journal of Finance, 57(1), 485–499.

Rostami, F., Mohammadpoorasl, A., & Hajizadeh, M. (2014). The effect of characteristics of title on citation rates of articles. Scientometrics, 98, 2007–2010.

Sagi, I., & Yechiam, E. (2008). Amusing titles in scientific journals and article citation. Journal of Information Science, 34(5), 680–687.

Sauer, R. D. (1988). Estimates of the returns to quality and coauthorship in economic academics. Journal of Political Economy, 96(4), 855–866.

Stremersch, S., Verniers, I., & Verhoef, P. (2007). The quest for citations: Drivers of article impact. Journal of Marketing, 71(3), 171–193.

Van Wesel, M., Wyatt, S., & ten Haaf, J. (2014). What a difference a colon makes: How superficial factors influence subsequent citation. Scientometrics, 98, 1601–1615.

Vieira, E. S., & Gomes, J. A. N. F. (2010). Citations to scientific articles: Its distribution and dependence on the article features. Journal of Informetrics, 4(1), 1–13.

Vintzileos, A. M., & Ananth, C. V. (2010). How to write and publish an original research article. American Journal of Obstetrics and Gynecology, 202(4), 341–346.

Webster, G. D., Jonason, P. K., & Schember, T. O. (2009). Hot topics and popular papers in evolutionary psychology: Analyses of title words and citation counts in evolution and human behavior, 1979-2008. Evolutionary Psychology, 7(3), 348–362.

Yitzhaki, M. (2002). Relation of the title length of a journal article to the length of the article. Scientometrics, 54(3), 435–1477.
Acknowledgements
Financial support from National Natural Science Foundation of China (Grant No. 71603046) and National Social Science Fund of China (Grant No. 16CJY065) is gratefully acknowledged. We would like to thank Xi Chen, Jiacheng Liu and other participants in seminar at Yale University for helpful comments. James Tierney and Rachel Koh provided excellent assistance.
About this article
Cite this article
Guo, F., Ma, C., Shi, Q. et al. Succinct effect or informative effect: the relationship between title length and the number of citations. Scientometrics 116, 1531–1539 (2018). https://doi.org/10.1007/s11192-018-2805-8
Received:

Published:

Issue Date:
Keywords
Citation

Title

Search

Scholarly impact
JEL Classification