Abstract
There are three main reasons for retraction: (1) ethical misconduct (e.g. duplicate publication, plagiarism, missing credit, no IRB, ownership issues, authorship issues, interference in the review process, citation manipulation); (2) scientific distortion (e.g. data manipulation, fraudulent data, unsupported conclusions, questionable data validity, non-replicability, data errors—even if unintended); (3) administrative error (e.g. article published in wrong issue, not the final version published, publisher errors). The first category, although highly deplorable has almost no effect on the advancement of science, the third category is relatively minor. The papers belonging to the second category are most troublesome from the scientific point of view, as they are misleading and have serious negative implications not only on science but also on society. In this paper, we explore some temporal characteristics of retracted articles, including time of publication, years to retract, growth of post retraction citations over time and social media attention by the three major categories. The data set comprises 995 retracted articles retrieved in October 2014 from Elsevier's ScienceDirect. Citations and Mendeley reader counts were retrieved four times within 4 years, which allowed us to examine post-retraction longitudinal trends not only for citations, but also for Mendeley reader counts. The major findings are that both citation counts and Mendeley reader counts continue to grow after retraction.
Access options
Buy single article
Instant access to the full article PDF.
US$ 39.95
Tax calculation will be finalised during checkout.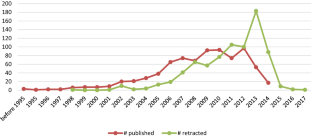 References
Almeida, R. M. V., de Albuquerque Rocha, K., Catelani, F., Fontes-Pereira, A. J., & Vasconcelos, S. M. (2015). Plagiarism allegations account for most retractions in major Latin American/Caribbean databases. Science and Engineering Ethics, 22, 1447–1456.

Ataie-Ashtiani, B. (2017a). Chinese and Iranian scientific publications: Fast growth and poor ethics. Science and Engineering Ethics, 23(1), 317–319.

Ataie-Ashtiani, B. (2017b). World map of scientific misconduct. Science and Engineering Ethics. https://doi.org/10.1007/s11948-017-9939-6.

Bar-Ilan, J., & Halevi, G. (2017a). Post retraction citations in context: A case study. Scientometrics. https://doi.org/10.1007/s11192-017-2242-0.

Bar-Ilan, J., & Halevi, G. (2017b). Temporal characteristics of retracted articles—Research in progress. In Proceedings of ISSI 2017—The 16th international conference on scientometrics and informetrics (pp. 664–669). Wuhan University, China.

Bean, J. R. (2017). Truth or consequences: The growing trend of publication retraction. World Neurosurgery, 103, 917–918.

Bilbrey, E., O'Dell, N., & Creamer, J. (2014). A novel rubric for rating the quality of retraction notices. Publications, 2(1), 14–26.

Bornemann-Cimenti, H., & Sandner-Kiesling, A. (2015). Bringing retracted papers into focus. Clinical and Experimental Otorhinolaryngology, 8(1), 81.

Bozzo, A., Bali, K., Evaniew, N., & Ghert, M. (2017). Retractions in cancer research: A systematic survey. Research Integrity and Peer Review, 2(1), 5.

Budd, J. M., Sievert, M., & Schultz, T. R. (1998). Phenomena of retraction. Reasons for retraction and citations to the publications. Journal of the American Medical Association, 280(3), 296–297. https://doi.org/10.1001/jama.280.3.296.

Casadevall, A., Steen, R. G., & Fang, F. C. (2014). Sources of error in the retracted scientific literature. The FASEB Journal, 28(9), 3847–3855.

Chaddah, P. (2014). Not all plagiarism requires a retraction. Nature, 511(7508), 127.

Cyranoski, D. (2014). Stem-cell pioneer blamed media 'bashing' in suicide note. Nature News. https://doi.org/10.1038/nature.2014.15715.

da Silva, J. A. T., & Bornemann-Cimenti, H. (2017). Why do some retracted papers continue to be cited? Scientometrics, 110(1), 365–370.

Decullier, E., Huot, L., & Maisonneuve, H. (2014). What time-lag for a retraction search on PubMed? BMC Research Notes, 7(1), 395.

Decullier, E., Huot, L., Samson, G., & Maisonneuve, H. (2013). Visibility of retractions: A cross-sectional one-year study. BMC Research Notes, 6(1), 238.

Fanelli, D. (2013). Why growing retractions are (mostly) a good sign? PLoS Medicine, 10(12), e1001563. https://doi.org/10.1371/journal.pmed.1001563.

Fang, F. C., Steen, R. G., & Casadevall, A. (2012). Misconduct accounts for the majority of retracted scientific publications. Proceedings of the National Academy of Sciences, 109(42), 17028–17033.

Foo, J. Y. A. (2011). A retrospective analysis of the trend of retracted publications in the field of biomedical and life sciences. Science and Engineering Ethics, 17(3), 459–468.

Furman, J. L., Jensen, K., & Murray, F. (2012). Governing knowledge in the scientific community: Exploring the role of retractions in biomedicine. Research Policy, 41(2), 276–290.

Garfield, E., & Welljams-Dorof, A. (1990). The impact of fraudulent research on the scientific literature: The Stephen E. Breuning case. JAMA, 263(10), 1424–1426.

Gasparyan, A. Y., Ayvazyan, L., Akazhanov, N. A., & Kitas, G. D. (2014). Self-correction in biomedical publications and the scientific impact. Croatian Medical Journal, 55(1), 61.

Grieneisen, M. L., & Zhang, M. (2012). A comprehensive survey of retracted articles from the scholarly literature. PLoS ONE, 7(10), e44118. https://doi.org/10.1371/journal.pone.0044118.

Gunn, W. (2016). Comment #00632—Clarification/correction of Mendeley saves definition—NISO RP-25-201x-3, Altmetrics Data Quality Code of Conduct—Draft for public comment.pdf. Retrieved from http://www.niso.org/apps/group_public/view_comment.php?comment_id=632.

Hesselmann, F., Graf, V., Schmidt, M., & Reinhart, M. (2017). The visibility of scientific misconduct: A review of the literature on retracted journal articles. Current Sociology, 65(6), 814–845.

Inoue, Y., & Muto, K. (2016). Noncompliance with Human Subjects' Protection Requirements as a reason for retracting papers: Survey of retraction notices on medical papers published from 1981 to 2011. Accountability in Research, 23(2), 123–135. https://doi.org/10.1080/08989621.2015.1069713.

Jimenez, D. F., & Garza, D. N. (2017). Predatory publishing and academic integrity. World Neurosurgery, 105, 990–992.

King, E. G., Oransky, I., Sachs, T. E., Farber, A., Flynn, D. B., Abritis, A., et al. (2017). Analysis of retracted articles in the surgical literature. The American Journal of Surgery. https://doi.org/10.1016/j.amjsurg.2017.11.033.

Korpela, K. M. (2010). How long does it take for the scientific literature to purge itself of fraudulent material? The Breuning case revisited. Current Medical Research and Opinion, 26(4), 843–847.

Lu, S. F., Jin, G. Z., Uzzi, B., & Jones, B. (2013). The retraction penalty: Evidence from the Web of Science. Scientific Reports, 3, 3146.

Madlock-Brown, C. R., & Eichmann, D. (2014). The (lack of) impact of retraction on citation networks. Science and Engineering Ethics, 21(1), 127–137.

Marušić, A. (2018). Private communication.

Merton, R. K. (1942). Science and technology in democratic order. Journal of Legal and Political Sociology, 1, 111–126. Reprinted in: The sociology of science: Theoretical and empirical investigations. Chicago: University of Chicago Press, 1973, pp. 286–324.

Molckovsky, A., Vickers, M. M., & Tang, P. A. (2011). Characterization of published errors in high-impact oncology journals. Current Oncology, 18(1), 26–32.

Moradi, S. (2017). The altmetrics of retracted articles in biochemistry & molecular biology. Paper presented at: IFLA WLIC 2017—Wrocław, Poland. Retrieved from http://library.ifla.org/1607/1/080-shima-en.pdf.

Nath, S. B., Marcus, S. C., & Druss, B. G. (2006). Retractions in the research literature: Misconduct or mistakes? Medical Journal of Australia, 185(3), 152–154.

Rai, R., & Sabharwal, S. (2017). Retracted publications in orthopaedics: Prevalence, characteristics, and trends. Journal of Bone and Joint Surgery, 99(9), e44.

RetractionWatch. (2017). The 2017 retraction watch year in review (hint: Our database is nearly done). Retrieved from http://retractionwatch.com/2017/12/29/2017-retraction-watch-year-review-hint-database-nearly-done/.

Singh, H. P., Mahendra, A., Yadav, B., Singh, H., Arora, N., & Arora, M. (2014). A comprehensive analysis of articles retracted between 2004 and 2013 from biomedical literature: A call for reforms. Journal of Traditional and Complementary Medicine, 4(3), 136.

Steen, R. G. (2011). Retractions in the scientific literature: Is the incidence of research fraud increasing? Journal of Medical Ethics, 37, 249–253.

Steen, R. G., Casadevall, A., & Fang, F. C. (2013). Why has the number of scientific retractions increased? PLoS ONE, 8(7), e68397.

Stretton, S., Bramich, N. J., Keys, J. R., Monk, J. A., Ely, J. A., Haley, C., et al. (2012). Publication misconduct and plagiarism retractions: A systematic, retrospective study. Current Medical Research and Opinion, 28(10), 1575–1583.

Trikalinos, N. A., Evangelou, E., & Ioannidis, J. P. (2008). Falsified papers in high-impact journals were slow to retract and indistinguishable from nonfraudulent papers. Journal of Clinical Epidemiology, 61(5), 464–470.

van Leeuwen, T., & Luwel, M. (2014). An in-depth analysis of papers retracted in the Web of Science. STI 2014 Leiden, 337.

Wager, E., Barbour, V., Yentis, S., & Kleinert, S. [on behalf of the COPE Council]. (2009). Retraction guidelines. Retrieved from https://publicationethics.org/files/retraction%20guidelines_0.pdf.

Wikipedia. (2017). Séralini affair. Retrieved from https://en.wikipedia.org/w/index.php?title=S%C3%A9ralini_affair&oldid=812654074.
Acknowledgements
The present study is an extended version of an article presented at the 16th International Conference on Scientometrics and Informetrics, Wuhan (China), 16–20 October 2017 (Bar-Ilan and Halevi 2017b). The first author was supported by EU COST Actions PEERE and KnowEscape. We thank Mike Thelwall for using his Webometric Analyst for data collection from the altmetric platforms. Funding was provided by European Cooperation in Science and Technology (Grant Nos. TD1210 - Knowescape, TD1306 - PEERE).
About this article
Cite this article
Bar-Ilan, J., Halevi, G. Temporal characteristics of retracted articles. Scientometrics 116, 1771–1783 (2018). https://doi.org/10.1007/s11192-018-2802-y
Received:

Published:

Issue Date:
Keywords
Scientific fraud and dishonesty

Citation analysis

Altmetrics