Abstract
Recent altmetrics research has started to investigate the meaning of altmetrics and whether altmetrics could reveal something about the attention or impact connected to research. This research continues this line of investigations and studies reasons for why some research has received significant online attention in one or both of two social media services; Twitter or Mendeley. This research investigated Finnish researchers' opinions about the reasons for why their research had received significant online attention and if the attention received could reflect scientific or societal impact of their research. Furthermore it was studied whether the authors of the papers with significant online attention actively followed how their papers were shared or discussed online and if the authors thought that the online attention increased either the scientific or societal impact of their work. Based on the findings it can be stated that the level of online attention received is a sum of many factors and that there are also specific differences between the platforms where the attention has been received. For the articles that had received significant attention on Mendeley the reasons for that attention were more often seen as due to an academic audience, while the situation was reverse on Twitter, with the majority of reasons for the attention being linked to a wider audience. Similar trend could be seen when asked about whether the online attention could reflect scientific or societal impact, although a clear consensus about whether online attention could reflect any type of impact at all could not be reached.
This is a preview of subscription content, log in to check access.
Access options
Buy single article
Instant access to the full article PDF.
US$ 39.95
Price includes VAT for USA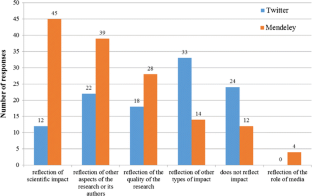 References
Didegah, F., Bowman, T. D., & Holmberg, K. (2016). Increasing our understanding of altmetrics: Identifying factors that are driving both citation and altmetric counts. iConference, 2016, Philadephia, USA, 20–23 March.

Erdt, M., Nagarajan, A., Sin, S.-E. J., & Theng, Y.-L. (2016). Altmetrics: an analysis of the state-of-the-art in measuring research on social media. Scientometrics, 109(2), 1117–1166. https://doi.org/10.1007/s11192-016-2077-0.

Evans, P., & Krauthammer, M. (2011). Exploring the use of social media to measure journal article impact. Annual Symposium Proceedings/AMIA Symposium, 2011, 374–81. https://www.ncbi.nlm.nih.gov/pmc/articles/PMC3243242/.

Haustein, S., Costas, R., & Larivière, V. (2015). Characterizing social media metrics of scholarly papers: The effect of document properties and collaboration patterns. PLoS ONE, 10(5), e0127830. https://doi.org/10.1371/journal.pone.0127830.

Haustein, S., Peters, I., Sugimoto, C. R., Thelwall, M., & Lariviére, V. (2014). Tweeting biomedicine: An analysis of tweets and citations in the biomedical literature. Journal of the Association for Information Science and Technology, 65(4), 656–669.

Holmberg, K., & Vainio, J. (2017). Why do some research articles receive more online attention? Reasons for online success as measured with altmetrics. In: Proceedings of ISSI 2017—The 16th international conference on scientometrics and informetrics. Hubei: Wuhan University.

Hsieh, H.-F., & Shannon, S. E. (2005). Three approaches to qualitative content analysis. Qualitative Health Research, 15(9), 1277–1288. https://doi.org/10.1177/1049732305276687.

Ke, Q., Ahn, Y.-Y., & Sugimoto, C. R. (2016). A Systematic identification and analysis of scientists on Twitter. Digital Libraries; Physics and Society. http://arxiv.org/abs/1608.06229.

Mislove, A., Lehmann, S., Ahn, Y., Onnela, J., & Rosenquist, J. N. (2011). Understanding the demographics of Twitter users. Artificial Intelligence, 554–557. Accessed on March 19, 2018, at http://www.aaai.org/ocs/index.php/ICWSM/ICWSM11/paper/viewFile/2816/3234.

Mohammadi, E., & Thelwall, M. (2014). Mendeley readership altmetrics for the social sciences and humanities: Research evaluation and knowledge flows. Journal of the Association for Information Science and Technology, 65(8), 1627–1638.

Mohammadi, E., Thelwall, M., Haustein, S., & Lariviére, V. (2015). Who reads research articles? An altmetrics analysis of Mendeley user categories. Journal of the Association for Information Science and Technology, 66(9), 1832–1846. https://doi.org/10.1002/asi.23286.

Priem, J. (2014). Altmetrics. In B. Cronin & C. R. Sugimoto (Eds.), Beyond bibliometrics: harnessing multidimensional indicators of scholarly impact. London: MIT Press.

Richards, L. (1991). Book reviews: Qualitative research: Analysis types and software tools, Renata Tesch, London, Falmer Press, 1990. Australian and New Zealand Journal of Sociology, 27(1), 128–130.

Robinson-Garcia, N., Costas, R., Isett, K., Melkers, J., & Hicks, D. (2017). The unbearable emptiness of tweeting—About journal articles. PLoS ONE, 12(8), e0183551.

Ruano, J., Aguilar-Luque, M., Gómez-Garcia, F., Mellado, P. A., Gay-Mimbrera, J., Carmona-Fernandez, P. J., et al. (2018). The differential impact of scientific quality, bibliometric factors, and social media activity on the influence of systematic reviews and meta-analyses about psoriasis. PLoS ONE, 13(1), e0191124.

Semertzidis, K., Pitoura, E., & Tsaparas, P. (2013). How people describe themselves on Twitter. In Proceedings of the ACM SIGMOD workshop on databases and social networks—DBSocial'13 (pp. 25–30). https://doi.org/10.1145/2484702.2484708.

Shuai, X., Pepe, A., Bollen, J., & Ouzounis, C. A. (2012). How the scientific community reacts to newly submitted preprints: Article downloads, twitter mentions, and citations. PLoS ONE, 7(11), e47523.

Thelwall, M. (2016). Interpreting correlations between citation counts and other indicators. Scientometrics, 108(1), 337–347. https://doi.org/10.1007/s11192-016-1973-7.

Thelwall, M., Haustein, S., Larivière, V., & Sugimoto, C. R. (2013). Do altmetrics work? Twitter and ten other social web services. PLoS ONE, 8(5), e64841.

Tuomi, J., & Sarajärvi, A. (2009). Laadullinen tutkimus ja sisällönanalyysi. Helsinki: Tammi.

Uddin, M. M., Imran, M., & Sajjad, H. (2014). Understanding types of users on Twitter. arXiv Preprint, 6. http://arxiv.org/abs/1406.1335.

Wang, J., Alotaibi, N. M., Ibrahim, G. M., Kulkarni, A. V., & Lozano, A. M. (2017). The spectrum of altmetrics in neurosurgery: The top 100 "trending" articles in neurosurgical journals. World Neurosurgery, 103, 883–895.

Weber, R. P. (1990). Basic content analysis. Thousand Oaks: Sage. https://doi.org/10.2307/2289192.

Zhang, Y., & Wildemuth, B. M. (2009). Qualitative analysis of content. Applications of Social Research Methods to Questions in Information and Library Science. https://doi.org/10.1002/hbm.20661.
Acknowledgements
The present study is an extended version of an article (Holmberg and Vainio 2017) presented at the 16th International Conference on Scientometrics and Informetrics, Wuhan (China), 16–20 October 2017). The authors wish to thank the anonymous reviewers for their constructive comments.
About this article
Cite this article
Holmberg, K., Vainio, J. Why do some research articles receive more online attention and higher altmetrics? Reasons for online success according to the authors. Scientometrics 116, 435–447 (2018). https://doi.org/10.1007/s11192-018-2710-1
Received:

Published:

Issue Date:
Keywords
Altmetrics

Online attention

Twitter

Mendeley

Impact

Scientific impact

Societal impact