Abstract
The encyclicals, also known as papal letters, are documents that have a profound influence on the Catholic Church and, as a result, on the West. This research seeks to explore the impact and areas of influence of these documents according to the citations and length they have had in publications indexed in Web of Science. In addition to the nature and citations of the encyclicals spanning the pontificates of Leo XIII and Francis I, this study analyses the characteristics of the citing publications, such as subject matter, co-cited authors as well as the institution and country of publication. The production of encyclicals according to pontificate is irregular. This study shows that encyclicals on social themes are the ones with the greatest impact on science, particularly Rerum Novarum and the encyclicals commemorating it. Beyond the fields of Theology and Philosophy, encyclicals are used as referents in multiple themes, particularly in today's great social themes of economics, politics, war, well-being, social inequality and human development. Likewise, the fact that the papal letters are co-cited together with great thinkers, such as Adam Smith, Karl Marx, Max Weber, Martin Heidegger, or theologians like Karl Ruhner, indicates their importance. Lastly, Catholic universities are observed be to the principal source of studies in which the encyclicals provide theoretical referents.
This is a preview of subscription content, log in to check access.
Access options
Buy single article
Instant access to the full article PDF.
US$ 39.95
Tax calculation will be finalised during checkout.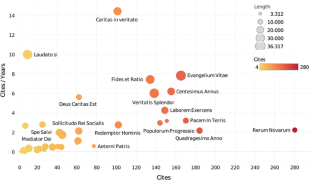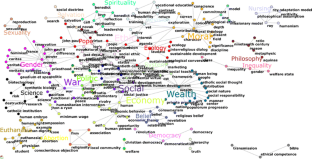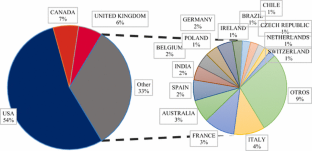 References
Ahlgren, P., Pagin, P., Persson, O., & Svedberg, M. (2015). Bibliometric analysis of two subdomains in philosophy: Free will and sorites. Scientometrics, 103, 47–73. https://doi.org/10.1007/s11192-015-1535-4.

Aranda, A. (2007). La unidad entre cristología y antropología en Juan Pablo II. Un análisis del tema en sus catorce encíclicas. Scripta Theologica, 39(1), 37–72.

Barrera, A. (1997). Exchange-value determination: Scholastic just price, economic theory, and modern Catholic social. History of Political Economy, 29(1), 83–116.

Batagelj, V. (2008). Analysis of large networks with Pajek. Networks, 22–27. http://www.springerlink.com/index/JFJPG0AN9MM0G81D.pdf.

Berryman, T., & Sauvé, L. (2017). Ruling relationships in sustainable development and education for sustainable development. The Journal of Environmental Education, 47(2), 104–117. https://doi.org/10.1080/00958964.2015.1092934.

Blanco, P. (2011). La teología de Joseph Ratzinger. Una introducción. Madrid: Palabra.

Bovée, D. S. (2016). The middle way: The National Catholic Rural Life Conference and Rural Issues in the 20th and 21st Centuries. American Journal of Economics and Sociology, 75(3), 768–808. https://doi.org/10.1111/ajes.12155.

Breen, J. M. (2008). Modesty and moralism: Justice, prudence and abortion—A reply to Skeel & Stunzq. Harvard Journal of Law & Public Policy, 31, 219–262.

Butler, L., & Visser, M. S. (2006). Extending citation analysis to non-source items. Scientometrics, 66(2), 327–343. https://doi.org/10.1007/s11192-006-0024-1.

Camacho, I. (2016). Laudato sí: el clamor de la tierra y el clamor de los pobres. Una encíclica más que ecológica. Revista de Fomento Social, 71, 59–79.

Castillo, D. P. (2016). Integral ecology as a liberationist concept. Theological Studies, 77(2), 353–376. https://doi.org/10.1177/0040563916635781.

Clark, C. M. A. (2012). From the Wealth of Nations to Populorum Progressio (on the development of peoples): Wealth and development from the perspective of the Catholic Social thought tradition. American Journal of Economics and Sociology. https://doi.org/10.1111/j.1536-7150.2012.00850.x.

Curran, C. E. (1981). The changing anthropological bases of Catholic social ethics. The Thomist: A Speculative Quarterly Review, 45(2), 284–318. https://doi.org/10.1353/tho.1981.0030.

Dann, S., & Dann, S. (2016). Exploring Catholic social teaching in a social marketing context: History, lessons and future directions. Journal of Macromarketing, 36(4), 412–424. https://doi.org/10.1177/0276146716641988.

Escobar, J. I. (1990). Leon XII: Cien años de la Rerum Novarum. Revista Facultad de Derecho y Ciencias Políticas, 90, 377–392.

Gelabert, M. (2007). Creados desde y para el amor. Veritas, 16, 9–24.

Gorraiz, J., & Purnell, P. J. (2013). Opportunities for and limitations of the book citation index. Journal of the American Society for Information Science and Technology, 64(7), 1388–1398. https://doi.org/10.1002/asi.

Guerrero, F. (1996). El magisterio pontificio contemporáneo. Colección de Encíclicas y Documentos desde León XIII a Juan Pablo II. Madrid: Biblioteca de Autores Cristianos.

Heussman, J. W. (1970). The literature cited in theological journals and its relation to seminary library circulation. Champaign: University of Illinois at Urbana-Champaign.

Horell, H. D. (2016). The imagination of REA: APPRRE. Religious Education, 111(4), 349–365. https://doi.org/10.1080/00344087.2016.1199186.

Hoverstad, R. (2008). Catholic social teaching and marketing practices in the global economy. Interbeing, 2(2), 19–30.

Introvigne, M. (2016). New religious movements and the visual arts. Nova Religio: The Journal of Alternative and Emergent Religions, 19(4), 3–13. https://doi.org/10.1525/nr.2016.19.4.3.3.

Kamada, T., & Kawai, S. (1988). A simple method for computing general position in displaying three-dimensional objects. Computer Vision, Graphics, and Image Processing, 41(1), 43–56. https://doi.org/10.1016/0734-189X(88)90116-8.

Kellsey, C., & Knievel, J. (2005). Citation analysis for collection development: A comparative study of eight humanities. The Library Quaterly: Information, Community, Policy, 75(2), 142–168.

Lusting, A. (1990). Property and justice in the modern encyclical literature. Harvard Theological Review, 83(4), 415–446.

Lusvardi, A. R. (2012). The law of concience. Catholic Teaching on Conscience from Leo XIII to John Paul II. Logos, 15(2), 13–41.

Müller, G. L. (2014). Iglesia pobre y para los pobres. Madrid: San Pablo.

Nederhof, A. J., Zwaan, R. A., De Bruin, R. E., & Dekker, P. J. (1989). Assessing the usefulness of bibliometric indicators for the Humanities and the Social and Behavioural Sciences: A comparative study. Scientometrics, 15(5–6), 423–435. https://doi.org/10.1007/BF02017063.

Nuzzo, A., Madonna, E., Mazzei, P., Spaccini, R., & Piccolo, A. (2016). In situ photo-polymerization of soil organic matter by heterogeneous nano-TiO2 and biomimetic metal-porphyrin catalysts. Biology and Fertility of Soils, 52, 585–593. https://doi.org/10.1007/s00374-016-1102-z.

O'Neill, W. R. (2012). A little common sense: The ethics of immigration in Catholic social teaching. American Journal of Economics and Sociology, 71(4), 988–1003. https://doi.org/10.1111/j.1536-7150.2012.00854.x.

Peters, T. (2016). The war between faith and fact the war between faith and fact. Theology and Science, 14(2), 143–146. https://doi.org/10.1080/14746700.2016.1156326.

Sivertsen, G. (2009). Publication patterns in all fields. In F. Aström, R. Danell, B. Larsen, & J. W. Schneider (Eds.), Celebrating scholarly communication studies: A Festschrift for Olle Persson at his 60th birthday (pp. 55–60). Rio de Janeiro: ISSI.

Sivertsen, G. (2014). Scholarly publication patterns in the social sciences and humanities and their coverage in Scopus and Web of Science. In Science and technology indicators conference 2014 (pp. 598–604). Leiden: Universiteit Leiden.

Torres-Salinas, D., Robinson-Garcia, N., Campanario, J. M., & López-Cózar, E. D. (2014). Coverage, field specialisation and the impact of scientific publishers indexed in the Book Citation Index. Online Information Review, 38(1), 24–42. https://doi.org/10.1108/OIR-10-2012-0169.

Turkson, P. C. A. (2012). Caritas in Veritate: Good news for society. Logos, 15(3), 90–118.

Ulanowicz, R. E. (2016). Process ecology: Making room for creation. Sophia, 55, 357–380. https://doi.org/10.1007/s11841-016-0529-x.

Vallier, K. (2016). In defence of intelligible reasons in public justification. The Philosophical Quarterly, 66(264), 596–616. https://doi.org/10.1093/pq/pqv117.

van Eck, N. J., & Waltman, L. (2010). Software survey: VOSviewer, a computer program for bibliometric mapping. Scientometrics, 84, 523–538. https://doi.org/10.1007/s11192-009-0146-3.

Whalen, M. L. (1965). The literature used in Catholic and Protestant research in theology. New York: Columbia University.

White, H. D., & Griffith, B. C. (1981). Author cocitation: A literature measure of intellectual structure. Journal of the American Society for Information Science, 32(3), 163–171. https://doi.org/10.1002/asi.4630320302.
Acknowledgements
We thank the reviewers for their corrections and the suggestion to incorporate the length of the encyclicals into the study.
About this article
Cite this article
Repiso, R., Ahedo, J. & Montero, J. The presence of the encyclicals in Web of Science: a bibliometric approach. Scientometrics 115, 487–500 (2018). https://doi.org/10.1007/s11192-017-2636-z
Received:

Published:

Issue Date:
Keywords
Encyclicals

Web of Science

Theology

Non-source documents

Bibliometric analysis