Abstract
This article aims to ascertain whether the territorial redistribution observed in the geography of scientific production between 1999 and 2008 translated into a redistribution of the geography of citations, and therefore of scientific visibility. Are publications from formerly marginal locations able to influence researchers based in "central locations", or is their impact mostly "provincial"? Because the distribution of citations is extremely asymmetrical, it could very well be that the geographic de-concentration of production activities did not lead to the geographic de-concentration of citations, but instead contributed to creating increasingly asymmetrical flows of information for the benefit of "central" cities and countries. This article aims to verify whether this is the case by analysing the geographic distribution of citations received, using a method for localising the publications indexed in the Web of Science by urban areas. Results show a growing convergence between the geography of scientific production and that of scientific citations. The number of citations received by the world's 30 top publishing countries and cities tended to edge closer to the global average. While Singapore, China, India and Iran suffered from a deficit of visibility in 2000, their level considerably improved by 2007. Moreover, a decrease in the discrepancy between cities' scientific visibility is observed in almost all countries of the world, except for three: Sweden, Egypt and Denmark. To finish, our results show that the gap between the share of citations and the share of publications has decreased across all disciplines. A significant asymmetry in favour of English-speaking countries has remained in the distribution of citations in humanities and social sciences (but it is diminishing).
Access options
Buy single article
Instant access to the full article PDF.
USD 39.95
Price includes VAT (USA)
Tax calculation will be finalised during checkout.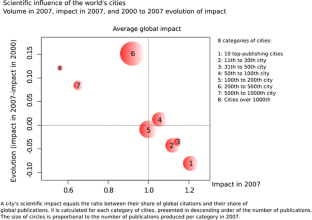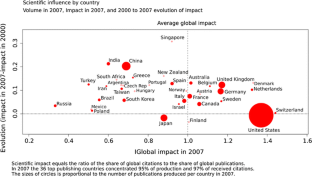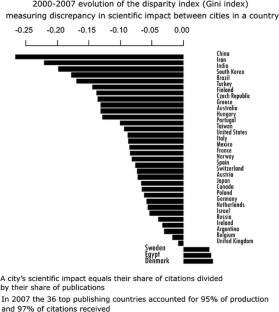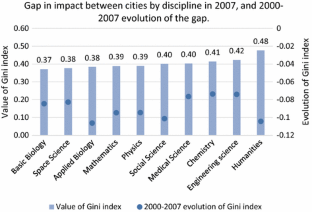 References
Adams, J., & Pendlebury, D. (2010). Global research report: United States. Leeds: Evidence.

Alderson, A. S., Beckfield, J., & Sprague-Jones, J. (2010). Intercity relations and globalisation: The evolution of the global urban hierarchy, 1981–2007. Urban Studies, 47(9), 1899–1923.

Archambault, É., Vignola-Gagné, É., Côté, G., et al. (2006). Benchmarking scientific output in the social sciences and humanities: The limits of existing databases. Scientometrics, 68(3), 329–342.

Beaverstock, J. V., Doel, M. A., Hubbard, P. J., et al. (2002). Attending to the world: competition, cooperation and connectivity in the World City Network. Global Networks, 2(2), 111–132.

Derudder, B., Taylor, P., Ni, P., et al. (2010). Pathways of change: Shifting connectivities in the World City Network, 2000–2008. Urban Studies, 47(9), 1861–1877.

Glänzel, W., Debackere, K., & Meyer, M. (2008). 'Triad' or 'tetrad'? On global changes in a dynamic world. Scientometrics, 74(1), 71–88.

Grossetti, M., Eckert, D., Gingras, Y., et al. (2014). Cities and the geographical deconcentration of scientific activity: A multilevel analysis of publications (1987–2007). Urban Studies, 51(10), 2219–2234.

Halffman, W., & Leydesdorff, L. (2010). Is inequality among universities increasing? Gini coefficients and the elusive rise of elite universities. Minerva, 48(1), 55–72.

Langfeldt, L., Benner, M., Siverstsen, G., et al. (2015). Excellence and growth dynamics: A comparative study of the Matthew effect. Science and Public Policy, 42(5), 661–675.

Larivière, V., Gingras, Y., & Archambault, É. (2009). The decline in the concentration of citations, 1900–2007. Journal of the American Society for Information Science and Technology, 60(4), 858–862.

Larivière, V., Macaluso, B., Archambault, É., et al. (2010). Which scientific elites? On the concentration of research funds, publications and citations. Research Evaluation, 19(1), 45–53.

Leydesdorff, L., Wagner, C. S., & Bornmann, L. (2014). The European Union, China, and the United States in the top-1 and top-10% layers of most-frequently cited publications: Competition and collaborations. Journal of Informetrics, 8(3), 606–617.

Louvel, S., & Lange, S. (2010). L'évaluation de la recherche: l'exemple de trois pays européens. Sciences de la société, 79, 11–26.

Lozano, G. A., Larivière, V., & Gingras, Y. (2012). The weakening relationship between the impact factor and papers' citations in the digital age. Journal of the American Society for Information Science and Technology, 63(11), 2140–2145.

MacRoberts, M. H., & MacRoberts, B. R. (1986). Quantitative measures of communication in science: A study of the formal level. Social Studies of Science, 16(1), 151–172.

Maisonobe, M., Grossetti, M., Milard, B., et al. (2016). L'évolution mondiale des réseaux de collaborations scientifiques entre villes: des échelles multiples. Revue française de sociologie, 57(3), 415–438.

Matthiessen, C. W., Schwarz, A. W., & Find, S. (2010). World cities of scientific knowledge: Systems, networks and potential dynamics. An analysis based on bibliometric indicators. Urban Studies, 47(9), 1879–1897.

Musselin, C. (2004). Les projets européens: coopération ou élitisme? Societal, Paris: Institut de l'entreprise. Available from: http://www.institut-entreprise.fr/sites/default/files/article_de_revue/docs/documents_internes/societal-44-28-musselin-dossier.pdf. Accessed 10 Nov 2014.

Oba, J. (2015). La réforme de l'Université japonaise entre volonté politique et réalité pratique. Bulletin of the Graduate School of Education, Hiroshima University, 64, 165–174.

Orozco Pereira, R. A., & Derudder, B. (2010). Determinants of dynamics in the World City Network, 2000–2004. Urban Studies, 47(9), 1949–1967.

Paradeise, C., Reale, E., Bleiklie, I., et al. (Eds.). (2009). University Governance. Western European comparative perspectives (1st ed.). Netherlands: Springer.

Shattock, M. (2014). International trends in University Governance: Autonomy self-government and the distribution of authority. Taylor & Francis: International Studies in Higher Education.

Wallace, M. L., Larivière, V., & Gingras, Y. (2009). Modeling a century of citation distributions. Journal of Informetrics, 3(4), 296–303.

Zitt, M., Barré, R., Sigogneau, A., et al. (1999). Territorial concentration and evolution of science and technology activities in the European Union: A descriptive analysis. Research Policy, 28(5), 545–562.

Zuckerman, H. (1987). Citation analysis and the complex problem of intellectual influence. Scientometrics, 12(5), 329–338.
About this article
Cite this article
Maisonobe, M., Grossetti, M., Milard, B. et al. The global geography of scientific visibility: a deconcentration process (1999–2011). Scientometrics 113, 479–493 (2017). https://doi.org/10.1007/s11192-017-2463-2
Received:

Published:

Issue Date:
Keywords
Scientific visibility

Urban areas

Deconcentration process

Citation analysis

World level