Abstract
We investigate the coverage of Microsoft Academic (MA) just over a year after its re-launch. First, we provide a detailed comparison for the first author's record across the four major data sources: Google Scholar (GS), MA, Scopus and Web of Science (WoS) and show that for the most important academic publications, journal articles and books, GS and MA display very similar publication and citation coverage, leaving both Scopus and WoS far behind, especially in terms of citation counts. A second, large scale, comparison for 145 academics across the five main disciplinary areas confirms that citation coverage for GS and MA is quite similar for four of the five disciplines. MA citation coverage in the Humanities is still substantially lower than GS coverage, reflecting MA's lower coverage of non-journal publications. However, we shouldn't forget that MA coverage for the Humanities still dwarfs coverage for this discipline in Scopus and WoS. It would be desirable for other researchers to verify our findings with different samples before drawing a definitive conclusion about MA coverage. However, based on our current findings we suggest that, only one year after its re-launch, MA is rapidly become the data source of choice; it appears to be combining the comprehensive coverage across disciplines, displayed by GS, with the more structured approach to data presentation, typical of Scopus and WoS. The Phoenix seems to be ready to leave the nest, all set to start its life into an adulthood of research evaluation.
Access options
Buy single article
Instant access to the full article PDF.
US$ 39.95
Tax calculation will be finalised during checkout.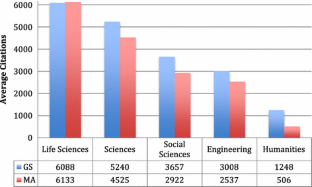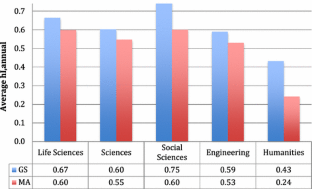 Notes
1.

Half of the academics in our sample had created a GS profile. This varied from one third for the Life Sciences, to half for the Humanities and the Sciences, and two thirds for the Social Sciences and Engineering.

2.

We used the basic/general search option for WoS and Scopus rather than the "cited reference search". The five key reasons for this choice are detailed in Harzing (2013). Briefly, both WoS and Scopus have more stray citations than either GS or MA, their cited reference search is very time-consuming and unwieldy to use, and it doesn't allow merging, sorting, exporting, or any further analysis of the data.

3.

Obviously one could argue that this is in fact the correct publication year; it is the year the publication first became available.

4.

Consultation with the MA team suggests that the earlier (November 2016) citation counts for the Life Sciences and Sciences were likely to have been inflated, because of parsing errors for titles with chemical compounds, DNA, protein names or non-Roman characters. These errors, now largely addressed with improved paper-matching algorithms, meant that these papers and their citations were double-counted. Our subsequent detailed analysis of citation levels for academics in (Life) Sciences indeed showed that those sub-disciplines likely to contain problematic titles, such as Biochemistry, Genetics, Microbiology, Neuroscience, and Pathology showed a decline in citations, whereas those in Audiology, Mathematics, Physics, Population Health, Veterinary Science, and Zoology showed increases. In general though, citation counts in the Life Sciences, and to a lesser extent the Sciences, are likely to be closer to GS counts as these disciplines have fewer non-journal publications.

5.

The PoP GS Profile search doesn't suffer from this same problem, but as indicated above only half of the academics in our sample and only one third of the Life Science academics had created a profile.
References
Elsevier (2016) Scopus: Content coverage guide. https://www.elsevier.com/__data/assets/pdf_file/0007/69451/scopus_content_coverage_guide.pdf. Accessed June 6, 2017.

Harzing, A. W. (2007). Publish or perish. https://harzing.com/resources/publish-or-perish.

Harzing, A. W. (2013). A preliminary test of Google Scholar as a source for citation data: A longitudinal study of Nobel Prize winners. Scientometrics, 93(3), 1057–1075.

Harzing, A. W. (2016). Microsoft Academic (Search): A Phoenix arisen from the ashes? Scientometrics, 108(3), 1637–1647.

Harzing, A. W., & Alakangas, S. (2016). Google Scholar, Scopus and the Web of Science: A longitudinal and cross-disciplinary comparison. Scientometrics, 106(2), 787–804.

Harzing, A. W., & Alakangas, S. (2017). Microsoft Academic: Is the Phoenix getting wings? Scientometrics, 110(1), 371–383.

Harzing, A. W., Alakangas, S., & Adams, D. (2014). hIa: An individual annual h-index to accommodate disciplinary and career length differences. Scientometrics, 99(3), 811–821.

Hug, S. E., & Brändle, M. P. (2017). The coverage of Microsoft Academic: Analyzing the publication output of a university. arXiv preprint arXiv:1703.05539.
About this article
Cite this article
Harzing, AW., Alakangas, S. Microsoft Academic is one year old: the Phoenix is ready to leave the nest. Scientometrics 112, 1887–1894 (2017). https://doi.org/10.1007/s11192-017-2454-3
Received:

Published:

Issue Date: