Abstract
Impact factors are commonly used to assess journals relevance. This implies a simplified view on science as a single-stage linear process. Therefore, few top-tier journals are one-sidedly favored as outlets, such that submissions to top-tier journals explode whereas others are short of submissions. Consequently, the often claimed gap between research and practical application in application-oriented disciplines as business administration is not narrowing but becoming entrenched. A more complete view of the scientific system is needed to fully capture journals´ contributions in the development of a discipline. Simple citation measures, as e.g. citation counts, are commonly used to evaluate scientific work. There are many known dangers of miss- or over-interpretation of such simple data and this paper adds to this discussion by developing an alternative way of interpreting a discipline based on the positions and roles of journals in their wider network. Specifically, we employ ideas from the network analytic approach. Relative positions allow the direct comparison between different fields. Similarly, the approach provides a better understanding of the diffusion process of knowledge as it differentiates positions in the knowledge creation process. We demonstrate how different modes of social capital create different patterns of action that require a multidimensional evaluation of scientific research. We explore different types of social capital and intertwined relational structures of actors to compare journals with different bibliometric profiles. Ultimately, we develop a multi-dimensional evaluation of actor roles based upon multiple indicators and we test this approach by classifying management journals based on their bibliometric environment.
Access options
Buy single article
Instant access to the full article PDF.
USD 39.95
Price excludes VAT (USA)
Tax calculation will be finalised during checkout.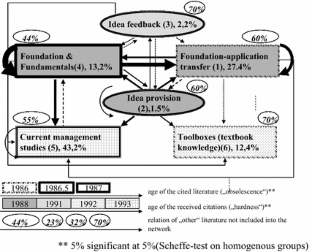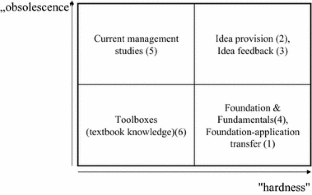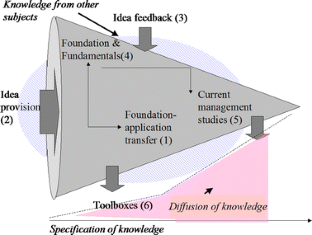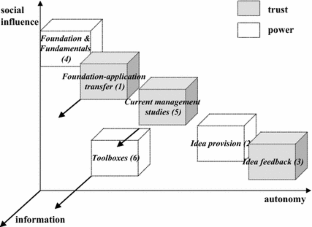 Notes
This approach however stops at the level of single-stage relationships and thus at the comparison of direct citation frequencies. It does not encompass indirect and multi-level relationships between journals.

A network is constituted by a limited number of nodes, in this context, journals and lines that connect the nodes (in this case citation relationships). A matrix represents the network and with one-directional relationships this matrix is asymmetrical. Reflexive relations, in this case own citations, lie on the main diagonal line. The network-analysis procedure refers mainly to three levels of actors: (1) Integration of the actor into the network, (2) properties of the whole network, (3) identification and description of the groups of actors.

A clique in the sense of graph theory contains at least three connected actors. The concept of the n-Clique, in which every actor can reach every other actor in n steps, is less rigid.

Neither adjustments on the age of sources nor on the annual amount of articles per journal have been undertaken. Following arguments underlie this: Concerning age, we argue that any literature quoted stills contains a high richness respectively has not been replaced by newer sources, thus it is equally relevant. Concerning amount of articles, we argue that citation networks measure the average effect. An adjustment corresponds to (1) not such a understanding in which low-circulation journals have a high (relative) effect attributed. (2) Furthermore in succession to the argument of limited information capacities an adjustment can occur in the other direction so that the citations of an article with a high-circulation is more worth more than the citation of an article in a journal with low-circulation.

Annotation to Fig. 2: The figure displays the diffusion of knowledge in the network. The thickness of the arrows portrays the extent of reciprocal referencing; the direction portrays the direction of the transfer. So, for example, group 4 gets quoted often by group 1 meaning that knowledge flows from group 4 into group 1. Furthermore, within groups the corresponding percentage of the size of the groups is indicated; for example group 4 accounts for 13.2% of all journals of the network. In the legend there is an indication concerning the age of the quoted and quoting literature and the relation of the sources of literature that have not been included into the network of management journals. The delimitation of the differences in the groups occurred with help pf the Scheffe´-test with a significance level of 5%.Group 4 for example quoted on average 44% different sources that are not included in the network. The age of the literature quoted on average is from the year 1986,5: the age of the quoting sources from group 4 is on average 1988.
References
Baumgartner, H., & Pieters, R. (2000). The influence of marketing journals: A citation analysis of the discipline and its sub-areas. Tilburg: Marketing.

Bordons, M., Fernández, M., & Gómez, I. (2002). Advantages and limitations in the use of impact factor measures for the assessment of research performance. Scientometrics, 53(2), 195–206.

Borgatti, S., Everett, M., & Freeman, L. (1996). UCINET IV version 1.64 reference manual.

Bourdieu, P. (1983). Oekonomisches Kapital, kulturelles Kapital. In R. Kreckel (Ed.), Soziale Ungleichheiten (pp. 183–198). Göttingen: Otto Schwartz & Co.

Burt, R. S. (1976). Positions in networks. Social Forces, 55, 93–122.

Burt, R. S. (1982). Toward a structural theory of action network models of social structure, perception, and action. New York: Columbia University.

Burt, R. S. (1992). Structural holes: The social structure of competition. Cambridge: Harvard University Press.

Burton, R. E., & Kebler, R. W. (1960). The half-life of some scientific and technical literatures. American Documentation, 11(1), 18–22.

Coleman, J. S. (1988). Social capital in the creation of human capital. American Journal of Sociology, 94(Supplement), 95–120.

Coleman, J. S. (1990). Foundation of social theory. Bd. 1–2. London: The Belknap Press of Harvard University Press.

Freeman, L. C. (1979). Centrality in social networks: conceptual clarification. Social Networks, 1, 215–239.

Garfield, E. (1973). What scientific journals can tell us about scientific journals. IEEE Transactions on Professional Communication, 16(4), 200–203.

Garfield, E. (1979). Citation indexing -its theory and application in science, technology, and humanities. New York: Wiley.

Granovetter, M. (1973). The strength of weak ties. American Journal of Sociology, 78, 481–510.

Groh, G., & Fuchs, C. (2011). Multi-modal social networks for modeling scientific fields. Scientometrics, 89(2), 569–590.

Hubbell, C. H. (1965). An input–output approach to clique identification. Sociometry, 28, 377–399.

Johnson, J., & Podsakoff, P. (1994). Journal influence in the field of management: An analysis using Salancik's index in a dependency network. Academy of Management Journal, 37(5), 1392–1407.

Khan, G. F., Lee, S., Park, J. Y., & Park, H. W. (2016). Theories in communication science: a structural analysis using webometrics and social network approach. Scientometrics, 108(2), 531–557.

Koseoglu, M. A. (2016). Mapping the institutional collaboration network of strategic management research: 1980–2014. Scientometrics, 109(1), 203–226.

Leydesdorff, L., Wouters, P., & Bornmann, L. (2016). Professional and citizen bibliometrics: complementarities and ambivalences in the development and use of indicators—a state-of-the-art report. Scientometrics, 109(3), 2129–2150.

Luhmann, N. (1997). Die Gesellschaft der Gesellschaft. Frankfurt am Main: Suhrkamp.

March, J. G., & Simon, H. A. (1976). Organisation und Individuum. Wiesbaden: Gabler.

Marx, W., Schier, H., & Wanitschek, M. (1998). Kann man Forschungsqualität messen? Zitierungszahlen als Maß für Resonanz auf wissenschaftliche Aktivität. MPG-Spiegel, 3, 24–30 [Online Document]. http://www.fkf.mpg.de/ivs/citations.html. 28.09.2005.

Mayntz, R. (1993). Modernization and the logic of interorganizational networks. In J. Child (Ed.), Societal change between market and organization (pp. 3–18). Aldershot: Avebury.

Pappi, F. U. (Ed.) (1987). Techniken der empirischen Sozialforschung, Bd. 1. Methoden der Netzwerkanalysen. Oldenburg: De Gruyter.

Pendlebury, D. A., & Adams, J. (2012). Comments on a critique of the Thomson Reuters journal impact factor. Scientometrics, 92(2), 395–401.

Pisoschi, A. M., & Pisoschi, C. G. (2016). Is open access the solution to increase the impact of scientific journals? Scientometrics, 109(2), 1075–1095.

Portes, A., & Sensenbrenner, J. (1993). Embeddedness and immigration: notes on the social derterminants of economic action. American Journal of Sociology, 98(6), 1320–1350.

Powell, W. W. (1990). Neither market not hierarchy. Network forms of organization. Research in Organizational Behavior, 12, 295–336.

Salancik, G. R. (1986). An index of subgroup influence in dependency networks. Administrative Science Quarterly, 31(2), 194–211.

Schenk, M. (1984). Soziale Netzwerke und Kommunikation. Tübingen: Mohr.

Scott, J. (1988). Trend-report social network analysis. Sociology, 22, 109–127.

Simon, H. A. (1955). A behavioral model of rational choice. Quarterly Journal of Economics, 69(1), 99–118.

Small, H. (1973). Cocitation in scientific literature—new measure of relationship between 2 documents. Journal of the American Society for Information Science, 24(4), 265–269.

Sydow, J. (1992). Strategische Netzwerke und Transaktionskosten. Über die Grenzen einer transaktionskostentheoretischen Erklärung der Evolution strategischer Netzwerke. In Stahle, W. H., & Conrad P. (Ed.), Managementforschung (pp. 239–311). Berlin, New York: De Gruyter.

Szava-Kovats, E. (2002). Unfounded attribution of the "half-life" index-number of literature obsolescence to Burton and Kebler: A literature science study. Journal of the American Society for Information Science and Technology, 53(13), 1098–1105.

Trezzini, B. (1998). Konzepte und Methoden sozialwissenschaftlicher Netzwerkanalyse: Ein aktueller Überblick. Zeitschrift für Soziologie, 27(5), 378–394.

Weber, M. (1972). Wirtschaft und Gesellschaft. Tübingen: Mohr.

Weber, M. (1985). Wirtschaft und Gesellschaft. Grundriß der verstehenden Soziologie. Tübingen: Mohr.

White, D. R. (1984). REGE: A regular graph equivalence algorithm for computing role distances prior to block modeling. Unpublished manuscript. University of California: Irvine.

White, D. R., & Reitz, K. P. (1983). Graph and semi-group homomorphisms on networks of relations. Social Networks, 5, 193–235.

Willke, H. (1995). Systemtheorie III. Steuerungstheorie: Grundzüge einer Theorie der Steuerung komplexer Sozialsysteme. Stuttgart, Jena: Lucius & Lucius.
Appendix
Appendix
About this article
Cite this article
Rost, K., Teichert, T. & Pilkington, A. Social network analytics for advanced bibliometrics: referring to actor roles of management journals instead of journal rankings. Scientometrics 112, 1631–1657 (2017). https://doi.org/10.1007/s11192-017-2441-8
Received:

Published:

Issue Date:

DOI: https://doi.org/10.1007/s11192-017-2441-8
Keywords
Social network analysis

Journal ranking

Management

Journal actor roles