Abstract
Drawing on more than half a million granted patents in all technological sectors filed at EPO between 1998 and 2012 we gather information on 300,000 inscriptions affecting changes in their ownership at the EPO and top national registers (France, Germany, Switzerland, Spain). After grouping parallel legal events in different European validation countries, we find that more than 30% of EPO patents in all fields change ownership at least once. For the field of medical technologies, we exploit additional information on corporate structures to further distinguish between "intragroup" and "bare" changes of ownership thanks. Our results indicate that more than two-thirds of the transfers happen "intragroup", that is between related corporate entities. Using regressions analyses, we finally explore and discuss relations between the occurrence and types of these transfers of patent and proxies for patent quality.
This is a preview of subscription content, log in to check access.
Access options
Buy single article
Instant access to the full article PDF.
US$ 39.95
Price includes VAT for USA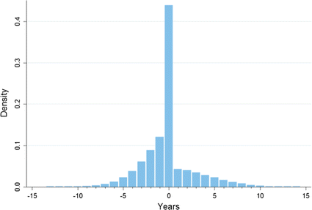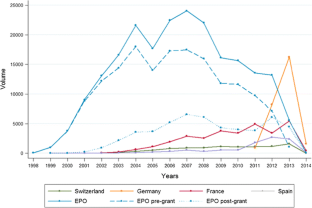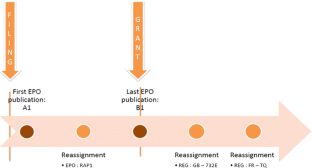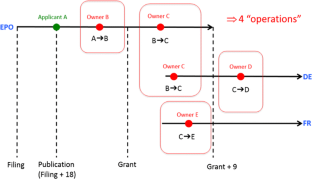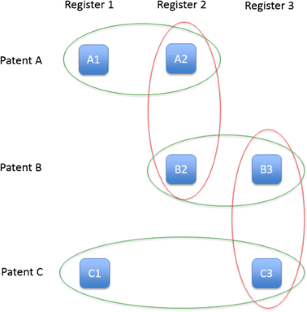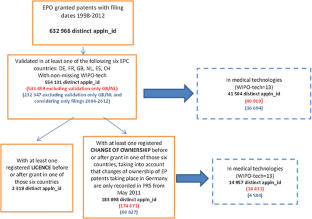 Notes
1.

Martínez (2011). "Licensing and change of ownership in international patent legal status data", presentation made at the ECD Workshop on Knowledge Networks and Markets, USPTO, Washington, 14 November 2011, available at www.oecd.org/sti/knowledge.

2.

3.

Eucomed calculations based on the data obtained from National Associations of 15 countries for the latest year available. Countries with (partially) provided data: Belgium, Czech Republic, Denmark, France, Germany, Greece, Ireland, Italy, Netherlands, Poland, Portugal, Spain, Sweden, UK, Switzerland. Medical technology including in vitro diagnostics. Europe refers to EU plus Norway and Switzerland. http://www.eucomed.be/medical-technology.

4.

According to the generality index defined by Bresnahan and Trajtenberg (1995).

5.

The main difference between transferring (or reassigning) ownership of a patent and licensing a patent is that, in the first case, the original owner does not retain any responsibility in relation to the patent once the transfer is made effective, whereas it remains the owner in the case of licensing. Although an exclusive license can have de facto similar effects in the market as a transfer of ownership (when the original owner agrees not to exploit the patent itself and only allows the exclusive licensee to do it), the original owner would remain responsible for paying renewal fees and other patent related obligations as long as it is still listed as such in the patent office records.

6.

7.

8.

9.

10.

See table 4.1 in Gaessler (2016, p. 111).

11.

Graham et al. (2015) describes the contents of the novel USPTO patent assignment database released by the USPTO Chief Economist Unit for research use.

12.

This information was drawn from the PRS database, i.e. when the patent had a 'PGFP' legal event associated to it for that country in the EPO PRS database.

13.

14.

15.

The drop is only of 10,672 observations because we exclude patents validated only in the United Kingdom and/or in the Netherlands, but not in Germany, France, Spain, or Switzerland. Thus, patents which are validated in the United Kingdom and/or the Netherlands as well as in Germany, France, Spain or Switzerland are retained.

16.

In order to be sure that the PRS register was reliable and in accordance with national data, we compared information from the register of the French Patent Office (INPI) and PRS information on changes of ownership registered for European patents validated in France. We found no significant discrepancy, except for the last year—due to the time needed for information to circulate.

17.

We exclude the 'effective date' field from the definition of 'PRS event' and drop the resulting duplicates with all other fields equal, because the effective data field is very often blank in the PRS database.

18.

19.

Unfortunately, the current structure of the INPI database does not allow us to replicate this operation with the French register, because it does not clearly relate new owner information to its corresponding legal event.

20.

The decrease after 2008 visible in Fig. 2 below may be largely due to truncation issues as we only consider granted and validated patents and it can take several years between filing and grant, around five years on average, and as we have seen in Fig. 1, registration of changes tend to cluster around the grant date.

21.

22.

23.

24.

We define global ultimate owners as those having a minimum percentage of 50% of the subject company (where ultimate owner links are either directly provided by a source or calculated by BvD). Considering a minimum percentage of 50% is in accordance with International financial reporting standards (IFRS) practice stating that control is presumed when the parent acquires more than half of the voting rights of the entity. It must be noticed that the interface between the OECD HAN and BvD ORBIS databases sometimes provides several BvD IDs. This is the case in particular when the same entity had several different BvD global ultimate owners during the period, due to merger and acquisitions operations. In order to avoid excessively broad consolidations (e.g., between two large multinational companies that have controlled the same owner at different moments in time), we therefore consider that two or more patent owners belong to the same corporate entity only if they have exactly the same set of BvD IDs.

25.

We rely on information on global ultimate owners (GUOs) for patent applicants of medical technologies patents filed in 2004–2012 at EPO with registered changes of ownership as of PRS April 2014, thus between 2004 (earliest year of filing of the patents included in the sample) and early 2014. The information on GUOs comes from the ORBIS versions released in 2005, 2006, 2007, 2008, 2009 and 2011, but the ownership information is not updated on an annual basis in the raw data, it is often missing and when it is available, it often refers to information from previous years (i.e. latest available from other sources). Taking this into account, we pool all the GUOs for the years 2005–2011 to build the consolidated IDs for the buyers and the sellers, respectively, which may lead to an overestimation of intragroup transactions. Our measure of 'bare' transactions is therefore quite conservative.

26.

Note that, as a consequence, pre-grant (RAP1) and post-grant (RAP2) can be registered as part of the same transaction at EPO.

27.

Note also that pre-grant operations necessarily consist of one single (RAP1) PRS event.

28.

These calculations are based on all granted EPO patents validated at least in Germany, France, Spain or Switzerland with filing years between 1998 and 2012, and those amongst them with changes of ownership declared in the registers of EPO (RAP1 and RAP2), and the national registers of France, Spain, Switzerland or Germany. It is important to note, nevertheless, that registers from Germany only affect patents published after May 2011, so changes of ownership declared in Germany only affect the most recent years.

29.

According to Gaessler (2016), transactions among independent parties (arms' length) only represent 13.8% of all changes of ownership in his sample.

30.

Recall that for the empirical analysis we group "partial bare" and "bare" into the "bare" category and "intragroup" and "likely intragroup" into the "intragroup" category.

31.

Depending on whether bare transfers are defined narrowly or broadly (see Table 9). Hereafter we will consider the broad definitions of bare and intragroup transactions.

32.

The minimum number of operations for the patents sampled is 1, the maximum 7, and the standard deviation for the 1.31 mean is 0.64.

33.

As mentioned earlier, we use the version of the OECD patent quality indicators database (Squicciarini et al. 2013) that relies on data from PATSTAT October 2015. This way we can observe dynamic quality indicators such as forward citations and patent family size as of mid-2015.

34.

Results are of similar magnitude when computing the statistics for potentially invalidating citations only (i.e X and Y citations, see Squicciarini et al. 2013).

35.

In addition to the tests of means' equality, we also performed the Wilcoxon–Mann–Whitney tests on medians. Results are identical, except for patents cited at least once and filed from 2004, for which we find significantly different medians for forward citations at the 10% level between transferred and non-transferred patents.

36.

The 'number of citations received in 5 years from publication' is count data, taking only positive and integer values, making the use of a Poisson-type regression suitable. However, data is over-dispersed: the coefficient of variation (standard deviation/average) is equal to 3.14 for all patents and to 2.92 for transferred patents. Taking this over-dispersion into account, and following previous studies (Hausman et al. 1984; Petruzzelli et al. 2015), we choose to use the negative binomial estimation. To account for the variation of observation time across patents we include an exposure term – starting 18 months after the filing date and ending by mid-2015.

37.

Indeed, computing the Incidence Rate Ratios, we find that, patents transferred intragroup only, compared to patents transferred bare only, are expected to have a rate of five-years forward citations 1.33 times greater while holding other variables constant in the model.

38.

We explored this question further by performing regressions using seven-year forward citations (instead of five-year forward citations) as the dependent variable and also found a positive relationship of forward citations with transfers for the full sample and with intragroup transfers for the subsample of transferred patents, but both effects were of slightly lower magnitude than with the five year citation window suggesting that the intragroup advantage might disappear over time.

39.

As noted in the OECD documentation for the patent quality indicators and the citations database.

40.

As a robustness test, focusing on the subsample of transferred patents, we also performed the same regressions using the number of operations a patent has been subject to as the explanatory variable of interest, and conditional to patents having the same age (as we control for filing years) and examination lengths (as we also control for grant lags), the total number of transfers was only significantly related to renewals (neither to citations, generality or family size). Both the numbers of bare and intragroup operations were positively and strongly correlated with longer patent lives, but not with other quality indicators.

41.

For more information, see also the technical report on the creation of our database that we drafted for the main funder of the project, the French Patent Office, INPI (Ciaramella et al. 2016).
References
Arora, A., Fosfuri, A., & Gambardella, A. (2004). Markets for technology: The economics of innovation and corporate strategy. Cambridge: MIT Press.

Arora, A., & Gambardella, A. (1994). The changing technology of technical change: General and abstract knowledge and the division of innovative labour. Research Policy, 23, 523–532.

Arora, A., & Nandkumar, A. (2012). Insecure advantage? Markets for technology and the value of resources for entrepreneurial ventures. Strategic Management Journal, 33(3), 231–251.

Arrow, J. K. (1983). Innovation in large and small firms. In J. Ronen (Ed.), Entrepreneurship (pp. 15–28). Lexington MA: Lexington Books.

Bresnahan, T. F., & Trajtenberg, M. (1995). General purpose technologies 'Engines of growth'? Journal of Econometrics, 65(1), 83–108.

Ciaramella, L., Maraut, S., Martínez, C., & Ménière, Y. (2016). Le marché des brevets européens, Rapport Final, Observatoire de la Propriété Intellectuelle, INPI, Lille. Forthcoming.

De Rassenfosse, G., Palangkaraya, A., & Webster, E. (2016). Why do patents facilitate trade in technology? Testing the disclosure and appropriation effects. Research Policy, 45(7), 1326–1336.

Du Plessis, M., Van Looy, B., Song, X, & Magerman, T. (2009). Data production methods for harmonized patent indicators: Assignee sector allocation. EUROSTAT working paper and studies, Luxembourg.

Figueroa, N., & Serrano, C. J. (2013). Patent trading flows of small and large firms (No. w18982). Cambridge, MA: National Bureau of Economic Research.

Gaessler, F. (2016). Enforcing and trading patents. Evidence for Europe. Wiesbaden: Springer Gabler.

Galasso, A., Schankerman, M., & Serrano, C. J. (2013). Trading and enforcing patent rights. The Rand Journal of Economics, 44(2), 275–312.

Gans, J., Hsu, D., & Stern, S. (2008). The impact of uncertain intellectual property rights on the market for ideas: Evidence from patent grant delays. Management Science, 54(5), 982–997.

Graham, S., Marco, A., & Myers, A. (2015). Patent transactions in the marketplace: Lessons from the USPTO patent assignment dataset Georgia Tech Scheller College of Business Research Paper No. 29. Available at SSRN: http://ssrn.com/abstract=2696147, doi:10.2139/ssrn.2696147.

Hall, B. H., Jaffe, A., & Trajtenberg, M. (2005). Market value and patent citations. RAND Journal of Economics, 36(1), 16–38.

Harhoff, D., Scherer, F. M., & Vopel, K. (2003). Citations, family size, opposition and the value of patent rights. Research Policy, 32(8), 1343–1363.

Hausman, J. A., Hall, B. H., & Griliches, Z. (1984). Econometric models for count data with an application to the patents-R&D relationship. Econometrica, 52(49), 909–938.

Lanjouw, J. O., Pakes, A., & Putnam, J. (1998). How to count patents and value intellectual property: The uses of patent renewal and application data. The Journal of Industrial Economics, 46(4), 405–432.

Martínez, C. (2011). Patent families: When do different definitions really matter? Scientometrics, 86, 39–63.

Ménière, Y., Dechezleprêtre, A., & Delcamp, H. (2012). Le marché des brevets français. Une analyse quantitative des cessions à partir des inscriptions dans le Registre national et le Registre européen des brevets. Rapport d'étude réalisée pour l'INPI.

Pakes, A. (1986). Patents as options: Some estimates of the value of holding European patent stocks. Econometrica, 54(4), 755–784.

Petruzzelli, A. M., Rotolo, D., & Albino, V. (2015). Determinants of patent citations in biotechnology: An analysis of patent influence across the industrial and organizational boundaries. Technological Forecasting and Social Change, 91, 208–221.

Schmoch, U. (2008). Concept of a technology classification for country comparisons. Final report to the World Intellectual Property Office (WIPO). Fraunhofer ISI: Karlsruhe. http://www.wipo.int/edocs/mdocs/classifications/en/ipc_ce_41/ipc_ce_41_5-annex1.pdf. Accessed 16 May 2017.

Serrano, C. (2010). The dynamics of the transfer and renewal of patents. The Rand Journal of Economics, 41, 686–708.

Serrano, C. J. (2011). Estimating the gains from trade in the market for innovation: Evidence from the transfer of patents (No. w17304). Cambridge, MA: National Bureau of Economic Research.

Shapiro, C. (2001). Navigating the patent thicket: Cross licenses, patent pools, and standard-setting. In A. Jaffe, J. Lerner, & S. Stern (Eds.), Innovation policy and the economy (Vol. 1). Cambridge, MA: MIT Press.

Squicciarini, M., Dernis, H., & Criscuolo, C. (2013). Measuring patent quality: Indicators of technological and economic value (No. 2013/3). Paris: OECD Publishing.

Trajtenberg, M. (1990). A penny for your quotes: Patent citations and the value of innovations. The Rand Journal of Economics, 21(1), 172–187.

Trajtenberg, M., Henderson, R., & Jaffe, A. (1997). University versus corporate patents: A window on the basicness of invention. Economics of Innovation and New Technology, 5(1), 19–50.

von Graevenitz, G., Wagner, S., & Harhoff, D. (2011). How to measure patent thickets—A novel approach. Economics Letters, 111(1), 6–9.
Acknowledgements
We would like to thank Stéphane Maraut, who provided expert programming assistance throughout the project, as well as Laurence Joly, Emmanuelle Fortune, Franck Dazin, Hélène Dernis, Gerardo Penas, Stefano Bianchini and Teodosio Pérez Amaral, as well as two anonymous referees, for their comments and suggestions. The paper also benefitted from comments from participants at the 2015 IPSDM Conference held in Vienna; the 2016 JMA and AFSE conferences in France; the meetings of the Mines-Telecom Chair on "IP and Markets for Technology" and the 2016 EPIP conference in Oxford. Financial support from the French Institut National de la Propriété Industrielle (INPI) is gratefully acknowledged. Catalina Martínez acknowledges additional funding from the Spanish Ministry of Economy and Competitiveness National Plan for R&D&I (CSO2012-32844) and the regional government of Madrid (S2015/HUM-3491).
Disclaimer
Yann Ménière is currently on leave from Mines-ParisTech to serve as the Chief Economist of the European Patent Office. The views and opinions expressed in this article are his own and do not necessarily reflect the official policy or position of the European Patent Office.
Appendix
Appendix
See Tables 5, 6, 7, 8, 9, and 10 and Figs.  7 and 8.
About this article
Cite this article
Ciaramella, L., Martínez, C. & Ménière, Y. Tracking patent transfers in different European countries: methods and a first application to medical technologies. Scientometrics 112, 817–850 (2017). https://doi.org/10.1007/s11192-017-2411-1
Received:

Published:

Issue Date:
Keywords
Patent

Patent trade

Technology markets

Medical technologies
JEL Classification