Abstract
Multiple studies report that male scholars cite publications of male authors more often than their female colleagues do—and vice versa. This gender homophily in citations points to a fragmentation of science along gender boundaries. However, it is not yet clear whether it is actually (perceived) gender characteristics or structural conditions related to gender that are causing the heightened citation frequency of same-sex authors. A bibliometric study on the two leading German communication science journals Publizistik and Medien & Kommunikationswissenschaft was employed to further analyze the causes of the phenomenon. As scholars tend to primarily cite sources from their own area of research, differences among male and female scholars regarding their engagement in certain research fields become relevant. It was thus hypothesized that the research subject might mediate the relationship between the citing and cited authors' genders. A first analysis based on n = 917 papers published in the period from 1970 to 2009 confirmed the expected gender-differences regarding research-activity in certain fields. Subsequently, structural equation modeling was employed to test the suggested mediation model. Results show the expected mediation to be a complementary one indicating that gender homophily in citations is partly due to topical boundaries. While there are alternative explanations for the remaining direct effect, it may suggest that a fragmentation of science along gender boundaries is indeed an issue that communication science must face.
This is a preview of subscription content, log in to check access.
Access options
Buy single article
Instant access to the full article PDF.
US$ 39.95
Price includes VAT for USA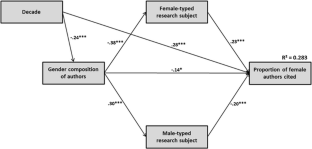 Notes
1.

While generally old-boy networks are assumed to exist and are presented as a possible cause of the apparent gender homophily in citations (e.g., Davenport and Snyder 1995, p. 409; Ferber 1988, p. 86), some empirical studies have shown that female researchers collaborate as much as (Blake et al. 2004) or even more than (Fell and König 2016) male researchers. However, such results may highly depend on the scientific subject and/or respective subfield analyzed.

2.

Several of the binary variables used in the analysis were originally combined in one variable capturing one subject dimension, such as type of communicator or respective type of content (categories: journalism, public relations, advertising, entertainment). Where several categories of the same dimension were applicable, coders wrote a remark that was taken into account during the subsequent dummy coding. The intercoder-reliability test was carried out with the non-dummy-coded versions, which is why some of the seven topic variables mentioned above share the same reliability score.

3.

The α-value for the variable capturing health communication is low, but partly because the variable was strongly skewed. The variable was, therefore, retained, but the coding was carried out by one of the researchers, as a larger degree of expert knowledge in communication science facilitated recognizing fields of research correctly.

4.

More specifically, Fig. 1 shows the share of citations made to publications by female authors among all citations made to publications by male or female authors (i.e., citations made to publications issued by organizations, etc., were excluded).

5.

As the number of female authors—and likely also the interest for specific fields of research—varied over time, the decade in which each of the 917 papers was published had to be included as a control variable in the respective model.

6.

The 917 papers were written by only 579 different first-named authors.
References
Abramo, G., D'Angelo, C. A., & Caprasecca, A. (2009). Gender differences in research productivity: A bibliometric analysis of the Italian academic system. Scientometrics, 79(3), 517–539.

Aksnes, D. W., Rorstad, K., Piro, F., & Sivertsen, G. (2011). Are female researchers less cited? A large-scale study of Norwegian scientists. Journal of the American Society for Information Science and Technology, 62(4), 628–636.

Andsager, J. L. (2007). The power to improve lives: Women in health communication. In P. J. Creedon & J. Cramer (Eds.), Women in mass communication (3rd ed., pp. 109–120). Thousand Oaks: Sage.

Applegate, E., & Bodle, J. V. (2005). Scholarship rates of women within AEJMC divisions, interest groups, and commissions (1994–2003). Journalism & Mass Communication Educator, 60(2), 149–175.

Baldi, S. (1998). Normative versus social constructivist processes in the allocation of citations: A network-analytic model. American Sociological Review, 63(6), 829–846.

Baron, R. M., & Kenny, D. A. (1986). The moderator-mediator variable distinction in social psychological research: Conceptual, strategic, and statistical considerations. Journal of Personality and Social Psychology, 51(6), 1173–1182.

Beasley, M. H., & Theus, K. T. (1988). The new majority. A look at what the preponderance of women in journalism education means to the schools and to the professions. Lanham: University Press of America.

Beaudry, C., & Larivière, V. (2016). Which gender gap? Factors affecting researchers' scientific impact in science and medicine. Research Policy, 45(9), 1790–1817.

Blake, K., Bodle, J. V., & Adams, E. E. (2004). A fifteen-year census of gender and journal productivity. Journalism & Mass Communication Educator, 59(2), 156–170.

Brown, A. J., & Goh, J. X. (2016). Some evidence for a gender gap in personality and social psychology. Social Psychological and Personality Science, 7(5), 437–443.

Bunz, U. (2005). Publish or perish: A limited author analysis of ICA and NCA journals. Journal of Communication, 55(4), 703–720.

Buter, R. K., Noyons, E. C. M., & Van Raan, F. J. (2011). Searching for converging research using field to field citations. Scientometrics, 86(2), 325–338.

Calhoun, C. (2011). Communication as social science (and more). International Journal of Communication, 5, 1479–1496.

Case, D. O., & Higgins, G. M. (2000). How can we investigate citation behavior? A study of reasons for citing literature in communication. Journal of the American Society for Information Science, 51(7), 635–645.

Cole, S. (1994). Why sociology doesn't make progress like the natural sciences. Sociological Forum, 9(2), 133–154.

Cole, J., & Zuckerman, H. (1984). The productivity puzzle: Persistence and change in patterns of publication for men and women scientists. In M. W. Steinkamp & M. L. Maehr (Eds.), Advances in motivation and achievement: Women in science (pp. 217–258). Greenwich, Ct: Jai Press.

Creedon, P. J., & Cramer, J. (Eds.). (2007). Women in mass communication (3rd ed.). Thousand Oaks: Sage.

Davenport, E., & Snyder, H. (1995). Who cites women? Whom do women cite? An exploration and scholarly citation in sociology. Journal of Documentation, 51(4), 404–410.

Dervin, B., Shields, P., & Song, M. (2005). More than misunderstanding, less than war: "Administrative" and "critical" theories, field cohesion, and (im)possible dialogue. Paper presented at the international communication association annual meeting, New York City, May. http://citeseerx.ist.psu.edu/viewdoc/download?doi=10.1.1.330.2697&rep=rep1&type=pdf.

Dinauer, L. D., & Ondeck, K. E. (1999). Gender and institutional affiliation as determinants of publishing in Human Communication Research. Human Communication Research, 25(4), 548–568.

Domahidi, E., & Strippel, C. (2014). Internationalization and journalization of German communication science? An analysis of scientific articles and citations from 50 years of Publizistik and Medien & Kommunikationswissenschaft. SCM, 3(1), 64–100.

Dupagne, M., Potter, W. J., & Cooper, R. (1993). A content analysis of women's published mass communication research, 1965–1989. Journalism Quarterly, 70(4), 815–823.

Fell, C. B., & König, C. J. (2016). Is there a gender difference in scientific collaboration? A scientometric examination of co-authorships among industrial–organizational psychologists. Scientometrics, 108(1), 113–141.

Ferber, M. A. (1988). Citations and networking. Gender & Society, 2(1), 82–89.

Francis, B., Robson, J., & Read, B. (2001). An analysis of undergraduate writing styles in the context of gender and achievement. Studies in Higher Education, 26(3), 313–326.

Fröhlich, R., & Holtz-Bacha, C. (1993). Frauen in der Kommunikationswissenschaft: Unterrepräsentiert—aber auf dem Vormarsch [Women in communication science: Underrepresented—But on the rise]. Publizistik, 38(4), 527–541.

Håkanson, M. (2005). The impact of gender on citation: An analysis of College & Research Libraries, Journal of Academic Librarianship, and Library Quarterly. College & Research Libraries, 66(4), 312–323.

Hartley, J. (2008). Academic writing and publishing: A practical handbook. Abingdon: Routledge.

Hartley, J., Pennebaker, J. W., & Fox, C. (2003). Using new technology to assess the academic writing styles of male and female pairs and individuals. Journal of Technical Writing and Communication, 33(3), 243–261.

Klaus, Elisabeth. (2003). Quäntchensprünge. Frauen und Männer in der DGPuK [Small quantum leaps. Women and men in the German Society for Journalism and Communication Studies]. Aviso, 34, 4–5.

Kline, R. B. (2005). Principles and practice of structural equation modeling (2nd ed.). New York: Guilford.

Knobloch-Westerwick, S., & Glynn, C. J. (2013). The matilda effect—Role congruity effects on scholarly communication: A citation analysis of Communication Research and Journal of Communication articles. Communication Research, 40(1), 3–26.

Knobloch-Westerwick, S., Glynn, C. J., & Huge, M. (2013). The Matilda effect in science communication: An experiment on gender bias in publication quality perceptions and collaboration interest. Science Communication, 35(5), 603–625.

Kretschmer, H., Kundra, R., deB Beaver, D., & Kretschmer, T. (2012). Gender bias in journals of gender studies. Scientometrics, 93(1), 135–150.

Lariviére, V., Ni, C., Gingras, Y., Cronin, B., & Sugimoto, C. (2013). Global gender disparities in science. Nature, 504(7479), 211–213.

Lutz, C. (1990). The erasure of women's writing in sociocultural anthropology. American Ethnologist, 17(4), 611–627.

Malianik, D., Powers, R., & Walter, B. F. (2013). The gender citation gap in international relations. International Organization, 67(4), 889–922.

Matthes, J. (2012). Framing politics: An integrative approach. American Behavioral Scientist, 56(3), 247–259.

McElhinny, B., Hols, M., Holtzkener, J., Unger, S., & Hicks, C. (2003). Gender, publication, and citation in sociolinguistics and linguistic anthropology. Language in Society, 32(3), 299–328.

McLaughlin Mitchell, S., Lange, S., & Brus, H. (2013). Gendered citation patterns in international relations journals. International Studies Perspectives, 14(4), 485–492.

McPherson, M., Smith-Lovin, L., & Cook, J. M. (2001). Birds of a feather: Homophily in social networks. Annual Review of Sociology, 27, 415–444.

Merton, R. K. (1968). The Matthew effect in science. The reward and communication systems of science are considered. Science, 159(3810), 56–63.

Montoya, R. M., Horton, R. S., & Kirchner, J. (2008). Is actual similarity necessary for attraction? A meta-analysis of actual and perceived similarity. Journal of Social and Personal Relationships, 25(6), 889–922.

Muthén, L. K., & Muthén, B. O. (2015). Mplus user's guide (7th ed.). Los Angeles, CA: Muthén & Muthén.

Paisley, W. (1984). Communication in the communication sciences. In B. Dervin & M. J. Voigt (Eds.), Progress in communication sciences (Vol. V, pp. 1–43). Norwood, NJ: Ablex.

Peiser, W., Hastall, M., & Donsbach, W. (2003). Zur Lage der Kommunikationswissenschaft und ihrer Fachgesellschaft. Ergebnisse der DGPuK-Mitgliederbefragung 2003 [On the state of communication science and its association. Results of the 2003 survey among DGPuK members]. Publizistik, 48(3), 310–339.

Pennebaker, J. W., Mehl, M. R., & Niederhoffer, K. G. (2003). Psychological aspects of natural language use: Our words, our selves. Annual Review of Psychology, 54(1), 547–577.

Pooley, J. D. (2016). The four cultures. Media studies at the crossroads. Social Media + Society, 2(1), 1–4.

Porter, A. L., & Chubin, D. E. (1985). An indicator of cross-disciplinary research. Scientometrics, 8(3), 161–176.

Potthoff, M., & Kopp, S. (2013). Die meistbeachteten Autoren und Werke der Kommunikationswissenschaft. Ergebnis einer Zitationsanalyse von Aufsätzen in Publizistik und Medien & Kommunikationswissenschaft (1970–2010) [The most recognized authors and publications of Communication Science. Results of a citation analysis of essays in Publizistik and Medien & Kommunikationswissenschaft (1970–2010).]. Publizistik, 58(4), 347–366.

Prpić, K. (2002). Gender and productivity differentials in science. Scientometrics, 55(1), 27–58.

Rakow, L. F. (1986). Rethinking gender research in communication. Journal of Communication, 36(4), 11–26.

Rossiter, M. W. (1993). The Matthew Matilda effect in science. Social Studies of Science, 23(2), 325–341.

Rush, R. R., Oukrop, C. E., & Sarikakis, K. (2005). A global hypothesis for women in journalism and mass communications. Gazette, 67(3), 239–253.

Schamber, L. (1989). Women in mass communication education. Who is teaching tomorrow's communicators? In P. J. Creedon (Ed.), Women in mass communication: Challenging gender values (pp. 148–162). London: Sage.

Su, R., Rounds, J., & Armstrong, P. I. (2009). Men and things, women and people: A meta-analysis of sex differences in interests. Psychological Bulletin, 135(6), 859–884.

Swanson, D. L. (1993). Fragmentation, the field, and the future. Journal of Communication, 43(4), 163–172.

Swanson, D. R. (1986). Undiscovered public knowledge. Library Quarterly, 56(2), 103–118.

van Dalen, H. P., & Henkens, K. (1999). How influential are demography journals? Population and Development Review, 25(2), 229–251.

Viswanath, K., Kosicki, G. M., & Creedon, P. J. (1993). Women in mass communication education. Progress, problems, and prospects. In P. J. Creedon (Ed.), Women in mass communication (pp. 237–263). Newbury Park, CA: Sage.

Zhao, X., Lynch, J. G., & Chen, Q. (2010). Reconsidering Baron and Kenny: Myths and truths about mediation analysis. Journal of Consumer Research, 37(2), 197–206.
About this article
Cite this article
Potthoff, M., Zimmermann, F. Is there a gender-based fragmentation of communication science? An investigation of the reasons for the apparent gender homophily in citations. Scientometrics 112, 1047–1063 (2017). https://doi.org/10.1007/s11192-017-2392-0
Received:

Published:

Issue Date:
Keywords
Fragmentation of science

Citations

Gender homophily

Bibliometrics

Intergroup communication