Abstract
In this study we examined who tweeted academic articles that had at least one Finnish author or co-author affiliation and that had high altmetric counts on Twitter. In this investigation of national level altmetrics we chose the most tweeted scientific articles from four broad areas of science (Agricultural, Engineering and Technological Sciences; Medical and Health Sciences; Natural Sciences; Social Sciences and Humanities). By utilizing both quantitative and qualitative methods of analysis, we studied the data using research techniques such as keyword categorization, co-word analysis and content analysis of user profile descriptions. Our results show that contrary to a random sample of Twitter users, users who tweet academic articles describe themselves more factually and by emphasizing their occupational expertise rather than personal interests. The more field-specific the articles were, the more research-related descriptions dominated in Twitter profile descriptions. We also found that scientific articles were tweeted to promote ideological views especially in instances where the article represented a topic that divides general opinion.
This is a preview of subscription content, log in to check access.
Access options
Buy single article
Instant access to the full article PDF.
US$ 39.95
Price includes VAT for USA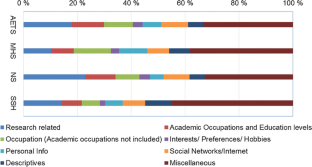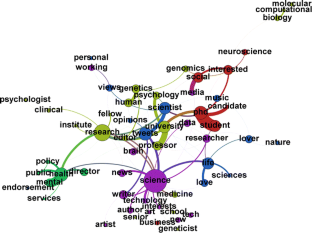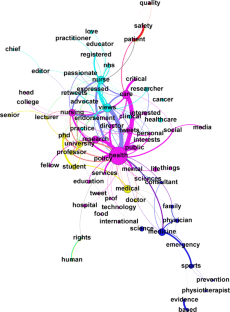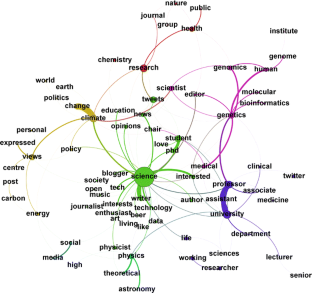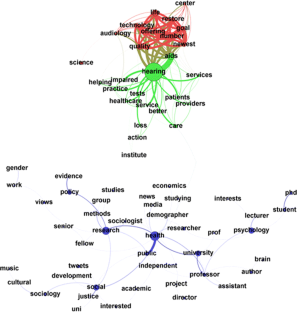 References
Badenschier, F., & Holger, W. (2012). Issue selection in science journalism: Towards a special theory of news values for science news? Sociology of the Sciences Yearbook, 28(February), 273–289. doi:10.1007/978-94-007-2085-5.

Bird, S. J. (2014). Socially responsible science is more than "good science". Journal of Microbiology & Biology Education, 15(2), 169–172. doi:10.1128/jmbe.v15i2.870.

Blondel, V. D., Guillaume, J.-L., Lambiotte, R., & Lefebvre, E. (2008). Fast unfolding of communities in large networks. Journal of Statistical Mechanics: Theory and Experiment, 10008(10), 6. doi:10.1088/1742-5468/2008/10/P10008.

Bornmann, L. (2016). What do altmetrics counts mean? A plea for content analyses. Journal of the Association for Information Science and Technology. doi:10.1002/asi.23633.

Brigham, T. J. (2014). An introduction to altmetrics. Medical Reference Services Quarterly, 33(4), 438–47. Retrieved from http://www.ncbi.nlm.nih.gov/pubmed/25316077.

Carstairs-McCarthy, A. (2002). An introduction to English morphology: Words and their structure. Edinburgh: Edinburgh University Press.

Courtial, J. P. (1994). A coword analysis of scientometrics. Scientometrics, 31(3), 251–260. doi:10.1007/BF02016875.

Dahlstrom, M. F. (2014). Using narratives and storytelling to communicate science with nonexpert audiences. Proceedings of the National Academy of Sciences of the United States of America, 111(Supplement_4), 13614–13620. doi:10.1073/pnas.1320645111.

Desai, T., Shariff, A., Shariff, A., Kats, M., Fang, X., Christiano, C., et al. (2012). Tweeting the meeting: An in-depth analysis of Twitter activity at kidney week 2011. PLoS ONE. doi:10.1371/journal.pone.0040253.

Eysenbach, G. (2011). Can tweets predict citations? Metrics of social impact based on Twitter and correlation with traditional metrics of scientific impact. Journal of Medical Internet Research. doi:10.2196/jmir.2041.

Hadgu, A. T., & Jäschke, R. (2014). Identifying and analyzing researchers on twitter. In CEUR Workshop Proceedings (Vol. 1226, pp. 164–165). doi:10.1145/2615569.2615676.

Haustein, S., Bowman, T. D., Holmberg, K., Peters, I., & Larivière, V. (2014). Astrophysicists on Twitter: An in-depth analysis of tweeting and scientific publication behavior. Aslib Journal of Information Management, 66(3), 279–296. doi:10.1108/AJIM-09-2013-0081.

Holmberg, K. (2014). The meaning of altmetrics. IATUL annual conference proceedings, (Vol. 35, pp. 1–11). Retrieved from http://search.ebscohost.com/login.aspx?direct=true&db=llf&AN=97787073&site=ehost-live.

Holmberg, K., & Thelwall, M. (2014). Disciplinary differences in Twitter scholarly communication.. doi:10.1007/s11192-014-1229-3.

Hsieh, H.-F., & Shannon, S. E. (2005). Three approaches to qualitative content analysis. Qualitative Health Research, 15(9), 1277–1288. doi:10.1177/1049732305276687.

ICSU (International Council for Science). (2005). ICSU strategic review of science and society: Rights and responsibilities.

Ke, Q., Ahn, Y.-Y., & Sugimoto, C. R. (2016). A systematic identification and analysis of scientists on Twitter. Digital Libraries; Physics and Society. Retrieved from http://arxiv.org/abs/1608.06229.

Lambiotte, R., Delvenne, J.-C., & Barahona, M. (2008). Laplacian dynamics and multiscale modular structure in networks (pp. 1–29). arXiv Preprint arXiv:0812.1770. doi:10.1109/TNSE.2015.2391998.

Larivière, V., & Gingras, Y. (2009). The decline in the concentration of citations, 1900–2007. Journal of the American Society for Information Science and Technology, 60(4), 858–862. doi:10.1002/asi.

Lincoln, Y. S., & Guba, E. G. (1985). Naturalistic inquiry. Newbury Park, CA: Sage Publications.

Liu, C. L., Xu, Y. Q., Wu, H., Chen, S. S., & Guo, J. J. (2013). Correlation and interaction visualization of altmetric indicators extracted from scholarly social network activities: dimensions and structure. Journal of Medical Internet Research. doi:10.2196/jmir.2707.

Mislove, A., Lehmann, S., Ahn, Y., Onnela, J., & Rosenquist, J. N. (2011). Understanding the demographics of Twitter Users. Artificial Intelligence, 554–557. Retrieved from http://www.aaai.org/ocs/index.php/ICWSM/ICWSM11/paper/viewFile/2816/3234.

Neiger, B. L., Thackeray, R., Burton, S. H., Giraud-Carrier, C. G., & Fagen, M. C. (2013). Evaluating social media's capacity to develop engaged audiences in health promotion settings: Use of Twitter metrics as a case study. Health Promotion Practice, 14(2), 157–162. doi:10.1177/1524839912469378.

Nelhans, G., & Gunnarsson Lorentzen, D. (2016). Twitter conversation patterns related to research papers. Information Research, 21(2). Retrieved from http://www.informationr.net/ir/21-2/SM2.html.

Patterson, M., & Monroe, M. R. (1998). Narrative in political science. Annual Review of Political Science, 1, 315–331.

Patton, M. Q. (2002). Qualitative research and evaluation methods. Qualitative Inquiry (Vol. 3rd). doi:10.2307/330063.

Priem, J., & Costello, K. L. (2010). How and why scholars cite on Twitter. In Proceedings of the ASIST Annual Meeting (Vol. 47). doi:10.1002/meet.14504701201.

Priem, J., Groth, P., & Taraborelli, D. (2012). The altmetrics collection. PLoS ONE. doi:10.1371/journal.pone.0048753.

Segerberg, A., & Bennett, W. L. (2011). Social media and the organization of collective action: Using Twitter to explore the ecologies of two climate change protests. The Communication Review, 14(3), 197–215. doi:10.1080/10714421.2011.597250.

Semertzidis, K., Pitoura, E., & Tsaparas, P. (2013). How people describe themselves on Twitter. In Proceedings of the ACM SIGMOD workshop on databases and social networks—DBSocial' (Vols. 13, pp. 25–30). doi:10.1145/2484702.2484708.

Thelwall, M., Tsou, A., Weingart, S., Holmberg, K., & Haustein, S. (2013). Tweeting links to academic articles. Cybermetrics, 17(1), 1–8.

Uddin, M. M., Imran, M., & Sajjad, H. (2014). Understanding types of users on Twitter. arXiv Preprint, 6. Retrieved from http://arxiv.org/abs/1406.1335.

Vergeer, M., Hermans, L., & Sams, S. (2011). Is the voter only a tweet away? Micro blogging during the 2009 European Parliament election campaign in the Netherlands. First Monday. doi:10.5210/fm.v16i8.3540.

Zhang, Y., & Wildemuth, B. M. (2009). Qualitative analysis of content. Applications of Social Research Methods to Questions in Information and Library Science. doi:10.1002/hbm.20661.
Acknowledgements
The authors would like to thank MSc. Jonne Lehtimäki for insightful comments on the article. This research was financed by The Finnish Ministry of Education and Culture's Open Science and Research Initiative 2014–2017 (funding number: OKM/33/524/2015).
About this article
Cite this article
Vainio, J., Holmberg, K. Highly tweeted science articles: who tweets them? An analysis of Twitter user profile descriptions. Scientometrics 112, 345–366 (2017). https://doi.org/10.1007/s11192-017-2368-0
Received:

Published:

Issue Date:
Keywords
Twitter

Twitter profile

Altmetrics

Scholarly communication