Abstract
In this Letter to the Editor, it is proposed that the significance of the difference between two Journal Impact Factors be assessed by calculating confidence intervals. Formulas are provided which can be used to calculate the confidence interval on the basis of the number of papers published and the number of citations received.
Access options
Buy single article
Instant access to the full article PDF.
USD 39.95
Price excludes VAT (USA)
Tax calculation will be finalised during checkout.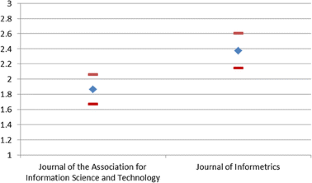 References
Bornmann, L., Marx, W., Gasparyan, A. Y., & Kitas, G. D. (2012). Diversity, value and limitations of the Journal Impact Factor and alternative metrics. Rheumatology International (Clinical and Experimental Investigations), 32(7), 1861–1867.

Cumming, G. (2012). Understanding the new statistics: Effect sizes, confidence intervals, and meta-analysis. London: Routledge.

Cumming, G., & Finch, S. (2005). Inference by eye—Confidence intervals and how to read pictures of data. American Psychologist, 60(2), 170–180. doi:10.1037/0003-066x.60.2.170.

Greenwood, D. C. (2007). Reliability of Journal Impact Factor rankings. BMC Medical Research Methodology. doi:10.1186/1471-2288-7-48.

Moed, H. F. (2002). Measuring China's research performance using the Science Citation Index. Scientometrics, 53(3), 281–296. doi:10.1023/a:1014812810602.

Schubert, A., & Glänzel, W. (1983). Statistical reliability of comparisons based on the citation impact of scientific publications. Scientometrics, 5(1), 59–74.

Williams, R., & Bornmann, L. (2016). Sampling issues in bibliometric analysis. Journal of Informetrics, 10(4), 1253–1257.
About this article
Cite this article
Bornmann, L. Confidence intervals for Journal Impact Factors. Scientometrics 111, 1869–1871 (2017). https://doi.org/10.1007/s11192-017-2365-3
Received:

Published:

Issue Date:

DOI: https://doi.org/10.1007/s11192-017-2365-3
Keywords