Abstract
Using a management formula to standardize innovation management can be thought of as deeply contradictory, however, several successful firms in Spain have been certified under the pioneer innovation management standard UNE 166002. This paper analyzes the effects that standardization has in the attitudes and values as regard to innovation for a sample of firms by text-mining their corporate disclosures. Changes in the relevance of the concepts, co-word networks and emotion analysis have been employed to conclude that the effects of certification on the corporate behavior about innovation are coincident with the open innovation and transversalization concepts that UNE 166002 promotes.
Access options
Buy single article
Instant access to the full article PDF.
USD 39.95
Price includes VAT (USA)
Tax calculation will be finalised during checkout.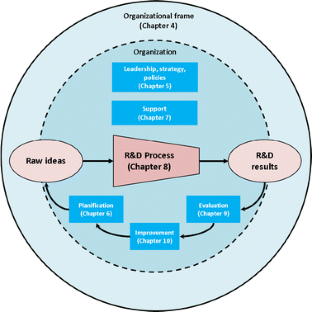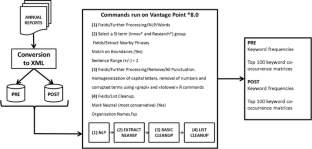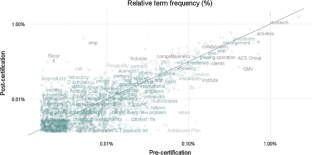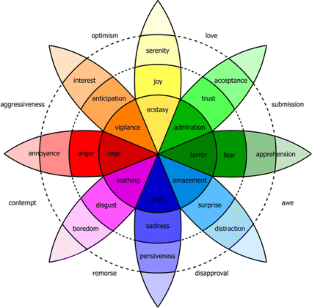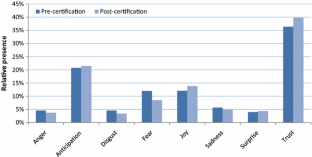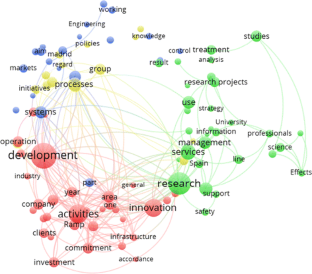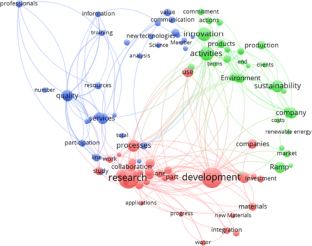 References
AENOR. (2014). Gestión de la I+D+i: Requisitos del Sistema de Gestión de la I+D+i. UNE 166002:2014.

AENOR. (2016). UNE 166002 R&D&I management systems. Retrieved from http://www.en.aenor.es/aenor/certificacion/innovacion/innovacion_sistemas_166002.asp#.Vy5DAoThDak.

Anderson, S. (1999). Why firms seek ISO 9000 certification: Regulatory compliance or competitive advantage? Production and Operations Management, 8(1), 28–43.

Back, B., Toivonen, J., Vanharanta, H., & Visa, A. (2001). Comparing numerical data and text information from annual reports using self-organizing maps. International Journal of Accounting Information Systems, 2(4), 249–269. doi:10.1016/S1467-0895(01)00018-5.

Balakrishnan, R., Qiu, X. Y., & Srinivasan, P. (2010). On the predictive ability of narrative disclosures in annual reports. European Journal of Operational Research, 202(3), 789–801. doi:10.1016/j.ejor.2009.06.023.

Butler, M., & Kešelj, V. (2009). Financial forecasting using character N-Gram analysis and readability scores of annual reports. In Y. Gao & N. Japkowicz (Eds.), Advances in Artificial Intelligence (pp. 39–51). Berlin: Springer. doi:10.1007/978-3-642-01818-3_7.

Cecchini, M., Aytug, H., Koehler, G. J., & Pathak, P. (2010). Making words work: Using financial text as a predictor of financial events. Decision Support Systems, 50(1), 164–175. doi:10.1016/j.dss.2010.07.012.

Glynn, M. A. (1996). Innovative genius: a framework for relating individual and organizational intelligences to innovation. Academy of Management Review, 21(4), 1081–1111. doi:10.5465/AMR.1996.9704071864.

Goel, S., & Gangolly, J. (2012). Beyond the numbers: mining the annual reports for hidden cues indicative of financial statement fraud. Intelligent Systems in Accounting, Finance and Management, 19(2), 75–89. doi:10.1002/isaf.1326.

Gök, A., Waterworth, A., & Shapira, P. (2015). Use of web mining in studying innovation. Scientometrics, 102(1), 653–671. doi:10.1007/s11192-014-1434-0.

Kenneth, J. M. (2011). More than numbers: R&D-related disclosure and firm performance. Dissertation, University of Michigan.

Kim, D.-Y., Kumar, V., & Kumar, U. (2012). Relationship between quality management practices and innovation. Journal of Operations Management, 30(4), 295–315. doi:10.1016/j.jom.2012.02.003.

Kloptchenko, A., Eklund, T., Karlsson, J., Back, B., Vanharanta, H., & Visa, A. (2004). Combining data and text mining techniques for analysing financial reports. Intelligent Systems in Accounting, Finance & Management, 12(1), 29–41. doi:10.1002/isaf.239.

Li, F. (2006). Do stock market investors understand the risk sentiment of corporate annual reports? SSRN Electronic Journal. doi:10.2139/ssrn.898181.

Li, F. (2010). Textual analysis of corporate disclosures: A survey of the literature. Journal of Accounting Literature, 29, 143–165.

Libaers, D., Hicks, D., & Porter, A. L. (2016). A taxonomy of small firm technology commercialization. Industrial and Corporate Change, 25(3), 371–405. doi:10.1093/icc/dtq039.

Liew, W. Te, Adhitya, A., & Srinivasan, R. (2014). Sustainability trends in the process industries: A text mining-based analysis. Computers in Industry, 65(3), 393–400. doi:10.1016/j.compind.2014.01.004.

Liu, Z., & Jiang, Y. (2014). Analysis of multi-dimensional characteristics of corporate social responsibility report using China's listed companies in 2011 as the case study. Journal of Nanjing University of Finance and Economics, 5, 10–18.

Loughran, T., & McDonald, B. (2011). When is a liability not a liability? Textual analysis, dictionaries, and 10-Ks. The Journal of Finance, 66(1), 35–65. doi:10.1111/j.1540-6261.2010.01625.x.

Mir-Mauri, M., & Casadesús, M. (2011). Standardised innovation management systems: A case study of the Spanish Standard UNE 166002:2006. Innovar, 21(40), 171–188.

Mir-Mauri, M., & Fa, M. (2008). Une 166002: 2006: Estandarizar y sistematizar la i+d+i la norma y la importancia de las tic en su implementación. DYNA-Ingeniería E Industria, 83(6), 325–331.

Modapothala, J. R., & Issac, B. (2009). Study of economic, environmental and social factors in sustainability reports using text mining and Bayesian analysis. In 2009 IEEE symposium on industrial electronics & applications (pp. 209–214). doi:10.1109/ISIEA.2009.5356467.

Mohammad, S., & Turney, P. (2013). Crowdsourcing a word–emotion association lexicon. Computational Intelligence, 29(3), 436–465.

Naveh, E., & Erez, M. (2004). Innovation and attention to detail in the quality improvement paradigm. Management Science, 50(11), 1576–1586.

Pekovic, S., & Galia, F. (2009). From quality to innovation: Evidence from two French employer surveys. Technovation, 29(12), 829–842. doi:10.1016/j.technovation.2009.08.002.

Pineda, Á. (2015). Sistematizar con éxito la innovación: UNE 166002 Integrated Circuits Málaga. AENOR: Revista de la normalización y la certificación, 309, 44–47.

Prajogo, D. I., & Hong, S. W. (2008). The effect of TQM on performance in R&D environments: A perspective from South Korean firms. Technovation, 28(12), 855–863. doi:10.1016/j.technovation.2008.06.001.

Prajogo, D. I., & Sohal, A. S. (2004). The multidimensionality of TQM practices in determining quality and innovation performance—An empirical examination. Technovation, 24(6), 443–453. doi:10.1016/S0166-4972(02)00122-0.

Qiu, X. Y., Srinivasan, P., & Hu, Y. (2014). Supervised learning models to predict firm performance with annual reports: An empirical study. Journal of the Association for Information Science and Technology, 65(2), 400–413. doi:10.1002/asi.22983.

Saha, A., & Nabareseh, S. (2015). Communicating corporate social responsibilities: Using text mining for a comparative analysis of banks in India and Ghana. Mediterranean Journal of Social Sciences, 6(3), 11–20. doi:10.5901/mjss.2015.v6n3s1p11.

Shirata, C. Y., Takeuchi, H., Ogino, S., & Watanabe, H. (2011). Extracting key phrases as predictors of corporate bankruptcy: Empirical analysis of annual reports by text mining. Journal of Emerging Technologies in Accounting, 8(1), 31–44. doi:10.2308/jeta-10182.

Terziovski, M., & Guerrero, J.-L. (2014). ISO 9000 quality system certification and its impact on product and process innovation performance. International Journal of Production Economics, 158, 197–207. doi:10.1016/j.ijpe.2014.08.011.
Electronic supplementary material
Below is the link to the electronic supplementary material.
About this article
Cite this article
Garechana, G., Río-Belver, R., Bildosola, I. et al. Effects of innovation management system standardization on firms: evidence from text mining annual reports. Scientometrics 111, 1987–1999 (2017). https://doi.org/10.1007/s11192-017-2345-7
Received:

Published:

Issue Date:
Keywords
UNE 166002

Innovation management

Text mining

Sentiment analysis

Management standards