Abstract
Increased collaboration between researchers working in university, industry, and governmental settings is changing the landscape of academic science. Traditional models of the interaction between these sectors, such as the triple helix concept, draw clear distinctions between academic and non-academic settings and actors. This study surveyed scientists (n = 469) working outside of university settings who published articles indexed in the Web of Science about their modes of collaboration, perceptions about publishing, workplace characteristics, and information sources. We study the association between these variables, and use text analysis to examine the roles, duties, sites, topics, and workplace missions among non-university based authors. Our analysis shows that 72% of authors working in non-university settings who collaborate and publish with other scientists self-identify as academics. Furthermore, their work life resembles that of those working in university settings in that the majority report doing fundamental research in government research organizations and laboratories. Contrary to our initial hypothesis, this research suggests that peer-reviewed publications are much more dominated by non-university academics than we previously thought and that collaboration as co-authors on academic publications is not likely to be a primary conduit for the transfer of scientific knowledge between academe and industry.
This is a preview of subscription content, log in to check access.
Access options
Buy single article
Instant access to the full article PDF.
US$ 39.95
Price includes VAT for USA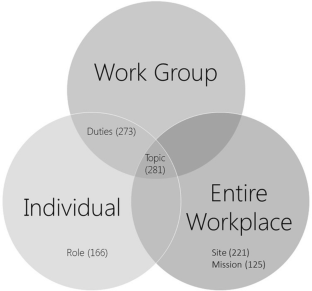 References
Abramo, G., D'Angelo, C. A., Di Costa, F., & Solazzi, M. (2009). University-industry collaboration in Italy: A bibliometric examination. Technovation, 29, 498–507.

Agrawal, A. (2001). University-industry knowledge transfer: Literature review and unanswered questions. International Journal of Management Reviews, 3(4), 285–302.

Altbach, P. G. (1996). The international academic profession. Princeton, NJ: Carnegie Foundation for the Advancement of Teaching.

Altbach, P. G. (1997). An international academic crisis? The American professoriate in comparative perspective. Daedalus, 126(4), 315–338.

Beaver, D. D., & Rosen, R. (1978). Studies in scientific collaboration 1. The professional origins of scientific co-authorship. Scientometrics, 1, 65–84.

Belkhodja, O., & Landry, R. (2007). The Triple-Helix collaboration: Why do researchers collaborate with industry and the government? What are the factors that influence the perceived barriers? Scientometrics, 70, 301.

Bhattacharya, S., & Meyer, M. (2003). Large firms and the science-technology interface - patents, patent citations, and scientific output of multinational corporations in thin films. Scientometrics, 58, 265–279.

Börner, K., Dall'Asta, L., Ke, W., & Vespignani, A. (2005). Studying the emerging global brain: Analyzing and visualizing the impact of co-authorship teams. Complexity, Special Issue on Understanding Complex Systems, 10, 57–67.

Butcher, J., & Jeffrey, P. (2005). The use of bibliometric indicators to explore industry- academia collaboration trends over time in the field of membrane use for water treatment. Technovation, 25, 1273.

Butler, L., & Visser, M. S. (2006). Extending citation analysis to non-source items. Scientometrics, 66, 327.

Clark, Burton R. (1997). Small worlds, different worlds: The uniquenesses and troubles of American academic professions. Daedalus, 126(4), 21–42.

de Solla Price, D. (1965). Is technology historically independent of science? A study in statistical historiography. Technology and Culture, 6, 553–568.

Etzkowitz, H., & Leydesdorff, L. (1995). The Triple Helix–University-industry-government relations: A laboratory for knowledge based economic development. EASST review, 14(1), 14–19.

Fan, W., & Yan, Z. (2010). Factors affecting response rates of the web survey: A systematic review. Computers in Human Behavior, 26(2), 132–139.

Frenken, K., Holzl, W., & de Vor, F. (2005). The citation impact of research collaborations: The case of European biotechnology and applied microbiology (1988–2002). Journal of Engineering and Technology Management, 22, 9–30.

Geuna, A., & Muscio, A. (2008). The governance of University knowledge transfer. Science and Technology Policy Research, 173, 1–29.

Glaser, B. G., & Strauss, A. L. (2009). The discovery of grounded theory: Strategies for qualitative research. Transaction publishers.

Godin, B. (1996). Research and the practice of publication in industries. Research Policy, 25, 587–606.

Godin, B., Barker, R. S., & Landry, R. (1995). Besides academic publications - which sectors compete, or are there competitors. Scientometrics, 33, 3–12.

Henkel, M. (2005). Academic identity and autonomy in a changing policy environment. Higher Education, 49(1–2), 155–176.

Hicks, D. (1995). Tacit competencies and corporate management of the public/private character of knowledge. Industrial and Corporate Change, 4, 401–424.

Hopkins, A. L., Jawitz, J. W., McCarty, C., Goldman, A., & Basu, N. B. (2013). Disparities in publication patterns by gender, race and ethnicity based on a survey of a random sample of authors. Scientometrics, 96(2), 515–534.

IBM Corp. (2013). IBM SPSS Statistics for Windows, Version 22.0. Armonk, NY: IBM Corp.

Katz, J., & Martin, B. (1997). What is research collaboration? Research Policy, 26, 1–18.

Kogan, M. (2000). Higher education communities and academic identity. Higher Education Quarterly, 54(3), 207–216.

Leydesdorff, L., & Meyer, M. (2007). The scientometrics of a Triple Helix of university- industry-government relations (Introduction to the topical issue). Scientometrics, 70(2), 207–222.

Likert, R. (1932). A technique for the measurement of attitudes. Archives of Psychology, 140, 1–55.

Lundberg, J., Tomson, G., Lundkvist, I., Skar, J., & Brommels, M. (2006). Collaboration uncovered: Exploring the adequacy of measuring university-industry collaboration through co-authorship and funding. Scientometrics, 69, 575–589.

MAXQDA, software for qualitative data analysis. (1989–2016). VERBI Software—Consult—Sozialforschung GmbH, Berlin, Germany.

McCarty, C., & Jawitz, J. (2013). Attitudes about publishing and normal science advancement. Journal of Informetrics, 7(4), 850–858.

McCarty, C., Jawitz, J., Hopkins, A., & Goldman, A. (2013). Predicting author h-index using characteristics of the co-author network. Scientometrics, 96(2), 467–483.

McMillan, G., & Hamilton, R. (2000). Corporations need to publish—or perish. Research- Technology Management, 43, 8–10.

Merton, R. (1973). The sociology of science. Chicago, IL: University of Chicago Press.

Nelson, R. (1990). Capitalism as an engine of progress. Research Policy, 19, 193–214.

OED. (2016). Academic, n. and adj. Oxford University Press. Web. 3 January 2017.

Pavitt, K., & Walker, W. (1976). Government policies towards industrial innovation: a review. Research Policy, 5(1), 11–97.

R Development Core Team (2008). R: A language and environment for statistical computing. R Foundation for Statistical Computing, Vienna, Austria. ISBN 3-900051-07-0, http://www.R-project.org.

Ryan, G. W., & Bernard, H. R. (2003). Techniques to identify themes. Field methods, 15(1), 85–109.

Schimank, U., & Winnes, M. (2000). Beyond Humboldt? The relationship between teaching and research in European university systems. Science and public policy, 27(6), 397–408.

Zhao, D. (2005). Challenges of scholarly publications on the web to the evaluation of science–A comparison of author visibility on the Web and in print journals. Information Processing and Management, 41, 1403.
Acknowledgements
This research was supported by a National Science Foundation grant from the Science of Science Policy program award number 0738116.
Electronic supplementary material
Below is the link to the electronic supplementary material.
About this article
Cite this article
Okraku, T.K., Vacca, R., Jawitz, J.W. et al. Identity and publication in non-university settings: academic co-authorship and collaboration. Scientometrics 111, 401–416 (2017). https://doi.org/10.1007/s11192-017-2280-7
Received:

Published:

Issue Date:
Keywords
Collaboration

Academia

Publishing

Knowledge transfer