Abstract
Science is a societal process, designed on widely accepted general rules which facilitate its development. Productive researchers are viewed from the perspective of a social network of their interpersonal relations. In this paper we address performance of Slovenian research community using bibliographic networks between the years 1970 and 2015 from various aspects which determine prolific science. We focus on basic determinants of research performance including productivity, collaboration, internationality, and interdisciplinarity. For each of the determinants, we select a set of statistics and network measures to investigate the state of each in every year of the analyzed period. The analysis is based on high quality data from manually curated information systems. We interpret the results by relating them to important historical events impacting Slovenia and to domestic expenditure for research and development. Our results clearly demonstrate causal relations between the performance of research community and changes in wider society. Political and financial stability together with concise measuring of scientific productivity established soon after Slovenia won independence from Yugoslavia in 1991 had positive influence on all determinants. They were further leveraged by foundation of Slovenian research agency and joining EU and NATO. Publish and perish phenomenon, negative impacts of financial crisis in 2008–2014 and reshaping the domestic expenditure for research and development after 2008 have also clear response in scientific community. In the paper, we also study the researcher's career productivity cycles and present the analysis of the career productivity for all registered researchers in Slovenia.
This is a preview of subscription content, log in to check access.
Access options
Buy single article
Instant unlimited access to the full article PDF.
US$ 39.95
Price includes VAT for USA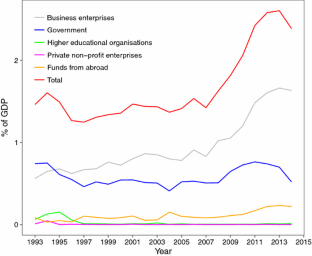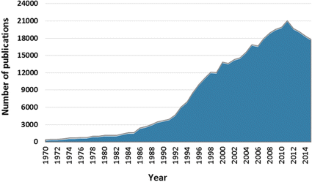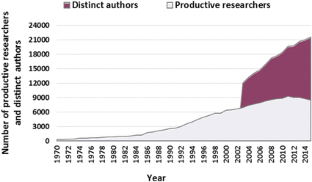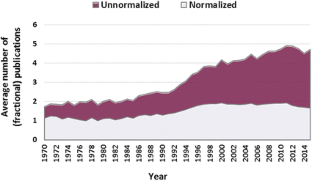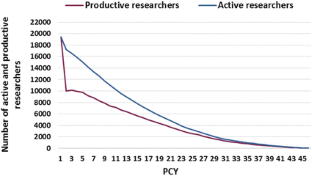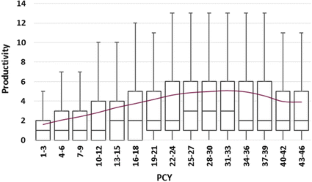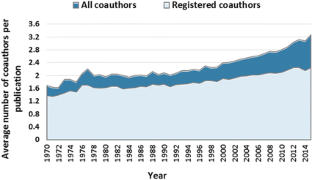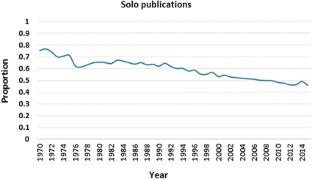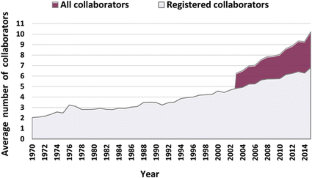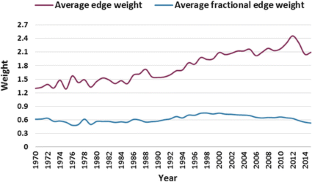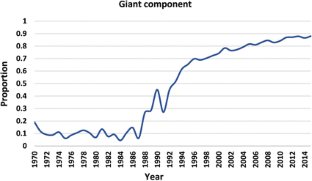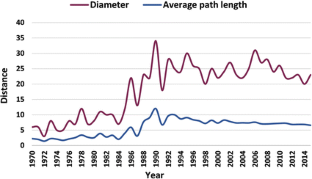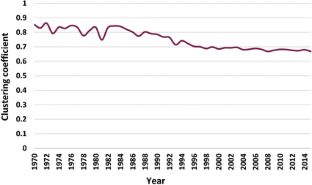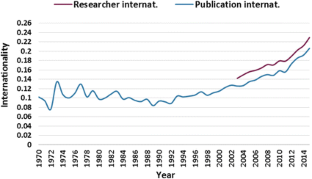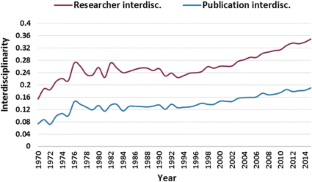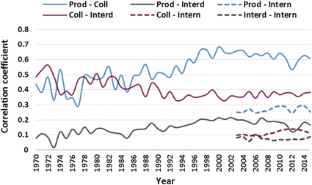 Notes
1.

2.

3.

4.

5.

We say that a publication is scientific if it is classified as an original scientific article, a review article, a short scientific article, a published scientific conference contribution, a published scientific conference contribution abstract, an independent scientific component or a chapter in a monograph, or a scientific monograph.

6.

7.

8.

9.

10.

11.
References
Abbasi, A., Chung, K. S. K., & Hossain, L. (2012). Egocentric analysis of co-authorship network structure, position and performance. Information Processing & Management, 48(4), 671–679.

Ball, P. (2012). Why society is a complex matter: Meeting twenty-first century challenges with a new kind of science. Berlin: Springer.

Boardman, P. C., & Corley, E. A. (2008). University research centers and the composition of research collaborations. Research Policy, 37(5), 900–913.

Bozeman, B., & Corley, E. (2004). Scientists' collaboration strategies: Implications for scientific and technical human capital. Research Policy, 33(4), 599–616.

Çavuşoğlu, A., & Türker, I. (2013). Scientific collaboration network of Turkey. Chaos, Solitons & Fractals, 57, 9–18.

Ferligoj, A., Kronegger, L., Mali, F., Snijders, T. A. B., & Doreian, P. (2015). Scientific collaboration dynamics in a national scientific system. Scientometrics, 104(3), 985–1012.

Fox, M. F., & Mohapatra, S. (2007). Social-organizational characteristics of work and publication productivity among academic scientists in doctoral-granting departments. The Journal of Higher Education, 78(5), 542–571.

Glänzel, W. (2001). National characteristics in international scientific co-authorship relations. Scientometrics, 51(1), 69–115.

Glänzel, W., & Schubert, A. (2005). Domesticity and internationality in co-authorship, references and citations. Scientometrics, 65(3), 323–342.

Han, P., Shi, J., Li, X., Wang, D., Shen, S., & Su, X. (2014). International collaboration in LIS: Global trends and networks at the country and institution level. Scientometrics, 98(1), 53–72.

He, Z. L., Geng, X. S., & Campbell-Hunt, C. (2009). Research collaboration and research output: A longitudinal study of 65 biomedical scientists in a New Zealand university. Research Policy, 38(2), 306–317.

Karlovčec, M., & Mladenić, D. (2015). Interdisciplinarity of scientific fields and its evolution based on graph of project collaboration and co-authoring. Scientometrics, 102(1), 433–454.

Karlovčec, M., Lužar, B., & Mladenić, D. (2016). Core-periphery dynamics in collaboration networks: The case study of Slovenia. Scientometrics, 109(3), 1561–1578. doi:10.1007/s11192-016-2154-4.

Katz, J. (1994). Geographical proximity and scientific collaboration. Scientometrics, 31(1), 31–43.

Katz, J. S., & Martin, B. R. (1997). What is research collaboration? Research Policy, 26(1), 1–18.

Kim, J., Tao, L., Lee, S. H., & Diesner, J. (2016). Evolution and structure of scientific co-publishing network in Korea between 1948–2011. Scientometrics, 107(1), 27–41.

Kronegger, L., Mali, F., Ferligoj, A., & Doreian, P. (2011). Collaboration structures in Slovenian scientific communities. Scientometrics, 90(2), 631–647.

Leahey, E., Beckman, C., & Stanko, T. (2016). Prominent but less productive: The impact of interdisciplinarity on scientists' research. Published Online in Administrative Science Quarterly,. doi:10.1177/0001839216665364.

Lee, S., & Bozeman, B. (2005). The impact of research collaboration on scientific productivity. Social Studies of Science, 35(5), 673–702.

Leydesdorff, L., Wagner, C., Park, H. W., & Adams, J. (2013). International collaboration in science: The global map and the network. El profesional de la información, 22(1), 87–94.

Lindsey, D. (1980). Production and citation measures in the sociology of science: The problem of multiple authorship. Social Studies of Science, 10(2), 145–162.

Liu, P., & Xia, H. (2015). Structure and evolution of co-authorship network in an interdisciplinary research field. Scientometrics, 103(1), 101–134.

Lotka, A. J. (1926). The frequency distribution of scientific productivity. Journal of Washington Academy of Science, 16, 181–218.

Lužar, B., Levnajić, Z., Povh, J., & Perc, M. (2014). Community structure and the evolution of interdisciplinarity in Slovenia's scientific collaboration network. PLoS ONE, 9(4), e94429.

Melin, G. (2000). Pragmatism and self-organization: Research collaboration on the individual level. Research Policy, 29(1), 31–40.

Mena-Chalco, J. P., Digiampietri, L. A., Lopes, F. M., & Cesar, R. M. (2014). Brazilian bibliometric coauthorship networks. Journal of the Association for Information Science and Technology, 65(7), 1424–1445.

Narin, F., Stevens, K., & Whitlow, E. (1991). Scientific co-operation in Europe and the citation of multinationally authored papers. Scientometrics, 21(3), 313–323.

Newman, M. E. (2004). Who is the best connected scientist? A study of scientific coauthorship networks. In E. Ben-Naim, H. Frauenfelder, & Z. Toroczkai (Eds.), Complex Networks (pp. 337–370). Berlin: Springer.

Novak, P., & Demšar, F. (2012). The history of funding research & development in Slovenia. Quark, 18(1), 49–55.

Perc, M. (2010a). Growth and structure of Slovenia's scientific collaboration network. Journal of Informetrics, 4(4), 475–482.

Perc, M. (2010b). Zipf's law and log-normal distributions in measures of scientific output across fields and institutions: 40 years of Slovenia's research as an example. Journal of Informetrics, 4(3), 358–364.

Porter, A., & Rafols, I. (2009). Is science becoming more interdisciplinary? Measuring and mapping six research fields over time. Scientometrics, 81(3), 719–745.

Pravdić, N., & Oluić-Vuković, V. (1986). Dual approach to multiple authorship in the study of collaboration/scientific output relationship. Scientometrics, 10(5–6), 259–280.

Rodela, R. (2016). On the use of databases about research performance: Comments on Karlovčec and Mladenić (2015) and others using the SICRIS database. Scientometrics, 109(3), 2151–2157. doi:10.1007/s11192-016-2073-4.

Shneiderman, B. (2008). Copernican challenges face those who suggest that collaboration, not computation are the driving energy for socio-technical systems that characterize web 2.0. Science, 319(5868), 1349–1350.

Uzzi, B., Mukherjee, S., Stringer, M., & Jones, B. (2013). Atypical combinations and scientific impact. Science, 342(6157), 468–472.

Van Rijnsoever, F. J., & Hessels, L. K. (2011). Factors associated with disciplinary and interdisciplinary research collaboration. Research Policy, 40(3), 463–472.

Wagner, C. S. (2002). The elusive partnership: science and foreign policy. Science and Public Policy, 29(6), 409–417.

Waltman, L., Tijssen, R. J., & van Eck, N. J. (2011). Globalisation of science in kilometres. Journal of Informetrics, 5(4), 574–582.

Watts, D. J., & Strogatz, S. H. (1998). Collective dynamics of 'small-world' networks. Nature, 393(6684), 440–442.

Wuchty, S., Jones, B. F., & Uzzi, B. (2007). The increasing dominance of teams in production of knowledge. Science, 316(5827), 1036–1039.

Yarkoni, T. (2012). Psychoinformatics new horizons at the interface of the psychological and computing sciences. Current Directions in Psychological Science, 21(6), 391–397.

Yoshikane, F., & Kageura, K. (2004). Comparative analysis of coauthorship networks of different domains: The growth and change of networks. Scientometrics, 60(3), 435–446.

Zuckerman, H. (1967). Nobel laureates in science: Patterns of productivity, collaboration, and authorship. American Sociological Review, 32(3), 391–403.
Acknowledgements
The authors thank two anonymous referees for their remarks which helped to improve the manuscript. This research was supported by Slovenian Research Agency Program P1–0383.
About this article
Cite this article
Kastrin, A., Klisara, J., Lužar, B. et al. Analysis of Slovenian research community through bibliographic networks. Scientometrics 110, 791–813 (2017) doi:10.1007/s11192-016-2203-z
Received:

Published:

Issue Date:
Keywords
Research performance

Network analysis

Productivity

Scientific collaboration

Internationality

Interdisciplinarity