Abstract
The present study sought to examine the trend and impact of international collaboration in scientific research in Vietnam during the period after the introduction of the a reform policy and the normalization of relations with the United States. Using the Thomson Reuters' Web of Science data (2001–2015) we found that 77% of Vietnam's scientific output (n = 18,044 papers) involved international collaborations, with the United States and Japan researchers being the most frequent partners. The proportion of international collaborations has decreased slightly over time at the expense of an increased rate of domestic collaborations. The rate of growth in Vietnam's scientific output was 17% per annum, and three-quarters of the growth was associated with international collaborations rather than purely domestic production. Moreover, internationally coauthored papers received twice the average citation as domestic papers. Of note, papers with overseas corresponding author had higher citation rate than papers with domestic corresponding author. These data suggest that the vast majority of scientific papers from Vietnam was attributable to international collaboration, and this had a positive impact on the quality and visibility of Vietnam science. The data also indicate that Vietnam is in the growth phase of building up research capacity.
Access options
Buy single article
Instant access to the full article PDF.
US$ 39.95
Tax calculation will be finalised during checkout.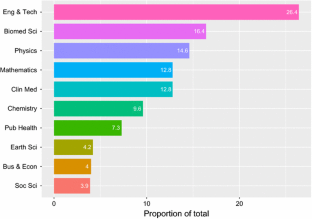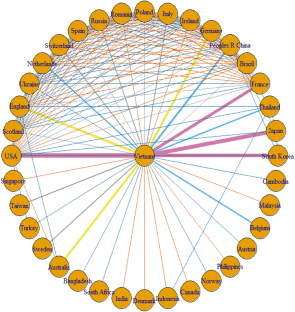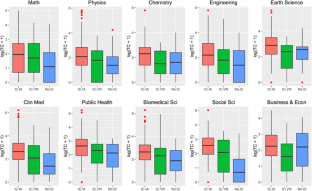 References
Ahn, C. Y. (1991). Technology transfer and economic development: The case of Korea. In K. Minden (Ed.), Pacific cooperation in science and technology. Honolulu: East West Center(I).

Akre, O., Barone-Adesi, F., Pettersson, A., Pearce, N., Merletti, F., & Richiardi, L. (2011). Differences in citation rates by country of origin for papers published in top-ranked medical journals: do they reflect inequalities in access to publication? Journal of Epidemiology and Community Health, 65(2), 119–123.

Antonelli, C., & Fassio, C. (2015). Academic knowledge and economic growth: are scientific fields all alike? Socio-Economic Review. doi:10.1093/ser/mwv025.

Archibugi, D., & Coco, A. (2004). International partnerships for knowledge in business and academia: A comparison between Europe and the USA. Technovation, 24, 517–528.

Australian Academy of Science. (2016). The importance of advanced physical, mathematical and biological sciences to the Australian economy. Australian Academy of Science: Acton.

Baumann, P., Belanger, R. E., Akre, C., & Suris, J. C. (2011). Increased risks of early sexual initiators: time makes a difference. Sex Health, 8(3), 431–435.

Ceci, S. J., & Peters, D. P. (1982). Peer review–a study of reliability. Change, 14(6), 44–48.

Chen, K., Yao, Q., Sun, J., He, Z. F., Yao, L., & Liu, Z. Y. (2016). International publication trends and collaboration performance of China in healthcare science and services research. Israel Journal of Health Policy Research, 5, 1.

De Moya-Anegón, F., & Herrero-Solana, V. (1999). Science in America Latina: a comparison of bibliometric and scientific-technical indicators. Scientometrics, 46, 299–320.

Gantman, E. R. (2012). Economic, linguistic, and political factors in the scientific productivity of countries. Scientometrics, 93, 967–985.

Glanzel, W. (2001). National characteristics in international scientific co-authorship relations. Scientometrics, 51, 69–115.

Hara, N., Solomon, P., Kim, S. L., & Sonnenwald, D. H. (2003). An emerging view of scientific collaboration: Scientists' perspectives on collaboration and factors that impact collaboration. Journal of the American Society for Information Science and Technology, 54, 952–965.

Inglesi-Lotz, R., & Pouris, A. (2012). The influence of scientific research output of academics on economic growth in South Africa: an autoregressive distributed lag (ARDL) application. Scientometrics, 95, 129–139.

Katz, J. S., & Hicks, D. (1997). How much is a collaboration worth? A calibrated bibliometric model. Scientometrics, 40, 541–554.

Kaufmann, A., & Tödtling, F. (2001). Science-industry interaction: the importance of boundary-crossing between systems. Research Policy, 30, 791–801.

Khor, K. A., & Yu, L. G. (2016). Influence of international co-authorship on the research citation impact of young universities. Scientometrics, 107, 1095–1110.

Kim, M. J. (2005). Korean science and international collaboration, 1995–2000. Scientometrics, 63, 321–339.

Leimu, R., & Koricheva, J. (2005). Does scientific collaboration increase the impact of ecological articles. BioScience, 55(5), 438–443.

Lou, W., & He, J. (2015). Does author affiliation reputation affect uncitedness? Proceedings of the Association for Information Science and Technology, 52, 1–4.

Low, W. Y., Ng, K. H., Kabir, M. A., Koh, A. P., & Sinnasamy, J. (2014). Trend and impact of international collaboration in clinical medicine papers published in Malaysia. Scientometrics, 98, 1521–1533.

Mahian, O. (2015). Corresponding authors: Is there fame bias in editorial choice? Nature, 519(7544), 414.

Manh, H. D. (2015). Scientific publications in Vietnam as seen from Scopus during 1996–2013. Scientometrics, 105, 83–95.

Nguyen, T. V., & Pham, L. T. (2011). Scientific output and its relationship to knowledge economy: An analysis of ASEAN countries. Scientometrics, 89, 101–117.

Savanur, K., & Srikanth, R. (2010). Modified collaborative coefficient: a new measure for quantifying the degree of research collaboration. Scientometrics, 84, 365–371.

Schmoch, U., & Schubert, T. (2008). Are international co-publications an indicator for quality of scientific research? Scientometrics, 74, 361–377.

Smith, M. J., Weinberger, C., Bruna, E. M., & Allesina, S. (2014). The scientific impact of nations: journal placement and citation performance. PLoS ONE, 9(10), e109195.

The Royal Society. (2011). Knowledge, networks and nations: Global scientific collaboration in the 21st century. London: The Royal Society.

Tijssen, R. J. W., & van Leeuwen, T. N. (2003). Bibliometric analyses of world science. In Third european report on S&T indicators. European Communities.

Venets, V. I. (2014). Some problems associated with affiliation of the authors in the web of science. Journal of Communications Technology and Electronics, 59, 681–687.

Wagner, C. S., Branmakulam, I., Jackson, B., Wong, A., & Yoda, T. (2001). Science and technology collaboration: Building capacity in developing countries (RAND, 2001). World Bank Report MR-1357.0-WB.

Wang, J. (2013). Citation time window choice for research impact evaluation. Scientometrics, 94, 851–872.

Witze, A. (2016). Research gets increasingly international. Nature. doi:10.1038/nature.2016.19198.

World Bank. (2014). Science Technology and Innovation in Vietnam. OECD Reviews of Innovation Policy. Washington: World Bank.

Zitt, M., & Bassecoulard, E. (2004). S&T networks and bibliometrics: The case of international scientific collaboration. In 4th Proximity Congress: Proximity, Networks and Co-ordination, Marseille (France) (p. 15), June 17, 2004.
Acknowledgements
Professor Tuan V. Nguyen's work is supported by the Australian National Health and Medical Research Council. We thank Professor Robert M. Graham of the Victor Chang Cardiac Research Institute (Australia) for his personal interest of this work and his thoughtful comments that improved the manuscript.
Appendix: Classification of broad research areas
Appendix: Classification of broad research areas
Mathematics
Mathematics—general
Mathematics—applied
Mathematics—miscellaneous
Statistics and probability
Social sciences—mathematical methods
Physics
Acoustics
Crystallography
Physics—general
Physics—applied
Physics—atomic, molecular and chemical
Physics—condensed matter physics—fluids and plasmas
Physics—mathematical optics thermodynamics
Physics—miscellaneous
Physics—nuclear
Physics–particles and fields
Astronomy and astrophysics
Chemistry
Chemistry—general
Chemistry—analytical
Chemistry—applied
Chemistry—inorganic and nuclear
Chemistry—miscellaneous
Chemistry—medicinal
Chemistry—organic
Chemistry—physical
Electrochemistry
Polymer science
Engineering and technology
Engineering—electrical and electronic
Telecommunications
Materials sciences
Metallurgy and metallurgical engineering
Metallurgy and mining
Construction and building technology
Civil Engineering
Mechanical engineering
Instruments and instrumentation
Fuels and energy
Geological engineering
Chemical engineering
Aerospace engineering
Other engineering sciences
Computer sciences
Earth Science
Geochemistry and geophysics
Geography geology
Geosciences—general
Geosciences—interdisciplinary
Remote sensing
Meteorology and atmospheric sciences
Mineralogy
Oceanography
Paleontology
Environmental sciences
Ecology
Environmental sciences
Limnology
Water resources
Clinical Medicine
Allergy
Anesthesiology
Cardiac and cardiovascular system
Cardiovascular system
Chemistry—clinical and medicinal
Clinical neurology
Critical care
Dermatology and venereal diseases
Drugs and addiction
Emergency medicine and critical care
Endocrinology and metabolism
Gastroenterology and hepatology
Geriatrics and gerontology
Hematology
Medical informatics
Medical laboratory technology
Medicine—general and internal
Medicine—miscellaneous
Obstetrics and gynecology
Oncology
Ophthalmology
Orthopedics
Otorhinolaryngology
Pediatrics
Peripheral vascular disease
Psychiatry
Respiratory system
Rheumatology
Sports science
Surgery
Transplantation
Tropical medicine
Urology and nephrology
Vascular diseases
Dentistry and odontology
Oral surgery and medicine
Public Health and Health Sciences
Drugs and addiction
Hygiene and public health
Nursing
Public—environmental and occupational health
Rehabilitation
Substance abuse
Biomedical science
Anatomy and morphology
Andrology
Cytology and histology
Embryology
Immunology
Infectious diseases
Engineering—biomedical
Medicine—research and experimental
Neurosciences
Parasitology
Pathology
Radiology and nuclear medicine
Physiology
Virology
Pharmacology and pharmacy
Toxicology
Basic life sciences
Biochemistry and molecular biology
Biomethods
Biophysics
Biotechnology and applied microbiology
Cell biology
Developmental biology
Genetics and heredity
Microbiology
Reproductive biology
Reproductive systems
Social sciences
Anthropology
Anthropology
Legal medicine
International relations
Communication
Psychology
Religion
Education and educational research
Area studies
Public administration
Family studies
Social work
Physical geography
Behavioral sciences
Linguistics
Women's studies
Paleontology
Information science and library science
Transportation
Geography
Demography
Urban studies
Government and law
Social sciences—other topics
Medical ethics
Cultural studies
Film, radio and television
Sociology
Art
Social issues
Mathematical methods in social sciences
Criminology and penology
Arts and humanities—other topics
History
Archaeology
Literature
Asian Studies
Ethnic Studies
Philosophy
History and philosophy of science
Business and economics
Business and economics
Operations research and management science
About this article
Cite this article
Nguyen, T.V., Ho-Le, T.P. & Le, U.V. International collaboration in scientific research in Vietnam: an analysis of patterns and impact. Scientometrics 110, 1035–1051 (2017). https://doi.org/10.1007/s11192-016-2201-1
Received:

Published:

Issue Date:
Keywords
Vietnam

Developing country

Country effects

Bibliometrics

International collaboration

Citation rate

Journal impact factor