Abstract
Much academic research is never cited and may be rarely read, indicating wasted effort from the authors, referees and publishers. One reason that an article could be ignored is that its topic is, or appears to be, too obscure to be of wide interest, even if excellent scholarship produced it. This paper reports a word frequency analysis of 874,411 English article titles from 18 different Scopus natural, formal, life and health sciences categories 2009–2015 to assess the likelihood that research on obscure (rarely researched) topics is less cited. In all categories examined, unusual words in article titles associate with below average citation impact research. Thus, researchers considering obscure topics may wish to reconsider, generalise their study, or to choose a title that reflects the wider lessons that can be drawn. Authors should also consider including multiple concepts and purposes within their titles in order to attract a wider audience.
Access options
Buy single article
Instant access to the full article PDF.
USD 39.95
Price excludes VAT (USA)
Tax calculation will be finalised during checkout.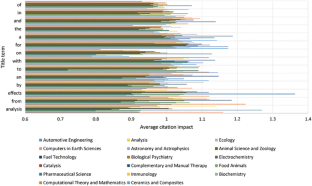 References
Anthony, L. (2001). Characteristic features of research article titles in computer science. IEEE Transactions on Professional Communication, 44(3), 187–194.

Bartol, T., & Stopar, K. (2015). Nano language and distribution of article title terms according to power laws. Scientometrics, 103(2), 435–451.

Boettger, R. K., & Friess, E. (2014). What are the most common title words in technical communication publications? In 2014 IEEE international professional communication conference (IPCC) (pp. 1–7). Los Alamitos, CA: IEEE Press.

Buter, R. K., & van Raan, A. F. (2011). Non-alphanumeric characters in titles of scientific publications: An analysis of their occurrence and correlation with citation impact. Journal of Informetrics, 5(4), 608–617.

Chung, C., & Pennebaker, J. W. (2007). The psychological functions of function words. In K. Fiedler (Ed.), Social communication (pp. 343–359). New York, NY: Psychology Press.

Didegah, F., & Thelwall, M. (2013). Which factors help authors produce the highest impact research? Collaboration, journal and document properties. Journal of Informetrics, 7(4), 861–873.

Fairclough, R., & Thelwall, M. (2015). More precise methods for national research citation impact comparisons. Journal of Informetrics, 9(4), 895–906. doi:10.1016/j.joi.2015.09.005.

Finberg, H. (2015). Journalism professionals, academics debate the value of research. Poynter. http://www.poynter.org/2012/academic-food-fight-over-the-value-of-research/178750/.

Fox, C. W., & Burns, C. S. (2015). The relationship between manuscript title structure and success: Editorial decisions and citation performance for an ecological journal. Ecology and Evolution, 5(10), 1970–1980.

Gamboa, C. (2015). Connecting with the community: Matt owens on obscure research that makes a big impact. Sage connection—inisight. http://connection.sagepub.com/blog/industry-news/2015/07/15/connecting-with-the-community-matt-owens-on-obscure-research-that-makes-a-big-impact/.

Goodman, N. (2012). Familiarity breeds: Clichés in article titles. British Journal of General Practice, 62(605), 656–657.

Guo, S., Zhang, G., Ju, Q., Chen, Y., Chen, Q., & Li, L. (2015). The evolution of conceptual diversity in economics titles from 1890 to 2012. Scientometrics, 102(3), 2073–2088.

Hallock, R. M., & Dillner, K. M. (2016). Should title lengths really adhere to the American Psychological Association's twelve word limit? American Psychologist, 71(3), 240–242.

Hartley, J. (2005). To attract or to inform: What are titles for? Journal of Technical Writing and Communication, 35(2), 203–213.

Hartley, J. (2008). Academic writing and publishing. London: Routledge.

Hudson, J. (2016). An analysis of the titles of papers submitted to the UK REF in 2014: Authors, disciplines, and stylistic details. Scientometrics. doi:10.1007/s11192-016-2081-4.

Jacques, T. S., & Sebire, N. J. (2010). The impact of article titles on citation hits: An analysis of general and specialist medical journals. JRSM Open, 1(1), 2. doi:10.1258/shorts.2009.100020.

Jamali, H. R., & Nikzad, M. (2011). Article title type and its relation with the number of downloads and citations. Scientometrics, 88(2), 653–661.

James, C. R. (2014). Science unshackled: How obscure, abstract, seemingly useless scientific research turned out to be the basis for modern life. Baltimore, MD: JHU Press.

Koppel, M., Schler, J., & Argamon, S. (2009). Computational methods in authorship attribution. Journal of the American Society for Information Science and Technology, 60(1), 9–26.

Lundberg, J. (2007). Lifting the crown—citation z-score. Journal of Informetrics, 1(2), 145–154.

McGowan, J., & Tugwell, P. (2005). Informative titles described article content. Journal of the Canadian Health Libraries Association/Journal de l'Association des bibliothèques de la santé du Canada, 26(3), 83–84.

Mexal, S. (2010). The unintended value of the humanities. The Chronicle of Higher Education. http://chronicle.com/article/The-Unintended-Value-of-the/65619.

Nagano, R. L. (2009). Lexical comparison of journal article titles in soft disciplines. Porta Lingua, 2009, 111–117.

Nair, L. B., & Gibbert, M. (2016). What makes a 'good' title and (how) does it matter for citations? A review and general model of article title attributes in management science. Scientometrics, 107(3), 1331–1359.

Paiva, C. E., Lima, J. P. D. S. N., & Paiva, B. S. R. (2012). Articles with short titles describing the results are cited more often. Clinics, 67(5), 509–513.

Rostami, F., Mohammadpoorad, A., & Hajizadeh, M. (2014). The effects of the characteristics of title on citation rates of articles. Scientometrics, 98(3), 2007–2010.

Sagan, D. (2013). Cosmic apprentice: Dispatches from the edges of science. Minneapolis: University of Minnesota Press.

Sagi, I., & Yechiam, E. (2008). Amusing titles in scientific journals and article citation. Journal of Information Science, 34(5), 680–687.

Sahragard, R., & Meihami, H. (2016). A diachronic study on the information provided by the research titles of applied linguistics journals. Scientometrics, 108(3), 1315–1331.

Selkirk, E. (1996). The prosodic structure of function words. In J. L. Morgan & K. Demuth (Eds.), Signal to syntax: Bootstrapping from speech to grammar in early acquisition (pp. 187–214). New York, NY: Psychology Press.

Subotic, S., & Mukherjee, B. (2014). Short and amusing: The relationship between title characteristics, downloads, and citations in psychology articles. Journal of Information Science, 40(1), 115–124.

Tenopir, C., Wilson, C. S., Vakkari, P., Talja, S., & King, D. W. (2010). Cross country comparison of scholarly e-reading patterns in Australia, Finland, and the United States. Australian Academic and Research Libraries, 41(1), 26–41.

Thelwall, M. (2016). The discretised lognormal and hooked power law distributions for complete citation data: Best options for modelling and regression. Journal of Informetrics, 10(2), 336–346.

Thelwall, M., & Maflahi, N. (2015). How important is computing technology for library and information science research? Library and Information Science Research, 37(1), 42–50.

Waltman, L., van Eck, N. J., van Leeuwen, T. N., Visser, M. S., & van Raan, A. F. (2011). Towards a new crown indicator: Some theoretical considerations. Journal of Informetrics, 5(1), 37–47.
About this article
Cite this article
Thelwall, M. Avoiding obscure topics and generalising findings produces higher impact research. Scientometrics 110, 307–320 (2017). https://doi.org/10.1007/s11192-016-2159-z
Received:

Published:

Issue Date:

DOI: https://doi.org/10.1007/s11192-016-2159-z
Keywords
Citation analysis

Article titles

Research impact

Word frequencies

Academic English