Abstract
The objective of this paper is to understand the relationship between the diffusion and mention of research papers in Twitter according to whether their authors are members or not of that micro-blogging service. To that end, 4166 articles from 76 Twitter users and 124 from non-Twitter users were analysed. Data on Twitter mentions were extracted from PlumX Analytics, information on each Twitter user was taken from the own platform and citations were collected from Scopus public API. Results show that papers from Twitter users are 33 % more tweeted than documents of non-Twitter users. From Twitter users, the increase of followers produces 30 % more tweets. No differences were found between the citation impact (i.e. number of citations) of papers authored by Twitter users and non-Twitter users. However, the number of followers indirectly influences the citation impact. The main conclusion is that the participation on Twitter affects the dissemination of research papers, and in consequence, it indirectly favours the likelihood that academic outputs being cited.
Access options
Buy single article
Instant access to the full article PDF.
USD 39.95
Price excludes VAT (USA)
Tax calculation will be finalised during checkout.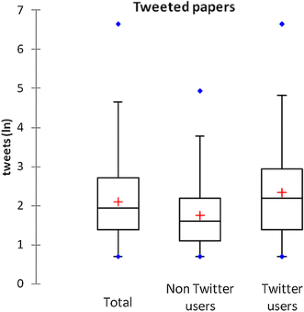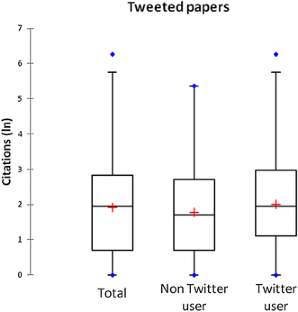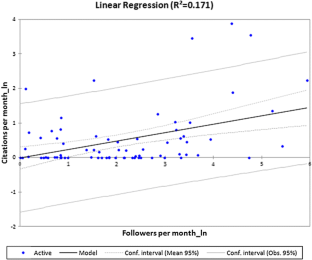 References
Allen, H. G., Stanton, T. R., Di Pietro, F., & Moseley, G. L. (2013). Social media release increases dissemination of original articles in the clinical pain sciences. PLoS One, 8(7), e68914.

Bar-Ilan, J., Haustein, S., Peters, I., Priem, J., Shema, H., & Terliesner, J. (2012). Beyond citations: Scholars' visibility on the social web. arXiv preprint, arXiv:1205.5611.

Barthel, S., Tönnies, S., Köhncke, B., Siehndel, P., & Balke, W. T. (2015). What does Twitter measure? Influence of diverse user groups in altmetrics. In Proceedings of the 15th ACM/IEEE-CE on joint conference on digital libraries (pp. 119–128). Knoxville, TN: ACM.

Bowman, T. D. (2015). Differences in personal and professional tweets of scholars. Aslib Journal of Information Management, 67(3), 356–371.

Callaham, M., Wears, R. L., & Weber, E. (2002). Journal prestige, publication bias, and other characteristics associated with citation of published studies in peer-reviewed journals. Journal of the American Medical Association, 287(21), 2847–2850.

Chen, B. (2011). Is the backchannel enabled? Using twitter at academic conferences. In 2011 Annual meeting of American educational research association (pp. 1–13). New Orleans, LA: AERA.

Costas, R., Zahedi, Z., & Wouters, P. (2015). Do "altmetrics" correlate with citations? Extensive comparison of altmetric indicators with citations from a multidisciplinary perspective. Journal of the Association for Information Science and Technology, 66(10), 2003–2019.

Darling, E. S., Shiffman, D., Côté, I. M., & Drew, J. A. (2013). The role of Twitter in the life cycle of a scientific publication. arXiv preprint arXiv:1305.0435.

De Winter, J. C. F. (2015). The relationship between tweets, citations, and article views for PLOS ONE articles. Scientometrics, 102(2), 1773–1779.

Dietrich, J. P. (2008). Disentangling visibility and self-promotion bias in the arxiv: astro-ph positional citation effect. Publications of the Astronomical Society of the Pacific, 120(869), 801.

Ebner, M. (2013). The influence of Twitter on the academic environment. In B. Pătruţ, M. Pătrut, & C. Cmeciu (Eds.), Social media and the new academic environment: Pedagogical challenges (pp. 293–307). Hershey, PA: IGI Global.

Ebrahim, N. A., Salehi, H., Embi, M. A., Tanha, F. H., Gholizadeh, H., & Motahar, S. M. (2014). Visibility and citation impact. International Education Studies, 7(4), 120–125.

Eysenbach, G. (2011). Can tweets predict citations? Metrics of social impact based on Twitter and correlation with traditional metrics of scientific impact. Journal of medical Internet research, 13(4), e123.

Gruzd, A. (2012). Discovery and visualization of scholarly information diffusion in twitter networks. In Workshop on mapping ideas: Discovering and information landscapes. San Diego, CA: San Diego State University.

Harnad, S., & Brody, T. (2004). Comparing the impact of open access (OA) vs. non-OA articles in the same journals. D-lib Magazine, 10(6). http://www.dlib.org/dlib/june04/harnad/06harnad.html.

Haustein, S., Costas, R., & Larivière, V. (2015). Characterizing social media metrics of scholarly papers: The effect of document properties and collaboration patterns. PLoS One, 10(3), e0120495.

Haustein, S., Peters, I., Sugimoto, C. R., Thelwall, M., & Larivière, V. (2014). Tweeting biomedicine: An analysis of tweets and citations in the biomedical literature. Journal of the Association for Information Science and Technology, 65(4), 656–669.

Holmberg, K., Bowman, T. D., Haustein, S., & Peters, I. (2014). Astrophysicists' conversational connections on Twitter. PLoS One, 9(8), e106086.

Holmberg, K., & Thelwall, M. (2014). Disciplinary differences in Twitter scholarly communication. Scientometrics, 101(2), 1027–1042.

Huberman, B. A., Romero, D. M., & Wu, F. (2008). Social networks that matter: Twitter under the microscope. Available at SSRN 1313405.

Java, A., Song, X., Finin, T., & Tseng, B. (2007). Why we twitter: understanding microblogging usage and communities. In Proceedings of the 9th WebKDD and 1st SNA-KDD 2007 workshop on Web mining and social network analysis (pp. 56–65). New York, NY: ACM.

Kim, H. M., Abels, E. G., & Yang, C. C. (2012). Who disseminates academic library information on Twitter? Proceedings of the American Society for Information Science and Technology, 49(1), 1–4.

Kwak, H., Lee, C., Park, H., & Moon, S. (2010). What is Twitter, a social network or a news media? In Proceedings of the 19th international conference on world wide web (pp. 591–600). New York, NY: ACM.

Lawrence, S. (2001). Online or invisible. Nature, 411(6837), 521.

Letierce, J., Passant, A., Breslin, J. G., & Decker, S. (2010). Using Twitter during an academic conference: The# iswc2009 use-case. In Proceedings of the fourth international AAAI conference on weblogs and social media (pp. 279–282). Palo Alto, CA: AAAI.

Maleki, A. (2014). Twitter users in science tweets linking to articles: The case of web of science articles with Iranian authors. In SIGMET workshop METRICS 2014. Seattle, WA: American Society for Information Science and Technology.

Moed, H. F. (2007). The effect of "open access" on citation impact: An analysis of ArXiv's condensed matter section. Journal of the American Society for Information Science and Technology, 58(13), 2047–2054.

Murthy, D. (2013). Twitter: Social communication in the Twitter age. Cambridge: Polity Press.

Priem, J., Piwowar, H. A., & Hemminger, B. M. (2012). Altmetrics in the wild: Using social media to explore scholarly impact. arXiv preprint arXiv:1203.4745.

Shuai, X., Pepe, A., & Bollen, J. (2012). How the scientific community reacts to newly submitted preprints: Article downloads, twitter mentions, and citations. PLoS One, 7(11), e47523.

Thelwall, M., Haustein, S., Larivière, V., & Sugimoto, C. R. (2013). Do altmetrics work? Twitter and ten other social web services. PLoS One, 8(5), e64841.

Weller, K., Dröge, E., & Puschmann, C. (2011). Citation analysis in Twitter: Approaches for defining and measuring information flows within tweets during scientific conferences. In MSM2011 1st workshop on making sense of microposts (pp. 1–12).

Zahedi, Z., Costas, R., & Wouters, P. (2014). How well developed are altmetrics? A cross-disciplinary analysis of the presence of 'alternative metrics' in scientific publications. Scientometrics, 101(2), 1491–1513.
About this article
Cite this article
Ortega, J.L. To be or not to be on Twitter, and its relationship with the tweeting and citation of research papers. Scientometrics 109, 1353–1364 (2016). https://doi.org/10.1007/s11192-016-2113-0
Received:

Published:

Issue Date:

DOI: https://doi.org/10.1007/s11192-016-2113-0
Keywords
Twitter

Altmetrics

PlumX Analytics

Citation impact

Research dissemination