Abstract
Funding acknowledgements found in scientific publications have been used to study the impact of funding on research since the 1970s. However, no broad scale indexation of that paratextual element was done until 2008, when Thomson Reuters' Web of Science started to add funding acknowledgement information to its bibliographic records. As this new information provides a new dimension to bibliometric data that can be systematically exploited, it is important to understand the characteristics of these data and the underlying implications for their use. This paper analyses the presence and distribution of funding acknowledgement data covered in Web of Science. Our results show that prior to 2009 funding acknowledgements coverage is extremely low and therefore not reliable. Since 2008, funding information has been collected mainly for publications indexed in the Science Citation Index Expanded; more recently (2015), inclusion of funding texts for publications indexed in the Social Science Citation Index has been implemented. Arts & Humanities Citation Index content is not indexed for funding acknowledgement data. Moreover, English-language publications are the most reliably covered. Finally, not all types of documents are equally covered for funding information indexation and only articles and reviews show consistent coverage. The characterization of the funding acknowledgement information collected by Thomson Reuters can therefore help understand the possibilities offered by the data but also their limitations.
Access options
Buy single article
Instant access to the full article PDF.
US$ 39.95
Tax calculation will be finalised during checkout.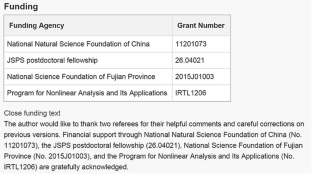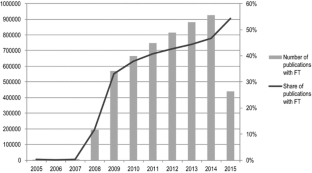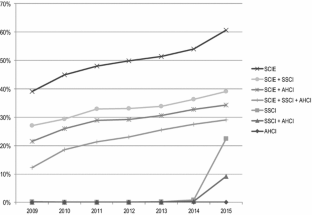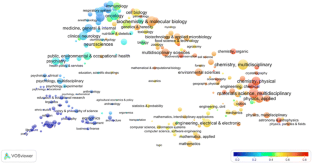 Notes
1.

Multilingual papers were considered as 'English-language papers' if English was among the languages listed for the paper.

2.

After the submission of this paper and during the review process, we became aware of another, as-of-yet unpublished study made available through the ArXiv.org repository and addressing the same topic but with important variations in the analysis: cf. Tang et al. (2016).

3.

This is an internal guideline policy document. Thomson Reuters indicated to us that they intend to update their website to include these guidelines (Mathilda Edmunds, Director of Content Management, personal communication). In the meantime, interested researchers are invited to contact Thomson Reuters directly for further information.
References
Costas, R., & van Leeuwen, T. N. (2012). Approaching the "reward triangle": General analysis of the presence of funding acknowledgments and "peer interactive communication" in scientific publications. Journal of the American Society for Information Science and Technology, 63(8), 1647–1661.

Costas, R., & Yegros-Yegros, A. (2013). Possibilities of funding acknowledgement analysis for the bibliometric study of research funding organizations: Case study of the Austrian Science Fund (FWF). In Proceedings of the 14th international conference of the international society for scientometrics and informetrics (Vol. II, pp. 1401–1408). Vienna.

Crawford, E. T., & Biderman, A. D. (1970). Paper money: Trends of research sponsorship in American sociology journals. Social Science Information, 9(1), 50–77. doi:10.1177/053901847000900103.

Cronin, B., & Shaw, D. (1999). Citation, funding acknowledgement and author nationality relationships in four information science journals. Journal of Documentation, 55(4), 402–408.

Desrochers, N., Paul-Hus, A., & Larivière, V. (2016). The angle sum theory: Exploring the literature on acknowledgments in scholarly communication. In C. R. Sugimoto (Ed.), Theories of informetrics and scholarly communication. Berlin, De Gruyter.

Díaz-Faes, A. A., & Bordons, M. (2014). Acknowledgments in scientific publications: Presence in Spanish science and text patterns across disciplines. Journal of the Association for Information Science and Technology,. doi:10.1002/asi.23081.

Ellwein, L. B., Kroll, P., & Narin, F. (1996). Linkage between research sponsorship and patented eye-care technology. Investigative Ophthalmology & Visual Science, 37(12), 2495–2503.

Harter, S. P., & Hooten, P. A. (1992). Information science and scientists: JASIS, 1972–1990. Journal of the American Society for Information Science, 43(9), 583–593. doi:10.1002/(SICI)1097-4571(199210)43:9<583:AID-ASI1>3.0.CO;2-O.

Jeschin, D., Lewison, G., & Anderson, J. (1995). A bibliometric database for tracking acknowledgements of research funding. In Proceedings of the fifth international conference of the international society for scientometrics and informetrics (pp. 235–244).

Lewison, G., & Dawson, G. (1998). The effect of funding on the outputs of biomedical research. Scientometrics, 41(1–2), 17–27. doi:10.1007/BF02457963.

Lewison, G., & Markusova, V. (2010). The evaluation of Russian cancer research. Research Evaluation, 19(2), 129–144. doi:10.3152/095820210X510098.

Lewison, G., & Roe, P. (2012). The evaluation of Indian cancer research, 1990–2010. Scientometrics, 93(1), 167–181. doi:10.1007/s11192-012-0633-9.

Lewison, G., & Sullivan, R. (2015). Conflicts of interest statements on biomedical papers. Scientometrics, 102(3), 2151–2159.

Markusova, V. A., Libkind, A., & Aversa, E. (2012). Impact of competitive funding on research output in Russia. Collnet Journal of Scientometrics and Information Management, 6(1), 61–69. doi:10.1080/09737766.2012.10700924.

Morillo, F., Costas, R., & Bordons, M. (2015). How is credit given to networking centres in their publications? A case study of the Spanish CIBER research structures. Scientometrics, 103(3), 923–938. doi:10.1007/s11192-015-1564-z.

Mussurakis, S. (1994). Financial support for research in radiology: a survey of original investigations published in the AJR and Radiology. American Journal of Roentgenology (AJR), 163(4), 973–979.

Rangnekar, D. (2005). Acknowledged: Analysing the bibliometric presence of the Multiple Sclerosis Society. Aslib Proceedings, 57(3), 247–260. doi:10.1108/00012530510599208.

Reuters, T. (2015). Thomson Reuters Bibliographic Policy Funding Acknowledgements. Internal document.

Rigby, J. (2011). Systematic grant and funding body acknowledgement data for publications: New dimensions and new controversies for research policy and evaluation. Research Evaluation, 20(5), 365–375. doi:10.3152/095820211X13164389670392.

Rigby, J. (2013). Looking for the impact of peer review: Does count of funding acknowledgements really predict research impact? Scientometrics, 94(1), 57–73. doi:10.1007/s11192-012-0779-5.

Shapira, P., & Wang, J. (2010). Follow the money. Nature, 468(7324), 627–628. doi:10.1038/468627a.

Tang, L., Hu, G., & Liu, W. (2016). Funding acknowledment analysis: Queries and caveats. http://arxiv.org/abs/1601.00245 (accepted for publication by the Journal of the Association for Information Science and Technology).

Wang, J., & Shapira, P. (2011). Funding acknowledgement analysis: An enhanced tool to investigate research sponsorship impacts: The case of nanotechnology. Scientometrics, 87(3), 563–586. doi:10.1007/s11192-011-0362-5.

Web of Science. (2009). Funding Acknowledgements. http://wokinfo.com/products_tools/multidisciplinary/webofscience/fundingsearch/.

Zhao, D. (2010). Characteristics and impact of grant-funded research: A case study of the library and information science field. Scientometrics, 84(2), 293–306. doi:10.1007/s11192-010-0191-y.
Acknowledgments
This research was conducted while Rodrigo Costas was a visiting scholar at the Canada Research Chair on the Transformations of Scholarly Communication (CRCTSC-Université de Montréal), supported by the Center for Science and Technology Studies (CWTS-Leiden University) and by funding from the South African DST-NRF Centre of Excellence in Scientometrics and STI Policy (SciSTIP). The study was further supported by the Social Sciences and Humanities Research Council of Canada (SSHRC) and the Fonds de recherche du Québec—Société et culture (FRQSC). The authors also thank Mathilda Edmunds and Deepti Chikkam from Thomson Reuters for discussions about their internal documentation and for their input in the interpretation of the results. Finally, they wish to thank María Bordons from the CCHS-CSIC for her insight on funding acknowledgement data and Philippe Mongeon from EBSI (Université de Montréal) for his input on database analysis.

Appendix
Appendix
See Table 3.
About this article
Cite this article
Paul-Hus, A., Desrochers, N. & Costas, R. Characterization, description, and considerations for the use of funding acknowledgement data in Web of Science. Scientometrics 108, 167–182 (2016). https://doi.org/10.1007/s11192-016-1953-y
Received:

Published:

Issue Date:
Keywords
Funding acknowledgements

Web of Science

Bibliometrics