Abstract
Ideally, in a reviewing process, it is generally easier for referees to make faster and more reliable decisions for high quality papers, which ideally and on average will later attract more citations. Therefore, it is possible that the editorial delay time—the time between dates of submission and acceptance or publication—is correlated to the number of received citations, as has been weakly confirmed by previous studies. In this study, we propose a different measure for this correlation. Instead of directly calculating the correlation coefficient between the editorial delay and the number of citations, we define a ratio of above median highly cited papers and perform correlation analysis between editorial delay and that ratio for all academic papers published in Nature, Science and Physical Review Letters. Using this alternative measure, we find that on average papers with shorter editorial delay do have larger probabilities of becoming highly cited papers.
Access options
Buy single article
Instant access to the full article PDF.
US$ 39.95
Tax calculation will be finalised during checkout.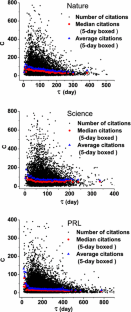 References
Amat, C. B. (2008). Editorial and publication delay of papers submitted to 14 selected food research journals. Influence of online posting. Scientometrics, 74(3), 379–389.

De Bellis, N. (2009). Bibliometrics and citation analysis: From the Science Citation Index to cybermetrics. Lanham: Scarecrow Press.

Petersen, A. M., Fortunato, S., Pan, R. K., Kaski, K., Penner, O., Rungi, A., et al. (2014). Reputation and impact in academic careers. Proceedings of the National Academy of Sciences, 111(43), 15316–15321.

Shen, S., Rousseau, R., Wang, D., Zhu, D., Liu, H., & Liu, R. (2015). Editorial delay and its relation to subsequent citations: The journals nature, science and cell. Scientometrics, 105(3), 1867–1873.

Shen, Z., Yang, L., Pei, J., Li, M., Wu, C., Bao, J., et al. (2016). Interrelations among scientific fields and their relative influences revealed by an input-output analysis. Journal of Informetrics, 10(1), 82–97.

Wei, T., Li, M., Wu, C., Yan, X. Y., Fan, Y., Di, Z., et al. (2013). Do scientists trace hot topics? Scientific Reports, 3, 2207.

Yegros, A. Y., & Amat, C. B. (2009). Editorial delay of food research papers is influenced by authors experience but not by country of origin of the manuscripts. Scientometrics, 81(2), 367–380.
Acknowledgments
This work was supported by NSFC under Grant Nos. 61374175 and 10875086. We are very grateful to the reviewers for helpful suggestions.
About this article
Cite this article
Lin, Z., Hou, S. & Wu, J. The correlation between editorial delay and the ratio of highly cited papers in Nature, Science and Physical Review Letters . Scientometrics 107, 1457–1464 (2016). https://doi.org/10.1007/s11192-016-1936-z
Received:

Published:

Issue Date:
Keywords
Editorial delay

Received citations

Highly cited papers