Abstract
The paper describes a method to combine the information on the number of citations and the relevance of the publishing journal (as measured by the Impact Factor or similar impact indicators) of a publication to rank it with respect to the world scientific production in the specific subfield. The linear or non-linear combination of the two indicators is represented on the scatter plot of the papers in the specific subfield in order to immediately visualize the effect of a change in weights. The final rank of the papers is therefore obtained by partitioning the two-dimensional space through linear or higher order curves. The procedure is intuitive and versatile since it allows, after adjusting few parameters, an automatic and calibrated assessment at the level of the subfield. The derived evaluation is homogeneous among different scientific domains and can be used to address the quality of research at the departmental (or higher) levels of aggregation. We apply this method, that is designed to be feasible on a scale typical of a national evaluation exercise and to be effective in terms of cost and time, to some instances of the Thomson Reuters Web of Science database and discuss the results in view of what was done recently in Italy for the Evaluation of Research Quality exercise 2004–2010. We show how the main limitations of the bibliometric methodology used in that context can be easily overcome.
Access options
Buy single article
Instant access to the full article PDF.
US$ 39.95
Tax calculation will be finalised during checkout.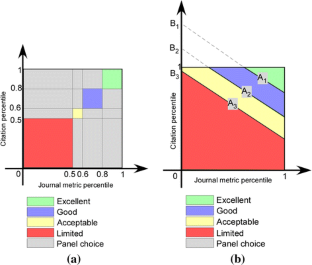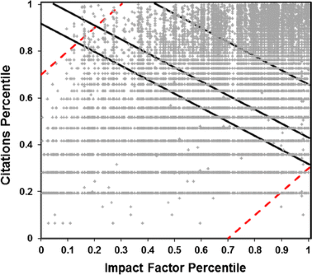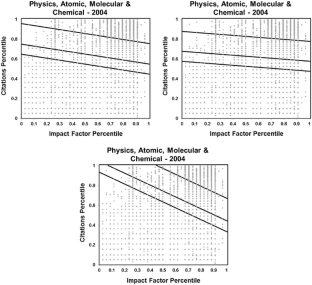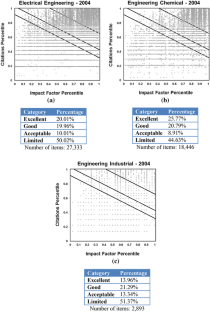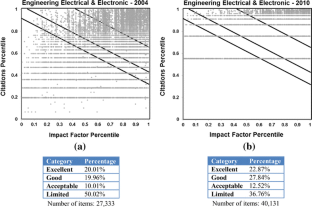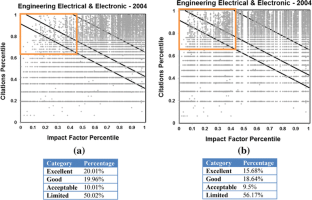 Notes
1.

As defined by Web of Science by Thomson Reuters® or Scopus by Elsevier® databases, respectively.

2.

CIT: by ordering the total number of paper published in that SC and in that year in decreasing order from the highest to the lowest cited; IF: by ordering the journals belonging to that SC in that year in decreasing order from the highest IF to the lowest. This is not the only strategy to build the cumulative distribution function for the IF variable, as we will discuss later in the paper.

3.

Except for the Physical Sciences one ("GEV 02").

4.

By relevant we mean that a great number (more than 100) of papers to be evaluated fell under that SC.
References
Abramo, G., & D'Angelo, C. A. (2011). Evaluating research: From informed peer review to bibliometrics. Scientometrics, 87, 499–514.

Abramo, G., D'Angelo, C. A., & Di Costa, F. (2011). National research assessment exercises: A comparison of peer review and bibliometrics rankings. Scientometrics, 89, 929–941.

Aksnes, D. W., & Taxt, R. E. (2004). Peer reviews and bibliometric indicators: A comparative study at a Norwegian university. Research Evaluation, 13, 33–41.

Alberts, B. (2013). Impact factor distortions. Science, 340, 787–787.

Ancaiani, A., Anfossi, A. F., Barbara, A., Benedetto, S., Blasi, B., Carletti, V., Cicero, T., Ciolfi, A., Costa, F., & Colizza, G., et al. (2015). Evaluating scientific research in Italy: The 2004–2010 research evaluation exercise. Research Evaluation. doi:10.1093/reseval/rvv008

Barker, K. (2007). The UK Research Assessment Exercise: The evolution of a national research evaluation system. Research Evaluation, 16, 3–12.

Bence, V., & Oppenheim, C. (2004). The influence of peer review on the research assessment exercise. Journal of Information Science, 30, 347–368.

Bergstrom, C. T., & West, J. D. (2008). Assessing citations with the Eigenfactor™ metrics. Neurology, 71, 1850–1851.

Bladek, M. (2014). DORA San Francisco declaration on research assessment (May 2013). College and Research Libraries News, 75, 191–196.

Bollen, J., Van de Sompel, H., Hagberg, A., & Chute, R. (2009). A principal component analysis of 39 scientific impact measures. PLoS ONE, 4, e6022.

Butler, L. (2003). Modifying publication practices in response to funding formulas. Research Evaluation, 12, 39–46.

Butler, L. (2008). Using a balanced approach to bibliometrics: Quantitative performance measures in the Australian Research Quality Framework. Ethics in Science and Environmental Politics, 8, 83–92.

Eyre-Walker, A., & Stoletzki, N. (2013). The assessment of science: the relative merits of post-publication review, the impact factor, and the number of citations. PLoS Biology, 11, e1001675.

Falagas, M. E., Kouranos, V. D., Arencibia-Jorge, R., & Karageorgopoulos, D. E. (2008). Comparison of SCImago journal rank indicator with journal impact factor. FASEB J, 22, 2623–2628.

Fersht, A. (2009). The most influential journals: Impact Factor and Eigenfactor. PNAS, 106, 6883–6884.

Franceschet, M., & Costantini, A. (2010). The effect of scholar collaboration on impact and quality of academic papers. Journal of Informetrics, 4, 540–553.

Glänzel, W., & Thijs, B. (2004). The influence of author self-citations on bibliometric macro indicators. Scientometrics, 59, 281–310.

HEFCE. (2011). REF2014 impact pilot exercise. Www.hefce.ac.uk/research/ref/impact/. Accessed October 2011.

Moed, H. F. (2009). New developments in the use of citation analysis in research evaluation. Archivum Immunologiae et Therapiae Experimentalis, 57, 13–18.

Moed, H. F., Glänzel, W., & Schmoch, U. (2005). Editors' introduction. Berlin: Springer.

Oppenheim, C. (2008). Out with the old and in with the new: The RAE, bibliometrics and the new REF. Journal of Librarianship and Information Science, 40, 147–149.

Reale, E., Barbara, A., & Costantini, A. (2007). Peer review for the evaluation of academic research: Lessons from the Italian experience. Research Evaluation, 16, 216–228.

Seglen, P. O. (1997). Why the impact factor of journals should not be used for evaluating research. BMJ, 314, 497.

Setti, G. (2013). Bibliometric indicators: Why do we need more than one? IEEE Access, 1, 232–246.

Smith, D. A. T., & Eysenck, P. M. (2002). The correlation between RAE ratings and citation counts in psychology. Royal Holloway: University of London.

Warner, J. (2000). A critical review of the application of citation studies to the Research Assessment Exercises. Journal of Information Science, 26, 453–459.
Acknowledgments
The authors would like to thank Dr. Marco Malgarini for useful discussions.
About this article
Cite this article
Anfossi, A., Ciolfi, A., Costa, F. et al. Large-scale assessment of research outputs through a weighted combination of bibliometric indicators. Scientometrics 107, 671–683 (2016). https://doi.org/10.1007/s11192-016-1882-9
Received:

Published:

Issue Date:
Keywords
Bibliometric evaluation

Institutional rankings

Evaluation processes

University policy