Abstract
As an alternative metric of journal impact factor (JIF), journal impact factor quartile is increasingly adopted to compare the research impact of journals within and across different domains. We adopt both optimistic and pessimistic approaches to illustrate the JIF distributions of journals listed in the 2015 Journal Citation Reports. We find that at least one-third of Web of Science publications are actually published in the first quartile (high impact factor journals). In comparison, at most 16.5 % of publications are published in the fourth quartile (low impact factor journals). We argue that Bornmann and Marx's (Scientometrics 98(1):487–509, 2014) claim that "One can expect that 25 % of a researcher's publications have been published in the first quartile" is not precise.
This is a preview of subscription content,
to check access.
Access this article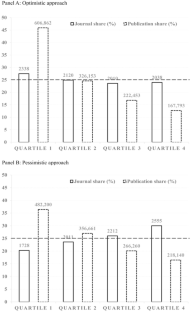 Notes
Citable items denote articles and reviews. In this letter, only these two document types are considered.
References
Alvarez, P., Boulaiz, H., Velez, C., Rodriguez-Serrano, F., Ortiz, R., Melguizo, C., et al. (2014). Qualitative and quantitative analyses of anatomists' research: Evaluation of multidisciplinarity and trends in scientific production. Scientometrics, 98(1), 447–456.

Bornmann, L., & Marx, W. (2014). How to evaluate individual researchers working in the natural and life sciences meaningfully? A proposal of methods based on percentiles of citations. Scientometrics, 98(1), 487–509.

Chinchilla-Rodriguez, Z., Arencibia-Jorge, R., de Moya-Anegon, F., & Corera-Alvarez, E. (2015). Somes patterns of Cuban scientific publication in Scopus: The current situation and challenges. Scientometrics, 103(3), 779–794.

Ibáñez, A., Bielza, C., & Larranaga, P. (2013). Relationship among research collaboration, number of documents and number of citations: A case study in Spanish computer science production in 2000–2009. Scientometrics, 95(2), 689–716.

Tang, L. (2013). Does "birds of a feather flock together" matter-Evidence from a longitudinal study on US-China scientific collaboration. Journal of Informetrics, 7(2), 330–344.

Tang, L., Shapira, P., & Youtie, J. (2015). Is there a clubbing effect underlying Chinese research citation increases? Journal of the Association for Information Science and Technology, 66(9), 1923–1932.

Zhou, P., & Lv, X. (2015). Academic publishing and collaboration between China and Germany in physics. Scientometrics, 105(3), 1875–1887.
Acknowledgments
This research is supported by National Natural Science Foundation of China (#71303147). We appreciate the valuable comments and feedback of two anonymous reviewers. The views expressed herein are those of the authors and not necessarily those of the funder listed here. We are responsible for any errors.
About this article
Cite this article
Liu, W., Hu, G. & Gu, M. The probability of publishing in first-quartile journals. Scientometrics 106, 1273–1276 (2016). https://doi.org/10.1007/s11192-015-1821-1
Received:

Published:

Issue Date:

DOI: https://doi.org/10.1007/s11192-015-1821-1
Keywords