Abstract
Robotics technology holds a significant promise for improving industrial automation and production lines, operating complex surgical procedures, performing space and security missions, and providing services to assist, educate and entertain humans. The emphasis of this paper is primarily on the scientific developments of robotics systems of innovation in a global perspective, identifying actors and institutions involved in developing and diffusing this innovative technology. This quantitative research is grounded on tech mining research method that is the combination of content analysis, bibliometrics and text mining. The analysis measures the scientific performance of individual countries based on robotics-related scientific publications from INSPEC database over the period 1995–2009. It discusses the role of academia, governmental institutions and firms in robotics scientific activities and further identifies the most prolific institutions involved in robotics research. The cross-country analysis sheds light on the evolution of robotics publication activities in time and reveals the relative technological specialization of individual countries in specific domains of robotics technology by the use of revealed technological advantage indices. The findings are particularly useful for science and technology policy makers and R&D strategists, presenting strengths and weaknesses of robotics innovation systems and existing and future scientific developments of robotics technology.
Access options
Buy single article
Instant access to the full article PDF.
USD 39.95
Price excludes VAT (USA)
Tax calculation will be finalised during checkout.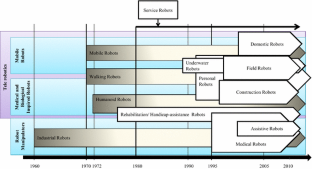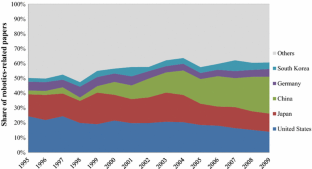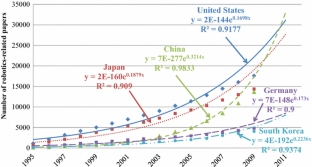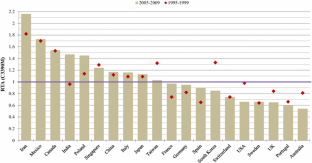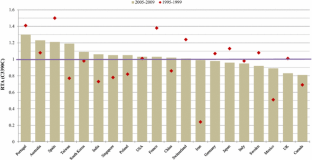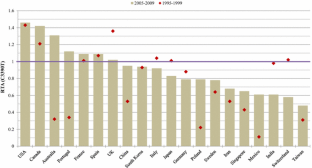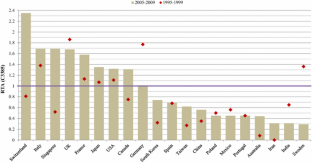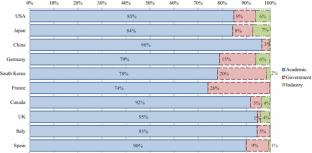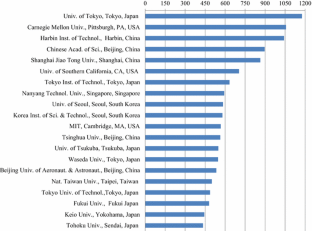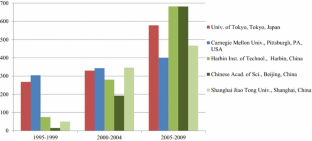 References
Bekey, G. A., Ambrose, R., Kumar, V., Sanderson, A., Wilcox, B., & Zheng, Y. (2006). WTEC panel report on international assessment of research and development in robotics: Final report. World Technology Evaluation Center. Accessed 8 June 2014.

Bell, G., & Callon, M. (1994). Techno-economic networks and science and technology policy. STI Review, 14, 67–126.

Carlsson, B., Jacobsson, S., Holmén, M., & Rickne, A. (2002). Innovation systems: Analytical and methodological issues. Research Policy, 31(2), 233–245. doi:10.1016/S0048-7333(01)00138-X.

Chaminade, C., & Edquist, C. (2006). From theory to practice: the use of the systems of innovation approach in innovation policy. Innovation, science and institutional change. Oxford: Oxford University Press.

Edquist, C. (1997). Systems of innovation: technologies, institutions and organizations. London: Psychology Press.

Edquist, C. (2001). The SYSTEMS of innovation approach and innovation policy: An account of the state of the art. In DRUID Conference, Aalborg (pp. 12–15).

Edquist, C., & Hommen, L. (1999). Systems of innovation: Theory and policy for the demand side. Technology in Society, 21(1), 63–79. Accessed 9 June 2014.

Etzkowitz, H., & Leydesdorff, L. (2000). The dynamics of innovation: from National Systems and "Mode 2" to a Triple Helix of university–industry–government relations. Research Policy, 29(2), 109–123. doi:10.1016/S0048-7333(99)00055-4.

EUROP. (2006). Strategic research agenda. Retrieved from http://robotics.h2214467.stratoserver.net/cms/upload//EUROP_SRA_may_2006.pdf. Accessed 16 July 2014.

Forge, S., & Blackman, C. (2010). A Helping Hand for Europe. Retrieved from http://robotics.h2214467.stratoserver.net/cms/upload/News/Pdf/2010-11-15_EC_DG_Industry_published_study_Robotics.pdf. Accessed 16 July 2014.

Freeman, C. (1991). Networks of innovators: a synthesis of research issues. Research policy, 20(5), 499–514. Accessed 9 June 2014.

Garcia, E., Jimenez, M. A., De Santos, P. G., & Armada, M. (2007). The evolution of robotics research. Robotics and Automation Magazine, IEEE, 14(1), 90–103. Accessed 9 June 2014.

Geels, F. W. (2004). From sectoral systems of innovation to socio-technical systems: Insights about dynamics and change from sociology and institutional theory. Research Policy, 33(6), 897–920. Accessed 17 September 2013.

Gelin, R., & Christensen, H. (2005). Building the European robotics platform—EUROP, sectoral report on service robotics. Retrieved from ftp://cordis.europa.eu/pub/ist/docs/europ/rob-plat-4.pdf. Accessed 16 July 2014.

Islam, N., & Miyazaki, K. (2009). Nanotechnology innovation system: Understanding hidden dynamics of nanoscience fusion trajectories. Technological Forecasting and Social Change, 76(1), 128–140. doi:10.1016/j.techfore.2008.03.021.

Klincewicz, K., & Miyazaki, K. (2011). Sectoral systems of innovation in Asia. The case of software research activities. International Journal of Technology Management, 53(2), 161–189. doi:10.1504/IJTM.2011.038589.

Lundvall, B.-A. (1992). National systems of innovation: An analytical framework. London: Pinter.

Lundvall, B. (2007). National innovation systems—Analytical concept and development tool. Industry and Innovation, 14(1), 95–119. doi:10.1080/13662710601130863.

Malerba, F. (2002). Sectoral systems of innovation and production. Research Policy, 31(2), 247–264. doi:10.1016/S0048-7333(01)00139-1.

Miyazaki, K., & Islam, N. (2007). Nanotechnology systems of innovation—An analysis of industry and academia research activities. Technovation, 27(11), 661–675. Accessed 6 January 2014.

Nelson, R. R. (1993). National innovation systems: A comparative study. Oxford: Oxford University Press.

Nesta, L., & Patel, P. (2005). National patterns of technology accumulation: Use of patent statistics. In Handbook of Quantitative Science and Technology Research (pp. 531–551). Springer. http://link.springer.com/chapter/10.1007/1-4020-2755-9_25. Accessed 7 May 2015.

Nooteboom, B., & Stam, E. (2008). Micro-foundations for innovation policy. Amsterdam: Amsterdam University Press.

OECD. (1997). National innovation systems. Paris.

Porter, A. L., & Cunningham, S. W. (2004). Tech mining: exploiting new technologies for competitive advantage. Hoboken: Wiley.

Rehn, C., & Kronman, U. (2008). Bibliometric handbook for Karolinska Institutet. Huddinge: Karolinska Institutet.

World Robotics. (2013). Executive summary. Retrieved from http://www.worldrobotics.org/uploads/media/Executive_Summary_WR_2013.pdf. Accessed 16 July 2014.
Acknowledgments
The authors would like to thank Professor Krzysztof Klincewicz for his invaluable suggestions, comments and contributions to this research and to acknowledge Erasmus Mundus Fellowship Program from the European Commission which in part supported the study in this article.
About this article
Cite this article
Ghiasi, G., Larivière, V. Sectoral systems of innovation: the case of robotics research activities. Scientometrics 104, 407–424 (2015). https://doi.org/10.1007/s11192-015-1611-9
Received:

Published:

Issue Date:

DOI: https://doi.org/10.1007/s11192-015-1611-9
Keywords
JEL Classification