Abstract
The subscription prices of peer-reviewed journals have in the past not been closely related to the scientific quality. This relationship has been further obscured by bundled e-licenses. The situation is different for Open Access (OA) journals that finance their operations via article processing charges (APCs). Due to competition and the fact that authors are often directly involved in making APC payments from their own or other limited funds, APC pricing has so far been sensitive to the quality and services offered by journals. We conducted a systematic survey of prices charged by OA journals indexed in Scopus and this revealed a moderate (0.40) correlation between the APCs and Source Normalized Impact per Paper values, a measure of citation rates. When weighted by article volumes the correlations between the quality and the price were significantly higher (0.67). This would seem to indicate that while publishers to some extent take the quality into account when pricing their journals, authors are even more sensitive to the relationship between price and quality in their choices of where to submit their manuscripts.
Access options
Buy single article
Instant access to the full article PDF.
USD 39.95
Price excludes VAT (USA)
Tax calculation will be finalised during checkout.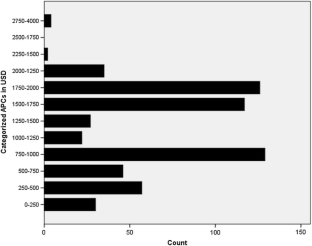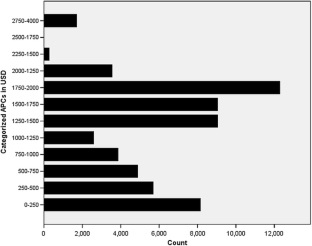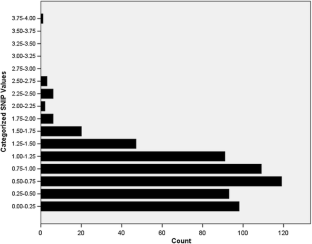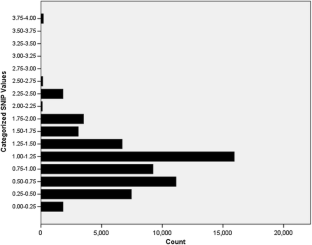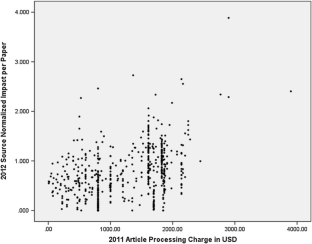 References
Barschall, H. (1988). The Cost-effectiveness of physics journals. Physics Today, July 1988, 56–59. http://www.library.yale.edu/barschall/articles/pt8807.pdf

Bergstrom, T. (2001). Free labour for costly journals? Journal of Economic Perspectives, 15(4), 183–198.

Björk, B.-C. (2012). The hybrid model for Open Access publication of scholarly articles—A failed experiment? Journal of the American Society of Information Sciences and Technology, 63(8), 1496–1504.

Björk, B.-C., & Solomon, D. (2012). Pricing principles used by scholarly Open Access publishers. Learned Publishing, 25(3), 132–137.

Björk, B-C., & Solomon, D. (2014). Developing an effective market for Open Access article processing charges, report. Wellcome Trust, UK, http://www.wellcome.ac.uk/About-us/Policy/Spotlight-issues/Open-access/Guides/WTP054773.htm

Butler, D. (2013). Investigating journals: The dark side of publishing. Nature, 495(7442), 433–435.

Crawford, W. (2013). The big deal and the damage done. Cites & Insights, 13(7), 1–5. http://citesandinsights.info/civ13i7.pdf

Dallmeier-Thiessen, S., et al. (2011). The SOAP symposium—III Open Access publishing today: What scientist do and why, presentation at the SOAP symposium, January 13th, 2011, Berlin. http://www.slideshare.net/ProjectSoap/soap-symposiumtalkiii

Dewatripont, M. et al. (2006) Study on the economic and technical evolution of the scientific publication markets in Europe, Final Report, European Commission, Directorate General for Research. http://ec.europa.eu/research/science-society/pdf/scientific-publication-study_en.pdf

Efron, B. (1981). Nonparametric estimates of standard error: The jackknife, the bootstrap and other methods. Biometrika, 68(3), 589–599. doi:10.1093/biomet/68.3.589.

Finch J. (2012) Accessibility, sustainability, excellence: How to expand access to research publications. Report of the Working Group on Expanding Access to PublishedResearch Findings. http://www.researchinfonet.org/publish/finch/

FinELib. (2012) Katsaus FinELib-konsortion vuoden 2011 toimintaan (in Finnish), yearly report 2011 of the FinELib-konsortium. http://www.kansalliskirjasto.fi/attachments/5l4xoyz0b/67VJr66W5/Files/CurrentFile/FinELib_raportti_2011_final.pdf

Gillingham, E. (2013). Meet Ann Okerson—on licensing, the big deal, OA, and so much more. Exchanges Our Ideas, Research and Discussion, Blog item, 7.11.2013, Wiley. http://exchanges.wiley.com/blog/2013/11/07/meet-ann-okerson-the-brain-behind-liblicense-and-so-much-more/

Kaufman R. (2014). Shifting revenues from post-publication to pre-publication: The impact of Open Access. ALPSP Blog. http://blog.alpsp.org/2014/03/roy-kaufman-shifting-revenues-from-post.html

Laakso, M., & Björk, B.-C. (2012). Anatomy of Open Access publishing—A study of longitudinal development and internal structure. BMC Medicine, 10, 124. doi:10.1186/1741-7015-10-124.

Li, C. (2013). UC Libraries discontinue taylor & francis systemwide journals license. News item, California Digital Libraries. http://www.cdlib.org/services/collections/current/TF/index.html

Moed, H. (2010). Measuring contextual citation impact of scientific journals. Journal of Informetrics, 4(3), 265–277.

Pinfield, S., & Middleton, C. (2012). Open Access central funds in UK universities. Learned Publishing, 25(2), 107–116.

Poynder, R. (2013). Open Access in Serbia, Interview with Biljana Kosanović, Open and Shut? Newsletter, 13.9.2013. http://poynder.blogspot.fi/2013/09/open-access-in-serbia-interview-with.html

Solomon, D., & Björk, B.-C. (2012a). Publication fees in Open Access publishing: Sources of funding and factors influencing choice of journal. Journal of the American Society for Information Science and Technology, 63(1), 98–107.

Solomon, D., & Björk, B.-C. (2012b). A study of Open Access journals using article processing charges. Journal of the American Society for Information Science and Technology, 63(8), 1485–1495.

Tenopir, C., & King, D. W. (2000). Towards electronic journals: Realities for scientists, librarians and publishers. Washington, DC: SLA Publishing.

West, J., Bergstrom, T., & Bergstrom, C. (2010). The eigenfactor MetricsTM: A network approach to assessing scholarly journals. College and Research Libraries, 71(3), 236–244.

West, J., Bergstrom, T., & Bergstrom, C. (2014). Cost-effectiveness of Open Access publications. Economic Inquiry, 52, 1315–1321.

Wiley (2013). Wiley Open Access author survey 2013, Presentation material. http://www.slideshare.net/WileyScienceNewsroom/wileys-2013-open-access-author-survey

Wilson, J., & Li, C. (2012). Calculating scholarly journal value through objective metrics, CDLINFO News, 13.2.2012, California Digital Libraries. http://www.cdlib.org/cdlinfo/2012/02/13/calculating-scholarly-journal-value-through-objective-metrics/
Acknowledgments
The empiric data used in this study were collected in a project financed by a consortium of research funders including Jisc, Research Libraries UK, Research Councils UK, the Wellcome Trust, the Austrian Science Fund (FWF), the Luxembourg National Research Fund (FNR) and the Max Planck Institute for Gravitational Physics.
About this article
Cite this article
Björk, BC., Solomon, D. Article processing charges in OA journals: relationship between price and quality. Scientometrics 103, 373–385 (2015). https://doi.org/10.1007/s11192-015-1556-z
Received:

Published:

Issue Date:

DOI: https://doi.org/10.1007/s11192-015-1556-z
Keywords
Open Access

Business model

SNIP value