Access options
Buy single article
Instant access to the full article PDF.
USD 39.95
Price excludes VAT (USA)
Tax calculation will be finalised during checkout.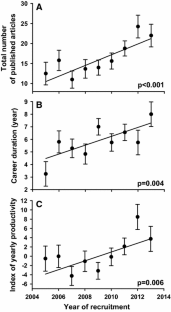 References
Aitkenhead, D. (2013). Peter Higgs: I wouldn't be productive enough for today's academic system. The Guardian. http://www.theguardian.com/science/2013/dec/06/peter-higgs-boson-academic-system.

Brischoux, F., & Cook, T. R. (2009). Juniors seek an end to the impact factor race. BioScience, 59, 638–639.

Carpenter, C. R., Cone, D. C., & Sarli, C. C. (2014). Using publication metrics to highlight academic productivity and research impact. Academic Emergency Medicine, 21, 1160–1172.

Cherubini, P. (2008). Impact factor fever. Science, 322, 191.

DORA. (2013). http://www.ascb.org/dora-old/files/SFDeclarationFINAL.pdf.

Fischer, J., Ritchie, E. G., & Hanspach, J. (2012a). Academia's obsession with quantity. Trends in Ecology & Evolution, 27, 473–474.

Fischer, J., Ritchie, E. G., Hanspach, J., et al. (2012b). An academia beyond quantity: A reply to Loyola et al. and Halme et al. Trends in Ecology & Evolution, 27, 587–588.

Jackson, D., Walter, G., Daly, J., & Cleary, M. (2013). Multiple outputs from single studies: Acceptable division of findings vs. 'salami' slicing. Journal of Clinical Nursing, 23, 1–2.

Jacobs, H. (2013). Dear DORA. EMBO Reports, 14, 947.

Jacobs, H. (2014). Something rotten. EMBO Reports, 15, 817.

Kaushal, S. S., & Jeschke, J. M. (2014). Collegiality versus competition: How metrics shape scientific communities. BioScience, 63, 155–156.

Lawrence, P. A. (2007). The mismeasurment of science. Current Biology, 17, R583–R585.

Loyola, R. D., Diniz-Filho, J. A. F., & Bini, L. M. (2012). Obsession with quantity: A view from the south. Trends in Ecology & Evolution, 27, 585.

McDade, L. A., Maddison, D. R., Guralnick, R., Piwowar, H. A., Jameson, M. L., Helgen, K. M., et al. (2011). Biology needs a modern assessment system for professional productivity. BioScience, 61, 619–625.

Nabout, J. C., Parreira, M. R., Teresa, F. B., Carneiro, F. M., da Cunha, H. F., de Souza Ondei, L., et al. (2015). Publish (in a group) or perish (alone): The trend from single- to multi-authorship in biological papers. Scientometrics, 102, 357–364.

Sanchis-Gomar, F. (2014). How does the journal impact factor affect the CV of PhD students? EMBO Reports, 15, 207.
Acknowledgments
We thank the CNRS and Morgan Reynaud for providing the list of young recruits, and Lucy Runacre for improving the English.
About this article
Cite this article
Brischoux, F., Angelier, F. Academia's never-ending selection for productivity. Scientometrics 103, 333–336 (2015). https://doi.org/10.1007/s11192-015-1534-5
Received:

Published:

Issue Date:

DOI: https://doi.org/10.1007/s11192-015-1534-5
Keywords