Abstract
The article discusses the scientific output of the three South Caucasus republics: Armenia, Azerbaijan and Georgia (Armenia, Azerbaijan and Georgia are widely referred to as Transcaucasia Republics or South Caucasus Republics). It focuses on the scientific publications of Armenia, Azerbaijan and Georgia indexed in the Web of Science international database. The article first examines the role of the three republics in Soviet science and the scientific papers they produced during the last decade of the Union of Soviet Socialist Republics. The article then studies the scientific situation in Armenia, Azerbaijan and Georgia after the restoration of their independence in 1991, reviewing the three republics' scientific publications, their citations and their scientific cooperation, as well as other scientific indicators.
Access options
Buy single article
Instant access to the full article PDF.
USD 39.95
Price excludes VAT (USA)
Tax calculation will be finalised during checkout.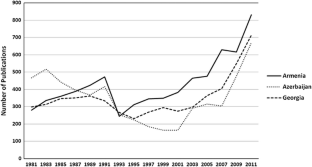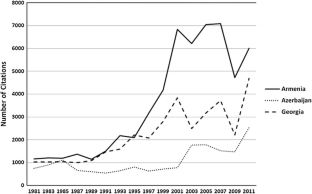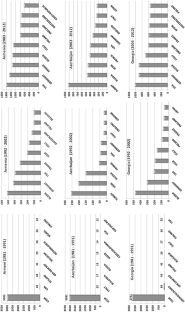 Notes
The first draft of an R&D law was presented to the Parliament in 1998 but has not yet been approved.

 Foreign publications are counted when applying for a grant. In Armenia, e.g., concerned bodies are discussing the requirement for PhD candidates to have at least one publication in the journal indexed by an international database.

Some abstracting and indexing services cover only a limited number of Soviet scientific journals. For example, in 1974 there were only 83 Soviet journals and over 900 American journals in SCI. So, domestically produced works were and are overlooked in bibliometric analyses.

The USSR officially ceased to exist in 1991.

This may be due to late publication of articles written in 1991 and affiliation problems.

Currently there are 66 Turkish journals, the number of which is constantly rising.
References
Ayvazyan, N., & Gzoyan, E. (2012). Mapping the intellectual capital of post-soviet states. Open Innovation, European Union, 123–130.

Glänzel, W., & Schlemmer, B. (2007). National Research Profiles in a changing Europe (1983–2003). An exploratory study of sectoral characteristics in the Triple Helix. Sceintometrics, 70(2), 267–275.

Glänzel, W., & Schlemmer, B. (2009) Science in a changing Europe: East vs. West. National Scientific Profiles by Subject Fields. ISSI Newsletter, 5(3), 52–58.

Higher Education Governance Report (2005) N 1538520 of the World Bank 2005. http://www-wds.worldbank.org).

Information Exchange in Science and Technology between the European Research Area and Eastern European/Central Asian Countries, Armenia, Azerbaijan, Georgia, Country Report (2012).

Karamourzov, R. (2012). The development trends of science in the CIS countries on the basis of some scientometric indicators. Scientometrics, 91(1), 1–14.

Kazakévich, V. D. (1944). Recent social trends in the Soviet Union: Social sciences in the Soviet Union. American Sociological Review, 9(3):312–318.

Narin, F., Frame, J. D., & Carpenter, M. P. (1983). Highly cited soviet papers: An exploratory investigation. Social Studies of Science, 13(2), 307–319.

National Economy of USSR. Statistical Yearbook. Moscow 1982, 1990.

Sendov, B. (1993). Central and Eastern Europe. World Science Report.

World Science Report, UNESCO 1993.

World Science Report, UNESCO 1996.

Zavadskas, E. K., Kirvaitis, R., & Dagienė, E. (2011). Scientific publications released in the Baltic States. Scientometrics, 88(1), 179–190.

20 years of CIS (2009) Statistical Bulletin: N18, 2004; N18, 2006; N18, 2007; N18, 2008; N19.
About this article
Cite this article
Gzoyan, E.G., Hovhannisyan, L.A., Aleksanyan, S.A. et al. Comparative analysis of the scientific output of Armenia, Azerbaijan and Georgia. Scientometrics 102, 195–212 (2015). https://doi.org/10.1007/s11192-014-1452-y
Received:

Published:

Issue Date:

DOI: https://doi.org/10.1007/s11192-014-1452-y
Keywords