Abstract
This paper aims to examine authorship trends in software engineering, especially those related to the number of authors, of scientific publications. We collected and mined around 70.000 entries from DBLP for 122 conferences and journals, for the period 1971–2012, in order to process several bibliometric indicators. We provide evidence that the number of authors of articles in software engineering is increasing on average around +0.40 authors/decade. The results also indicate that until 1980, the majority of the articles have a sole author, while nowadays articles with 3 or 4 authors represent almost half of the total.
Access options
Buy single article
Instant access to the full article PDF.
US$ 39.95
Tax calculation will be finalised during checkout.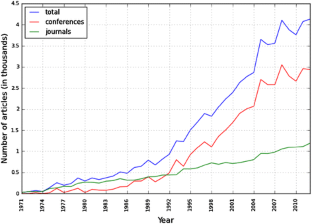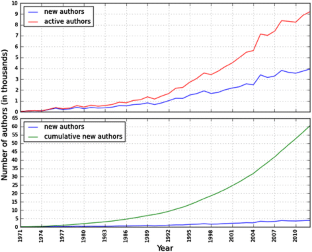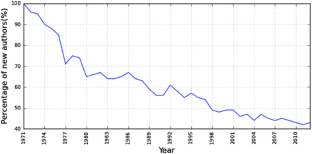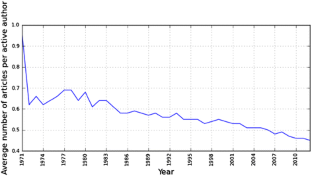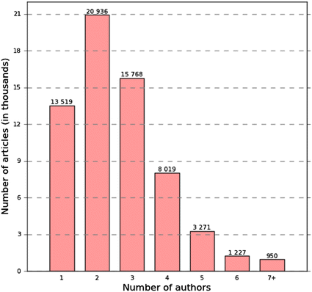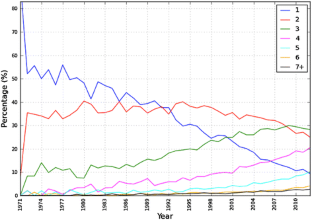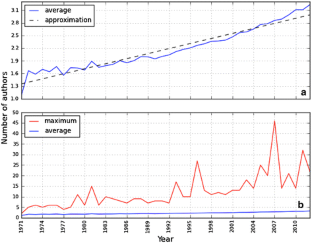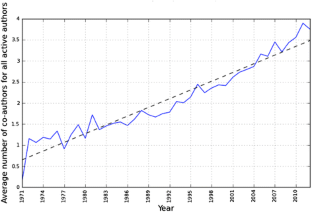 References
Abt, H. A. (1981). Some trends in American astronomical publications. Publications of the Astronomical Society of the Pacific, 93(553), 269. doi:10.1086/130820.

Ausloos, M. (2013). A scientometrics law about co-authors and their ranking: The co-author core. Scientometrics, 95(3), 895–909. doi:10.1007/s11192-012-0936-x.

Bennett, D. M., & Taylor, D. M. (2003). Unethical practices in authorship of scientific articles. Emergency Medicine, 15(1), 263–270. doi:10.1046/j.1442-2026.2003.00432.x.

Chavez, C., Kulesza, U., Soares, S., Borba, P., Lucena, C. J. P., Masiero, P. C., et al. (2011). The AOSD research community in Brazil and its crosscutting impact. SBES, 2011, 72–81.

Cohoon, J. M., Nigai, S., & Kaye, J. (2011). Gender and computing conference papers. Communications of the ACM, 54(8), 72–80. doi:10.1145/1978542.1978561.

Freyne, J., Coyle, L., Smyth, B., & Cunningham, P. (2010). Relative status of journal and conference publications in computer science. Communications of the ACM, 53(11), 124–132. doi:10.1145/1839676.1839701.

Gasparyan, A. Y., Ayvazyan, L., & Kitas, G. D. (2013). Authorship problems in scholarly journals: Considerations for authors, peer reviewers and editors. Rheumatology International, 33(2), 277–284. doi:10.1007/s00296-012-2582-2.

Greene, M. (2007). The demise of the lone author. Nature, 450(7173), 1165. doi:10.1038/4501165a.

Greenland, P., & Fontanarosa, P. B. (2012). Ending honorary authorship. Science, 337(6098), 1019. doi:10.1126/science.1224988.

Hagen, N. H. (2014). Counting and comparing publication output with and without equalizing and inflationary bias. Scientometrics, 8(2), 310–317. doi:10.1016/j.joi.2014.01.003.

Kennedy, D. (2003). Multiple authors, multiple problems. Science, 301(5634), 733. doi:10.1126/science.301.5634.733.

Larsen, P. O., & von Ins, M. (2010). The rate of growth in scientific publication and the decline in coverage provided by Science Citation Index. Scientometrics, 84(3), 575–603. doi:10.1007/s11192-010-0202-z.

Ley, M. 2009. DBLP: Some lessons learned. In Proceedings of the VLDB endowment (PVLDB 2009), (Vol. 2, No. 2, pp. 1493–1500).

Liu, X. Z., & Fang, H. (2012). Fairly sharing the credit of multi-authored papers and its application in the modification of h-index and g-index. Scientometrics, 91(1), 37–49. doi:10.1007/s11192-011-0571-y.

Marcos, E., Vara, J. M., & Castro, V. (2012). Author order: What science can learn from the arts. Communications of the ACM, 55(9), 39–41. doi:10.1145/2330667.2330680.

Moreira, J. E., Salapura, V., Almási, G., Archer, C., Bellofatto, R., Bergner, P., et al. (2007). The Blue Gene/L supercomputer: A hardware and software story. International Journal of Parallel Programming, 35(3), 181–206. doi:10.1007/s10766-007-0037-2.

National Science Foundation, 2012. Science and Engineering Indicators 2012, chap. 5.

Newman, M. E. J. 2004. Who is the best connected scientist? A study of scientific coauthorship networks. In Ben-Naim, E., Frauenfelder, H., Toroczkai, Z. (Eds.), Complex networks, Lecture notes in physics. Springer, (Vol. 650, pp. 337–370). doi:10.1007/978-3-540-44485-5_16.

Nuseibeh, B. (2011). Editorial: What makes a publication archival? IEEE Transactions on Software Engineering, 37(2), 145. doi:10.1109/TSE.2011.34.

Patterson, D. A. (2004). The health of research conferences and the dearth of big idea articles. Communications of the ACM, 47(12), 23–24. doi:10.1145/1035134.1035153.

Ren, J., & Taylor, R. N. (2007). Automatic and versatile publications ranking for research institutions and scholars. Communications of the ACM, 50(6), 81–85. doi:10.1145/1247001.1247010.

Rennie, D., Yank, V., & Emanuel, L. (1997). When authorship fails: A proposal to make contributors accountable. JAMA, 278(7), 579–585.

Solomon, J. (2009). Programmers, professors, and parasites: Credit and co-authorship in computer science. Science and Engineering Ethics, 15(4), 467–489. doi:10.1007/s11948-009-9119-4.

The Atlas Collaboration. (2008). The ATLAS experiment at the CERN large hadron collider. Journal of Instrumentation, 3(8), S08003. doi:10.1088/1748-0221/3/08/S08003.

The Gusto Investigators. (1993). An international randomized trial comparing four thrombolytic strategies for acute myocardial infarction. The New England Journal of Medicine, 329(10), 673–682. doi:10.1056/NEJM199309023291001.

Vardi, M. Y. (2009). Conferences vs. journals in computing research. Communications of the ACM, 52(5), 5. doi:10.1145/1506409.1506410.

Wong, W. E., Tse, T. H., Glass, R. L., Basili, V. R., & Chen, T. Y. (2011). An assessment of systems and software engineering scholars and institutions (2003–2007 and 2004–2008). Journal of Systems and Software, 84(1), 162–168. doi:10.1016/j.jss.2010.09.036.

Zetterström, R. (2004). The number of authors of scientific publications. Acta Paediatrica, 93(5), 581–582. doi:10.1111/j.1651-2227.2004.tb02980.x.

Zhang, C. T. (2009). A proposal for calculating weighted citations based on author rank. EMBO Reports, 10(5), 416–417. doi:10.1038/embor.2009.74.
Acknowledgments
Thanks to Armando Freitas for his contribution to the Ruby crawler. The graphics were produced with the Matpotlib library available for the Python language. This work was supported by FCT – Fundação para a Ciência e Tecnologia in the scope of the project: PEst-OE/EEI/UI0319/2014
Appendix
Appendix
List of journals
ACM: ACM J Exp Algorith, ACM T Math Software, ACM T Progr Lang Sys, ACM T Softw Eng Meth; Cambridge: J Funct Program, Theor Pract Log Prog; Elsevier: Adv Eng Softw, Comp Lang Syst Struct, Inform Soft Tech, J Syst Soft, Sci Comput Program, J Vis Lang Comput; IEEE: IEEE Trans Soft Eng; IET: IET Softw; Springer: Ann Soft Eng, Autom Soft Eng, Constraints, Empir Soft Eng, Formal Asp Comput, Int J Par Progr, Innov Syst Soft Eng, Req Eng J, Soft Syst Model, Software Qual J, Soft Concepts Tools/Struct Program, Soft Tools Tech Transf, TAOSD; Wiley: J Soft Maint, Soft Focus, Soft Pract Exper, Softw Test Verif Rel; World Scientific: Int J Soft Eng Knowl Eng.
List of conferences
AGILE, AOSD, APSEC, ASE, ASEC, CBSE, CC, COMPSAC, COORDINATION, CP, CSEET, CSMR, DBPL, DSVIS, ECMFA, ECOOP, EDOC, EMSOFT, Ershov, ESEC, ESEM, ESOP, ESSoS, EUROMICRO-SEAA, EWSPT, FASE, FATES, FM, FMCO, FORMATS, FoSSaCS, FSE, GPCE, ICCBSS, ICECCS, ICFEM, ICGSE, ICMT, ICPC, ICPE, ICSE, ICSM, ICSP, ICSR, ICST, IFM, ISESE, ISSRE, ISSTA, IWPSE, IWSSD, METRICS, MoDELS, MSR, OOIS, OOPSLA, PASTE, PLDI, POPL, PPOPP, PROFES, QEST, QSIC, RE, REFSQ, RTA, SAS, SBES, SC, SCAM, SCM, SEFM, SEKE, SELMAS, SEW, SLE, SOFTVIS, SPIN, SPLC, SSR, TACAS, TAPSOFT, TOOLS, VEE, VMCAI, WCRE, WICSA, WIKIS, XP.
About this article
Cite this article
Fernandes, J.M. Authorship trends in software engineering. Scientometrics 101, 257–271 (2014). https://doi.org/10.1007/s11192-014-1331-6
Received:

Published:

Issue Date:
Keywords
Scientific authorship

Number of authors

Scientific publication

Software engineering
Mathematics Subject Classfication