Abstract
Quality evaluation and its assurance in higher education institutions constitute an obligation and scope of most European Universities. To accomplish this, quantitative indices, known as bibliometrics, are recruited which are considered a useful evaluation tool particularly for academics' and Universities' research performance. In the present study, the research quality of the five Greek civil engineering departments (Athens, Patras, Thessaloniki, Volos, Xanthi) is assessed by means of several advanced bibliometric indices calculated separately for each academic. Statistical analysis of the data is also performed to compare the observed differences in the mean values of the calculated indices. The study is conducted both in department and academic rank level to explore how research activity is distributed among the various ranks. In addition, to evaluate the research status of the Greek departments in the European context, their research output is compared with that of London civil engineering department. To explore the dependence of bibliometrics on seniority, bibliometric analysis considering the research activity of all academics only during the last decade is also made. Finally, the temporal progress of the research productivity leads to interesting findings about the impact of the European economic crisis on research performance. In general, bibliometrics demonstrate that Patras department host academics of better quality, but Athens exhibits higher scientific activity over the last decade. Superiority of London department is evident but few bibliometrics are comparable with the ones of the Greek departments. Results also indicate that no common standards in hiring/promotion of academics are established, while the European socio-economic crisis has significant negative impact on research productivity.
Access options
Buy single article
Instant access to the full article PDF.
US$ 39.95
Tax calculation will be finalised during checkout.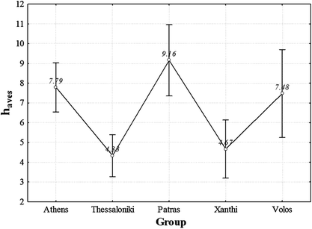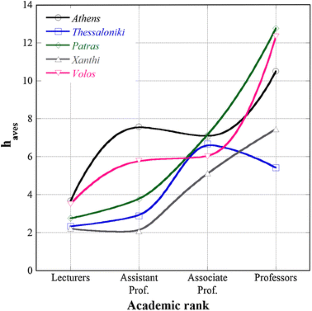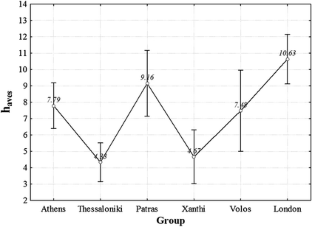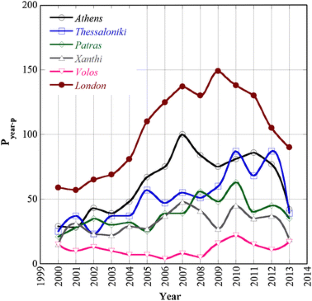 References
Abramo, G., & D'Angelo, C. A. (2011). Evaluating research: From informed peer review to bibliometrics. Scientometrics, 87(3), 499–514.

Abramo, G., D'Angelo, C. A., & Rosati, F. (2013). Career advancement and scientific performance in Universities. Scientometrics,. doi:10.1007/s11192-013-1075-8.

Aksnes, D. W. (2003). A macro study of self-citation. Scientometrics, 56(2), 235–246.

Aksnes, D.W. (2009). The use of bibliometric indicators in research evaluations in Norway. 14th Nordic Workshop on Bibliometrics and Research Policy, Stockholm, Norway, September 29–30.

Allen, N. (1988). Aspects of promotion procedures in Australian Universities. Higher Education, 17(3), 267–280.

Altanopoulou, P., Dontsidou, M., & Tselios, N. (2012). Evaluation of ninety-three major Greek University departments using Google Scholar. Quality in Higher Education, 18(1), 111–137.

Bar-Ilan, J. (2008). Which h-index?—A comparison of WoS, Scopus and Google Scholar. Scientometrics, 74(2), 257–271.

Beveridge, C., & Morris, S. (2007). Order of merit. Nature, 448(7152), 508.

Costas, R., & Bordons, M. (2011). Do age and professional rank influence the order of authorship in scientific publications? Some evidence from a micro-level perspective. Scientometrics, 88(1), 145–161.

Egghe, L. (2006). Theory and practise of the g-index. Scientometrics, 69(1), 131–152.

ENQA (2009). Standards and guidelines for quality assurance in the European higher education area. ENQA report. http://www.enqa.eu/files/ESG_3edition%20(2).pdf Accessed 17 Sep 2013.

EUA (2011). Impact of the economic crisis on European Universities. www.eua.be/Libraries/Newsletter/Economic_monitoringJanuary2011final.sflb.ashx. Accessed 22 Sep 2013.

Frazer, M. (1994). Quality in higher education: An international perspective. In D. Green (Ed.), What is quality in higher education? (pp. 107–117). Buckingham: SRHE and Open University Press.

Garcia-Aracil, A., & Palomares-Montero, D. (2010). Examining benchmark indicator systems for the evaluation of higher education institutions. Higher Education, 60(2), 217–234.

Hirsch, J. E. (2005). An index to quantify an individual's scientific research output. Proceedings of the National Academy of Sciences of the United States of America, 102(46), 16569–16572.

Hsu, J.C. (1996). Multiple comparisons–Theory and methods. London: Chapman & Hall. http://www.enqa.eu/files/ESG_3edition%20%282%29.pdf. Accessed 18 Sep 2013.

Huang, M. H., & Lin, W. Y. C. (2011). Probing the effect of author self-citations on h index: A case study of environmental engineering. Journal of Information Science, 37(5), 453–461.

Kasten, K. L. (1984). Tenure and merit pay as rewards for research, teaching and service at a research University. Journal of Higher Education, 55, 500–514.

Katsaros, D., Matsoukas, V., & Manolopoulos, Y. (2008). Evaluating Greek departments of computer science and engineering using bibliometric indices. In Proceedings of the Panhellenic conference on informatics (PCI), Samos Island, Greece, August 28–30, (pp. 93–102).

Kazakis, N. A., Diamantidis, A. D., Fragidis, L. L., & Lazarides, M. K. (2014). Evaluating the research performance of the Greek medical schools using bibliometrics. Scientometrics, 98(2), 1367–1384.

Lagrosen, S., Seyyed-Hashemi, R., & Leitner, M. (2004). Examination of the dimensions of quality in higher education. Quality Assurance in Education, 12(2), 61–69.

Lazaridis, Th. (2010). Ranking University departments using the mean h-index. Scientometrics, 82(2), 211–216.

Legislation 3374/2005. (2005). Quality assurance in higher education. Credit transfer and accumulation system–diploma supplement. Official Journal of the Hellenic Republic, 189A, 3057–3064. in Greek.

Martin, B. R. (1996). The use of multiple indicators in the assessment of basic research. Scientometrics, 36(3), 343–362.

Miguel, S., Moya-Anegon, F., & Herrero-Solana, V. (2010). The impact of the socio-economic crisis of 2001 on the scientific system of Argentina from the scientometric perspective. Scientometrics, 85, 495–507.

Mishra, V., & Smyth, R. (2013). Are more senior academics really more research productive than junior academics? Evidence from Australian law schools. Scientometrics, 96, 411–425.

Pantokratoras, A. (2000). University and research. To Vima (in Greek). http://www.tovima.gr/opinions/article/?aid=122680. Accessed 18 Sep 2013.

Rad, A. E., Shahgholi, L., & Kallmes, D. (2012). Impact of self-citation on the h index in the field of academic radiology. Academic Radiology, 19(4), 455–457.

Sachini, E., Malliou, N., Houssos, N., & Karaiskos, D. (2013). Greek scientific publications 1996–2010: A bibliometric analysis of Greek publications in international scientific journals/Scopus. National Documentation Centre. http://report03.metrics.ekt.gr/en. Accessed 25 Sep 2013.

Scheffe, H. (1959). The analysis of variance. New York: Wiley.

Slyder, J. B., Stein, B. R., Sams, B. S., Walker, D. M., Beale, B. J., Feldhaus, J. J., et al. (2011). Citation pattern and lifespan: A comparison of discipline, institution, and individual. Scientometrics, 89, 955–966.

Thijs, B., & Glanzel, W. (2005). The influence of author self-citations on bibliometric meso-indicators. The case of European Universities. Scientometrics, 66, 71–80.

Vaxevanidis, N.M., Despotidi H., Asteris, P.G. & Typas, G. (2013). Evaluation of research in a Greek pedagogical and technological higher education institution. International Working Conference "Total Quality Management—Advanced and Intelligent Approaches'', Belgrade, Serbia, June 4–7.

Vaxevanidis, N. M., Despotidi, H., Prokopiou, H., & Koutsomichalis, A. (2011). On the evaluation of the quality of research in Greek HEIs using bibliometric indices. International Journal for Quality Research, 5(4), 247–254.

Zachos, G. (1991). Research output evaluation of two University departments in Greece with the use of bibliometric indicators. Scientometrics, 21(2), 195–221.

Zucker, L. G., & Darby, M. R. (1996). Star scientists and institutional transformation: Patterns of invention and innovation in the formation of the biotechnology industry. Proceedings of the National Academy of Sciences, 93(23), 12709–12716.
About this article
Cite this article
Kazakis, N.A. Bibliometric evaluation of the research performance of the Greek civil engineering departments in National and European context. Scientometrics 101, 505–525 (2014). https://doi.org/10.1007/s11192-014-1326-3
Received:

Published:

Issue Date:
Keywords
Research evaluation

Bibliometrics

h-index

Civil engineering

Seniority

Academic rank

Economic crisis