Abstract
Competitive technical intelligence addresses the landscape of both opportunities and competition for emerging technologies, as the boom of newly emerging science & technology (NEST)—characterized by a challenging combination of great uncertainty and great potential—has become a significant feature of the globalized world. We have been focusing on the construction of a "NEST Competitive Intelligence" methodology that blends bibliometric and text mining methods to explore key technological system components, current R&D emphases, and key players for a particular NEST. This paper emphasizes the semantic TRIZ approach as a useful tool to process "Term Clumping" results to retrieve "problem & solution (P&S)" patterns, and apply them to technology roadmapping. We attempt to extend our approach into NEST Competitive Intelligence studies by using both inductive and purposive bibliometric approaches. Finally, an empirical study for dye-sensitized solar cells is used to demonstrate these analyses.
This is a preview of subscription content,
to check access.
Access this article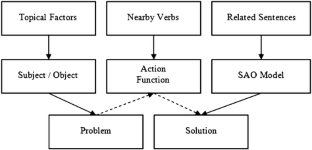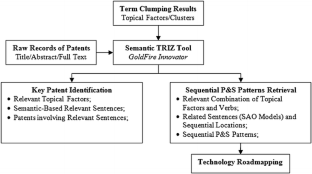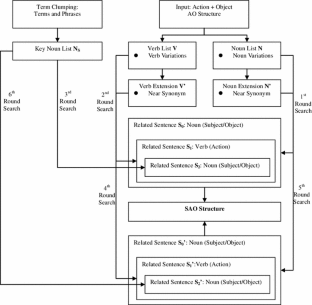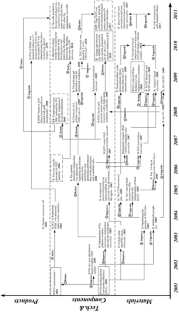 Similar content being viewed by others
References
Blackburn, T. D., Mazzuchi, T. A., & Sarkani, S. (2012). Using a TRIZ framework for system engineering trade studies. Systems Engineering, 15(3), 355–367.

Blei, D. (2012). Probabilistic topic models. Communications of the ACM, 55(4), 77–84.

Blei, D., Ng, A., & Jordan, M. (2003). Latent Dirichlet allocation. Journal of Machine Learning Research, 3, 993–1022.

Cascini, G., Fantechi, A., & Spinicci, E. (2004). Natural language processing of patents and technical documentation. In Document Analysis Systems VI (pp. 508–520).

Choi, S., Yoon, J., Kim, K., Lee, J., & Kim, C. (2011). SAO network analysis of patents for technology trends identification: A case study of polymer electrolyte membrane technology in proton exchange membrane fuel cells. Scientometrics, 88, 863–883.

Goldfire Innovator, http://inventionmachine.com/products-and-services/innovation-software/goldfire-innovator/. Accessed January 1, 2013.

Kerr, C., Mortara, L., Phaal, R., & Probert, D. (2006). A conceptual model for technology intelligence. International Journal of Technology Intelligence and Planning, 2(1), 73–93.

Kim, Y., Tian, Y., Jeong, Y., Ryu, J., & Myaeng, S. (2009). Automatic discovery of technology trends from patent text. Proceedings of the 2009 ACM symposium on Applied Computing, Hawaii, USA.

Kostoff, R. N., Boylan, R., & Simons, G. R. (2004). Disruptive technology roadmaps. Technological Forecasting and Social Change, 71, 141–159.

Moehrle, M. G. (2005). How combinations of TRIZ tools are used in companies—Results of a cluster analysis. R&D Management, 35(3), 285–296.

Moehrle, M. G., Walter, L., Geritz, A., & Müller, S. (2005). Patent-based Inventor profiles as a basis for human resource decisions in research and development. R&D Management, 35(5), 513–524. doi:10.1111/j.1467-9310.2005.00408.x.

Nakagawa, T. (2001). Introduction to TRIZ: A technological philosophy for creative problem solving. The 23rd Annual Symposium of Japan Creativity Society, Tokyo, Japan.

Newman, N. C., Porter, A. L., Newman, D., Courseault-Trumbach, C., & Bolan, D. (2012). Comparing methods to extract technical content for technological intelligence, Proceedings of Portland International Conference on Management of Engineering and Technology, Vancouver, Canada.

O'Regan, B., & Grätzel, M. (1991). A low-cost, high efficiency solar-cell based on dye-sensitized colloidal TiO2 films. Nature, 353(6346), 737–740.

Porter, A. L., & Cunningham, S. W. (2005). Tech mining: Exploiting new technologies for competitive advantage. New York: Wiley.

Porter, A. L., & Detampel, M. J. (1995). Technology opportunity analysis. Technological Forecasting and Social Change, 49, 237–255.

Rantanen, K., & Domb, E. (2008). Simplified TRIZ: New problem solving applications for engineers and manufacturing professionals (2nd ed.). New York: Auerbach Publications.

Rizzi, C. (2011). TRIZ and intelligence property management. Research in Interactive Design, 3, 123–128.

Savransky, S. D. (2000). Engineering of creativity (Introduction to TRIZ Methodology of Inventive Problem Solving). Florida: CRC Press LLC.

Shahbazpour, M., & Seidel, R. (2007). Strategic manufacturing system and process innovation through elimination of trade-offs. International Journal of Computer Integrated Manufacturing, 20(5), 413–422.

Stephen, R. L. (2002). A conceptual design tool for engineer: An amalgamation of theory of constraints, theory of inventive problem solving and logic. Virginia: Old Dominion University.

Trumbach, C., & Payne, D. (2007). Identifying synonymous concepts in preparation for technology mining. Journal of Information Science, 33(6), 660–677.

VantagePoint, www.theVantagePoint.com. Accessed January 1, 2013.

Verbitsky, M. (2004). Semantic TRIZ.triz-journal.com. http://www.triz-journal.com/archives/2004/. Accessed January 18, 2013.

Walsh, S. T. (2004). Roadmapping a disruptive technology: A case study—the emerging microsystems and top-down nanosystems industry. Technological Forecasting and Social Change, 71, 161–185.

Walsh, S. T., & Linton, J. (2000). Infrastructure for emerging markets based on discontinuous innovations. Engineering Management Journal, 12(2), 23–31.

Yoon, J., & Kim, K. (2012). Trend perceptor: A property—function based technology intelligence system for identifying technology trends from patents. Expert Systems with Applications, 39, 2927–2938.

Zhang, Y., Guo, Y., Wang, X., Zhu, D., & Porter, A. L. (2013a). A hybrid visualization model for technology roadmapping: bibliometrics, qualitative methodology, and empirical study. Technology Analysis & Strategic Management, 25(6), 707–724.

Zhang, Y., Zhou, X., Porter, A. L., & Vicente-Gomila, J. M. (2013b). Triple helix innovation in China's dye-sensitized solar cell industry: Hybrid Methods with semantic TRIZ and technology roadmapping. Scientometrics. doi:10.1007/s11192-013-1090-9.

Zhang, Y., Porter, A. L., Hu, Z., Guo, Y., & Newman, N. C. (2014). "Term Clumping" for technical intelligence: A case study on dye-sensitized solar cells. Technological Forecasting & Social Change. doi:10.1016/j.techfore.2013.12.019.

Zhu, D., & Porter, A. L. (2002). Automated extraction and visualization of information for technological intelligence and forecasting. Technological Forecasting and Social Change, 69, 495–506.
Acknowledgments
We acknowledge support from the US National Science Foundation (Award #1064146—"Revealing Innovation Pathways: Hybrid Science Maps for Technology Assessment and Foresight"). The findings and observations contained in this paper are those of the authors and did not necessarily reflect the views of the National Science Foundation.
Additional information
Conference Topic
Technology and Innovation Including Patent Analysis (Topic 5) and Visualization and Science Mapping: Tools, Methods and Applications (Topic 8).
About this article
Cite this article
Zhang, Y., Zhou, X., Porter, A.L. et al. How to combine term clumping and technology roadmapping for newly emerging science & technology competitive intelligence: "problem & solution" pattern based semantic TRIZ tool and case study. Scientometrics 101, 1375–1389 (2014). https://doi.org/10.1007/s11192-014-1262-2
Received:

Published:

Issue Date:

DOI: https://doi.org/10.1007/s11192-014-1262-2
Keywords